If you're going to buy one and only one organic item at the grocery store, for the love of all that is holy, make it your apples. There are enough pesticides on a standard apple to knock the balls off a bull. Up to 48 different pesticides on a single apple to be precise. Now, in defence of the farmers, it isn't that they're willy nilly wanting to spray pesticides all over our food because it's fun to see their customers grow arms out of their foreheads, it's that apples are notoriously difficult to grow. They have scabs and worms and rot. Apples. The crack whores of the fruit world.
I wish I could say that that's the reason I decided to grow my own apple trees, that I wanted to be as natural and health conscious as possible, but the truth of the matter is I just think apple espaliers look cool. Plus I love growing the food that I eat; only partly because it's all organic. A lot of the appeal for me is the actual work involved in growing food and the convenience of being able to pick it right from my front yard. Other than one particular cantaloupe I grew last year I'm not even convinced the food I grow tastes that much better than grocery store produce. Also my corn was pretty great. And my tomatoes. You know what? Scratch that last part, it does taste better, I don't know what I was thinking.
The thing that held me back from growing an apple tree for years was the sheer size of one plus taking care of one seemed intimidating. An apple tree would be stinking huge on my lot, plus you need a couple of them for pollination. Enter the apple espalier. An apple tree trained to grow flat against a wall or fence taking up no more space than a pool noodle. Apple espaliers were only available at specialty nurseries for the longest time, making your only other option to graft and train one yourself. Things took a turn for the better for me last year when I happened across apple espaliers at my local Home Depot for around $70 each. I bought two, brought them home and wired them up. (There's a very specific way you have to train espaliers so they thrive, stay small and maintain their shape … I wrote a post on how to do it here.)
THIS year, I had to master the next step. Keeping my apple espaliers small, and encouraging them to produce fruit … not leaves and branches. Read on.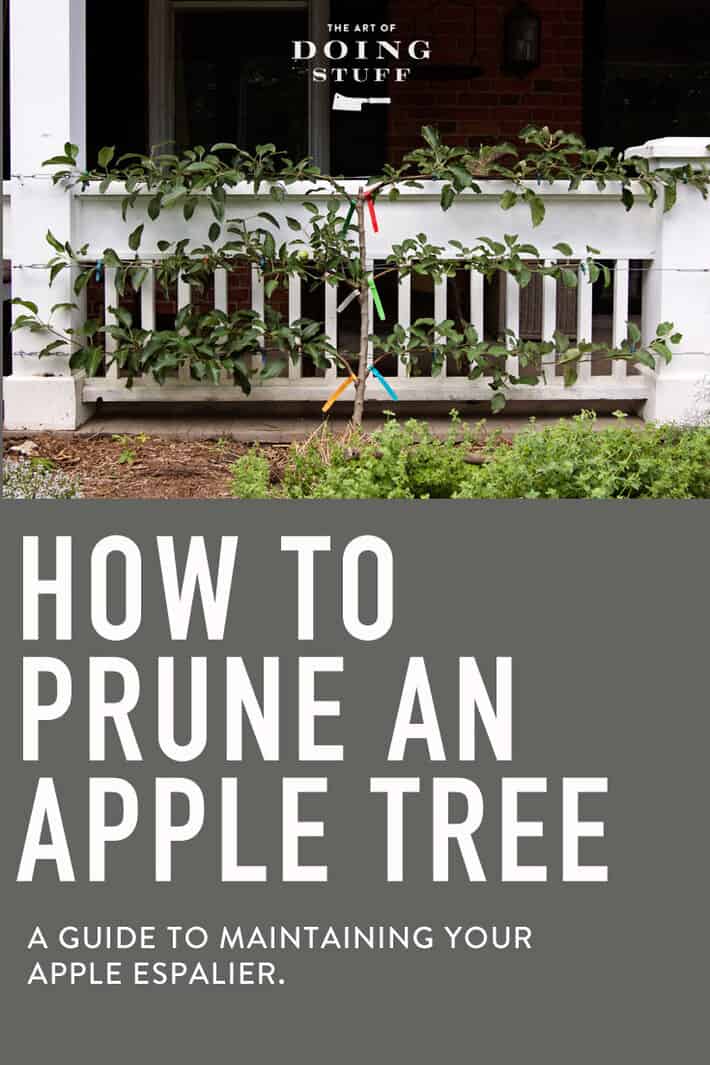 I'm no expert, this being my first year trimming my espaliers but I AM a kind research enthusiast and learner; so even though I don't know everything about apple trees or keeping them small I'm confident in this tiny bit of information I'm about to impart on you.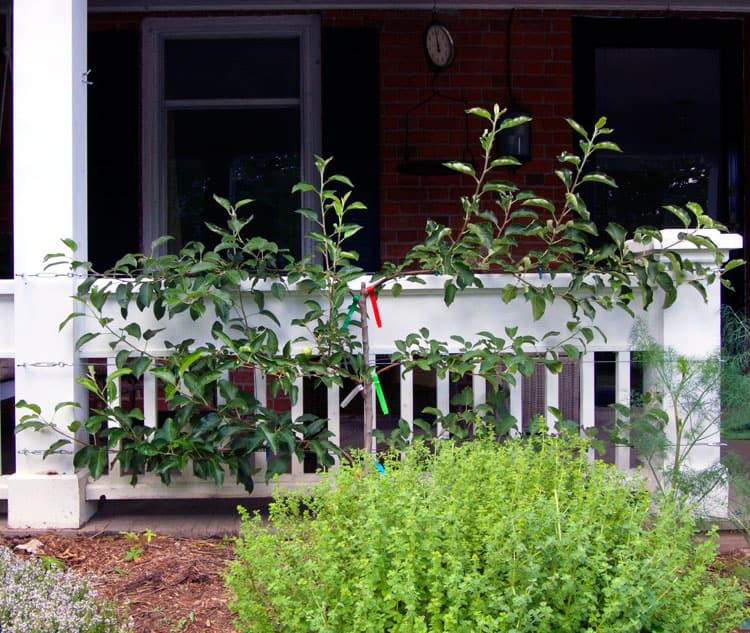 The time to prune apple trees if you want to keep them small is during the Summer Solstice. June 21st of this year 'round these parts. This is true of an apple tree, pear tree or any other fruit tree. It's also true of espaliers or regular fruit trees. Summer pruning will keep the tree small. Winter pruning will encourage it to grow BIG.
This is my tree moments prior to pruning it this year on June 21st. You can see the long "whippy" branches growing up from the main stems. THESE are what need to be pruned.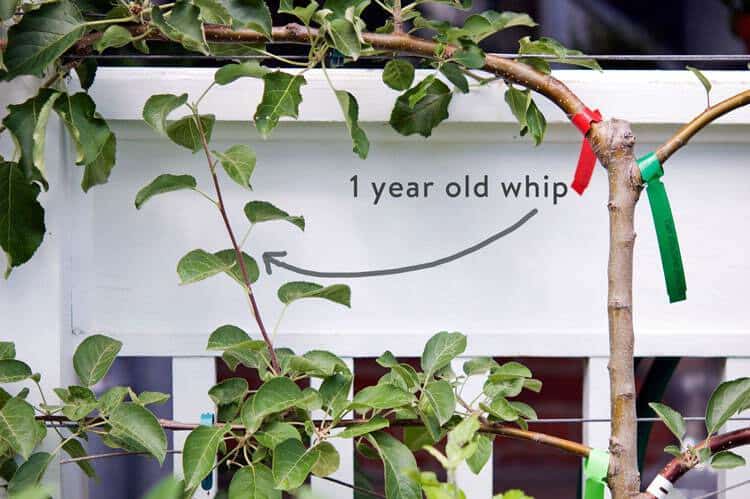 2. Prune the thin, whippy branches, not the shorter fatter ones. Thin ones are just branches, the shorter ones are spurs that will produce fruit.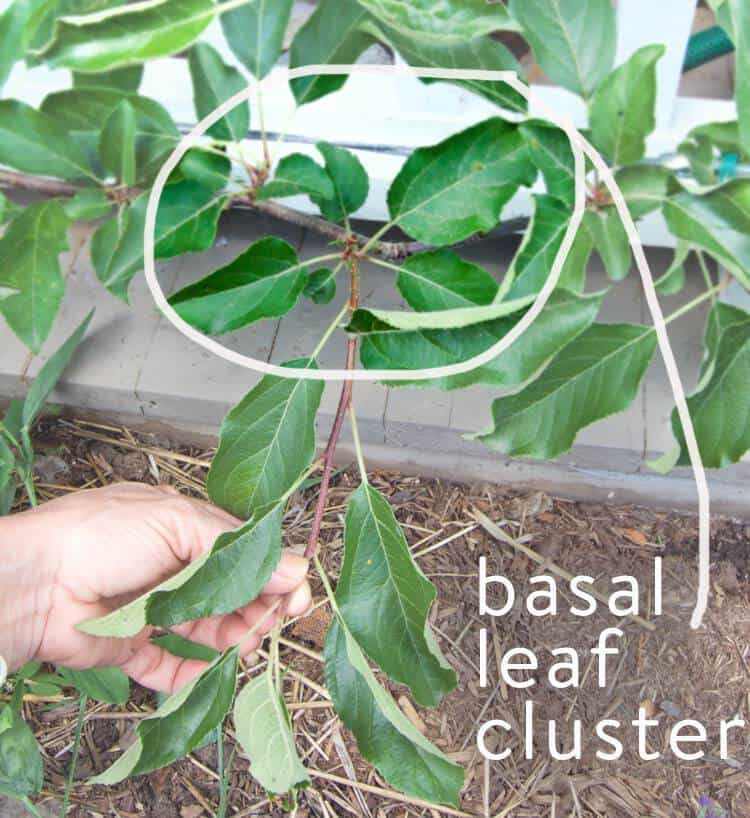 3. Don't cut the entire whip off. Find the "basal" leaves (the cluster of tightly packed leaves near the base of the whip and count 3 leaves up. Cut just above the 3rd leaf from the basal cluster. This will keep the tree small and encourage fruiting.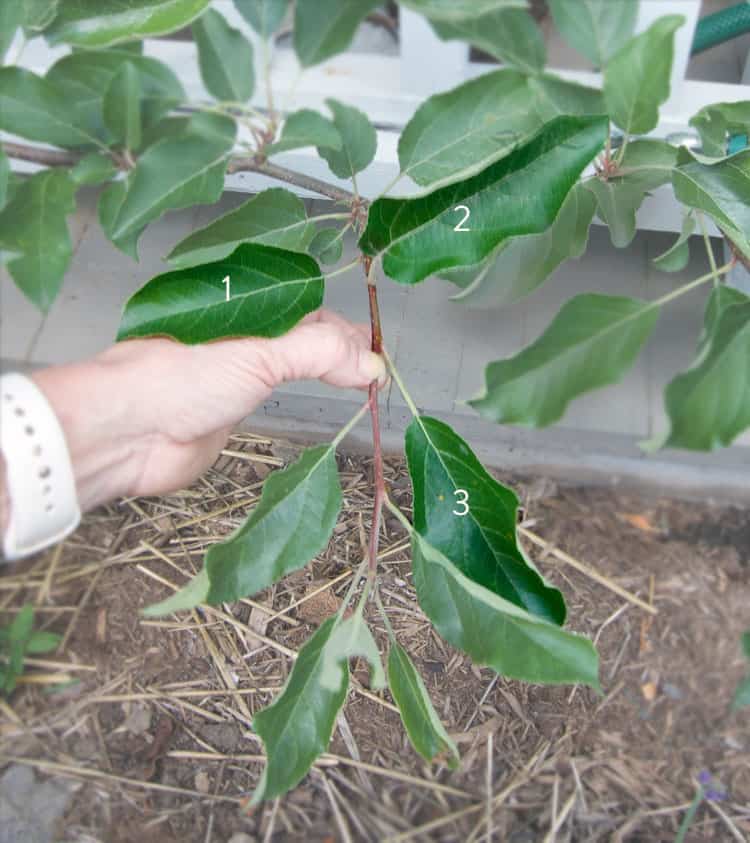 So which ones are the regular leaves compared to the basal leaves? Well sometimes it's hard to tell because the basal leaves don't aways grow literally in a cluster at the base. Just look for the first leaf that is obviously further away from the first pack of leaves on the stem and count that as your first leaf.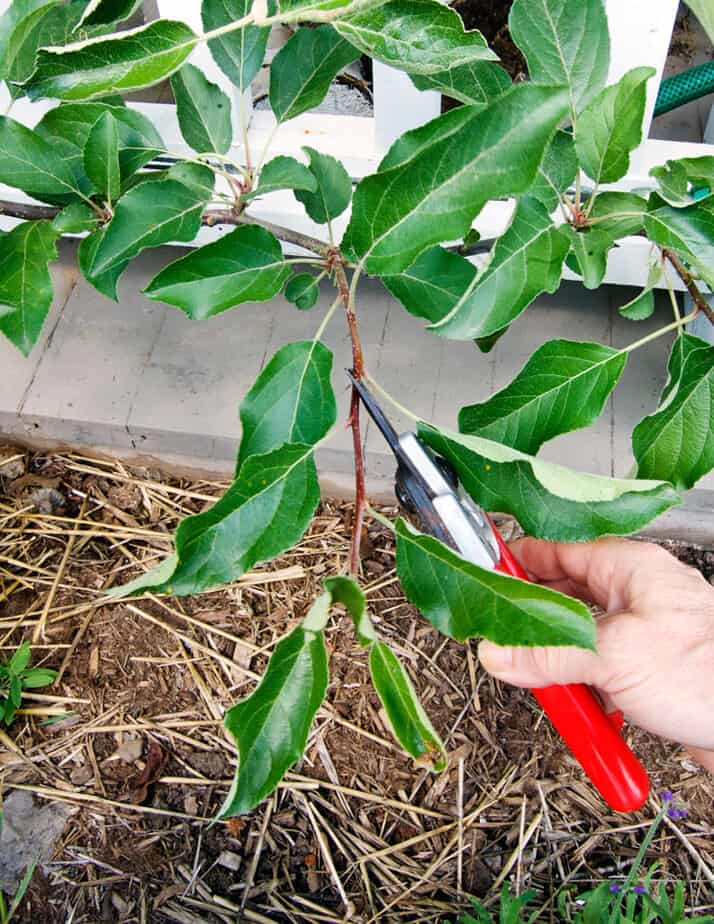 4. Cut the whip just above the 3rd leaf along the same direction as the leaf is growing.
It's very much like cutting a rose bush.
Leave the spurs (easily identifiable because they're shorter, fatter and might even have fruit hanging off of them) because they do not grow back and they're what the fruit grows from.
Here's what my little espalier looked like one year ago …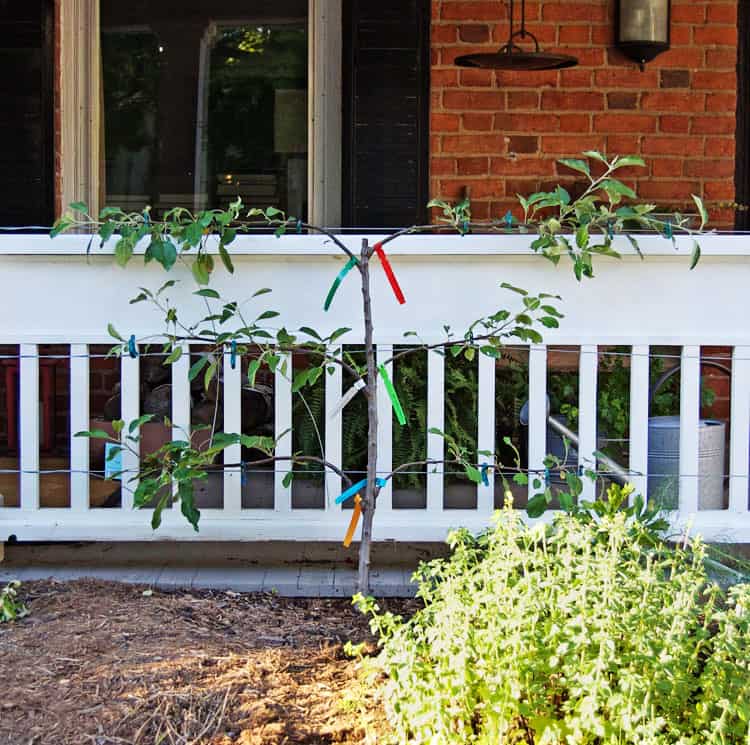 And here it is today.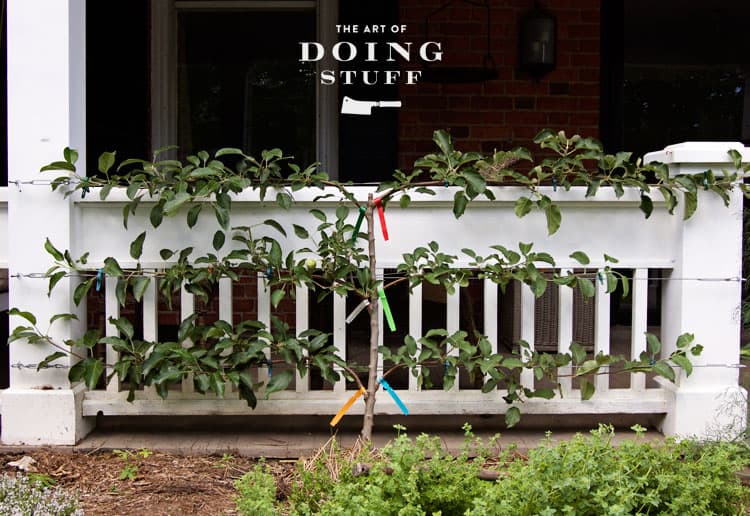 I think I'll cry if these things die on me. I have one on either side of the walkway up to my front door.
That's it. That's all there is to a basic trimming of your apple tree. Do the exact same thing if you're trimming a standard tree. If you trim like this and show no mercy you can keep your regular apple tree no taller than 4 or 5 feet if you want.
If you're looking for more detailed information on growing little fruit trees you HAVE to read the book Grow a Little Fruit Tree. It's really well written (i.e. it isn't boring) and she goes into detail about how to prune, how much fruit you can expect and the story of how the whole world was pruning its fruit trees incorrectly until one stubborn and adventurous man changed things.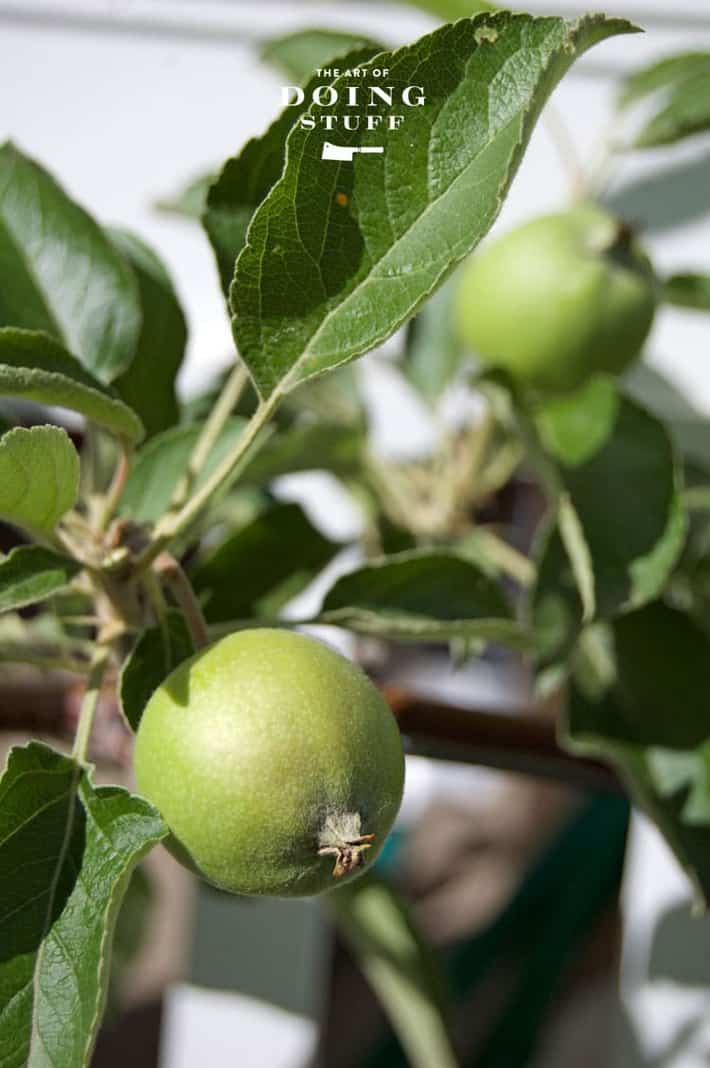 I only have about 5 apples growing between my 2 espaliers this year, so even if they were covered in pesticides and I licked them clean I'd probably still live a long healthy life. However, just to be safe I will not be spraying them.
I will proudly be growing 5 of the cutest little crack whore apples in the world for me, the birds, the bees and the bugs to enjoy.
No bulls balls were harmed during the growing of these apples.