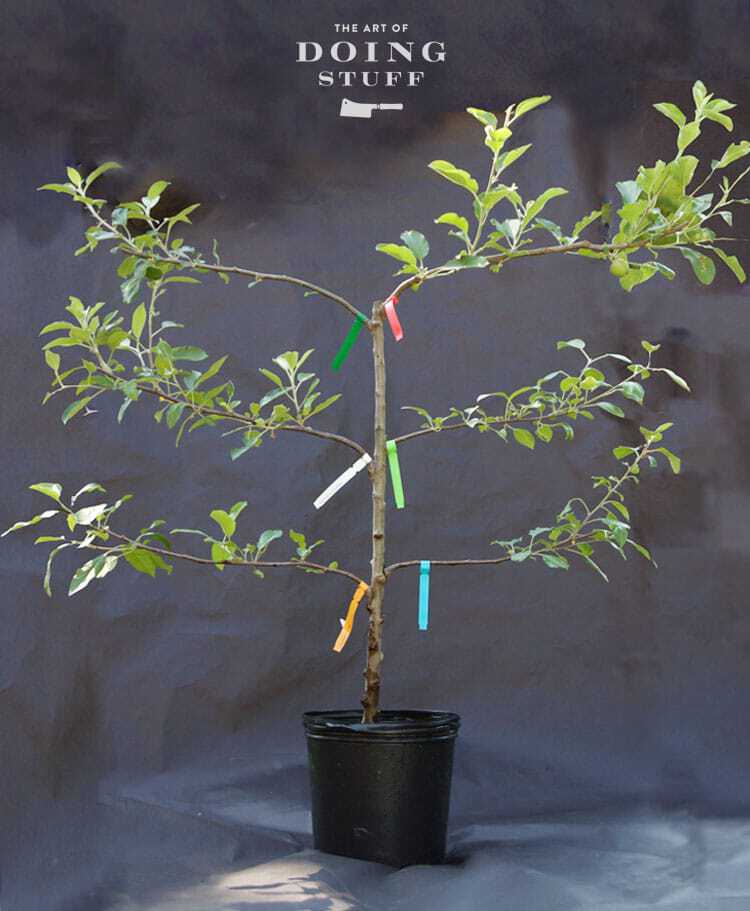 If I lived in France I'd have fields and fields of vegetable gardens, rock walls, a French lover and a reasonable sized chateau surrounded by a fence made from espaliered apple trees.
Yes I would. You can't tell me any different. I would have all that on my mediocre blogger's salary.
Because in my imagination that's the way it is.  In fact it's even a little bit better because I'd be able to speak fluent french, my clothes would all be made out of linen and lavender and I'd drive a little ivory convertible which is always in to be repaired by Henri, the village mechanic/clothing designer (French men are multitalented like that).  Luckily Henri is happy to trade late evening dinners in my courtyard in exchange for repair costs.  I usually hear him crunching across the pea gravel around 9:30 at night after work, just as I'm ripping apart a freshly baked loaf of rustic bread and placing it in with the charcuterie of olives, cured meats, ripe cheeses and sliced apples.  A drop of sweat runs down his neck, rolling over the hard curve of his chest, landing somewhere below  ....
Oh shit. That's right, this post is about apples.  Sorry, I don't know what happened there.
As it turns out I don't live on a French farm with rolling hills of hot farm hands.  Instead I live in a small town on what's as close to a microfarm as I can manage.  I've smashed  vegetables, chickens, a maple syrup tree, rhubarb and a smattering of flowers into my lot and am generally pretty happy with  it all.
What I always wanted was a fruit tree though.
But with fruit trees you need TWO fruit trees so they can pollenate each other, THEN you need a lot of space because ... they're fruit trees.    They're big and bushy and kind of bossy in general.
But a few years ago, several years ago I started really researching Espaliered fruit trees.  Apples specifically.  They're pruned so they grow flat and beautiful against a fence or wall.  They get wider and thicker but they don't get taller. Kind of like women after the magical age of 40.
I considered planting some along my big side fence but I already have boxwoods there (which coincidentally also surround my French courtyard.  Henri sometimes trims them for me).
Also if any kids picked the apples (and of course they would, why wouldn't they?) I'd be FURIOUS.  I might even cry and I'd definitely make a scene.  I don't care if kids pick my tomatoes or cucumbers or anything else that hangs outside of my front vegetable garden fence.  In fact I encourage people passing by to pick whatever they want.  But the APPLES?  No.  No, no, no.
Then a few years ago things got even worse.   A fruit nursery about an hours drive from my house started selling 6 in 1 apple trees.  One apple tree, with 6 different types of apple branches grafted onto it.
This meant you got 6 different varieties from one tree.  And that tree happened to be an Espaliered tree.
It was a match made in tiny lot heaven.  But it was a long drive and I had no way to transport the tree and they were expensive and  I still didn't think I had anywhere to plant it where it would thrive; so every spring I'd dream about one but never go and actually buy one.
Cut to 3 weeks ago with me twirling through Home Depot in a Julie Andrews, Sound of Music, type manner  - because that's how I always act and feel when I'm in a home improvement store.  Mid twirl, arms spread wide open, I Von Trapped myself right into a row of 6 in 1 Espaliered apple trees for sale.
I immediately bought two.
I had no idea where I was going to plant them but at $54 each I wasn't going to miss out on this once in an imaginary lifetime opportunity.  France Karen would never pass up an espaliered apple tree for $54.  Never.  Henri would never forgive her.  Jacque would probably be pretty upset too.  Jacque is my neighbour with the vineyard and 4 donkeys who are always escaping into my pool area to graze on my Rosemary.  Heh.  Those donkeys.
Since I've been researching these trees for years now I knew exactly how to plant them. And by the time I got home I knew where I was going to plant them too.
The trick to keeping an espalier tree in shape is wiring the branches into place so they don't go all willy nilly on you.  It seems intimidating because you need to you  know, go to the hardware store, but as long as you know exactly what it is you need to buy, it's as easy as pie.  Or as they say in France, it's as easy as a tarte.
These are the things you need and what they'll look like when you get them from the store.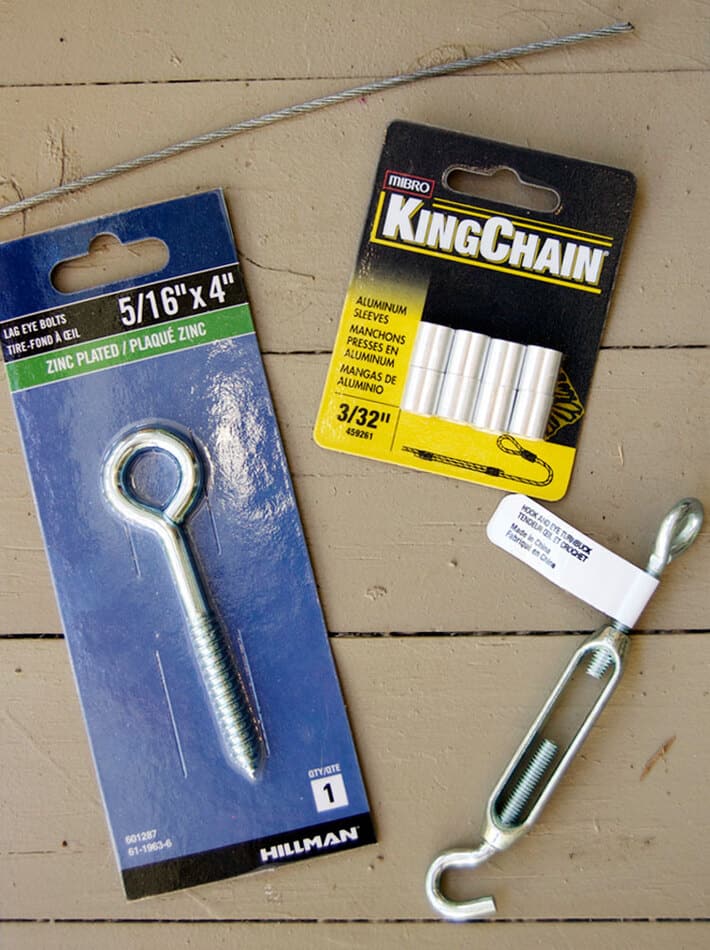 I decided the only place I had to grow these trees was along my front porch where they'll get about 8 hours of sunlight a day.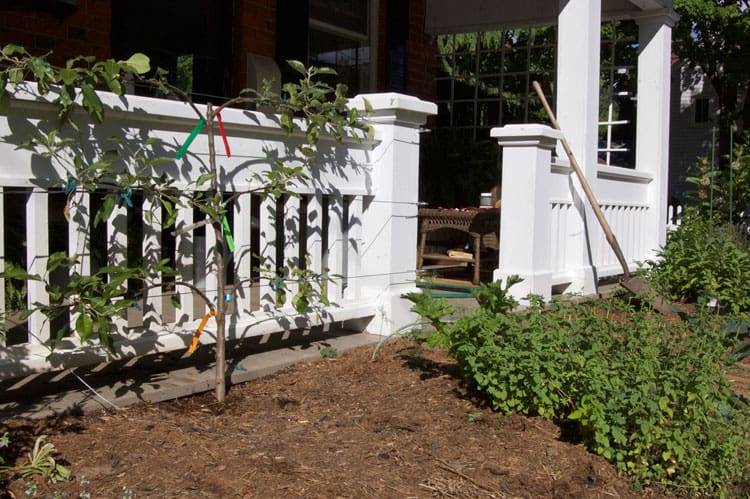 I've planted one to the left, and as soon as you stop bugging me, I'll plant the other one on the right.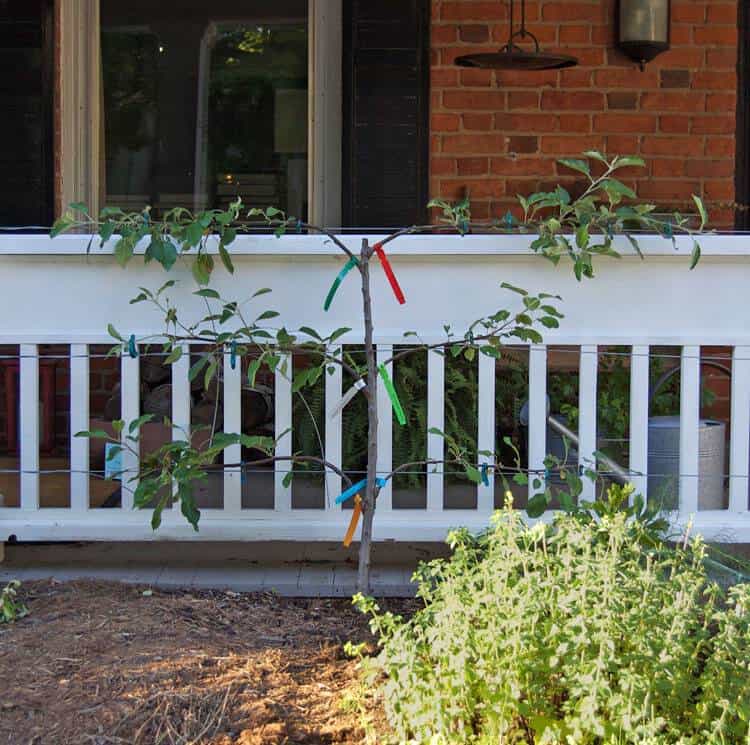 You can see here the eye bolts that hold the wire straight across for me to clamp the branches onto to keep them straight.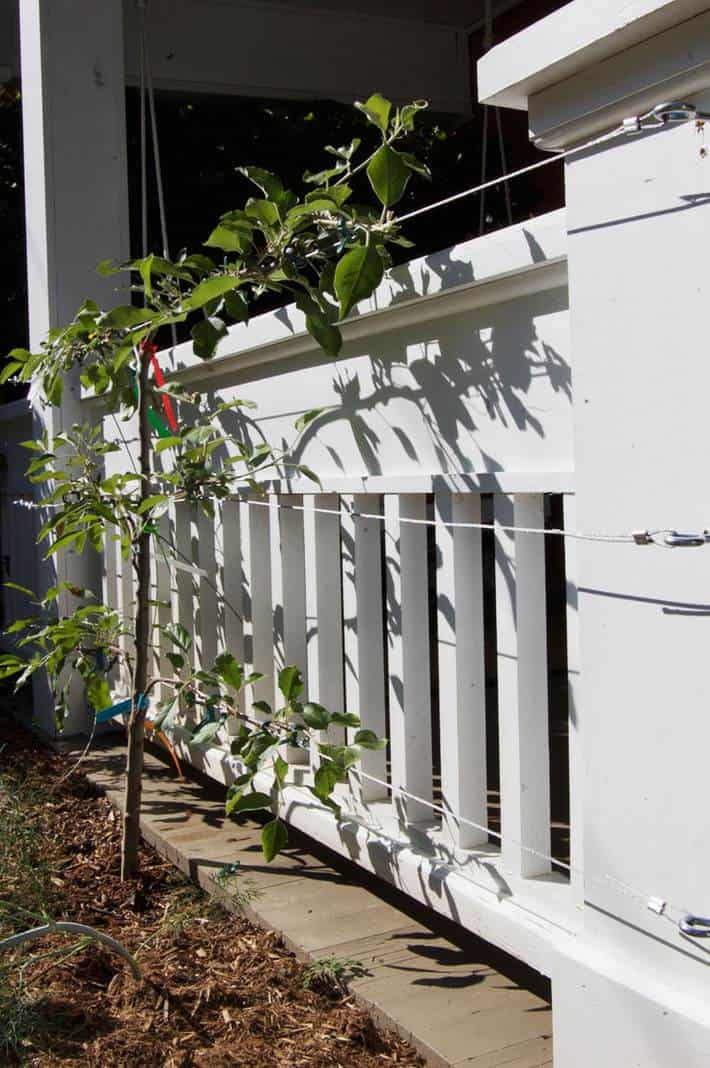 There may be errors.  For me there were errors. I thought I was screwing into a solid portion of the post but as it turns out, I wasn't.  So I had to perform a do-over and place my eye bolts a little further to the right where they were going into solid wood.
On the other end of the length of wire is another eye bolt and the turnbuckle.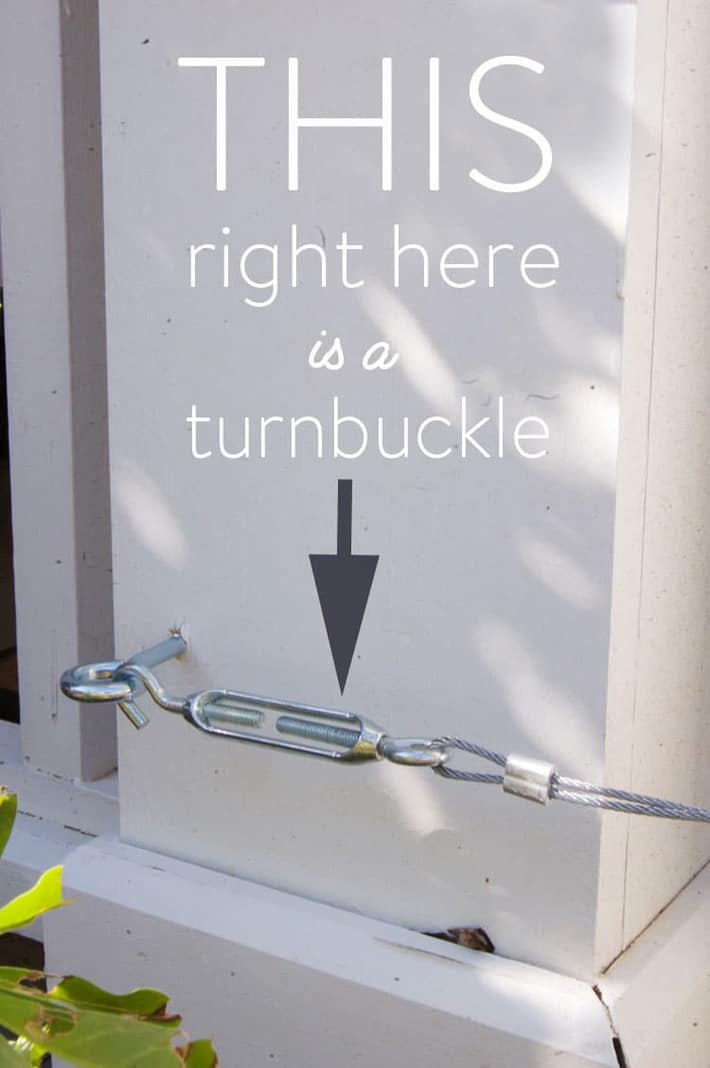 Turnbuckles come in different sizes. You'll just need a small one.  Once it's attached you just twist it and it tightens the wire.  If it stretches or comes loose over the years you just turn the turnbuckle some more.
One tip for a turnbuckle is make sure you have it opened right up before you attach your wire.  That way you'll have the most amount of space for tightening it.
If you don't have a clamping tool for squishing your sleeve together you can hammer it with a mallet.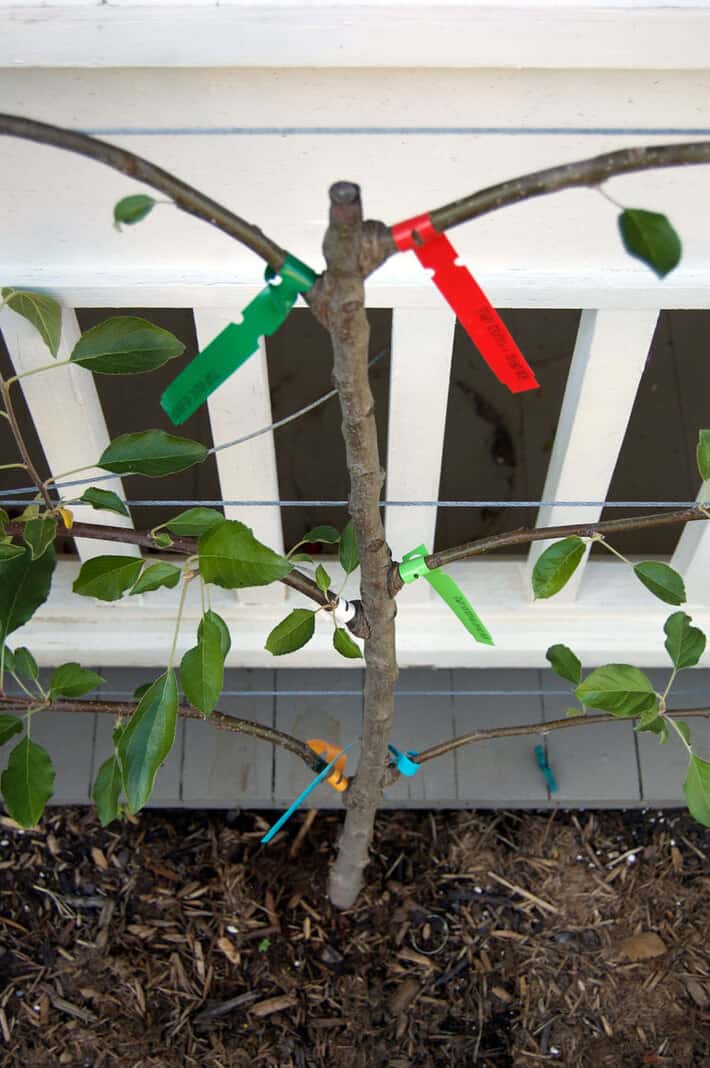 One, two, three, four, five, SIX different types of branches that will produce SIX different types of apples.
For now I'm just using small plastic clamps to hold the branches along the straight wire.  They're cheap.  They're from the dollar store.  So we'll see if they hold up.
Henri would love this.
Oh, I'm sorry, you want to know what kind of apples?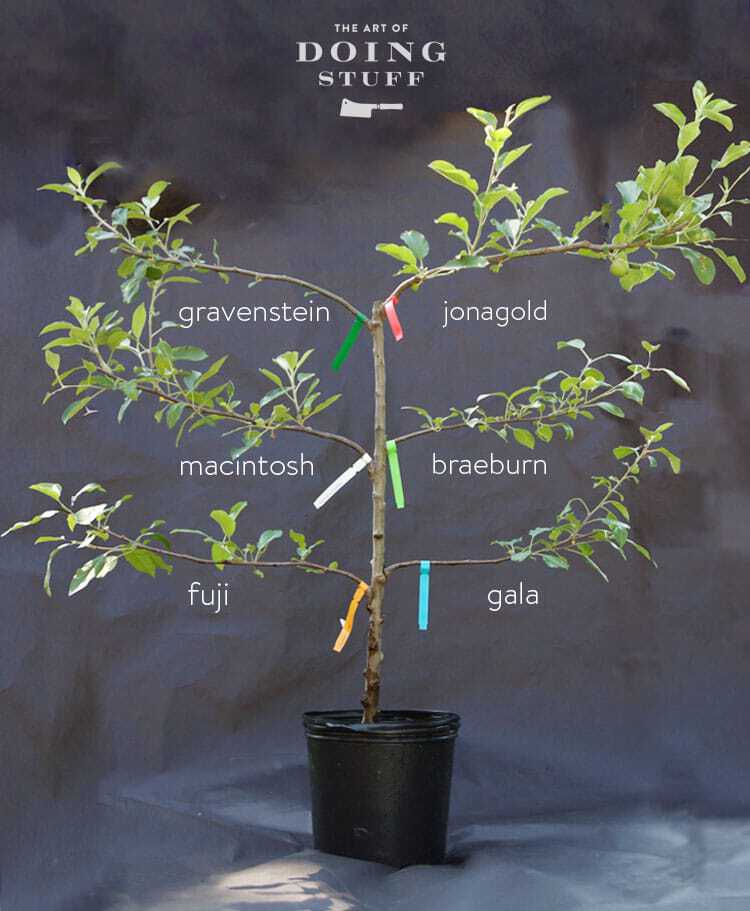 You're impressed aren't you?  You love it don't you?
To that I say Merci Beaucoup.