Have you ever had a moment of revelation? They're rare, but I can assure you they do exist. Those little moments in life where you find something out and realize up until that very point in time you were living in the dark. Like a fish living life at the bottom of the sea. Like a bug burrowed deep in the bark of a tree. Like a bozo. About 9 years ago I discovered something that knocked me right on my ass. You can make pumpkin pie out of actual pumpkins. Sugar pumpkins to be precise. I swear to God I had no idea there was any option other than opening up a can of pumpkin. And it's not like I was some sort of canned food eating lunatic who thought peas or beans or those tiny little cobs of corn only came in cans. I knew all of these things could be found fresh. (now that I think of it, cans might be the only place you can find those tiny little cobs of corn.) It just never occurred to me for some reason that you could make pumpkin pie by cooking a pumpkin. Until one day I saw a sign. It said:
Pie Pumpkins!
Holy crap!  I bought a pumpkin.  I made a pie. I did it again yesterday to show you it's true!  You can make a pie out of a pumpkin.
First things first … you need a pie pumpkin.  These are the smaller pumpkins you see around.  About the size of my head.  Not my boyfriend's head.  That's too big.
About the size of my head.  Like this.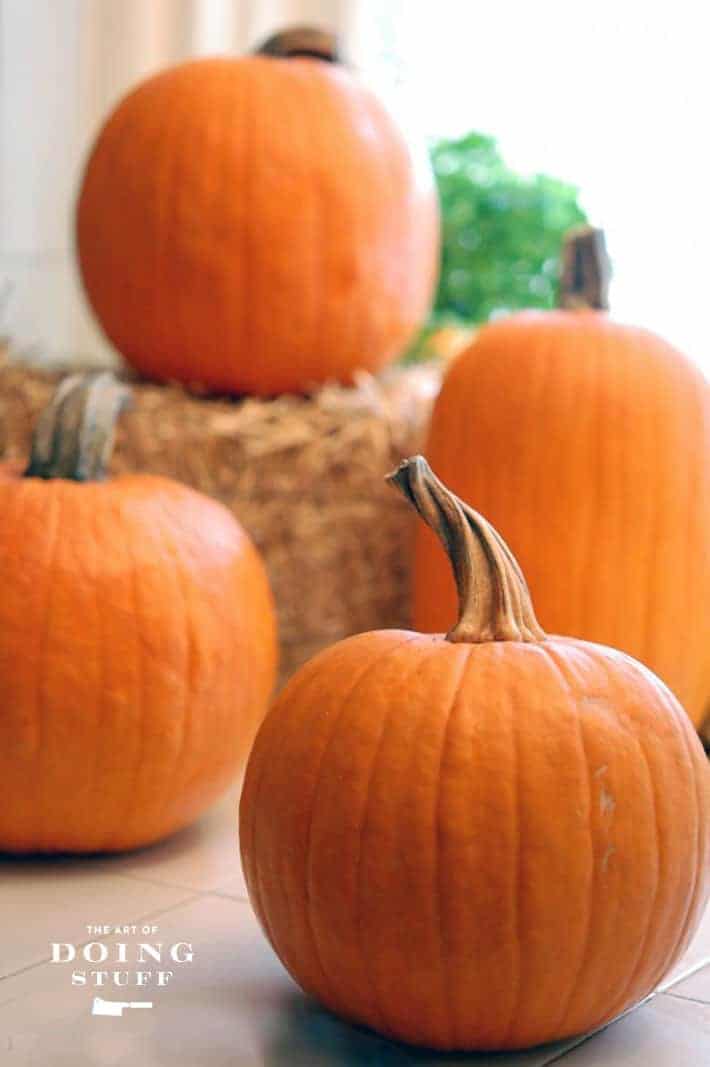 By the way, isn't that the most perfect pumpkin stem you've ever seen?  This one's pretty good too.
Now I need you to take that pretty stem and crack it off.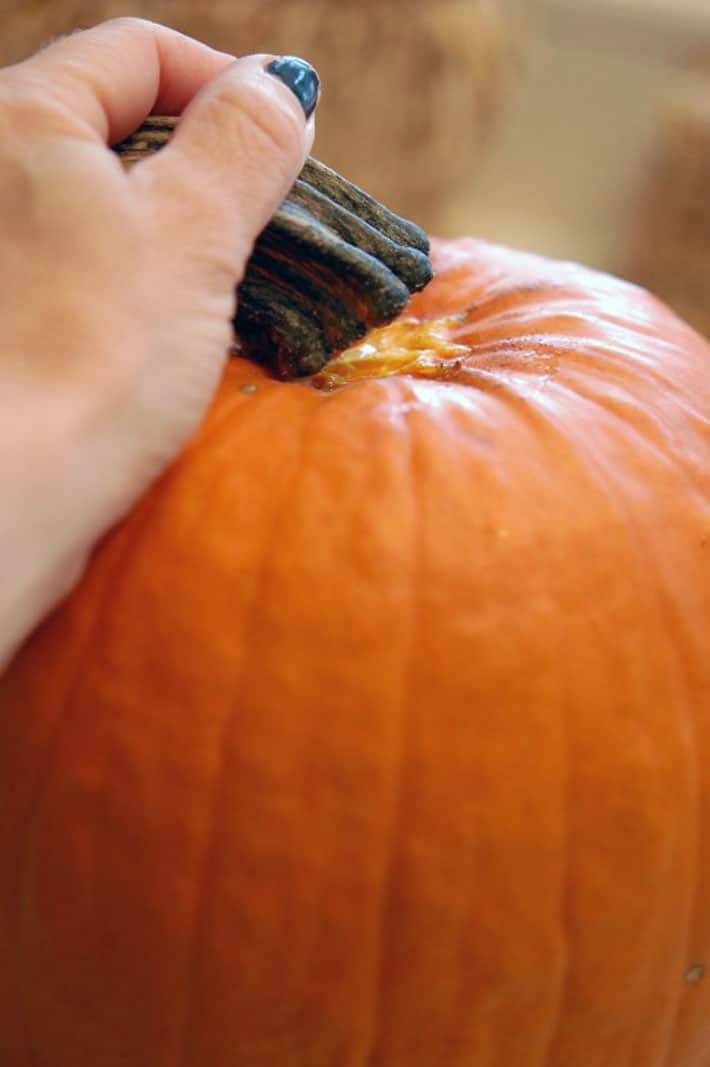 Then grab the nearest chef's knife and whack your pumpkin in half.
Inside it'll look just like a squash does when you split it in half.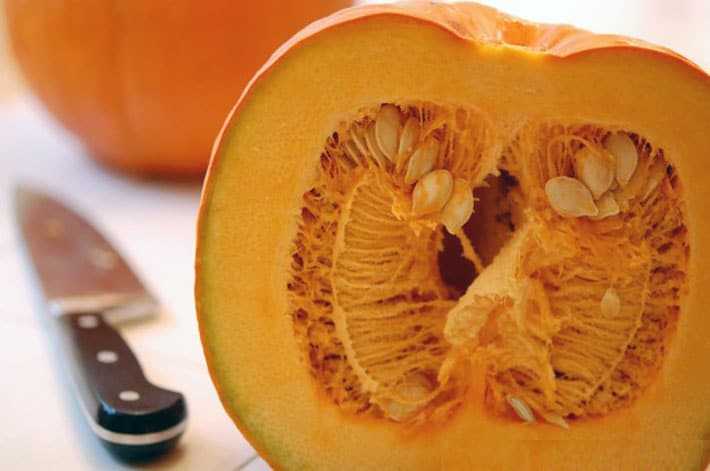 Scoop out all of the guts and fibres … then place face down on a greased baking sheet. Bake in a 350°F oven for 45 minutes – 1 hr.
The pumpkins are done when they're easily pierced with a fork.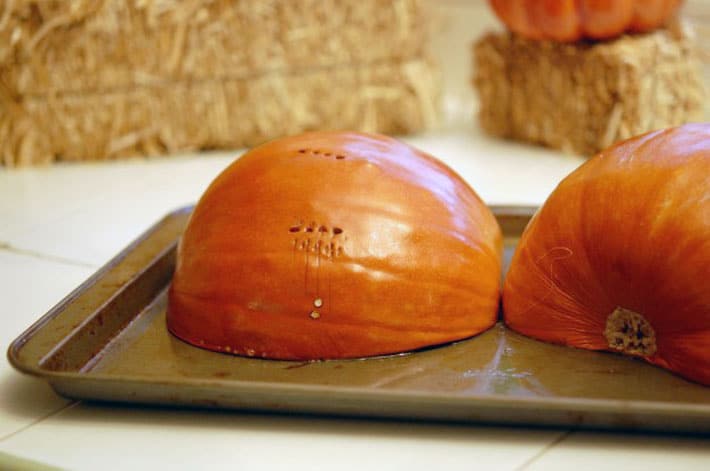 When they've cooled a bit, flip the pumpkins over and grab a spoon. Scrape the flesh out of the pumpkins and put it into a bowl.
One small pumpkin will yield around 3 cups. Plenty for one pumpkin pie. Puree your pumpkin either in a traditional blender or with a hand blender.
Blend it until it has a very smooth consistency.
Because pumpkin tends to be a bit watery, it's best to strain it in some cheesecloth for a few hours.
I just set mine in the fridge overnight. About a cup of liquid drained out of the pumpkin pulp.
Now you have cooked, strained pumpkin like they sell in cans.  Only often the pumpkin sold in cans is actually squash.  Seriously.  Look at the ingredients on a can of pumpkin. Now you just continue on as you normally would if you were making pumpkin pie, substituting your homemade pumpkin for the canned stuff.
Classic Pumpkin Pie
Ingredients
PUMPKIN PIE MADE WITH ... GASP ... PUMPKINS!
Author:
The Art of Doing Stuff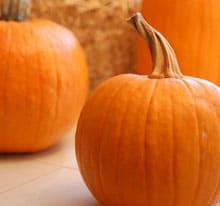 Ingredients
2 cups Pumpkin Puree
1, 12 oz. can of evaporated milk
½ cup packed dark brown sugar
⅓ cup white sugar
½ tsp salt
2 eggs plus 1 egg yolk
2 tsps. cinnamon
1 tsp. ground ginger
¼ tsp. nutmeg
¼ tsp. cloves
¼ tsp. lemon zest
1 homemade crust
Instructions
Preheat oven to 425 F
Add sugar, salt, spices and lemon zest to bowl and mix.
Beat the eggs very well and add them to the bowl of mixed ingredients.
Mix in pumpkin puree.
Add evaporated milk and combine well.
Roll out pie crust and fill with pumpkin pie filling. (you may also choose to blind bake your pie crust before filling it)
Bake at 425 F for 15 Minutes, then turn oven down to 350 F and bake an additional 40-50 minutes.
Knife should come out *almost* clean. If it comes out completely clean the pie will be overdone.
Let cool on wire rack until the pie is set.
Top with Maple Syrup Whipped Cream and enjoy!
Oh Yeah!  And I also made this thing.  A pumpkin pie made out of that canned pumpkin glop and a frozen pie crust.
Check back next week to see which my family preferred after I serve them a piece of each at Thanksgiving Dinner.  Yup.  It's a Thanksgiving Pumpkin Pie taste test.  Results on Monday! They're getting canned cranberry sauce, by the way.  Yeah, yeah.  I know.