Sure, I love rhubarb crisp, but sometimes I just need some pastry with my rhubarb. Enter - the rhubarb tart. Otherwise known as a rhubarb galette. Otherwise known as future back fat. BUT, that fat also fills out face wrinkles so it's kind of a win win in that way. I feel like I may be getting off track.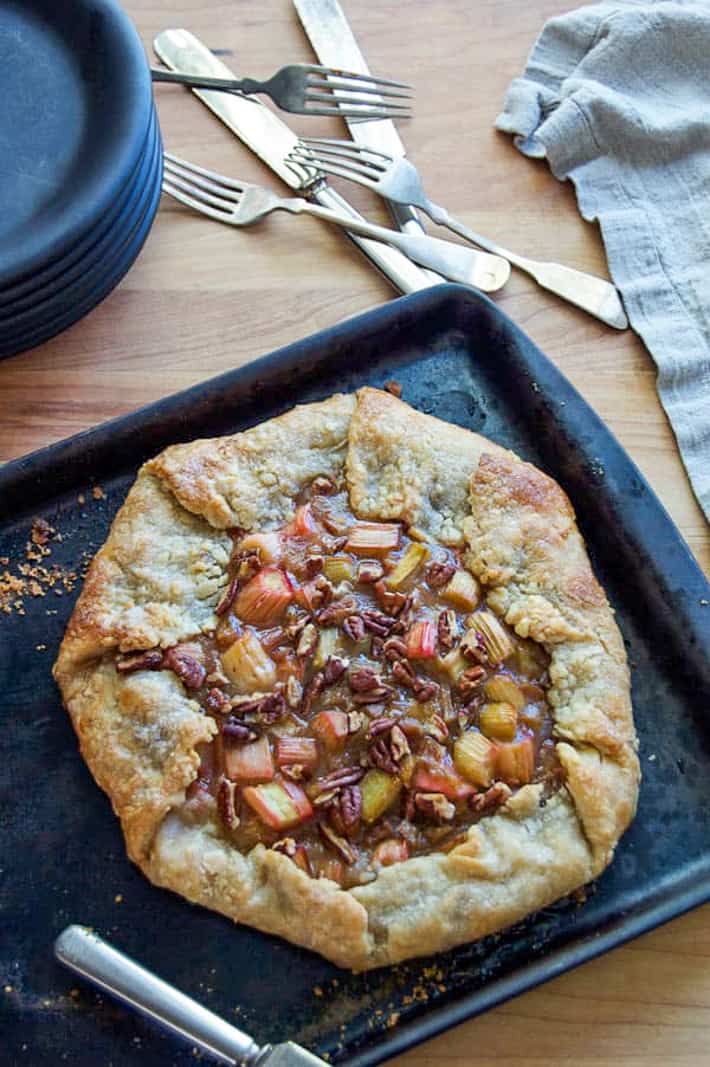 I'm sure a lot of you, like I, name your desserts. Bill, Sue, Sally, whatever. It's no different than naming your baby other than the fact that you do not eat your baby, usually. How many times have you looked at a baby and said "I could just eat you up". That's because the brain has a very difficult time distinguishing what is a dessert and what is a baby. Therefore, the line between saying it and actually doing it very thin indeed.
So it makes sense to name your dessert. Don't worry, I know you do it and it's nothing to be ashamed of.
A cupcake is cute, and sweet and squishy. It's basically a baby with icing hair. It'd be weird not to name it.
With that in mind I introduce you to Rhubarbablob. Ruby for short.
Rhubarbablob is what some of you may call a rustic rhubarb tart. But to me. She was Rhubarbablob.
It's spring in Southern Ontario and I'm not at all patiently waiting for asparagus season to arrive. Until it does, if I want to eat something seasonal I have to go with the one thing that sprouts before asparagus in the spring, and that's rhubarb.
Or fiddleheads.
But I didn't think many of you would know what fiddleheads were, plus I find them gross even though they're rare and a delicacy and liking them makes you instantly super-cool. With fiddlehead breath. Fiddleheads are the unfurled sprouts of Ostrich ferns and if I had to describe what they taste like I'd have to say they taste like fern. Really strong, dirty ferns.
Every year when the rhubarb begins to grow I start making rhubarb crisp. But this year I wanted to try to do something savoury with my first stalks of red rhubarb. Something different, anything but a dessert because everyone uses rhubarb for dessert. They make rhubarb crisp, or rhubarb pie, or rhubarb pudding.
I wanted to be different. I wanted to make a chutney or compote that could be served with pork or chicken and wouldn't be yet another rhubarb dessert.
So I rolled up my sleeves and made a rhubarb dessert.
You may know her as Rhubarbablob; the rhubarb tart.
Good news. You can make this as difficult or as easy as you want. Better news. There's really no screwing it up.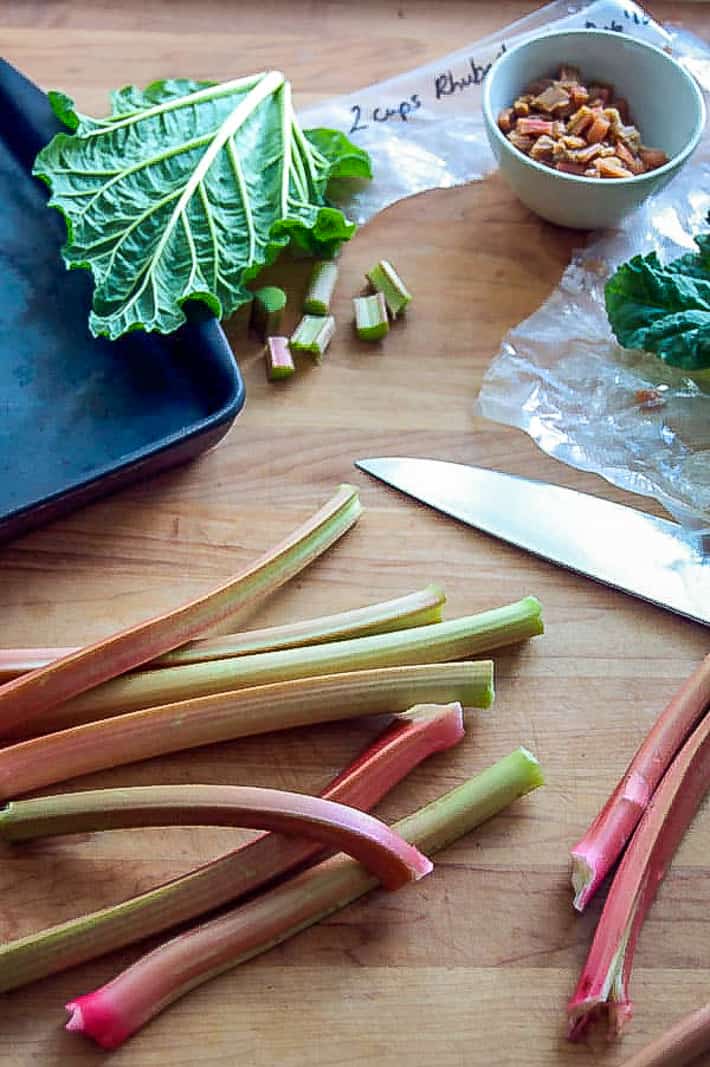 For a medium sized tart you'll need around 3 cups of rhubarb. I had 2 cups of fresh plus a cup of frozen that I had from last fall.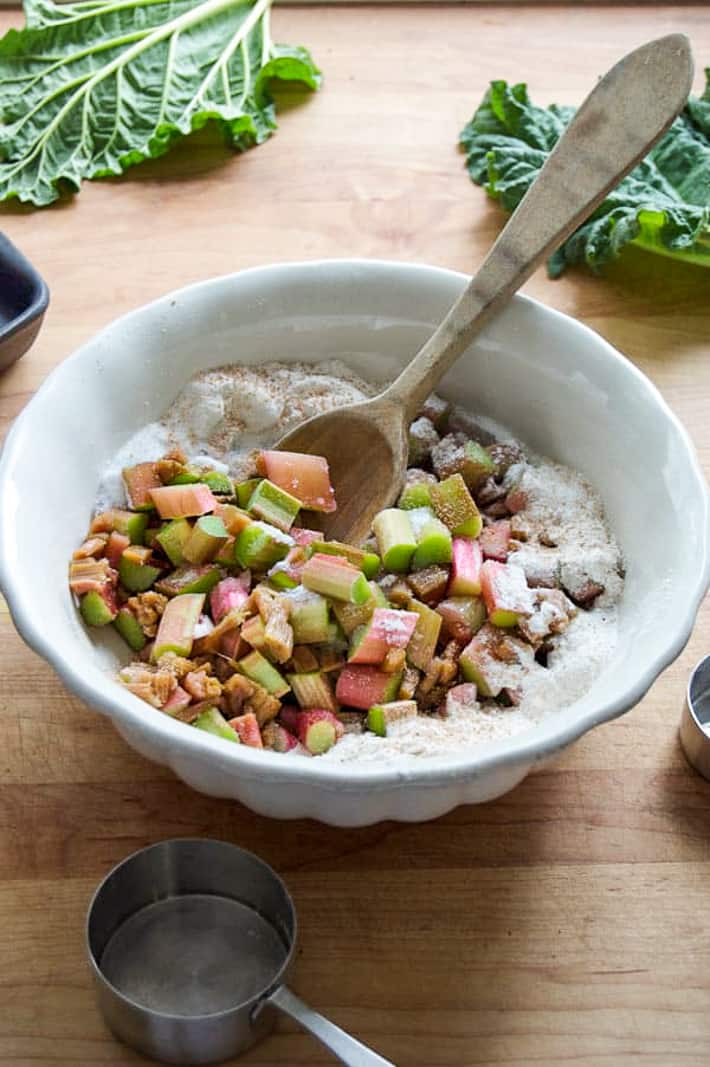 Mix up your rhubarb, sugars, flour and nutmeg. If you want it sweeter then add more sugar, just know that if you add more sugar you'll end up with more liquid in the tart. To help compensate for this add a bit more flour too.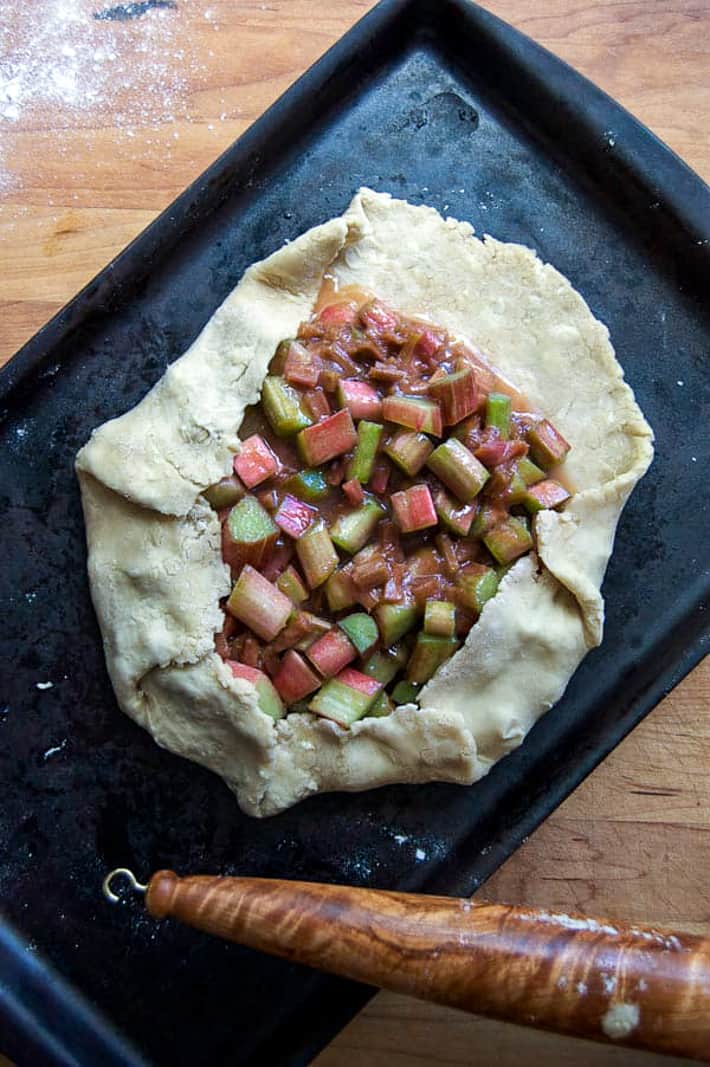 Spoon the filling into a rolled out pie shell. (I had my Tenderflake type homemade pie dough in the freezer, but if you want just buy a frozen shell and roll it out a bit to make it look homemade.) Fold the edges of the dough around the filling.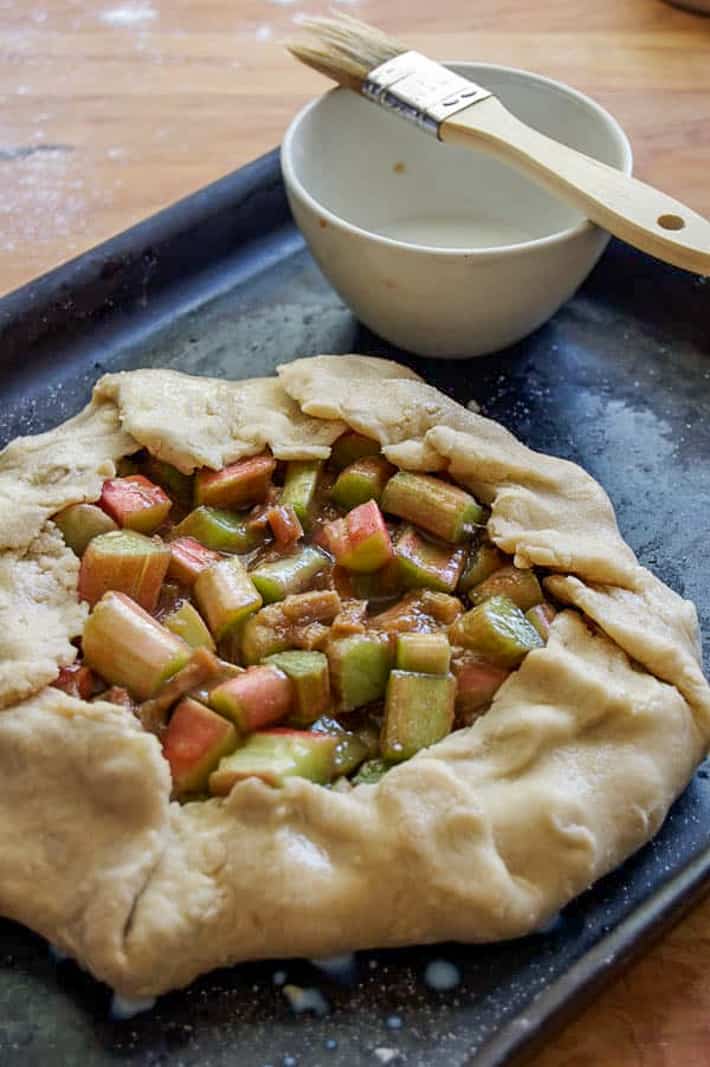 Brush the dough with milk and then sprinkle it with sugar.
If you want to, go nuts. Add pecans or walnuts to the top.
Now bake.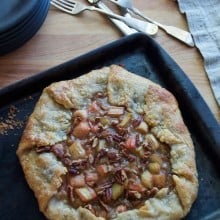 Ingredients
Pie dough

homemade or frozen

3

cups

chopped rhubarb

½

cup

white sugar

3

Tablespoons

flour

2

Tablespoons

brown sugar

¼

tsp.

nutmeg

handful of chopped nuts

pecans or walnuts

1

Tablespoon

of milk
Instructions
Preheat oven to 425°F (220°C)

Roll out pie dough into 16" or so circle. Place rolled out dough onto a baking sheet.

Combine rhubarb, sugars, flour and nutmeg and pour into centre of dough. Fold edges of dough around rhubarb filling.

Brush dough edges with milk and generously sprinkle with sugar.

Bake for 10 minutes in 425°F (220°C) oven. Reduce temperature to 375°F (190°C) and bake another 35 - 40 minutes.
This is the not at ALL perfect dessert so I encourage you to wing it. Have some strawberries? Stew a few and mix those in.
Add some peaches and a drizzle of honey all across the top.
Buy a can (GASP!!) of apple pie filling and throw that in the middle of a pie shell, sprinkle with nutmeg and cinnamon and throw 'er in the oven.
Let this be the dessert that you just screw around with.
If you figure out a way to make it a chutney that would go well with chicken, let me know.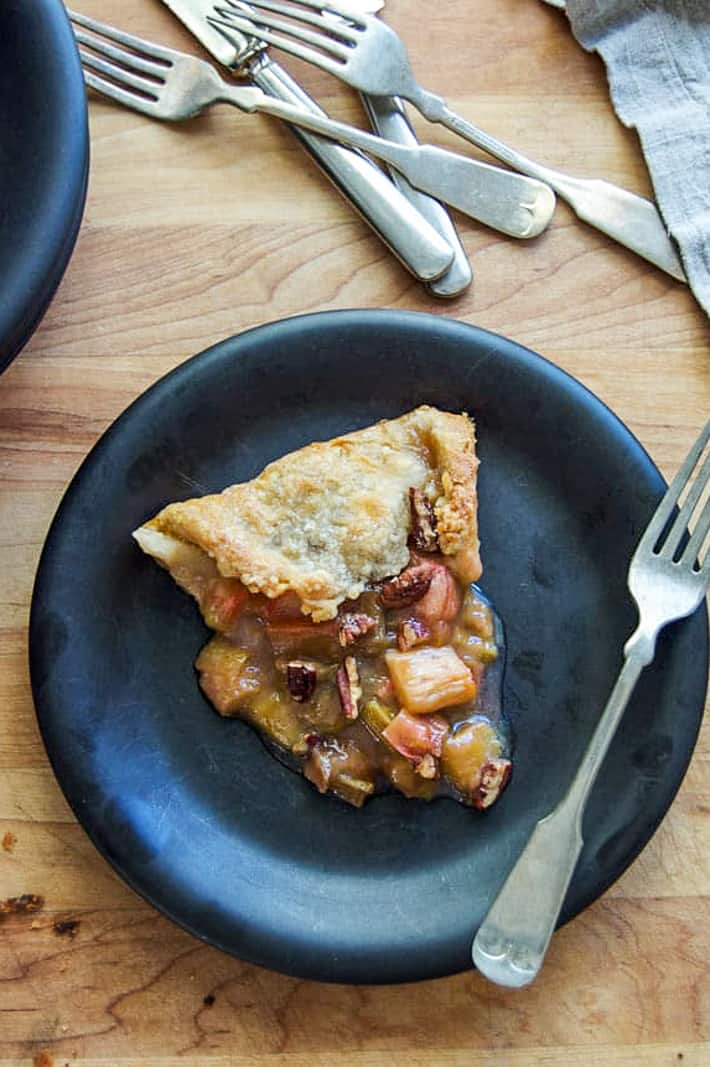 It's a thing of beauty the Rhubarbablob. It's sweet and cute and adorable.
Now eat that baby.
→Follow me on Instagram where I often make a fool of myself←