Rhubarb Crisp with a crunchy topping made with oats, brown sugar and butter. A healthy, refreshing fruit dessert! O.K. it's basically a bowl of sugar and butter with rhubarb throw in for colour. And to be perfectly honest I'm not even sure that it's a fruit. But still ...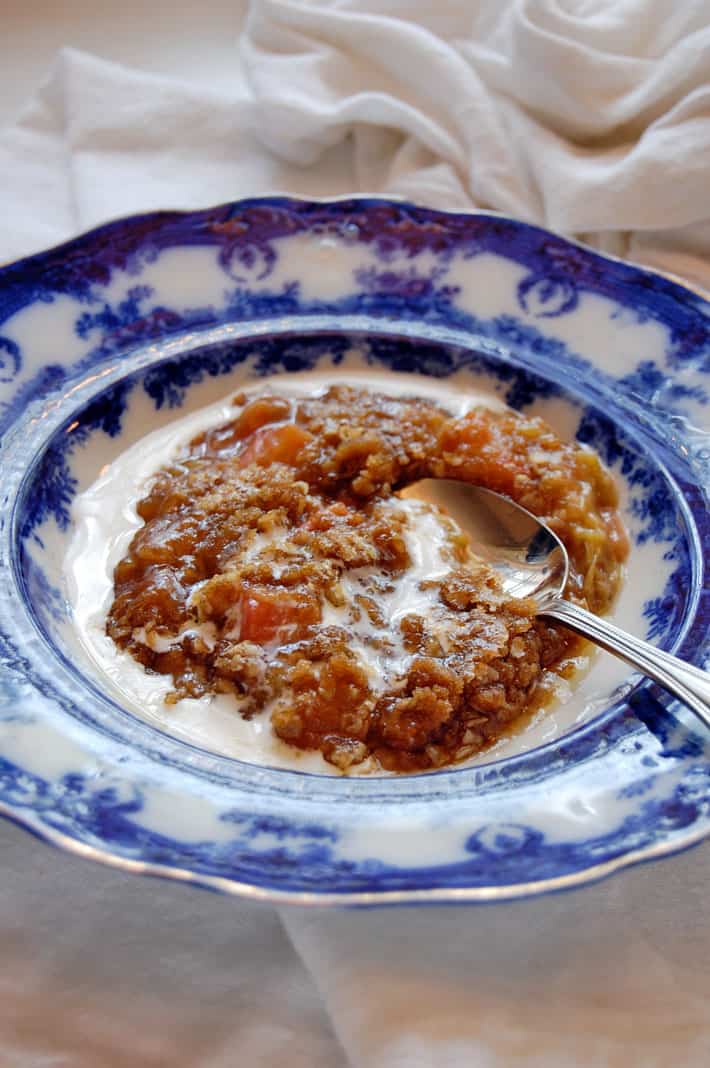 You've gotta love an edible plant that comes up year after year no matter how much attention you do or don't give it.
Rhubarb. It's the gift that keeps on giving.
And giving and giving and giving and giving and giving and giving and giving and giving and giving and giving and giving and giving. And if you look at it with even half a smile ... it jumps right up in your lap and gives some more. It's the Golden Retriever of the vegetable world.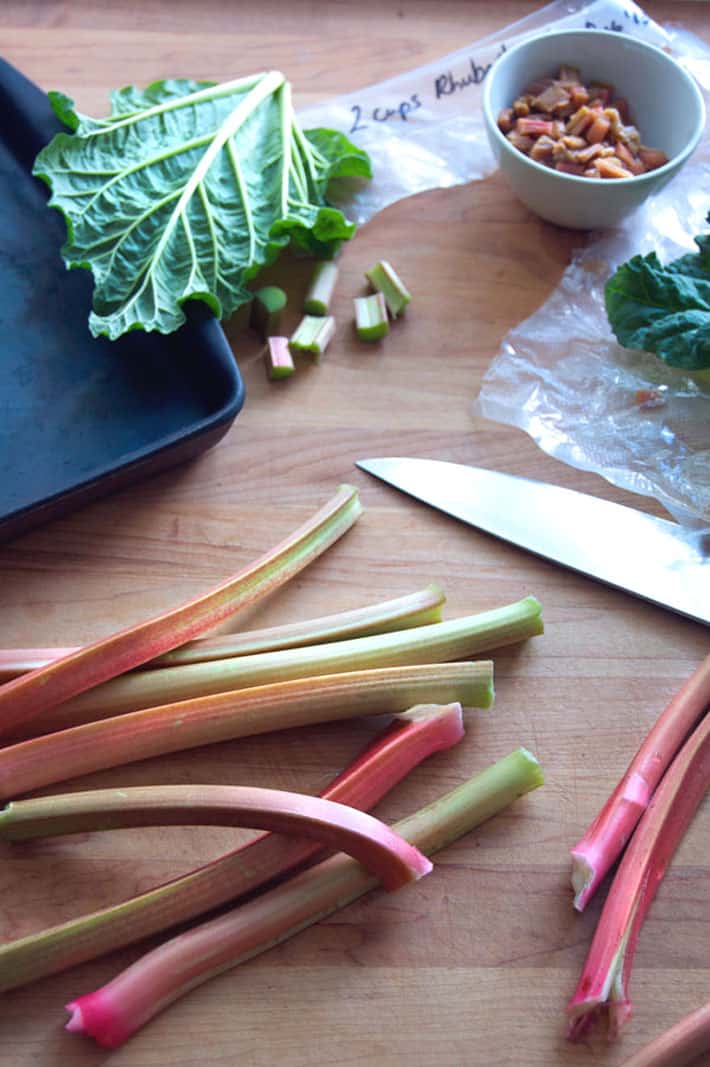 I'm not certain, but I'm pretty sure there's nothing you could do to discourage Rhubarb. It's the first to pop up in the garden, the last to go away and pretty much puts up with every kind of neglect you can throw at it.
The best way to deal with a mass of anything you don't need is to give it away. That way it appears you're the generous one by giving it away, when in truth ... the real gift is getting rid of this massive, relentless, pathologically prolific plant.
If you don't have this problem with your rhubarb growing like crazy, you might need to split it. Rhubarb plants should be split (like I show you in this post) every few years to keep them invigorated.
My favourite thing to do with Rhubarb is make a Rhubarb Crisp. Otherwise known as a Rhubarb Crumble. Otherwise known as the easiest dessert on earth, unless you consider sucking on an ice cube to be dessert. 'Cause that's pretty easy too.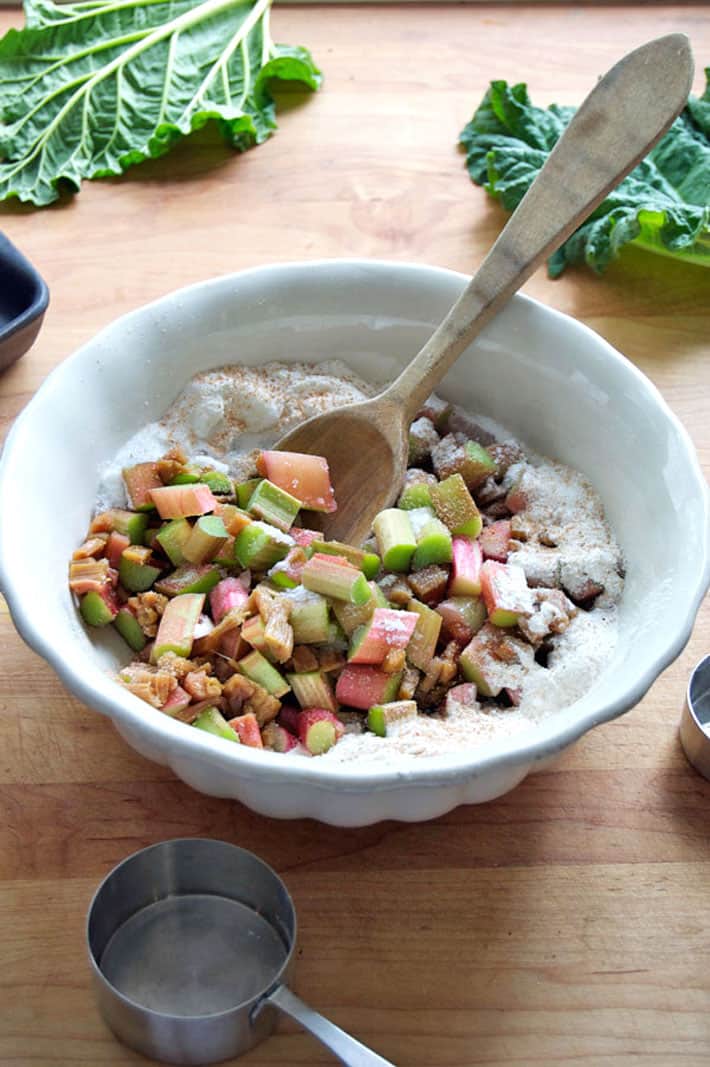 For the body of the crisp you mix up some sugar, cinnamon, rhubarb and water. For the top it's some melted butter, quick rolled oats and brown sugar.
What follows is my Rhubarb Crisp recipe. I make it several times in the spring, then I get sick of it. Once I get "crisp sick", ... I'll start gifting it. 'Cause I'm kind and generous and I have a shitload of rhubarb. Only I probably wouldn't use that actual phrase on the gift card.
Rhubarb Crisp Recipe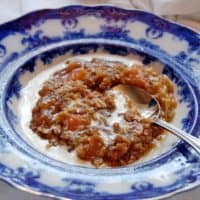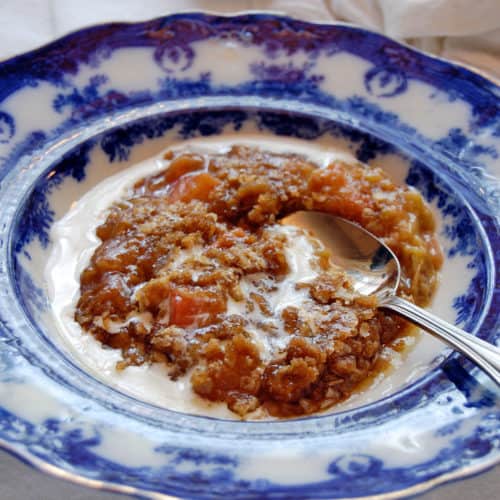 Rhubarb Crisp
A sweet/tart early summer classic made with fresh rhubarb, brown sugar and a crispy, crumble topping.
Print
Pin
Rate
Ingredients
Rhubarb Crisp Filling
4

Cups

Rhubarb

cut into 1 inch lengths

1

cup

Sugar

¼

cup

Flour

all purpose

½

tsp.

Cinnamon

½

cup

Water
Rhubarb Crisp Topping
1

cup

Flour

all purpose

½

cup

Quick-cooking Rolled Oats

1

cup

Brown Sugar

packed

½

cup

Butter

melted
Instructions
Heat oven to 375°F.

Butter a square 8x8x2 baking dish.

Combine rhubarb, sugar, ¼ cup flour, and cinnamon in prepared baking dish.

Pour water over all of it.
For Topping
Combine 1 cup flour, rolled oats, brown sugar and butter. Mix with fork.

Sprinkle topping over rhubarb mixturte.  Bake 35 minutes.

Serve warm with cream.
Nutrition
Calories:
406
kcal
|
Carbohydrates:
73
g
|
Protein:
3
g
|
Fat:
12
g
|
Saturated Fat:
7
g
|
Cholesterol:
30
mg
|
Sodium:
113
mg
|
Potassium:
247
mg
|
Fiber:
2
g
|
Sugar:
52
g
|
Vitamin A:
415
IU
|
Vitamin C:
4.9
mg
|
Calcium:
87
mg
|
Iron:
1.5
mg
If you plan on giving the gift of Rhubarb Crisp just pack the dry ingredients into mason jars and attach a tag or two with the instructions.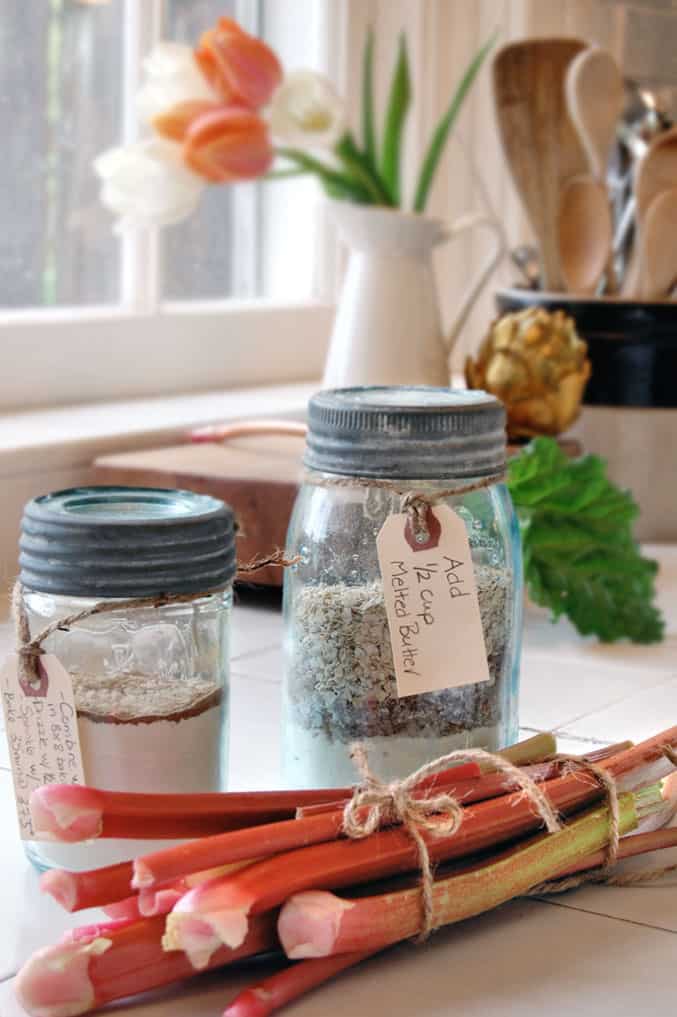 One jar for the filling and one for the crumble topping.
If you decide to make this for yourself as opposed to giving it away, because you're very, very selfish … you might want to consider topping it with some cream. Either regular old coffee cream, like I've used in the photo, or a dollop of whipped cream. Isn't dollop the best word ever?
I find this to be a touch on the sweet side, but as you know I'm more of a potato chip expert. For now.
So … take that as you will. You can add a little less sugar if you like. Or … you can forget the recipe entirely, and just eat a bowl of potato chips.
→Follow me on Instagram where I often make a fool of myself←