Are your squash plants wilting and dying for no apparent reason?? Yeah. There is an apparent reason for that. The dreaded squash vine borer. Here's how to get rid of it and save your squash plant from imminent death.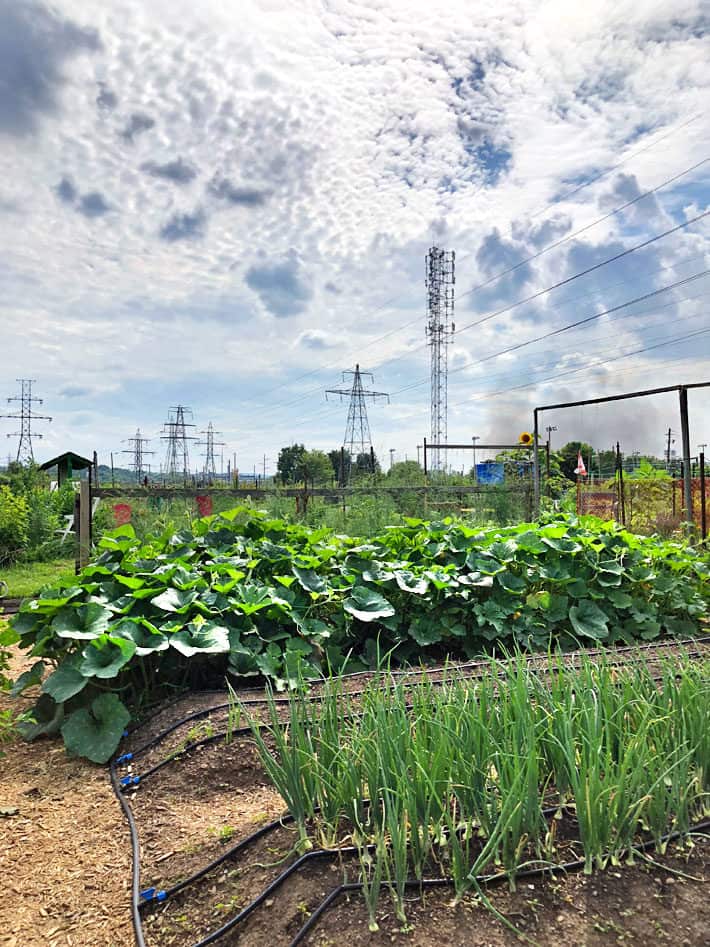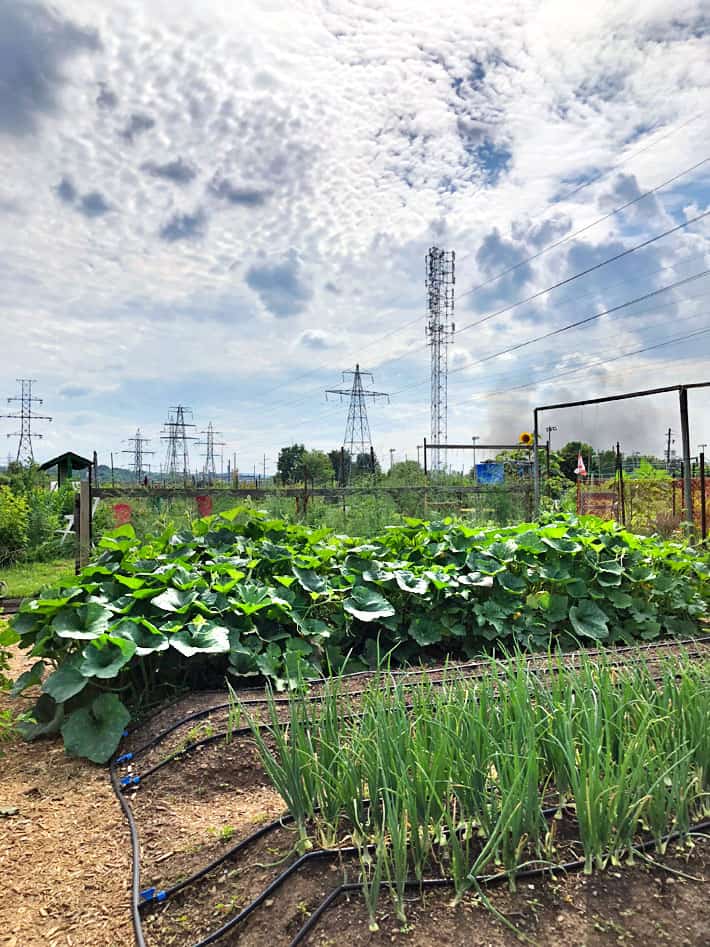 Skip right to the Squash saving steps.
Around the middle of July squash vines go nuts. They are vigorous, manic freaks that will take over and take hostage anything in their path. This includes rabbits, snakes, voles and tweens.
Actually more than taking them hostage the vines hide them. NOBODY wants to walk through a squash patch in full vigour because who KNOWS what's hiding under those leaves. However, if instead of shooting out new growth at an alarming rate, your squash vines are starting to wilt like they need water (even if they don't) you have a pest that's hidden itself INSIDE the plant.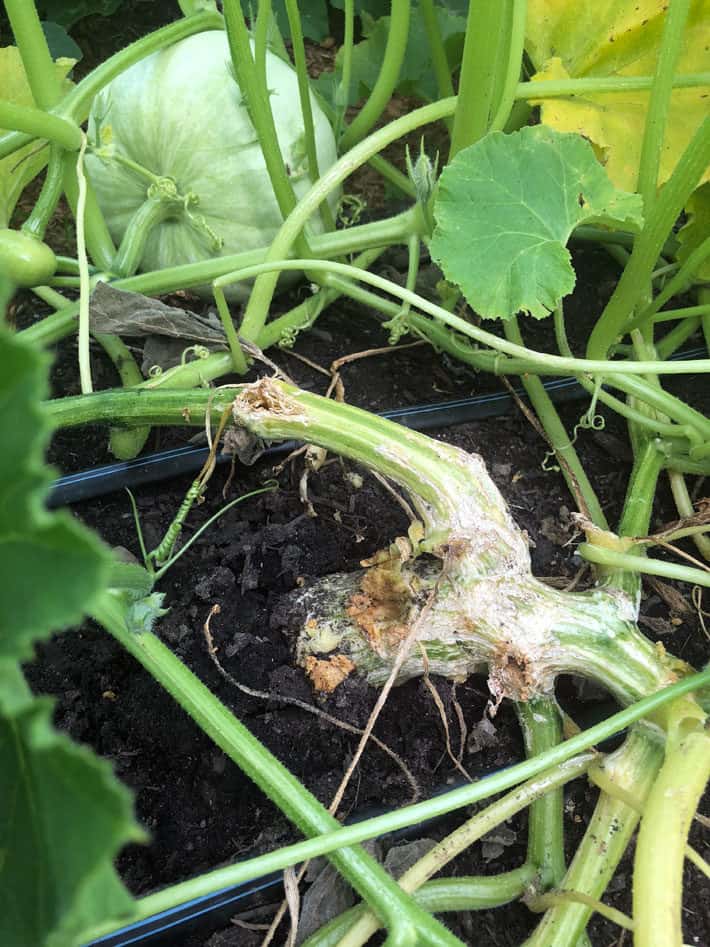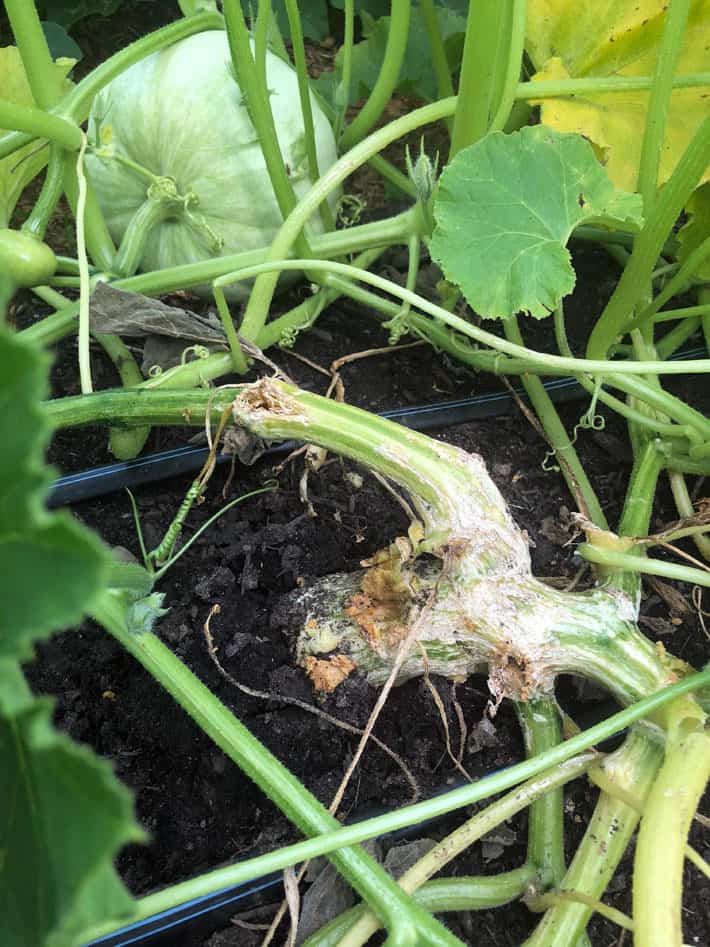 What are Squash Vine Borers?
Squash Vine borers are disgusting, white, maggoty creatures that burrow into the stem of squash vines. The pests overwinter in the soil and when the time is right in the spring they emerge, turn into moths and proceed to lay eggs at the base of their favourite plants; squash, zucchini and pumpkins.
The eggs are laid on or around the base of the plant and when they hatch, the squash borer eats its way into the squash stem, just above the soil line.
Once inside the stem, the squash vine borer continues to eat the inside of the stem hollowing it out until the plant eventually wilts and dies a surprisingly rapid death.
What the moth looks like
The vine borer doesn't start out as a digusting maggot (although it really is that whole what came first, the chicken or the egg conundrum). The squash vine borer is a black and orange moth that actually looks more like a fly or a wasp. Adult moths are active and emerging in early to midsummer so keep an eye out for them. Then squish them and kill them with all of your might.
You can try to trap them before they have a chance to lay eggs by using pheromone traps or yellow sticky cards. If you don't catch them and eggs hatch you have to move onto other control measures.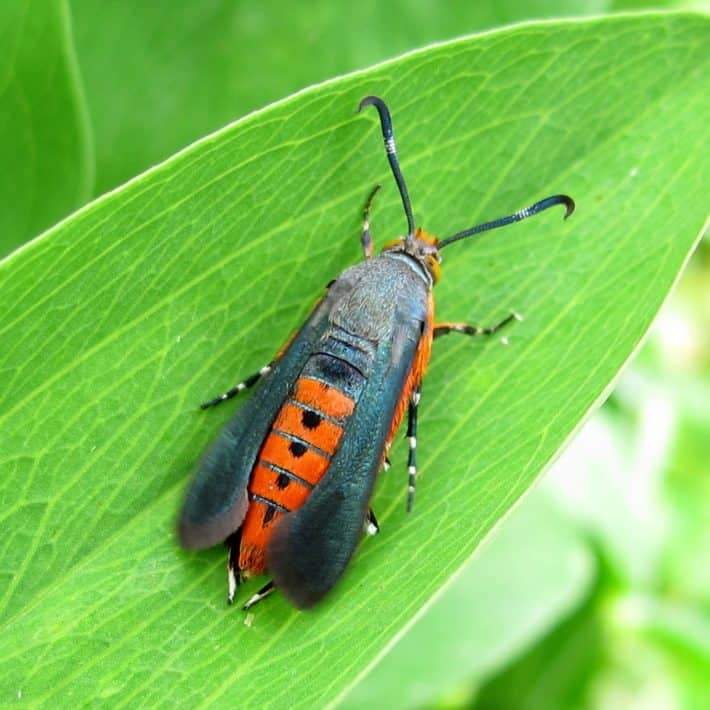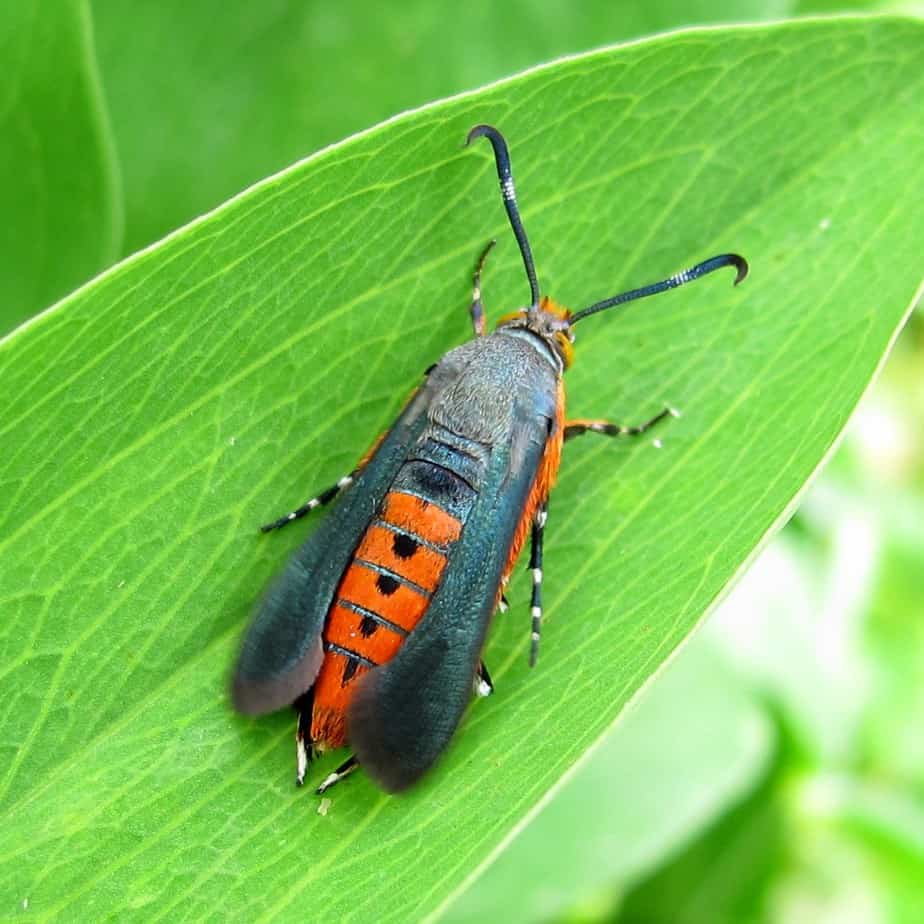 Will diatomaceous earth kill them?
Diatomaceous earth is the go-to for pest control among the organic crowd. If the gardener uses oak milk, there is a 100% likelihood they also use Diatomaceous earth.
But will it work? Diatomaceous earth is finely ground aquatic microorganisms. It's a fine powdery substance sort of like flour but because it's made out of ground up skeletons on a microscopic level it's very sharp. (the skeletons are made up of silica)
Because of the sharpness, when bugs walk or crawl or slide through DE the sharp silica slices through the pests. This results in not immediately but eventual death.
HOWEVER Diatomaceous earth is least effective on things like caterpillars, worms and slugs.
Therefore, sprinkling Diatomaceous earth around squash plants isn't likely to kill squash vine borers.
Also, DE is rendered useless once it gets wet so you can't water or expect rain for several days if you want to see any of its advantages against other pests in the garden.
ps I am a member of the organic crowd but I test methods to make sure they actually work rather than just assuming they will.
What insecticide to use
Just say no. Honestly. If you can just say no to drugs that'd be great.
However, if you want, you can try using Bacillus Thuringiensis (otherwise known as BT), a naturally occurring bacterium that kills caterpillars and maggot-like things.
I've never used this method but this is the year I'm going to do a trial run of it on one plant.
BT is normally sprayed on the leaves of plants to kill any caterpillars that feed on them. The problem with squash vine borers is that they live on the INSIDE of the plant. So how do you spray them? You don't.
You inject BT into the base of the vine where the squash vine borer lives.
To Kill Vine Borers with BT
Apply treatment just after flowers start to bloom on the squash vines.
Fill a 3cc needle syringe with 1 ml (cc) of liquid BT.
Slowly inject the BT into the squash vine 1 - 1.5" above the soil line.
Remove the needle and syringe from the vine and then flush it out with a 10% bleach solution to clean out the BT and kill any possible bacteria.
Shop for the stuff:
3cc syringes and needles are here and premixed liquid BT is here.
Identifying Damage
In the mess and tangle of squash vines, it's easy for vine borer damage to go unnoticed, so you have to make a point of looking for signs around the end of June and beginning of July.
I have the most problems with my winter squash, but summer squash, pumpkins, cucumbers, and melon scan also be affected.
Signs of squash vine borer activity are:
Mushy main stem that feels hollow when you squeeze it, instead of firm.
Holes or cracks in the stems of the squash plant, near the soil line.
Evidence of yellow fluffy frass (squash vine borer poop) around the soil line and on the stem. It looks kind of like sawdust.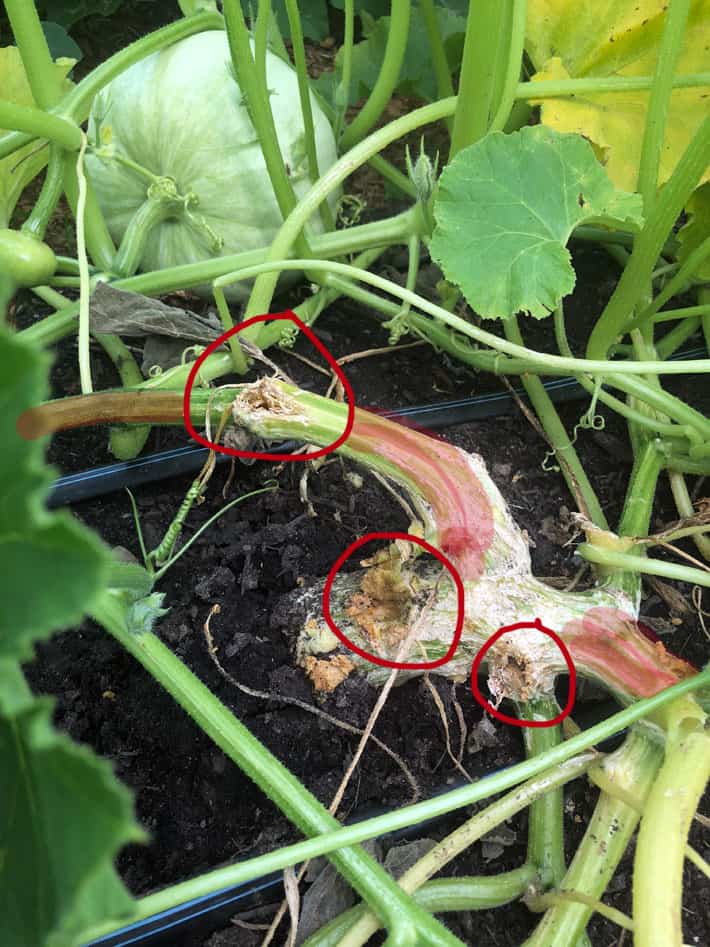 You can see the 3 spots on this one large squash vine that vine borers have gotten into it. Anything circled is a vine borer hole. Anything highlighted slightly in red is where the vine will die. Basically it'll die from the point of the hole straight out.
Since vine borers make their entry points at the start of the squash vine where it meets the soil that basically means the entire vine from that point out will die taking all the potential squash with it.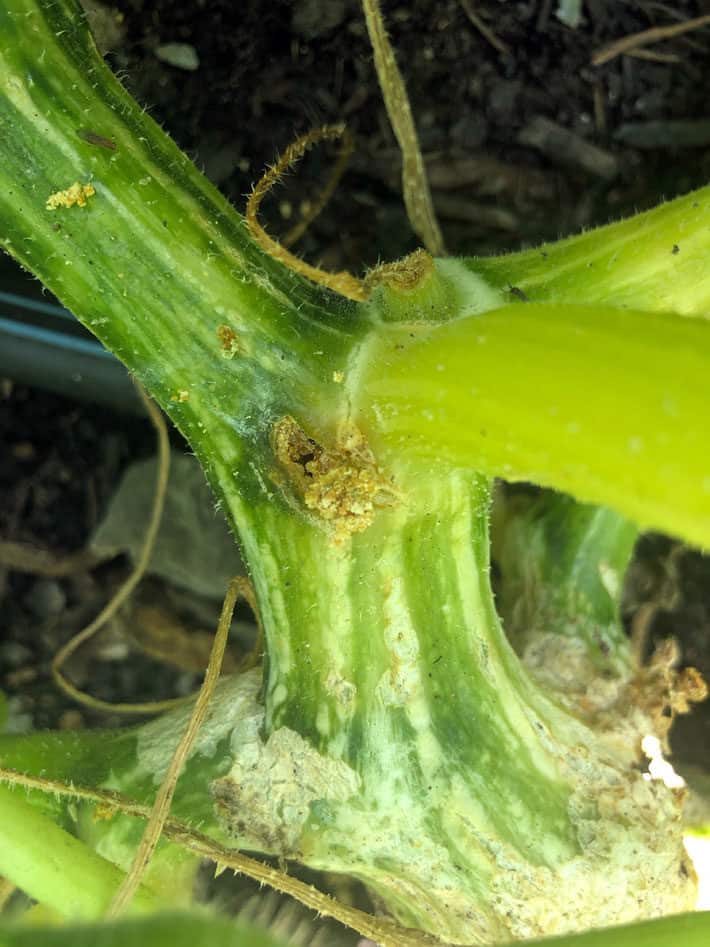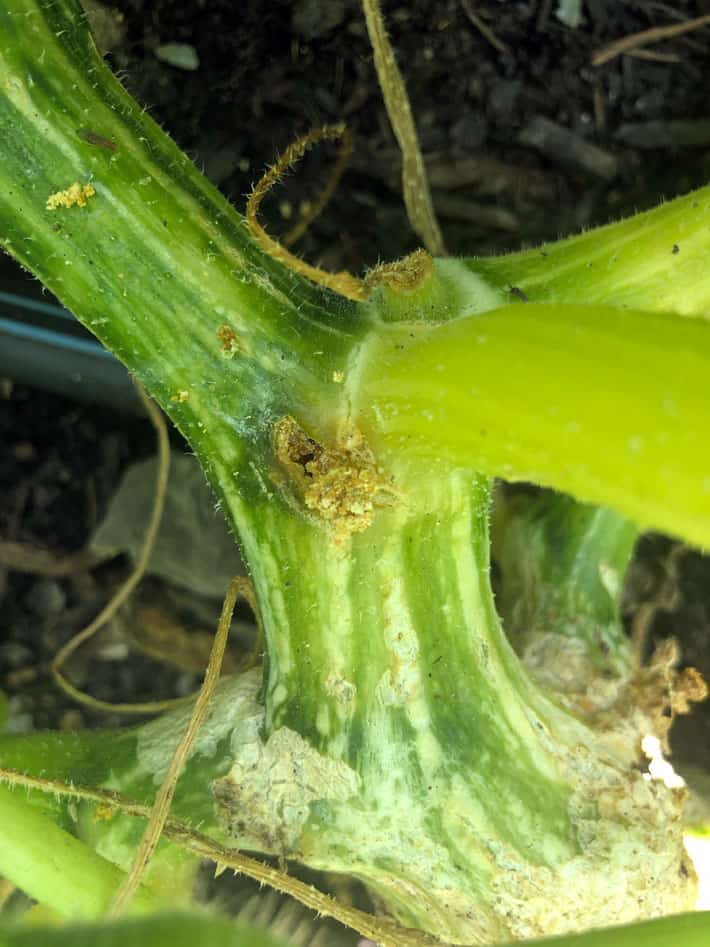 So what do you do?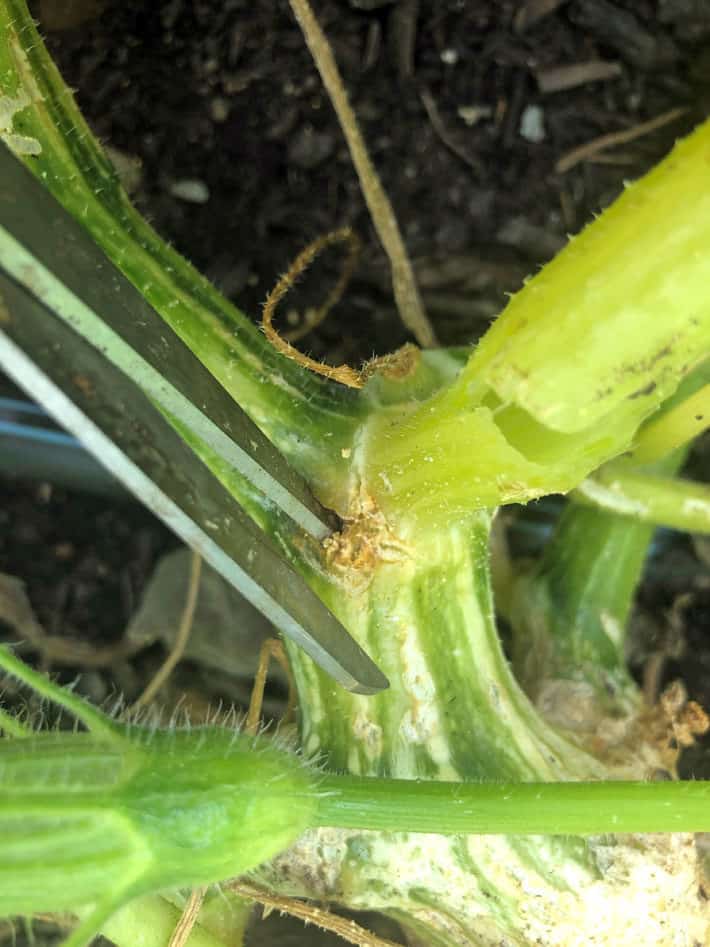 You have to cut those suckers out. You have to lance the wound.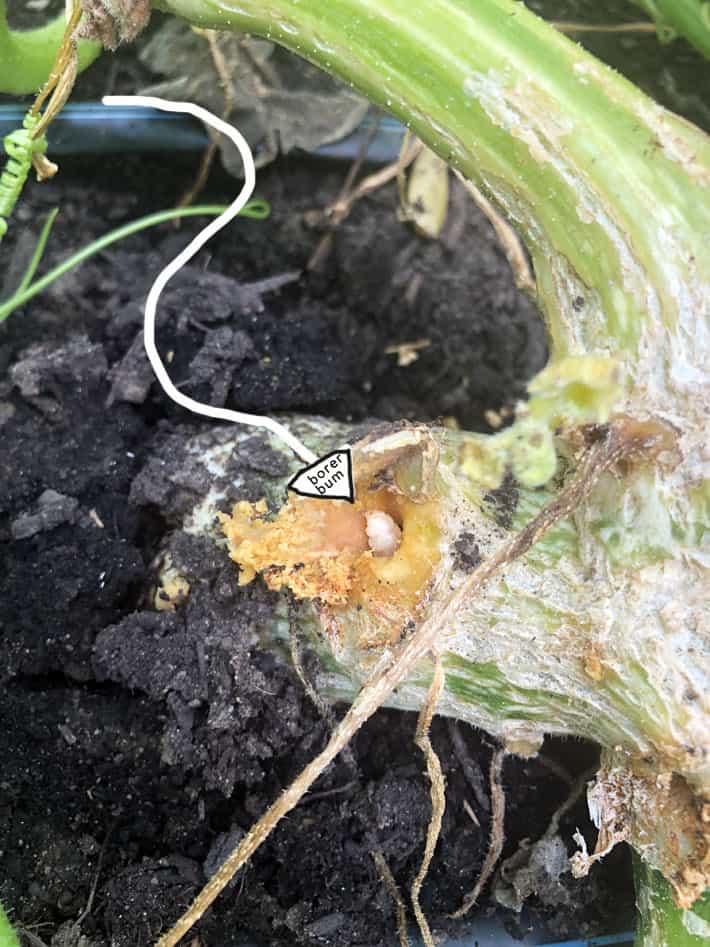 Just because you can't see the vine borer hole doesn't mean you don't have them. They're often on the underside of the stem so there's no visible evidence of a hole.
In that case look around the soil for orangey gunk. That's squash vine borer frass (poop). If you see it. You have squash vine borers.
And again, the easiest way to check for vine borers is to squeeze the stem near the soil line. If the stem feels hollow, you have a vine borer.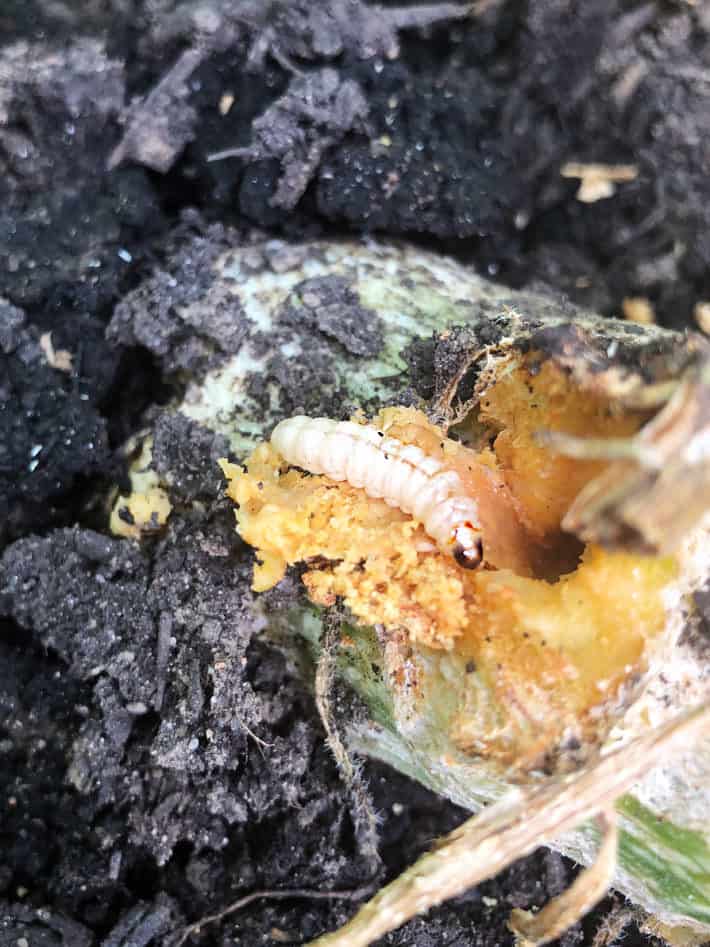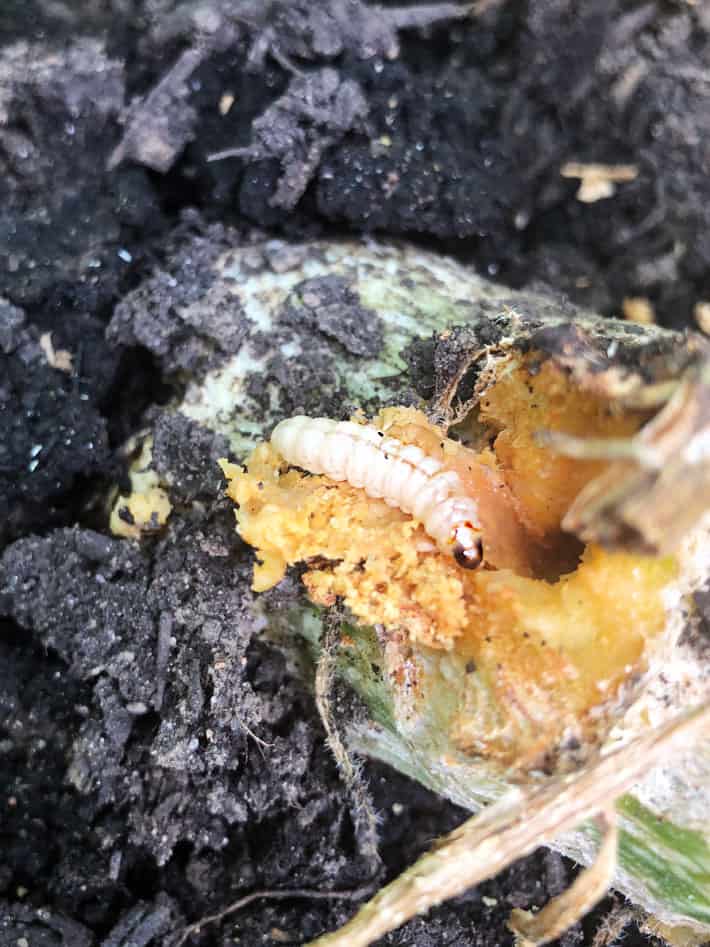 Yup. That's just how gross they are. So to reiterate: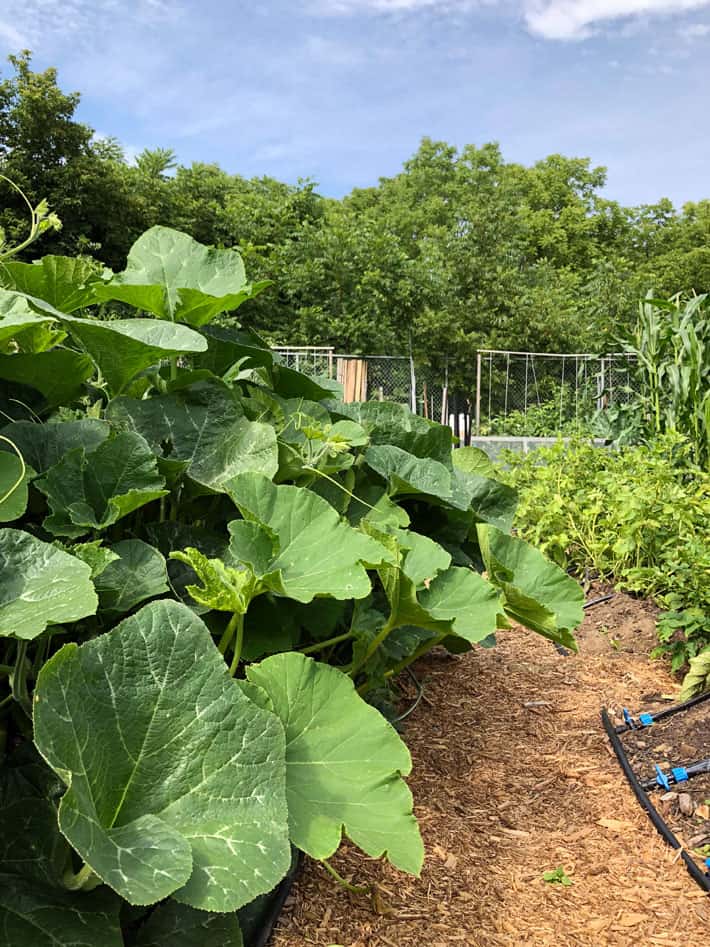 TIPS
Check your vines even if your vines aren't wilting. Catching the borers early is key to success.
While your plant is growing earlier in the season, push your vines towards the soil and hold them in place with a mound of soil on top, or a U pin. This will allow the vine to root there, helping that portion of the vine survive a vine borer attack at the main stem.
Grow vine borer resistant varieties of squash. Butternut and Honeynut are two that seem to be less vulnerable to vine borers.
Preventing Squash Vine Borer Damage
Grow borer resistant varieties of squash like Butternut or Honeynut.
Clean up all of your squash vines as soon as you pick your squash.
Rotate zucchini, pumpkin and squash beds. The cocoons overwinter in the soil so moving to a new location should help eliminate chances of them being born right next to your plants.
If you plant in a bed that you're fairly confident doesn't contain any cocoons you can cover your squash plants with row cover. This will prevent the Squash vine borer moth (Melitta curcurbitae) from laying eggs on the stems.
Mound soil or mulch up high around the stem of your vine as it grows to prevent a moth from laying eggs there.
Wrap the main stem with tin foil, a plastic bottle or anything else to cover up the stem and keep it safe from a moth laying eggs. (I personally find this method to be a bit iffy, but others swear by it)
→Follow me on Instagram where I share a whack of gardening stuff.←