In my last post I let you in on my little secret about fence hardware. And the fact that you do NOT have to use the common, crappy stuff you find at your local hardware store. In fact, you don't even have to use it if you have a common, crappy fence. Like new cupboard handles or doorknobs, sometimes just changing the hardware on your fence can update it.
The only problem with using random objects as gate handles ( twigs, doorknobs, cupboard handles, suggestively positioned Barbie Dolls … to name a few), is they don't have any latches. Therefore, there's no real way to keep your fence gate closed. Which is fine and dandy if you're a "come on in" kindda person. I am not a "come on in" kindda person. I'm a "stay away" I'm in my p'jamas lipsynching to Journey in the backyard at 2 in the afternoon kind of person.
So how to deal with this dilemma? Rare Earth Magnets.
Yup. My gate fences are held closed by magnets. Not just any magnets will do though. Like I said, you have to use Rare Earth Magnets which are the strongest type of permanent magnet in the world. They are so strong they sometimes come with a warning because you can easily squish your fingers between them.
I got my Rare Earth Magnet sets at Lee Valley Tools, but I'm sure you can find them elsewhere.
To set your gate up with a magnetic closure you'll need:
A drill fitted with a,
Forstner Drill Bit in the same diameter as the magnet you have. This drill bit will drill a cup with a flat bottom into wood. Don't worry if you don't have this type of bit. Neither did I. I just ran out to my local hardware store and bought one. Do the same.
Rare Earth Magnets, magnet, cup and washer set. (I used a 1″ set)
Scraps of wood that match your fence.
To Assemble:
Cut the scraps of wood to the size you need depending on the width of your magnets. I cut my scraps to 5 inches long X 2 inches wide. The depth of the wood is 5/8ths of an inch.
Drill your cup hole over to one side of the piece of wood. Not too close to the edge that it might splinter and break.
See? Now you have a perfect, flat bottomed cup drilled into the wood.
To make this step easier, before drilling I set the magnet (which is going to sit into the cup) beside the drill bit.
Then I marked the depth of the magnet cup on the drill bit with a Sharpie.
So when I drill my hole, I can see where to stop to make the hole the exact depth of my magnet.
Now you have a cup hole the exact right size to slip the magnet cup into.
Set your magnet cup (the thing that will hold your Rare Earth Magnet) into the cup hole in the block of wood.
Screw a screw into the centre hole to hold the magnet cup into the wood.
Very carefully slide the magnet into the magnet cup.
Watch your fingers … these things are strong and they bite.
Now the hard part's done.
Now all that's left to do is to screw this block of wood onto your fence, along with this washer which will act as the "attractor" to the magnet. You'll notice the washer also comes with a handy recessed hole in the centre so you can screw it flush to your gate.
Now you have to head outside with your drill so you can screw the block of wood and the washer to your fence and gate.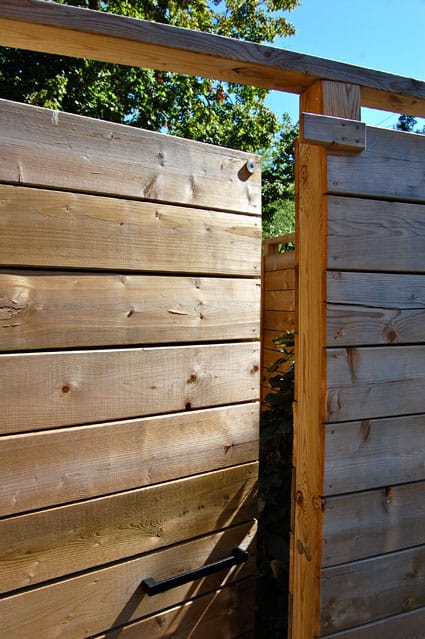 Screw the block of wood so it lines up with the top of your gate.
It'll look like this from the opposite side.
Now screw the washer to the actual gate. Line it up so it aligns with the Rare Earth Magnet. I actually set mine off to the side a bit, so only 3/4's of the washer is touching the magnet. I did this because the magnets are sooooooooo strong. It just makes the gate easier to pull open if they don't have complete and full contact.
When the gate is closed, from the outside it'll look like this.
And from the inside it'll look like this. Completely invisible.
If you have an arbour, or some other weirdness with your fence, you may have to play around with this general technique to get it to work for you. For instance, on one gate in my backyard, I had to use a block of wood as opposed to a strip because of the way the structure was. No big whoop. Adapt and overcome.

The basics are the same. Screw a cup hole into a block of wood as opposed to a strip of wood and attach that to your fence.

Again, the reason for all of this (which seems like a lot of work but really isn't) is so you don't have to have ugly gate latches ruining your nice fence. Big hideous bolts and medieval looking handles. As an added bonus, you can push your gate open and kick it closed with your foot if you're carrying stuff and both your hands are full.
Worried about the kiddies getting out? Don't. It'll do them some good to wander out into the big, bad world. Builds character. Plus it'll give you a break for that half hour before you panic and realize they're gone.
Hah!! Oh, I crack myself up. Sorry, as I was saying, don't worry about the kids. The magnets are actually so strong that young kids can't push or pull the gates open. Sometimes Betty has trouble pushing or pulling the gate open. Which is fine by me. She doesn't need to see me dancing to Journey in my p'jamas. Let's face it … no one does.