Is it working? Is it a disaster?  Will I just buy my food in the grocery store from now on?  All the answers to all your questions about my DIY hinged hoop houses revealed right here.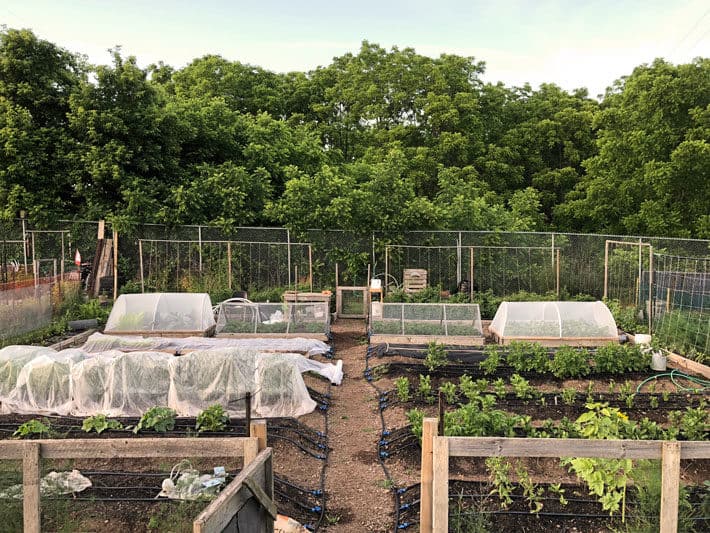 Back in May I grabbed whatever useable bits of garbage I could find around my community plot and built myself a hinged hoop house.
Here's the thing about building or making stuff with garbage.  When that thing turns out to be GREAT, you really regret making it out of garbage.
But I didn't want to go out and buy all new materials for something I wasn't 100% sure was going to work. Was it going to hold up to the crazy wind at the garden? Were cabbage moths (the things I was trying to keep out) going to get into the hoop house anyway, despite my efforts to build a fort around  my broccoli?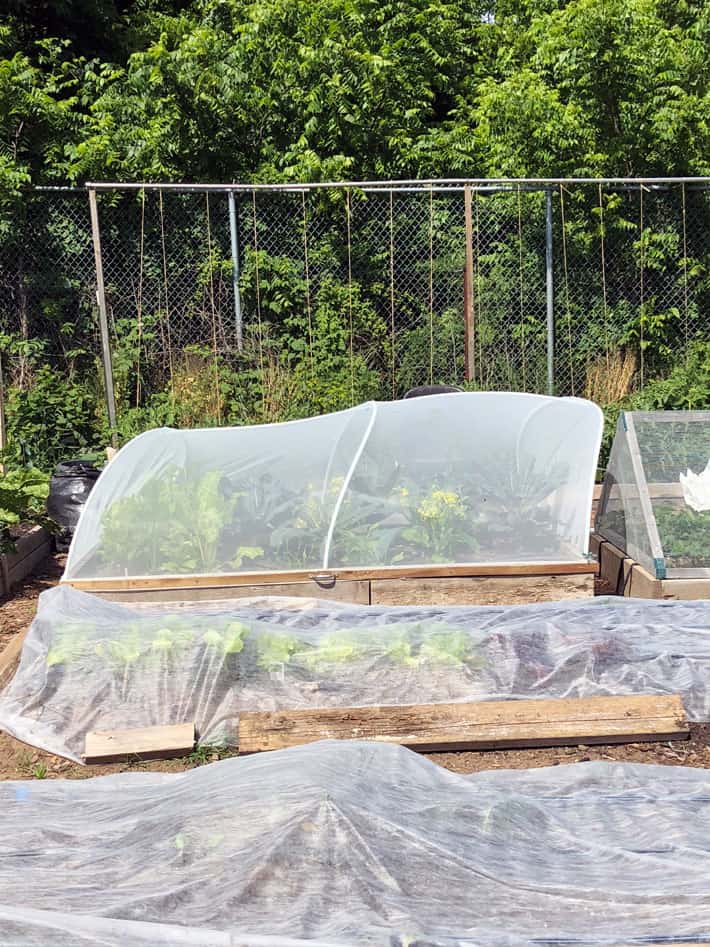 As it turns out, the hinged hoop houses work GREAT, the old materials - not so much.  Here's the original tutorial with step by step instructions by the way.
So what would I differently?  Well I'd go out and buy the proper materials for one thing. Thick electrical conduit as opposed to the thinner wobbly PEX tubing I used because I already owned it.
I'd figure out a better way to secure the hoops into the wood frame and a better way to secure the top, stabilizing rail.  And oh yeah, I'd make sure that was straight and not all wiggly and wobbly.
Because if a hoop house starts out wiggly and wobbly, much like a bum, it's only going to get wigglier and wobblier unless you make a concerted effort to do something about it.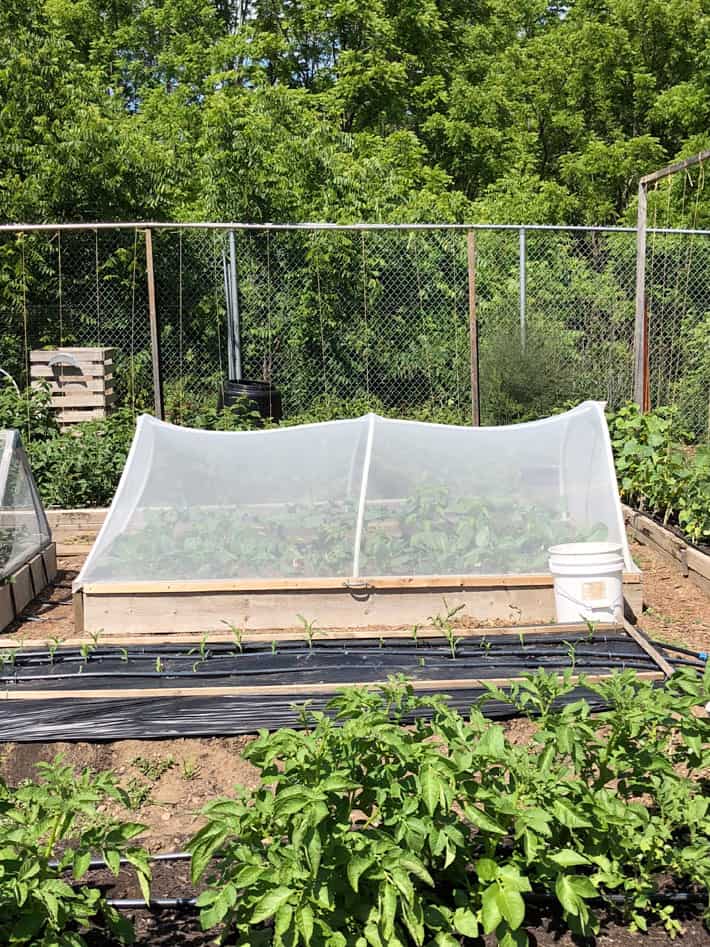 The hoop house on the right of my plot isn't nearly as wiggly because I had stiffer PEX pipe for making the hoops, but still only had the wiggly stuff for my top supporting rail.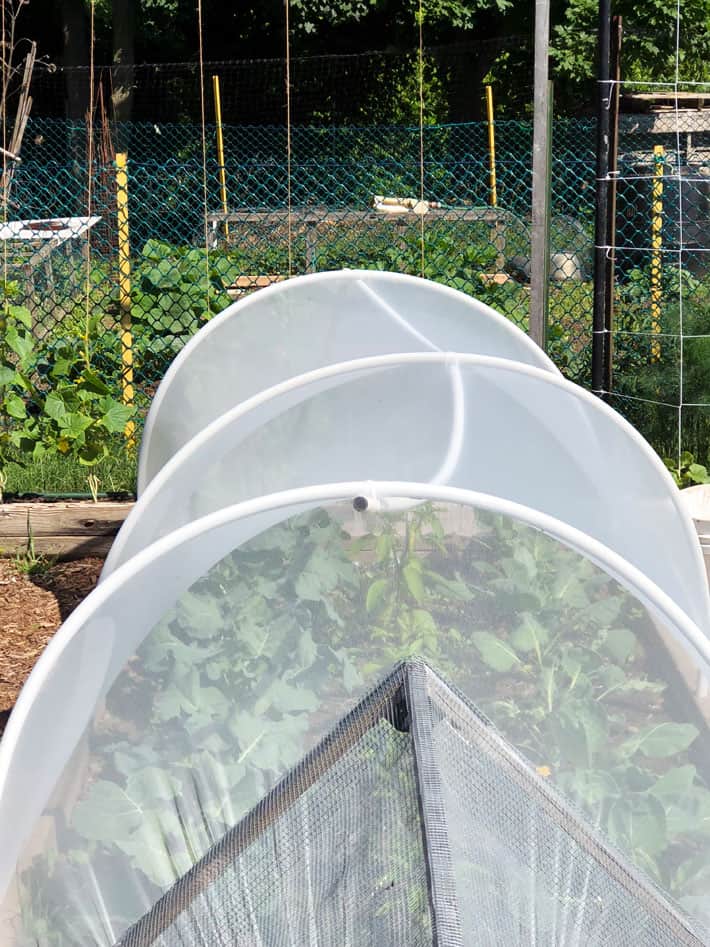 Please observe the wiggly rail.
I decided even though the houses were still doing their job and no cabbage moths were getting in, I was going to have to fix them up for my own sanity.  My particular brand of crazy will allow for a certain amount of mess and dilapidation in a garden - but not this much.
So I ran out and got some plastic electrical conduit which is much stiffer  than the PEX pipe I had and I figured out a way to help the hoops stay stable even in strong winds.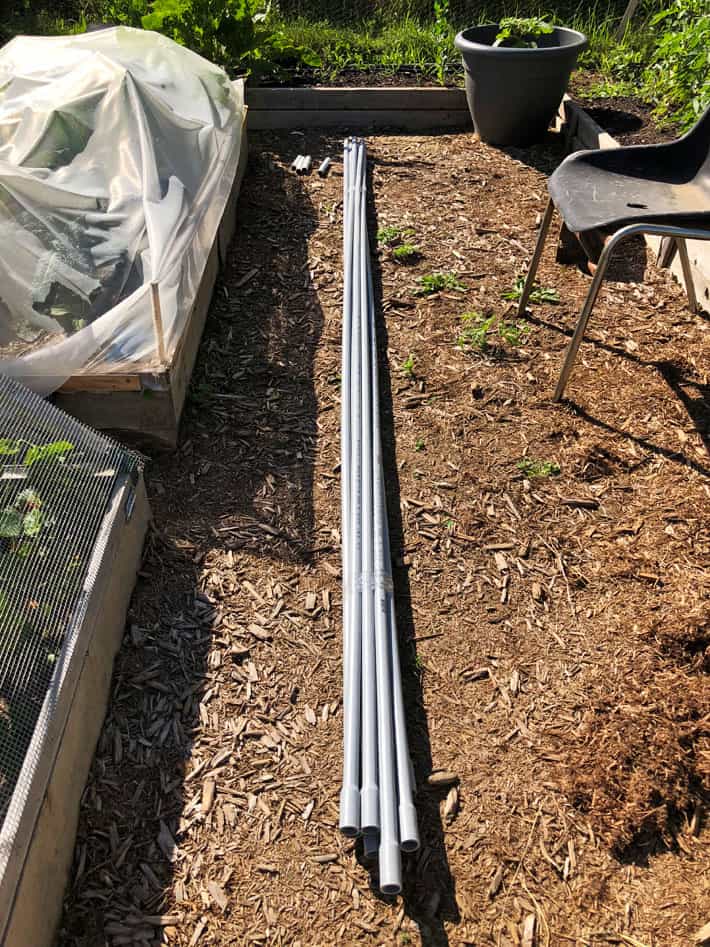 The first thing I did was remove the interior structure of the hoop houses, the actual  hoops.  I then took one of the stiffer hoops and cut it into around 4" pieces.  These would go right back into the holes my hoop house already had.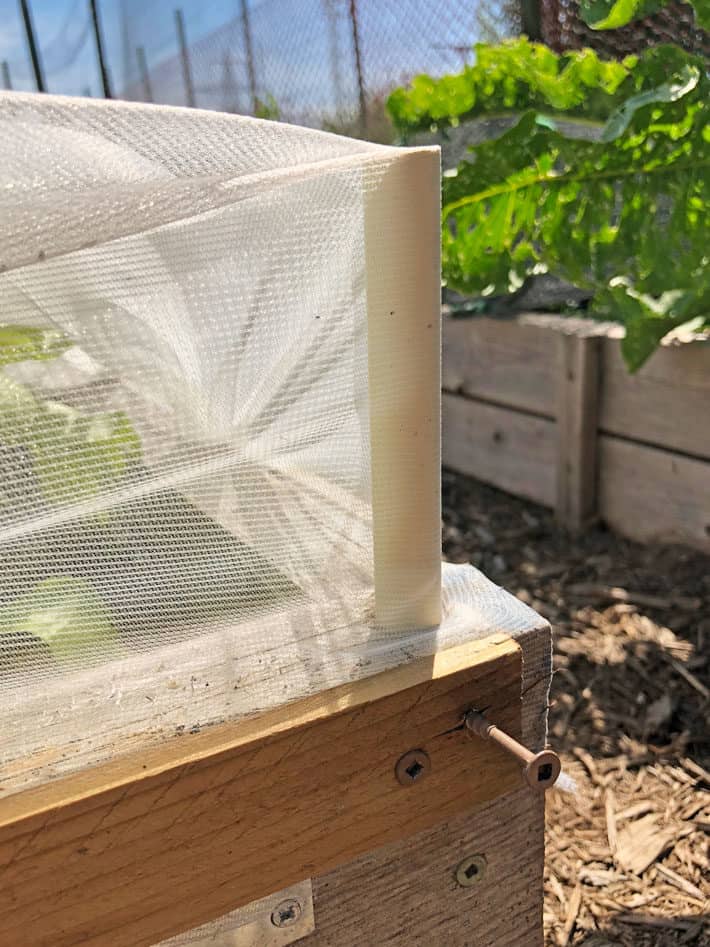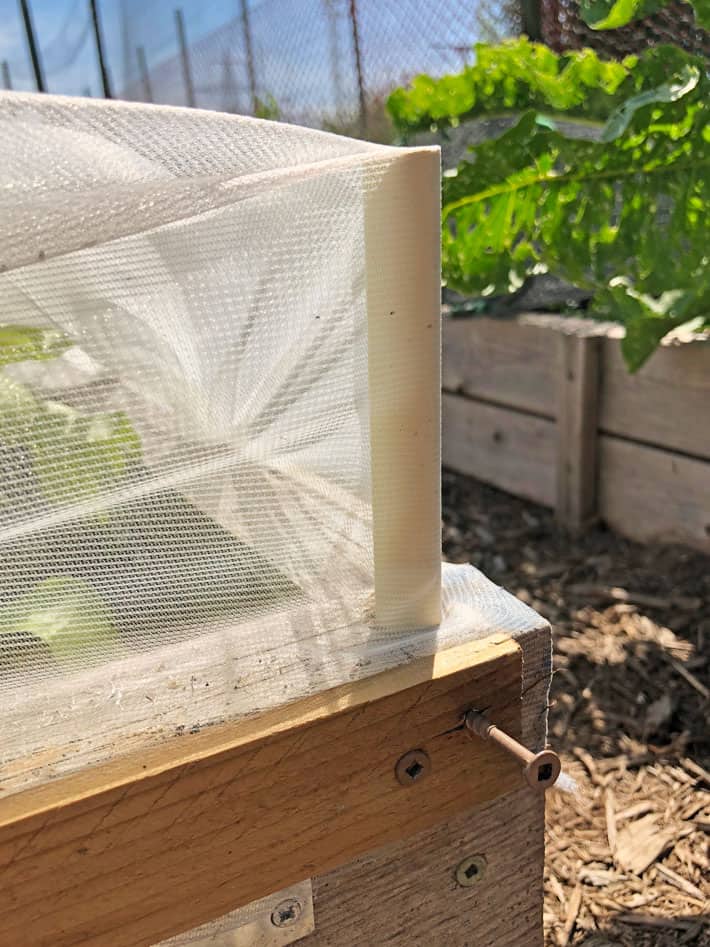 To stabilize these rods (which the new hoops would slip over) I screwed a screw right through the wood hoop house frame and through the plastic rod.
Now no matter how windy those things were going to stay in place.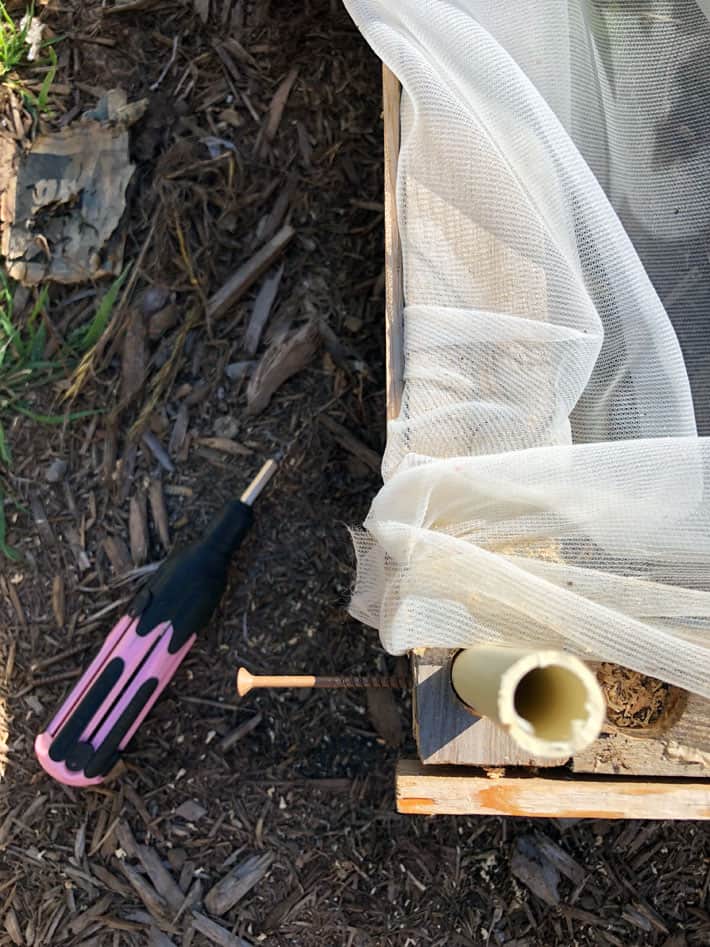 To access them I just took out a few screws from my netting, did my work and then rescrewed in the netting.
Once these were all in, all I had to do was cut my new conduit to length and slip them over the old, smaller pipes.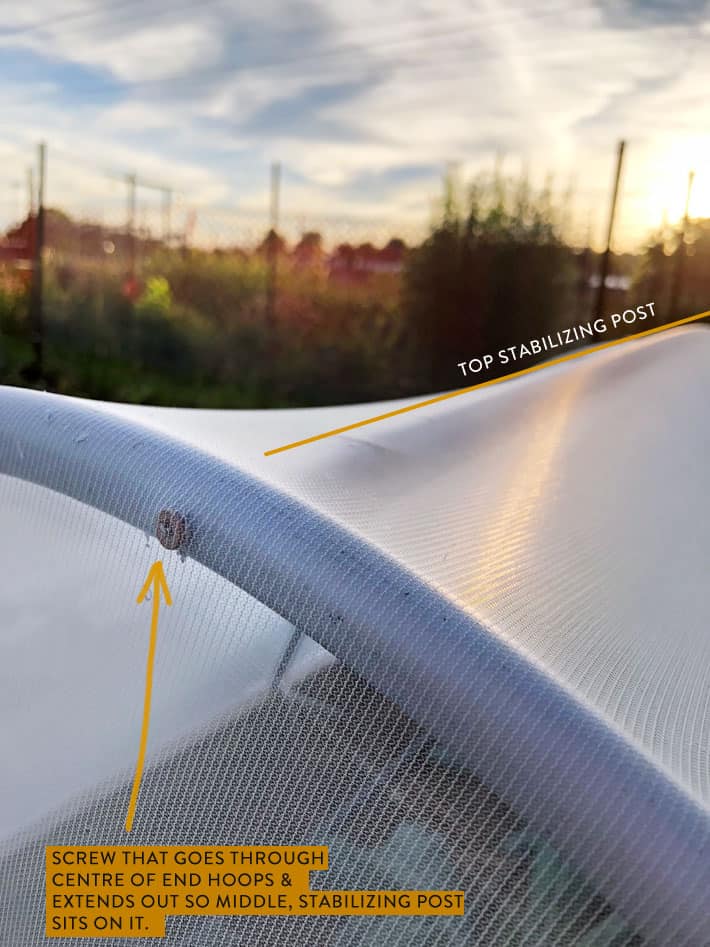 The other thing that was driving me crazy was the wiggly tops.  Using a perfect straight piece of electrical conduit solved that completely.
Screwing a long screw through the centre of each end hoop gave the top stabilizing pipe a place to sit without having to use zip ties which always eventually break and sometimes rip the netting.
This photo should give you a better idea of how I did the top pipe.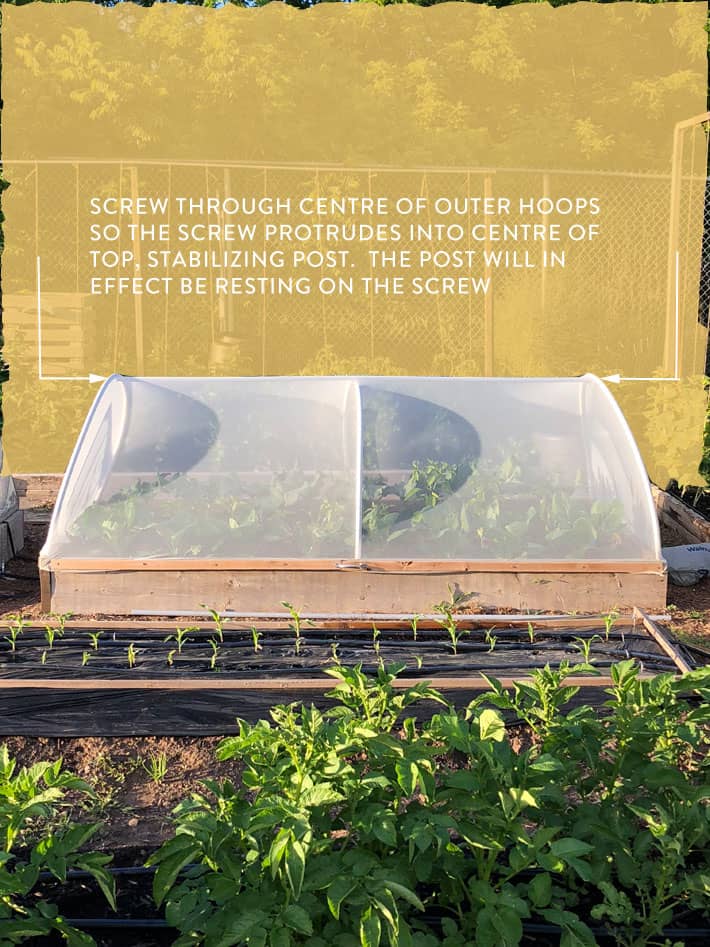 Making your top post a bit longer than is necessary will give it some tension and help keep it in place.
As I was redoing these hoop houses I discovered part of the reason there's a bit of a lean-to thing going on is because I pulled my netting way too tight. It's literally pulling the hoops towards the centre of the house.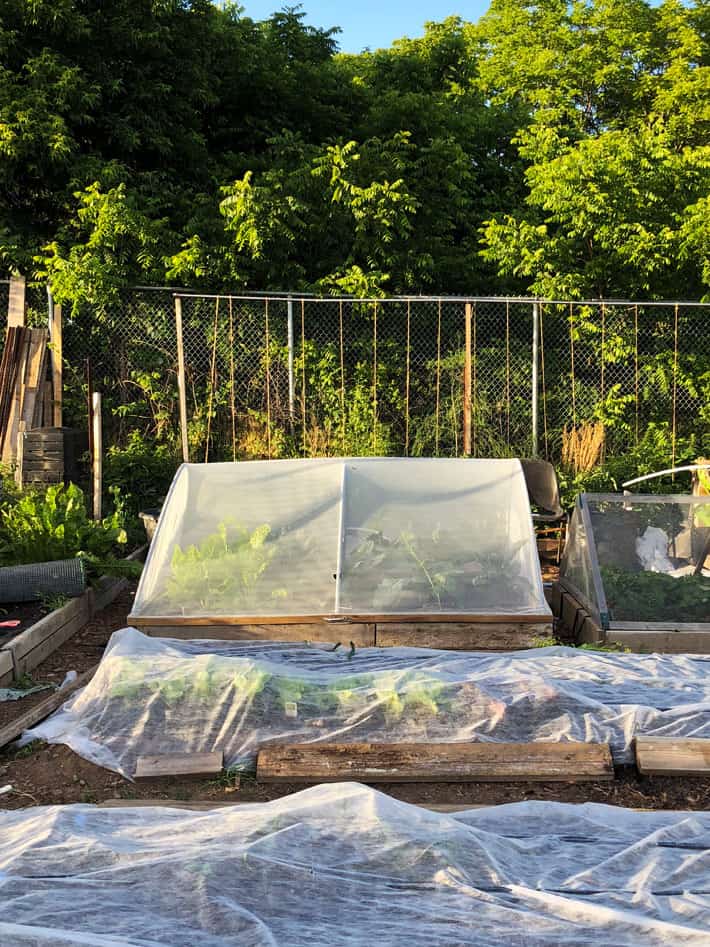 I was able to fix this a little bit by just cutting my hoops shorter.  With shorter hoops I was in essence giving myself a few more inches of fabric. The same way losing 5" off of your waist gives your jeans a few more inches of fabric.
The hinged hoop houses are a lot straighter and more importantly a lot more stable.
Yep. Next spring I'll do another makeover on them with new netting, not stretched quite so tight, some T-connectors for the top rail and maybe even some new wood that isn't rotting.
They still aren't perfect but ....
They're perfect enough for my particular brand of crazy.