Broccoli, kale, cauliflower, rapini, cabbage, may I have your attention!  You can all relax and enjoy your summer.  There's no need to worry about Cabbage moths this year!  I've got you covered.  ~ The easy, hinged hoop house.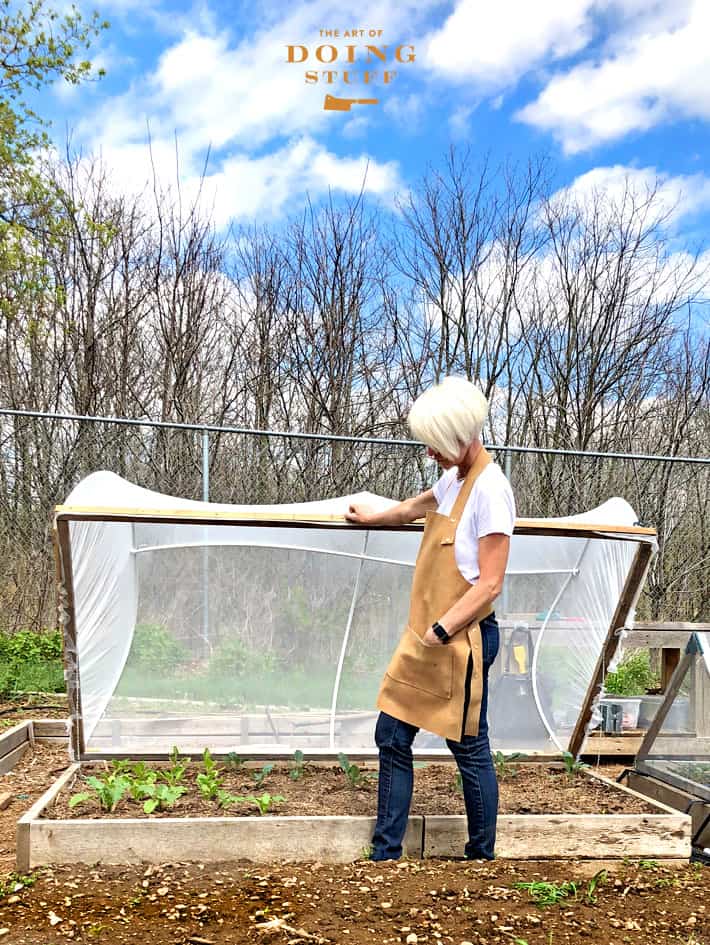 I was a little late getting my cool weather plants out this spring, because spring was a little late.  It was really late.  It was Mariah Carey late. Technically I could have put the plants out even though it was cold and miserable but this year ... THIS YEAR ... I was going to be smart.  I wasn't risking putting any plants out until I could protect them 100% from cabbage moths.  True, cabbage moths haven't even started flying around yet but I'm not one to be bound by the restraints of logic.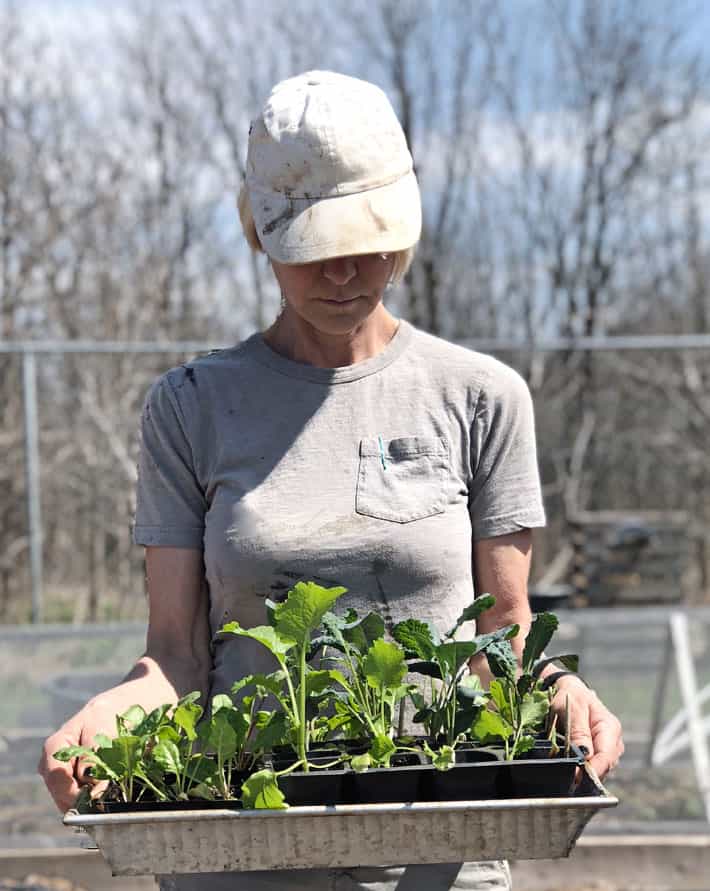 I've been planning on building these relatively simple hoop houses for almost a year now. I first saw a version of  them in this Youtube video from Christopher Brandsdal in Norway. The method marries two methods that I already used - a hinged hoop house, and row covers with PVC pipe.  He built his hoop house as a green house to keep peppers warm in his cold climate.  I wanted to build one to keep Cabbage Moths and other pests out.
Here's are my wood hinged houses for keeping voles and birds out of my strawberries. They're made from brackets, 1x2s and ¼" hardware cloth.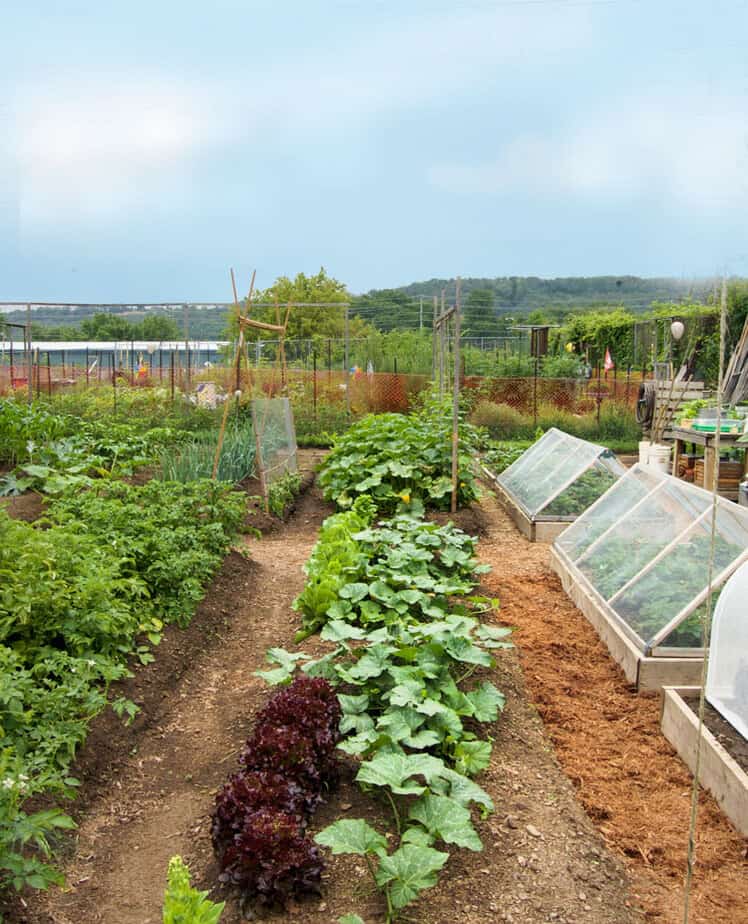 And here are the hoops with row cover (low tunnels) that I've been using  for the past several years.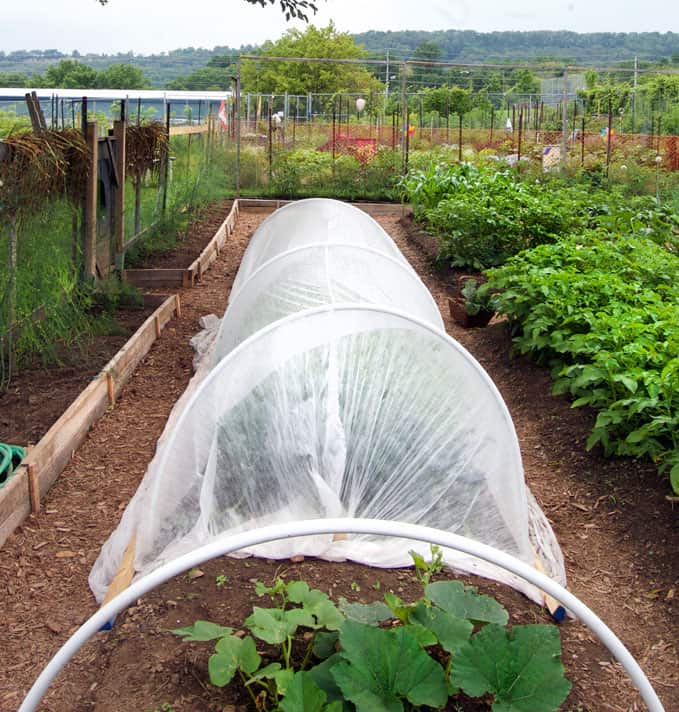 Put the two together and you get this little piece of genius.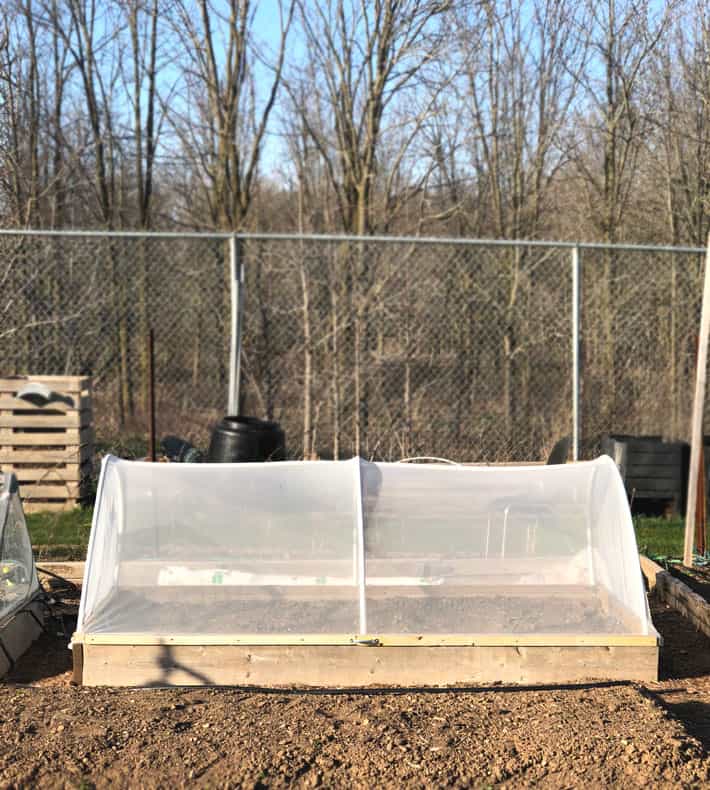 A hinged hoop house that you can lift and close with one hand covered in netting.  Throw your hands in the air and scream an AMEN.
Here's how you can make one too.
Make a Hinged Hoop House
Materials (for 1, 8'x4' raised bed)
3, 8' lengths of 2x2s
Hand saw or circular saw
Drill
1 ¼" wood screws
2, 2" hinges
2, 3' lengths of lightweight chain
4  corner brackets
1 cupboard handle or knob
20' of plastic plumbing tubing (Pex Tubing)
Drill
Drill bit that's the same size as the outside measurement of the plastic pipe you're using
Insect netting
Zip ties
Step 1: Lay 2x2's on top of your raised bed.  Mark and cut them to length if needed.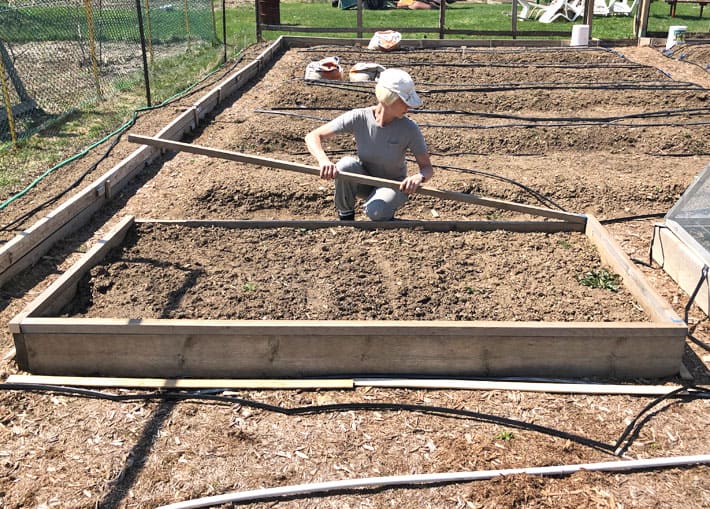 Step 2:  Screw the 2x2's to each other, end to end.  (don't attach them to the raised bed)  The 2x2 frame will just rest on the raised bed.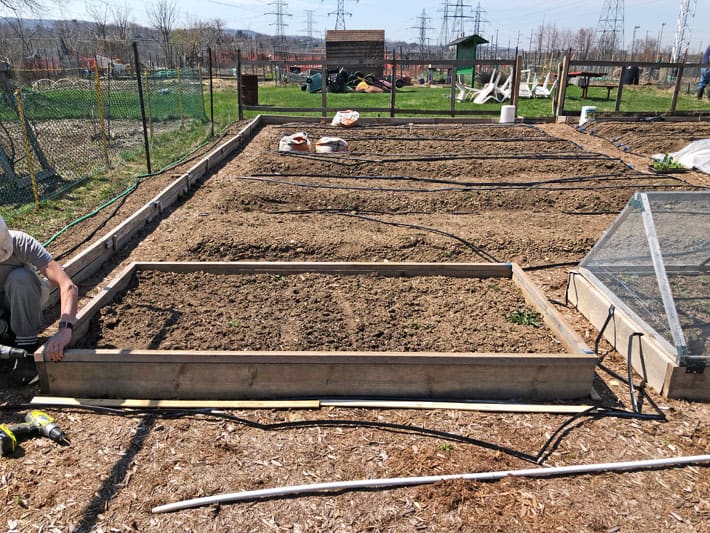 Step 3:  Brace the corners with either triangular cuts of wood or L Brackets.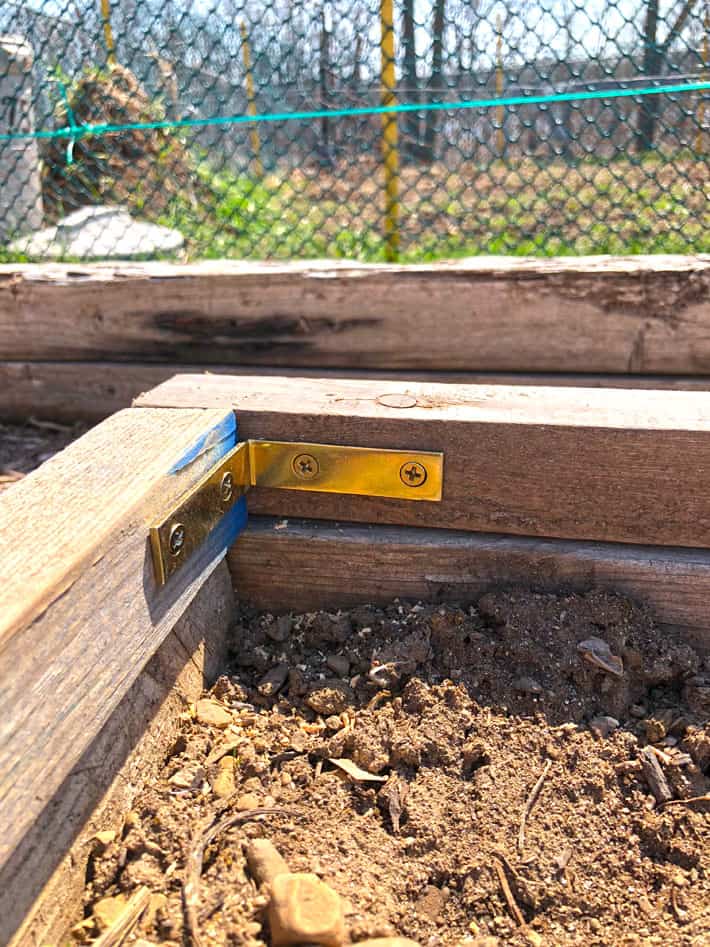 TIP: Use Zinc or galvanized brackets if you can find them. When I went to the store all they had in stock was brass, so that's what I ended up with.
Step 4: Attach the 2x2 frame to the raised bed with hinges on one side.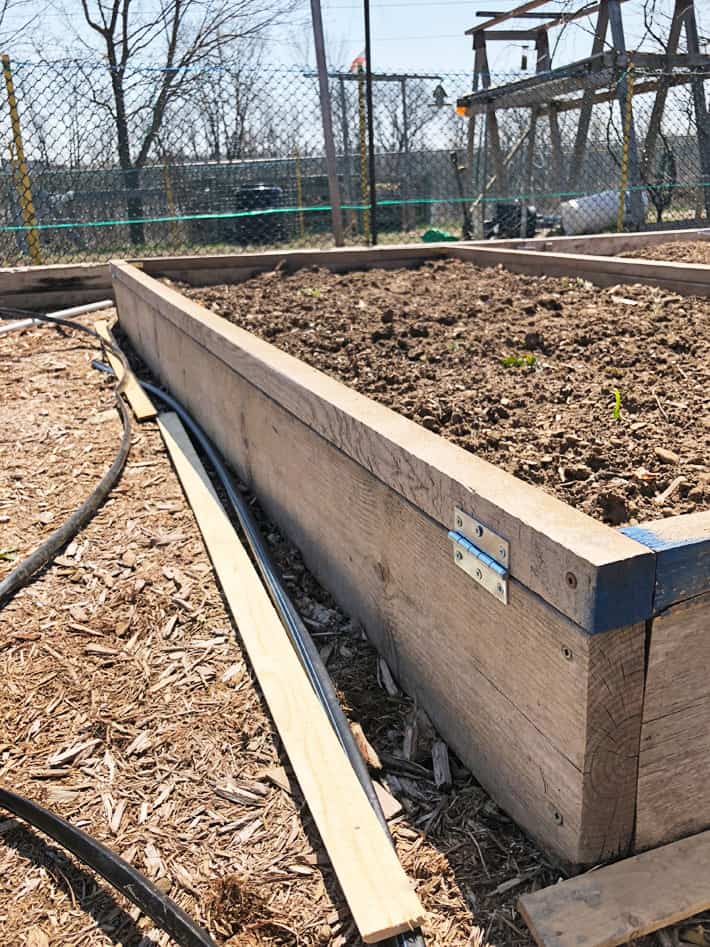 TIP:  Make sure there's enough room behind the hinged side to open the hoop house.
Step 5: Drill holes along the long edges of your 2x2s.  For an 8' bed, 3 on each side holes should do it.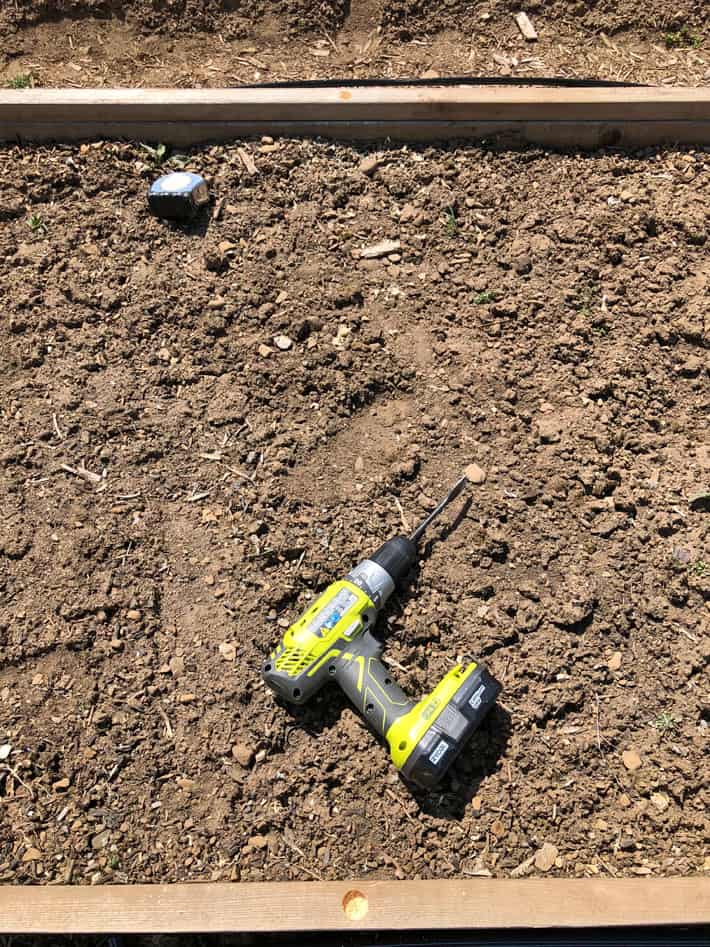 TIP:  Do a few test holes with different drill bits on a scrap piece of wood. You want to make sure the tubing fits in the hole as tightly as possible to prevent it from wiggling.  Drill the  holes ¾s of the way through the 2X2.  The deeper they are the more stable the hoop will be.
Step 6: Set your hoops inside the holes.  My hoops measure 28" at the centre.  They're quite high because they needed to accommodate my kale which gets tall as do my ... brussels sprouts.  If you're growing lower plants you can have lower hoops.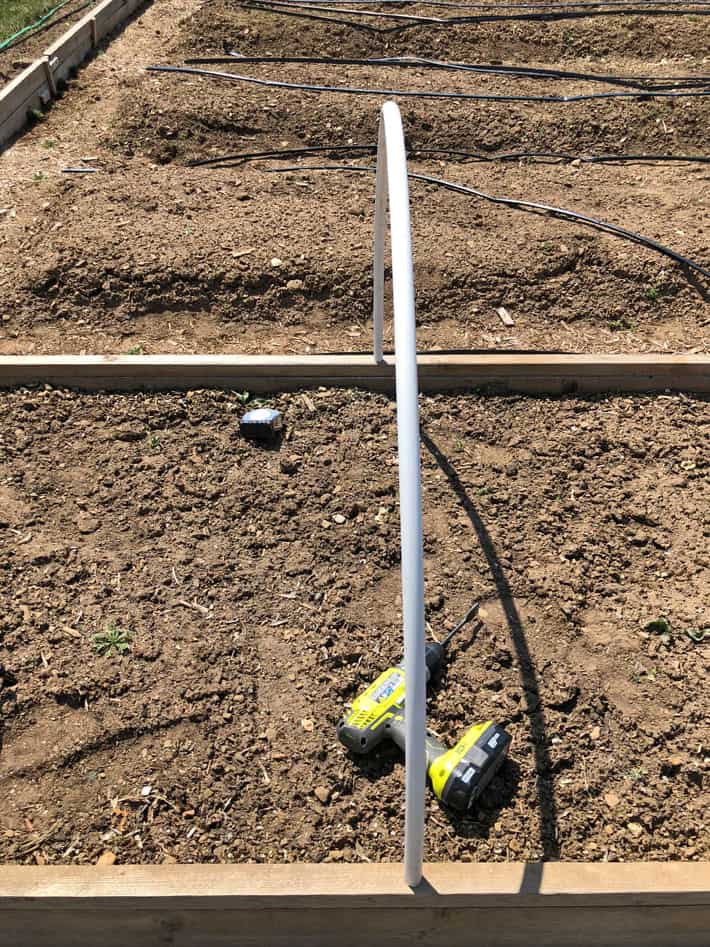 TIP:  Remember that your row cover or netting needs to big wide enough to fit over the hoops so choose your netting width or hoop heights accordingly.
Step 7: Zip tie a length of tubing (if you can find a straight piece of tubing instead of one of the bent ones your life will be a LOT easier) across all hoops.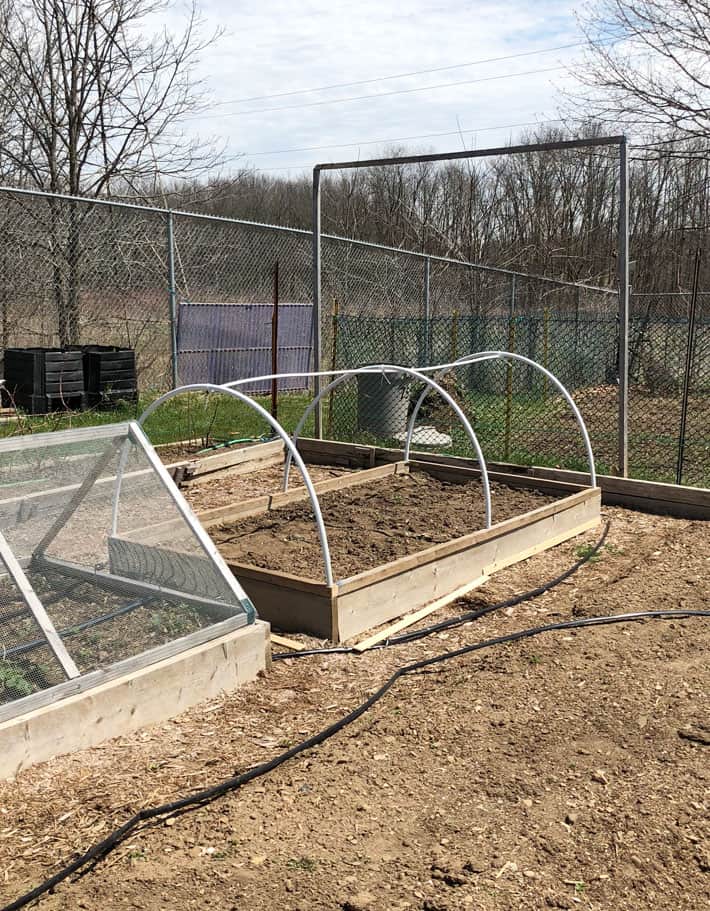 Step 8: Cover the entire thing with row cover or - even better - netting.  If you're working on your own,  hold it in place with clips.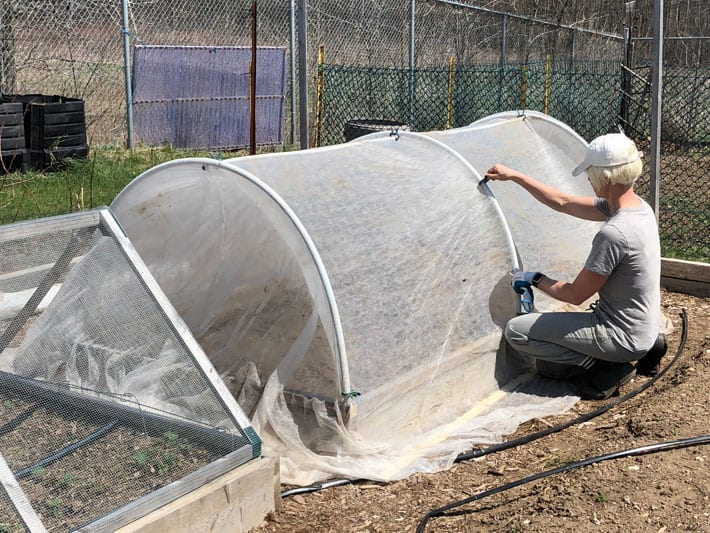 Step 9: Screw flat strapping over the netting to hold it in place.  I got scraps of strapping from the lumberyard for free.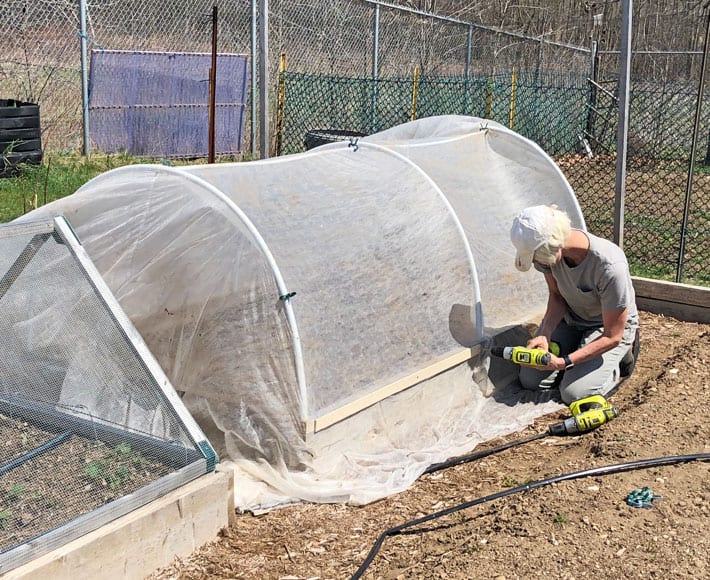 FUNNY STORY:  I got this far in the building of my hinged hoop house before realizing that I'd rather use netting.  So I ran up to my local seed store and bought a swath of netting.  I came back, removed the floating row cover and replaced it with net.
Step 10:  Trim the fabric.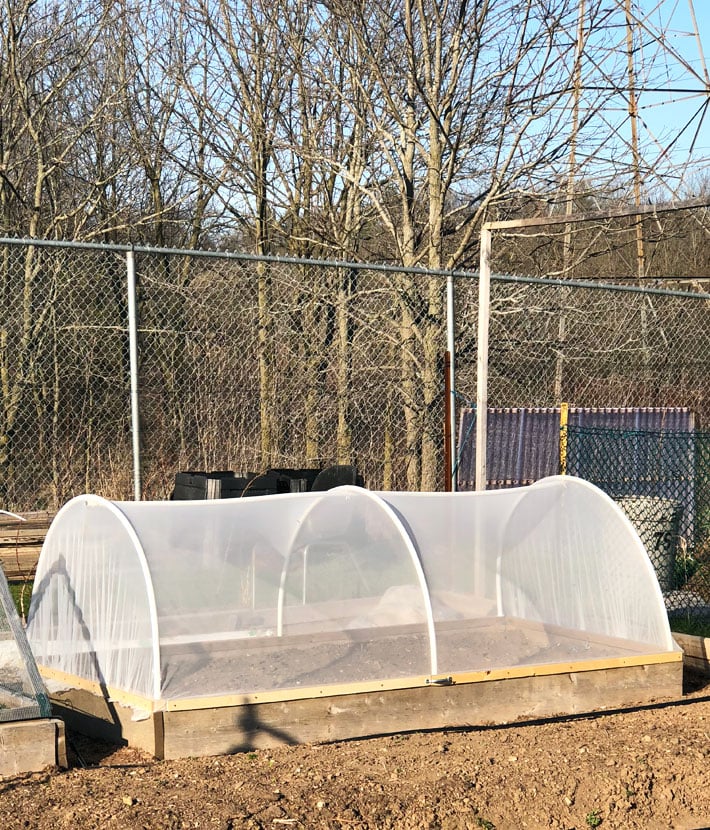 See?  Now it's netting.
Step 11: Install a handle.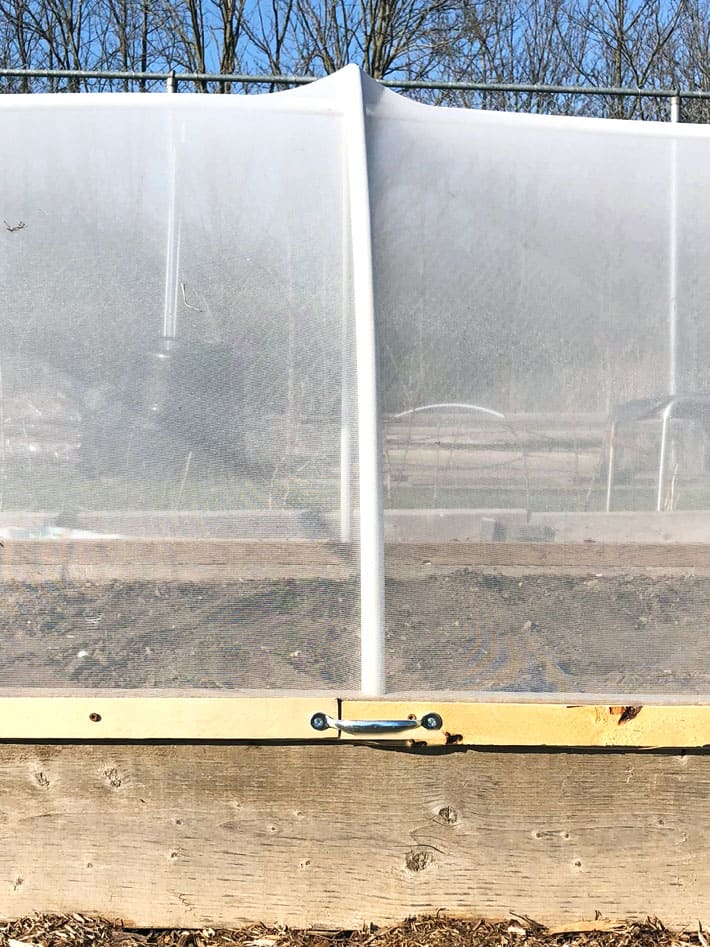 Step 12: Screw chain into the sides of the raised bed and the 2x2 frame to hold it open.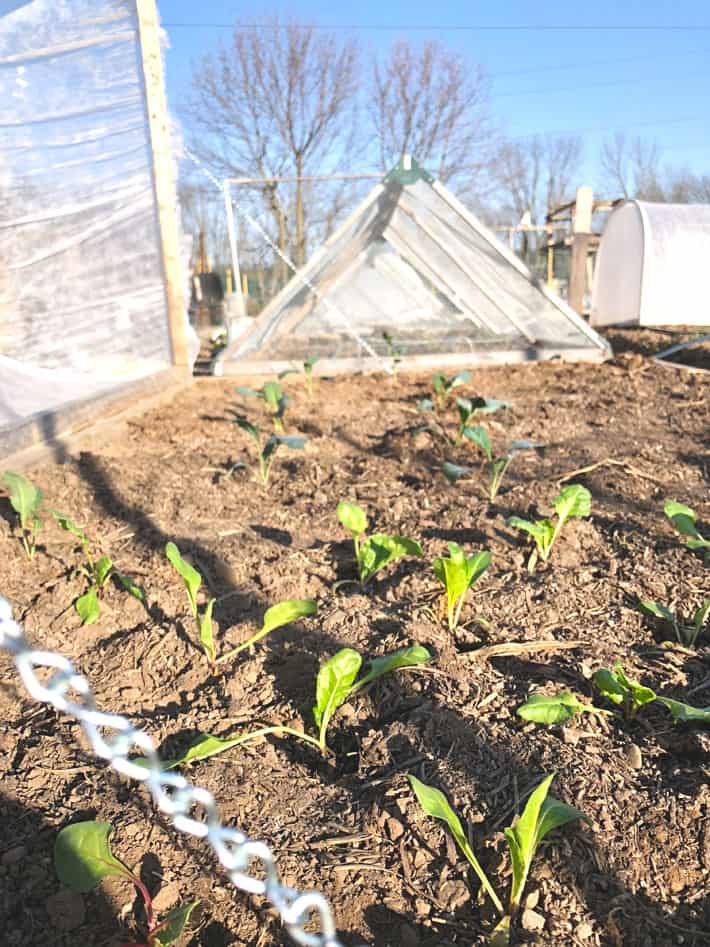 The chain really makes using the hinged cover a lot easier to work with.  If you didn't have it, the cover would flop all the way to the ground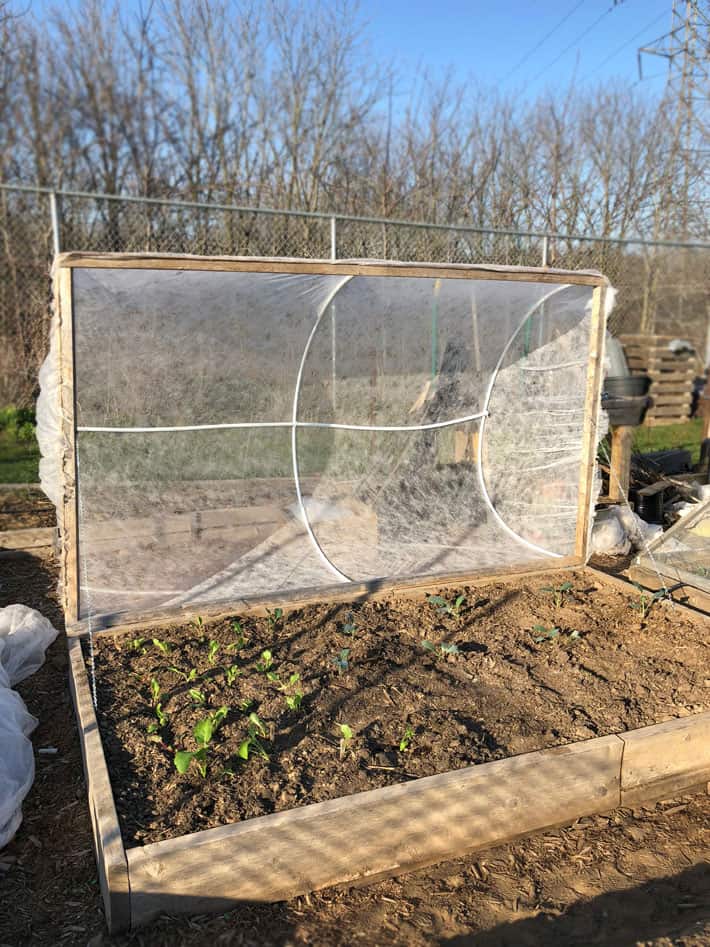 Now that you have protection you can plant your plants.  I put in some kale, swiss chard and rapini.  Later I'll be adding cabbage, cauliflower and leeks.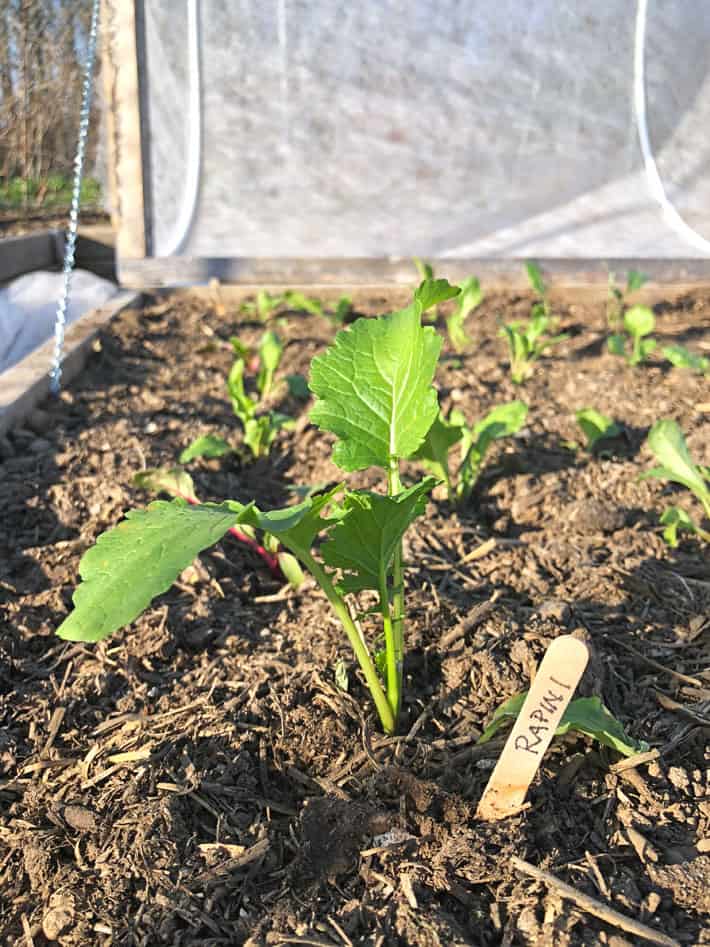 I built two of these hinged hoop houses.  One with floating row cover and one with netting.  I was hoping I could see the difference and whether it was worth it to use the more expensive netting.
The very day after building these hoop houses I had my answer.  On that day, my area had a windstorm the likes of which we have possibly never seen.  Wind gusts were 126 km per hour, which in Imperial is almost 80 mile an hour winds.  Which, by the way, is hurricane force.
This is what I was met with the day after the storm.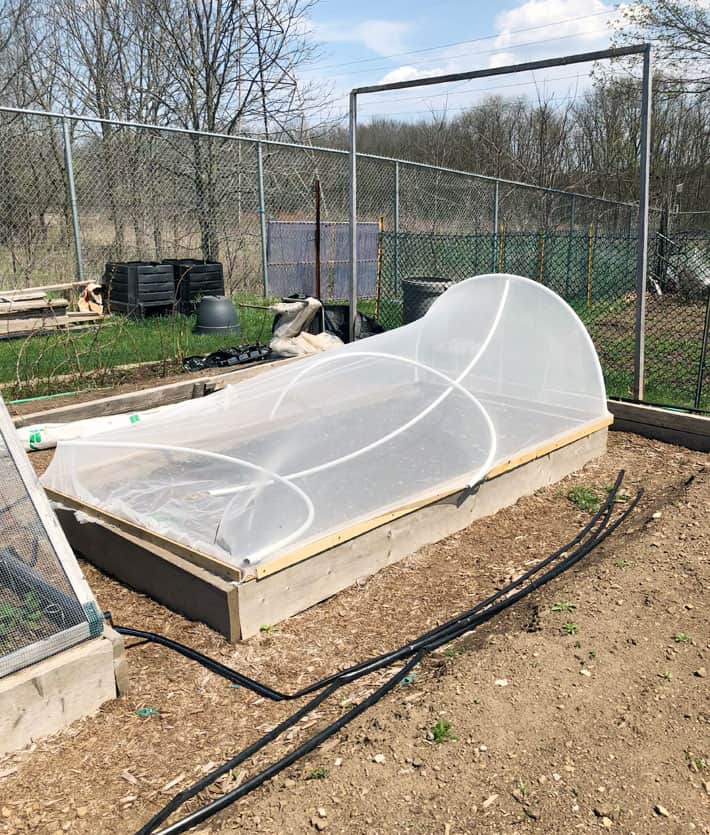 The hoop house with netting was deflated but still in tact.  I just needed to reinsert the tubes into their holes on the 2x2s and everything was fine.
This is what the row cover hoop house looked like.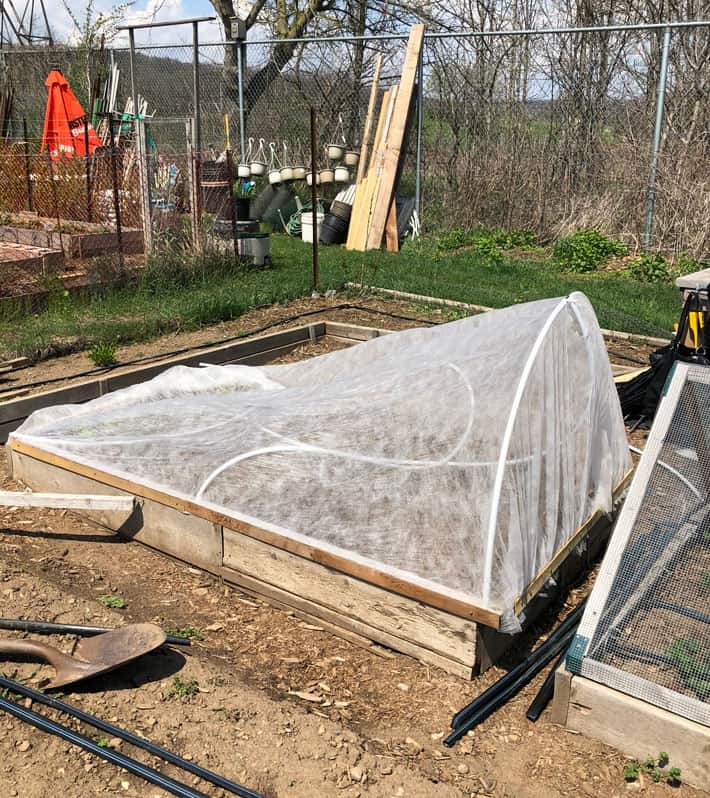 Similar - but the row cover was completely damaged beyond repair.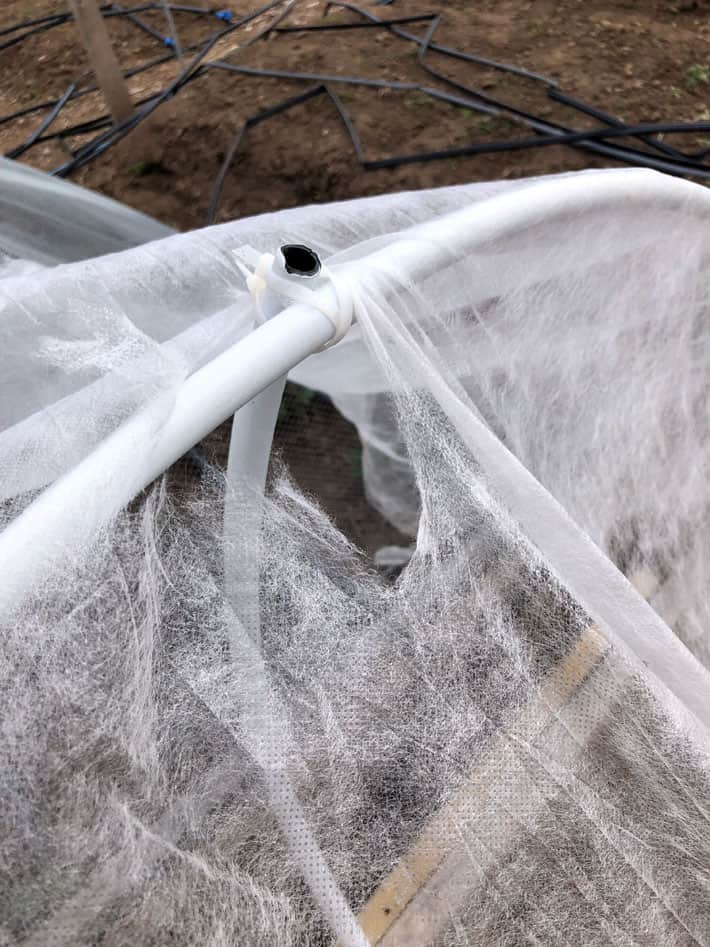 Experiment concluded, I removed the row cover and replaced it with netting.  The netting is more durable plus it allows winds to pass through with less resistance.
I can see having had these for a couple of weeks now that there is some room for improvement.  I'm going to brace each end somehow so the hoops don't have a tendency to lean in the wind.  I'll let you know when I figure it out.  I also stretched the netting too tightly on one of the hoops which ends up pulling the hoop tubes towards the centre.  I'll get it figured out one day.
Better late than never.  Says Mariah Carey, always.
** I've updated these hoop houses a little bit - see the newer version here**
→Follow me on Instagram where I often make a fool of myself←