I learned a multitude of things on my Dominican vacation, but the most useful was a little trick to prevent looking like an old geezer.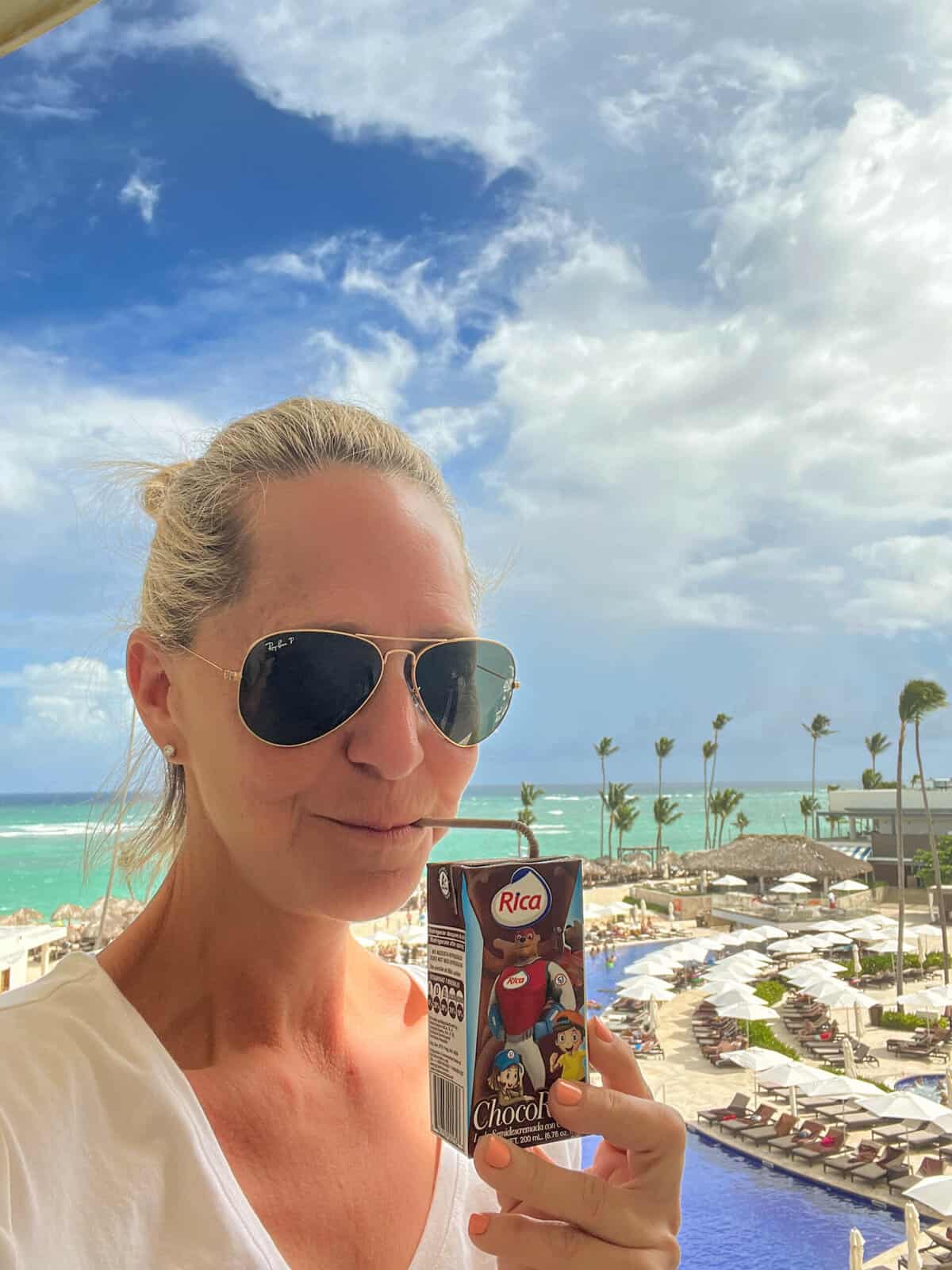 We all know the basic tricks to avoid appearing the age we actually are. Moisturize, drink lots of water, wear sunblock, pretend not to know popular television shows from when we were kids.
Happy Days? Never heard of it. Must have been before my time. I don't know what a Fonzie is. But go ahead with your story you archaic, geriatric boob.
On vacation you can implement all of your tactics for appearing younger than you are and they work. Slather yourself in sunscreen, wear Spanx, throw some sunglasses on and people will automatically deduct at least 5 years off of your actual age.
But what happens when you are forced to show a little bit more of yourself?
Vacationing is an unusual experience where like it or not, you become intimate with strangers. You do things with them that you would normally only do with your husband, wife or doctor.
Starting with the airplane.
In the real world when you sit down next to a person it would be at a distance that you both feel allows an equally agreeable amount of personal space.
On an airplane the only thing that distinguishes the sitting experience as anything other than a lap dance are sparkles and a bottle of antibiotics.
This is the initiation you have to go through in order to mentally prepare yourself for the rest of your trip. God help you if you have a seat between you and the person next to you on the plane because without that bit of "intimacy with strangers who smell odd" training - you will be wholly unprepared for what's to come.
Let me ask you this.
What are the chances that right now you'd walk out of your house, straight up to the front door of one of your neighbours (that you don't know) - while holding a coconut and wearing your bathing suit.
And then to the next house. And then around the block, into a store and then to a restaurant, a public bathroom, a bar and then maybe a daycare centre.
Freely swinging your ass, arms, gut, legs and boobs.
On a scale with 1-100 I'm going to say there's a -1% chance of me doing that.
Within a few hours of hitting your vacation destination, still a bit brain mangled from the flight and your new location, this is exactly what you'll be doing.
There are no more intimate activities than sleeping and being naked. You're going to do both on vacation with hundreds, maybe thousands of other asses.
Which brings me to my lesson for today.
The #1 way to appear younger than you are and the #1 way to age yourself instantly.
It's all in the bottoms.
This isn't 100% accurate as far as scientific tests go but it's probably more accurate than fortune telling or that "What's your real age" quiz people were taking years ago.
The one where you entered whether you smoked or not, how healthy you ate, if you had a high risk job like working in a coal mine or as a balloon artist at kid's birthday parties.
Your perceived age is directly related to the size of your bathing suit bottoms.
It's as simple as that.
To look 45 or older wear full coverage bottoms
To look 35-45 wear a partial coverage bottom.
To look 25 or younger wear a thong bottom.
If you can't stop tugging and pulling at your bottoms whatever their size that's going to work against your scheme. It'll be your tell, the giveaway that you're faking it.
So don't pull at your bottoms and try to cover your ass up no matter what.
This by the way if you haven't figured out, only applies to women.
Because if you take a look up and down the beach other than the odd stylish gay couple in matching Speedos all the men are wearing down to their knee trunks.
SO HOW DO YOU GUESS THE AGE OF MEN THEN?
Divide the amount of hair on their head by the number of times they look up when a woman walks by then ADD 5 years for every ring on their fingers.
The answer will always come out to nobody cares.
You do you.
Thong it, partial it, cover it.
Whatever makes you comfortable. You're on vacation with strangers and they're all drunk and wobbly. They don't care what you're wearing.
They're worried enough about covering their own ass.
Now the puzzle!
This one is for everyone who asked if Philip missed me while I was gone.