Right now, at this very moment you're going to learn how to make an easy pan sauce that you can use for chicken, pork or beef. You will be a rock star and people will revere you. Unless they are vegans. All you need is butter, broth, shallots, wine and a hunk of meat.. And honestly, the shallots are kind of optional based on whether you have any.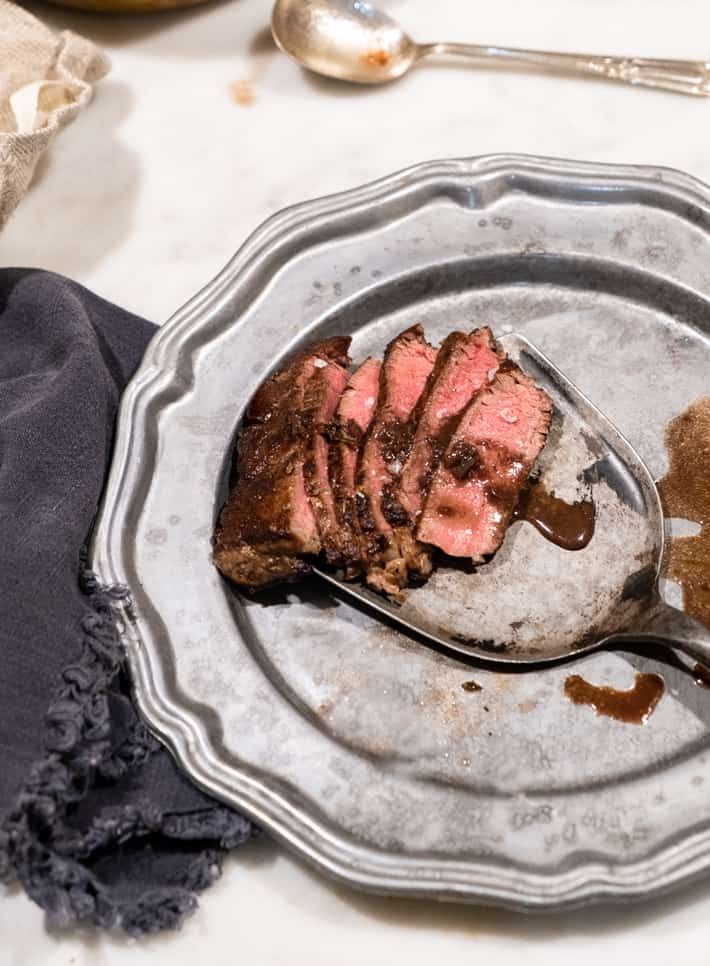 A basic red wine pan sauce was the thing I really wanted to know how to make when I was first learning to cook. It takes a meal from homemade to restaurant quality in 5 minutes flat. O.K. - maybe 7 minutes. But you get the idea; a pan sauce is fast, delicious and will disguise any piece of meat you've overcooked to oblivion.
I spent a few years asking people who I thought knew how to cook, how to make a delicious pan sauce. The answers went mainly like this "Oh just add some liquid to the pan and reduce it.". Yeah, um ... what kind of liquid? How much liquid? Reduce it by how much?
For three years I walked around in a fog, with the big sad eyes of a child lost at the mall, without her mother's credit card. There had to be a way to make a pan sauce like the ones I'd tasted in restaurants. I mean of course there was ... but where WAS this magical recipe?
I'll tell you where. It was in basically every basic cookbook in the world.
Truth is, it's not that much harder than adding some liquid to a pan and reducing it.
Simple Pan Sauce
Ingredients:
Alcohol (wine, beer, whiskey)
Broth (beef or chicken)
Butter

With a super simple pan sauce all you need is a deglazing agent (your booze usually), some broth and butter. Deglaze your pan with a little wine or beer, then add equal parts of booze and broth. Cook until it's reduced by half, remove from heat and stir in some butter to give the sauce a glossy, velvety finish. (don't forget to add a bit of salt and pepper to taste)
O.K., so that's a pan sauce for when you're in a HUGE hurry or just don't have the other ingredients.
---
Now if you have a little more time and a few more ingredients (like seriously this will only take another 5 minutes which includes searching for the other ingredients and chopping them), you can make an even better pan sauce.
Better Pan Sauce
Ingredients
Alcohol (wine, beer, whiskey)
Broth (beef or chicken)
Thyme
Brown sugar
Shallot (minced)
Butter
Method:
You're going to take your hunk of meat and fry that sucker up in a cast iron pan. This is not negotiable. You need to start using your cast iron pans. The more you use them the more nonstick they become.
If you haven't read my post on how to clean up and season a cast iron pan, it'll help you overcome your cast iron fear.
See how the steak has developed a crust? You need a hot pan to achieve that. Cast iron is perfect for that.
Once the meat is cooked you'll cook up some shallots (which automatically makes you seem like a very legitimate cook just based on the resulting smell of your kitchen).
Deglaze the bottom of your pan (which is fancy talk for using a liquid to help release the browned bits of fond (meat) stuck to the bottom of the pan).
Add the rest of your ingredients and let it bubble away until it's reduced by half. You'll start with 1 cup total of liquid and reduce it until it's ½ cup. Obviously if you're serving a whole party of people, you're going to want to double or triple the recipe.
Keep an eye on it because it doesn't take long for it to reduce. A few minutes is all it takes.
Once it's reduced, the important part happens. Whisking in the cold butter which gives the sauce a velvety texture due to the copious amount of fat in butter.
Serve over, on and with meat. Or just eat all of the sauce out of the pan ... your choice. For sure you can lick the pan, just maybe wait for it to cool off first.
Ingredients
1

tablespoon

olive oil

or vegetable oil.

1

shallot

minced

½

cup

chicken broth

Low Sodium

½

cup

red wine

1

tsp.

brown sugar

add more or less to taste

2

Tbsps.

unsalted butter

chilled and cut into pieces

1

tsp.

fresh thyme

rub the leaves between your fingers before adding to release aromatics.

salt & pepper to taste
Instructions
Pan fry any meat (in this case tenderloin steak) in a cast iron pan. Remove the meat when it's done and do NOT clean the pan for the love of all that is holy.  Leave it. That's the fond and it's VERY important for flavour.

Heat a tablespoon or so of oil in skillet over medium. Add your minced shallot and cook until shallot is softened (about 2 minutes.)

Deglaze the bottom of the pan with a bit of broth or red wine.  Just add enough to the hot pan to release the fond stuck to the bottom of the pan. That's the good stuff with all the flavour of your meat. The deglazing agent will bubble away violently, so get ready to loosen the fond at the bottom of the pan immediately.

Once deglazed, add the rest of your broth, wine, thyme and brown sugar.

Finish by whisking in chilled butter.

Serve over, on and with meat. Or just eat all of the sauce out of the pan ... your choice. For sure you can lick the pan, just maybe wait for it to cool off first.
Notes
For a white wine, or beer pan sauce you can just swap out the red wine for either one.
For a whiskey sauce, instead of using ½ cup and ½ cup of wine to broth, use ¼ cup and ¾ cup of whiskey to broth. 
If you're missing the thyme or shallot, don't worry about it. Just soldier on!
Nutrition
Calories:
243
kcal
|
Carbohydrates:
7
g
|
Protein:
1
g
|
Fat:
19
g
|
Saturated Fat:
9
g
|
Cholesterol:
32
mg
|
Sodium:
222
mg
|
Potassium:
165
mg
|
Fiber:
1
g
|
Sugar:
4
g
|
Vitamin A:
486
IU
|
Vitamin C:
9
mg
|
Calcium:
10
mg
|
Iron:
1
mg
QUESTIONS & ANSWERS
Can this be made so it's vegetarian? Kind of! If you want to make a VEGETARIAN pan sauce then roast or pan fry some carrots, onions, and celery until a fond develops on the bottom of the pan then continue as the recipe states, substituting vegetable broth for the chicken broth.
I don't have thyme. Now what? No problem. Just omit it. Or add other herbs like parsley, oregano or rosemary. (easy on the rosemary because it can be overpowering)
Do I have to use low sodium broth? It's gross. Yes! You really do. When you reduce the sauce by half, you're only evaporating the liquid. The salt stays. That means once the sauce is reduced it contains twice as much salt per spoonful as it did when you started. That's also why unsalted butter is important.
There you go. You're now officially ready to answer when some new cook asks you "how do you make a pan sauce". You must add some liquid to the pan and reduce it. ;)
→Follow me on Instagram where I often make a fool of myself←