There's at least one failure on a massive scale every year. Usually due to laziness but blamed on freak storms or other forces of nature.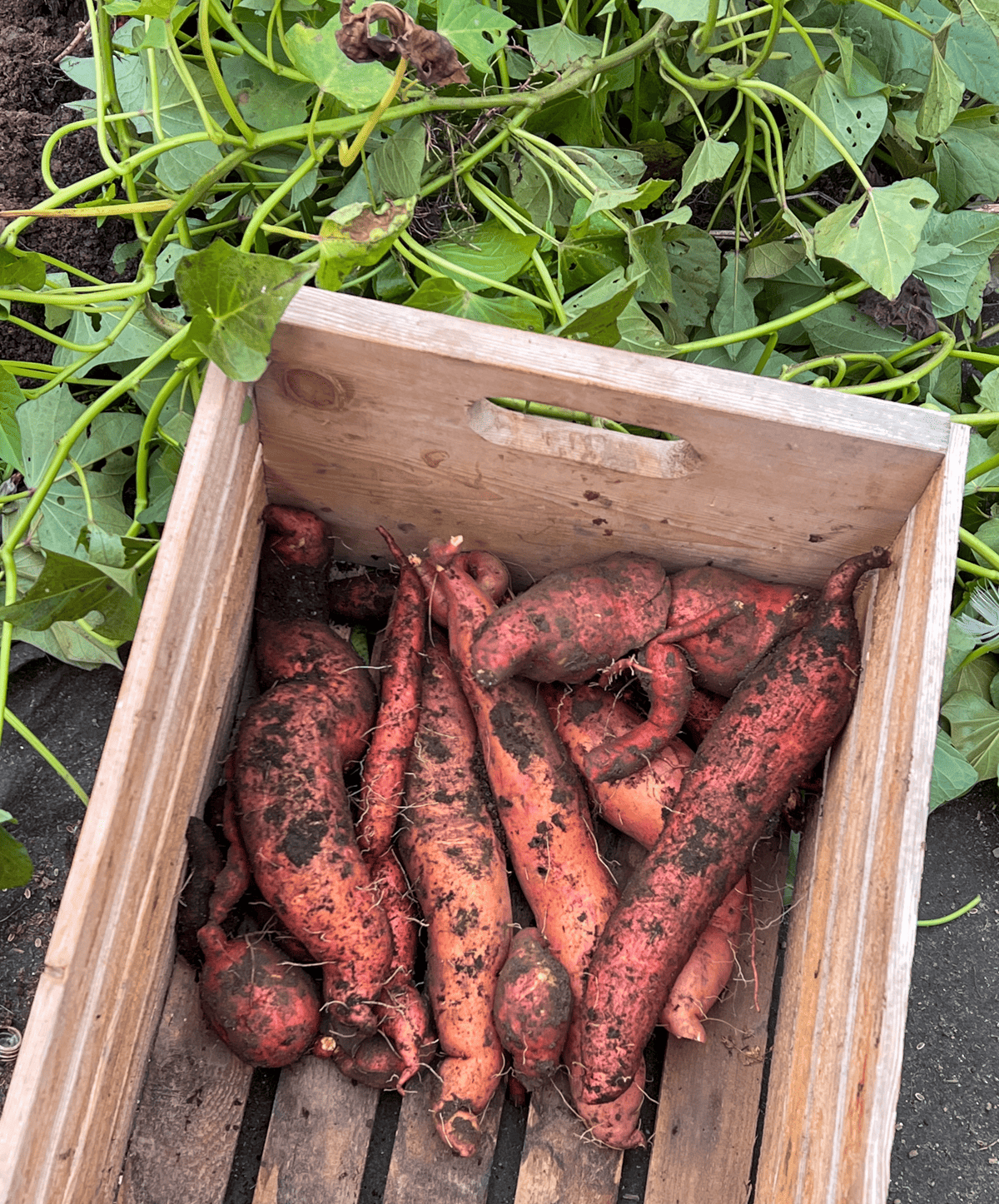 In a deeply ritualistic move going back several years, I chose a large wood crate for harvesting my sweet potatoes as I ran out the door to the garden.
This is the size of crate I use every year for my sweet potato harvest. It's very strong and sturdy, the dirt falls right through and it doesn't tip over when I wheel it to my car on a 4 wheel cart.
This year I didn't need the cart to carry my sweet potato box. I didn't even need a box to carry my sweet potatoes. I could have held my shirt up and carried them peasant style.
Which would have been an excellent photo, especially if I was wearing a linen pinafore, had my hair done and tossed my head back in fake laughter.
But I didn't bring a gathering pinafore. I brought my box with the expectation of filling it with sweet potatoes.
Having filled only ⅙th of that box I was forced to fill it with anything else I could find to harvest. Errant tomatoes, squash, onions, zucchini, holy shit there's still a lot of stuff in the garden, beets, carrots, parsnips, flowers, peppers, no seriously like a lot, bay leaves, peas, and some dried luffas.
If I hadn't done the extra harvesting and gathering my neighbours might have noticed when I returned home pulling a largely empty crate from my car trunk.
Then I'd become the joke of the neighbourhood. There goes empty box Karen. Others will stick up for me of course,
"It's only almost empty" my proponents would say.
But once one person calls you empty box Karen that's who you'll always be.
I was surprised to find 2 dried luffa. I had checked on the luffa plants a week earlier and they were still 95% green. So if you have luffas with a couple of brown spots on them, there's hope they'll dry completely in the next week if you don't get frost.
Yes, you can grow your own luffa sponges. Regular readers know that because I've been talking about it for 14 years.
Did I get some sweet potatoes? Sure. Did I get enough to last me throughout the winter? Sure. They're fun to grow but I really only use them for my most controversial recipe, guaranteed crispy sweet potato fries.
Watch the 17 minute harvest cut down to less than 2 minutes.
Yes. Even maniacal vegetable gardeners like me fail. Constantly actually. I hope you enjoyed this look at reality.
(empty box)