Before I get into today's FANTASTIC post on cat pee, a reminder that I'm holding another workshop. The Art of Doing MORE Stuff. 4 hour long classes of live, online video that will get your ass in gear. I'll teach you some basic tools and principals I use to get so much done. Many of my techniques have a basis in Behavioral Activation, a psychological behavior therapy. Which sounds fancier than it actually is. Doing stuff comes naturally to me, but I've discovered it doesn't come naturally to a lot of people and most people need a little help. The workshop includes 3 live video classes and one night on your own filling out a workbook that will help us figure out why you aren't doing that stuff you want to do and how to get you to do it! By the end of the course you'll have a plan to accomplish 10 things on your to-do list. 3 of those 10 things will be accomplished, before the end of the course! Find out more on the course page.
Onto the post!
I would like to describe to you what's on my work desk right now. I don't have my cell phone handy otherwise I'd take a picture. I don't have my cell phone handy because it's downstairs charging because my phone is so old it doesn't hold a charge for longer than a few hours. So basically it's always charging and I'm always cursing that I don't have it on hand to take a photo with.
My desk.
I have a long white, narrow desk from Ikea. My laptop sits in the centre of the desk. To the left is a task lamp that I bought at a thrift store for $5. Beside that is a bowl of half eaten peanuts in the shell, a paper bag filled with seeds I'm going to plant, a coupon for kitty litter, 2 camera memory cards and a pack of gum. Filling up the right side of the desk is a calculator, 2 notebooks, a stack of bills that need to be paid, a television remote, a black printer cartridge that I bought which doesn't actually fit into my printer, a 2 day old glass of water that has fluff floating in it and a cup filled with 11 Sharpies, 1 pencil and 2 pens that don't work (yet I try to scribble things out with them every day).
My desk. It would never pass the Pinterest test. So why am I telling you about this you may ask? Well it has nothing to do with my desk but everything to do with what's on it. In every post this week I'm going to be giving you a tip. A little, stupid tip that will make your life just slightly easier and therefore allow you more time for things like doing your nails, watching The History Channel or spying on your neighbours. And each of those tips are based on one of the items on my desk.
Today it's the kitty litter coupon. If you've been reading my blog for a long time or have gone through the archives you know I toilet trained my cats.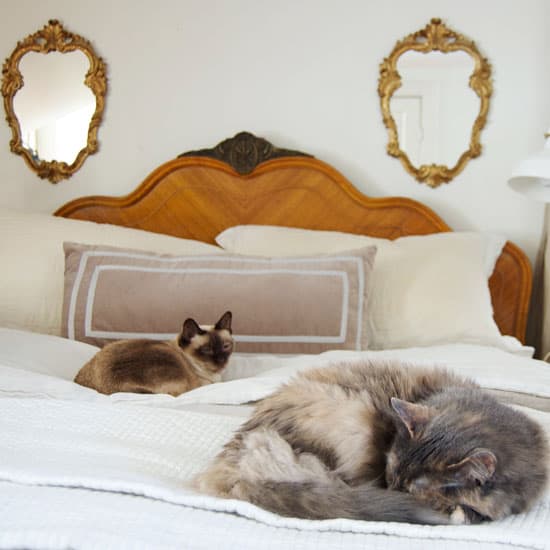 Which means that I taught them to hop up on the actual toilet, make pee pee, then hop off. Prada, my huge black stray cat took to toilet training immediately. Cleo, my little Siamese, not so much. I eventually had to give up on the toilet training because Cleo was so opposed to it, half the time she'd run behind my dining room curtains and pee there. It was my fault for toilet training her too early. She was too small. I traumatized her. Which in the case of cats is something that can really happen, as opposed to children. Children cannot be traumatized for life by toilet training. How many adults do you know that crap behind a curtain because their mom tried to get them out of diapers too early?
Prada died, I ended up getting a new stray cat (that's Ernie, the dirt coloured cat in the photo above) who was afraid of air let alone an actual toilet so I eventually gave up on toilet training. Which led me right back to the litter box of course. The problem is … Cleo would always make her way behind the curtain. If the litter wasn't impeccable she'd go behind the curtain. If the litter box was moved by one inch she would go behind the curtain. If she thought I'd wronged her in some way, she'd go behind the curtain. I eventually realized that because of the smell she just figured that was the place to go. And I couldn't find anything other than expensive enzyme cleaners to get rid of the smell.
That of course led me to the great Enzyme cleaner experiment of 2012, a SPECTACULAR failure indeed. Then somewhere I came across this recipe for getting rid of pet pee smell. I knew about for approximately 2 and a half years before I actually tried it because I couldn't be bothered, I didn't know if it would work and I couldn't be bothered. And I couldn't be bothered. Until I could.
Last year some time after a particularly trying weekend with Cleo thinking I was considering getting a dog I couldn't take the curtain pee anymore. I mixed up the ingredients, sprayed the wood floor and have never looked back.
Just mix the ingredients together in a spray bottle and spray whatever it is that needs to be sprayed. I've used it on fabric, wood floors and nylon. The mixture also helps to lift staining along with the pee smell. Just spray the area, wait for it to dry then vacuum or wipe away any white powder left (it's the baking soda).
This easily works as well as the expensive enzyme cleaners and is definitely easier than letting citrus peels rot in a jar.
Coming up on Wednesday a printer miracle. Which has nothing to do with cat pee.
→Follow me on Instagram where I often make a fool of myself←
// ]]>