The most BASIC potting soil you can make. Two ingredients, very inexpensive and great for filling large containers or areas.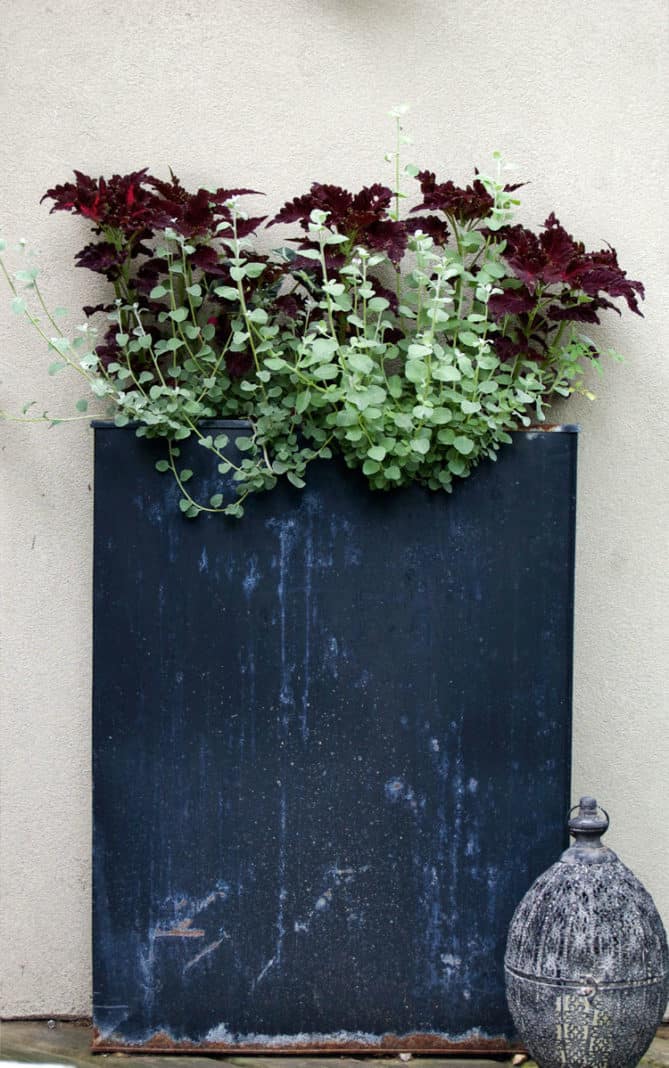 I want a pair of summer Gucci moccasins. I really want a pair of summer Gucci moccasins. I check on Ebay and Etsy and high end consignment shops for Gucci moccasins. Sometimes I find them. And then I don't buy them because you don't just go around buying yourself Gucci moccasins for no reason.
I have to remind myself every so often that it's O.K. to spend the odd bit of frivolous money on myself. In fact, it's kind of a good thing to do. If you can get past that seasick feeling buying yourself nice things can feel great.
So when I bought my mother an INSANELY GREAT but HUGE raised vegetable planter I nearly passed out when I realized how much it was going to cost to fill it with soil.
AND JUST LIKE THAT, THIS HAS TURNED INTO A POST
ON HOW TO MAKE YOUR OWN LARGE SCALE, CHEAP POTTING SOIL!
At 15 cubic feet I was looking at close to $100 to fill my my mother's raised planter with soil. $70 if I used the cheap stuff. BOTH of the potting mixes I was looking at were 85% peat moss by the way.
This is an issue for 2 reasons .... 85 % peat moss??? Peat Moss is dirt cheap. LOLOLOL. Sorry. A little soil humour there. Peat moss is around $10 for a huge bag, so how come a bag of 85% peat moss was going for $30? Basically I was paying $100 for 3 big bags of air. Plus, if you didn't know ...
Peat moss is a non renewable resource that's been overharvested.
That means Peat moss, which naturally occurs in bogs has been harvested way, WAY more than it can reproduce. So we're down to the last dregs of Peat Moss in Canadian bogs. There's an argument to be made for Canadians continuing to use peat moss because it's their own resource that requires only a small amount of travel impact, as opposed to the Coco Coir that has to be harvested and shipped from Sri Lanka.
I'll leave it to use to decide which to use. I use both Coco Coir and Peat Moss in my potting mixes.
Coco Coir (pronounced coy-err) is coconut husk fibres usually harvested in Sri Lanka. It is a renewable resource that does the exact same thing as peat moss. It absorbs and holds water.
In my experience it doesn't hold as much water as peat though and definitely dries out faster.
Coco Coir sells for about $10 for a little block that expands to 10x its size.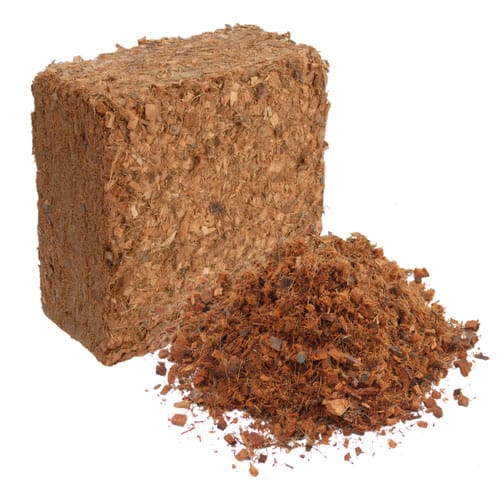 It's sold in bricks like this because it's so much easier to ship from Sri Lanka. It's just packed and mashed into a compressed form and to puff it up, you just soak it in water.
I got coconut coir for my mother's planter from a local dirt place that sells everything in bulk. They had reconstituted coconut coir for $20 for half of a yard! I just had to bag it up myself. Which I did with everything I could find in my trunk.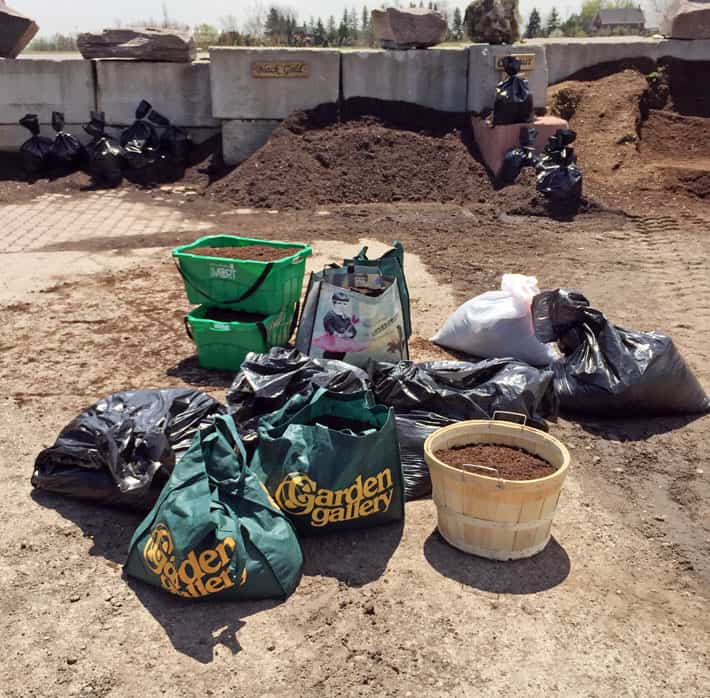 It was just luck that I found a place that sold Coco Coir in bulk like this, it isn't easy to find this way, so don't go hunting for it. Just get the stuff that's sold in a brick. Amazon is the easiest place to find it, but in Canada they will also special order it for you at Home Hardware at a really good price.
They did not have any Gucci moccasins at the dirt place by the way. I asked. Repeatedly.
TO MAKE POTTING SOIL JUST MIX COCO COIR
(OR PEAT MOSS IF YOU MUST) WITH COMPOST.
2:1 RATIO
2 parts COCO COIR : 1 part COMPOST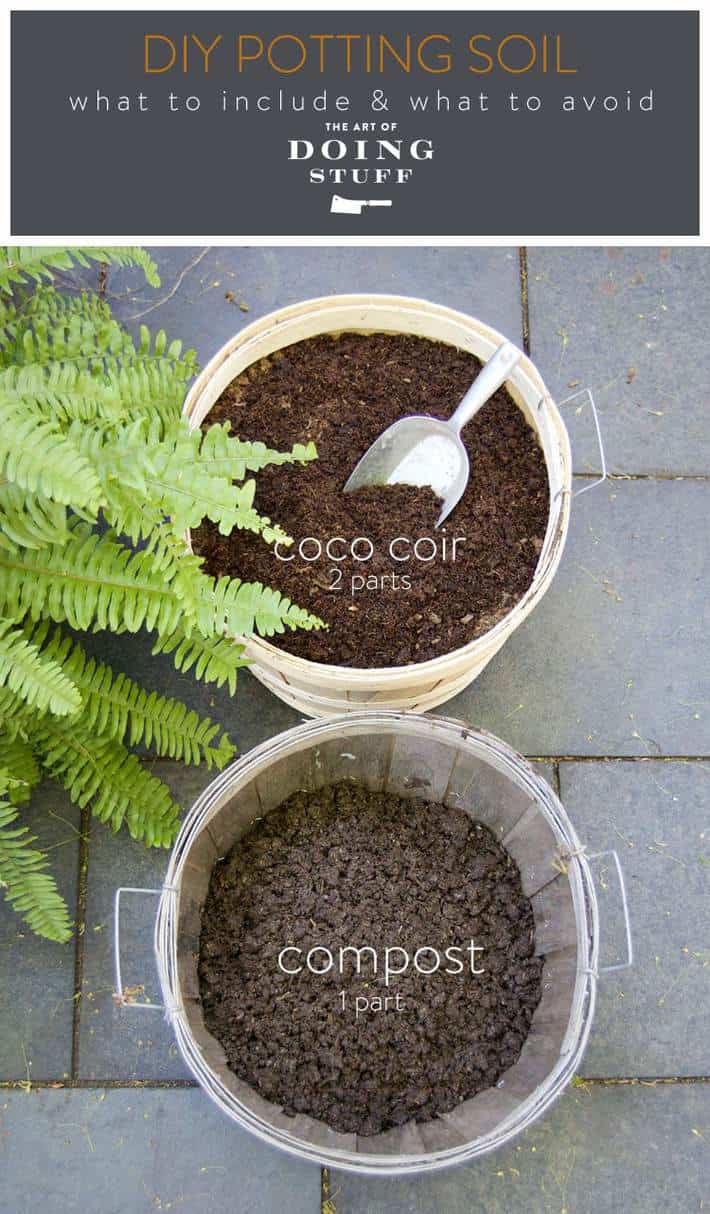 Some people also add in pearlite or vermiculite to their mix, but I di. Plus I was too cheap to buy a $30 bag of Pearlite. (Pearlite is the stuff that looks like balls of styrofoam and Vermiculte is the shaley, shiny stuff). Those two things help to keep the soil from being compacted so the roots have a nice easy path trough the growing medium, but Coco Coir is so airy that I didn't think it was necessary.
The ratio of Coco Coir (or peat moss if you must) to compost doesn't really matter all that much. I have REALLY strong compost because I gather and make it from my chicken droppings and straw so I don't need a ton of compost in relation to the Coco Coir to make a good nutrient rich soil.
And as I reminded myself this spring when I was potting up my seedlings (while not wearing Gucci loafers) there is such a thing as "too much of a good thing." I added too much compost to my potting mix at a ratio of 1:1 and sent my plants into fits. They had yellow leaves with dark green veins. Basically I overdosed them.
Because I had my own compost and didn't have to buy any I had a total cost savings of around $77.
Just a few more savings like that and it'll be good-bye cardboard shoes, hello Gucci. Unless I get "the sweats" as I hover my finger over the add to cart button. In which case, I'll pop an anti-nauseant and push the button anyway.