If you have a vine full of green tomatoes and an overnight frost just waiting to hit, I feel your pain. But you CAN pick and store those green tomatoes and enjoy them late into the fall or even early winter. Here's how!
The clock is ticking away on fall in Southern Ontario. Like sand through the hour glass, these are the days of the scraggy looking garden. The last dregs of tomatoes sit on the vines as green as can be but if you grab them before the frost hits you can ripen them inside your home and store them for the winter. I know. It's a tomato miracle.
Now, as someone who doesn't even love tomatoes, I have a curiously HUGE desire to hang onto them as long as possible. I might as well tell you. I kind of grew to enjoy tomatoes this summer. I still can't pick them off the vine and eat them like an apple like some lunatics can, but I love them sliced into a salad with basil and balsamic vinegar. Buffalo mozzarella too if I'm feeling fancy. And especially flush with cash.
But I know, I just KNOW I won't be buying tomatoes in the grocery store this winter. They'll be gross and mealy and since I didn't grow them myself, I won't have the incentive to eat them. I'm sort of like a child that way. I'm more likely to eat a vegetable I'm not in love with if I grew it myself. I contemplated planting a big ham in the spring to see if I'd develop a taste for it. Never got around to it.
If you, like me, want to hold onto the things in your garden for as long as possible, I have 2 ways to keep you in fresh tomatoes for the winter. Kind of. You'll see what I mean.

That's right. If you have a cherry tomato plant go outside right now and snip off a cutting.
A small sucker would do nicely.
Bring it inside and put it in a jar of water.
Tomatoes will grow roots almost overnight. Kay, maybe a week or so. They're good like that.
Once a good solid base of roots has grown, (more than mine has here) plant it in a pot and put it in the sunniest, brightest windowsill you have.
If you're lucky, by January or February you'll have a teeny, tiny, tomato or two. At the very least you'll have some fun.
Before really cold overnight temperatures hit, and definitely before the frost shows up, pick all of your unripe tomatoes.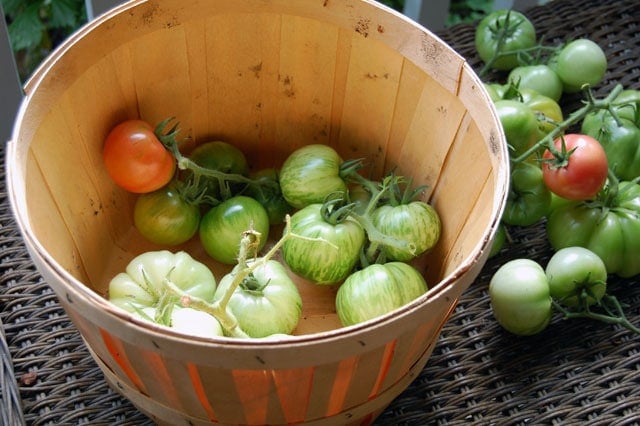 Place a single layer of them in a basket, crate or cardboard box.
Place a sheet of newspaper over them.
Put down one more layer (no more 'cause the bottom ones will bruise) of tomatoes.
Many people suggest wrapping each tomato individually in newspaper or tissue paper.
I wasn't about to do that with the amount of tomatoes I'm gonna have.
I may try it on a few of them just to see the difference though.
Judging by the small experiment I've done with these tomatoes here, it doesn't look like the really unripe tomatoes with shiny skins are going to ripen.
So don't bother with the really shiny, waxy looking ones. Green is fine. Completely immature and shiny is not.
Then all you have to do is bring them inside and put them in a cool room.
They'll be ripe by Christmas.
The warmer the room, the more quickly they'll ripen.
If you leave them in a warm place like your kitchen counter for a couple of weeks, they'll be ripe and delicious in no time.
The same, incidentally, cannot be said for a great, big ham. It'll just be ripe.