Move major appliances around your house as if they weigh NOTHING with this 10 minute DIY dolly. Good for moving massive potted plants as well. Your choice.
This is me parading up and down my street with a potted fig so I could get a good shot of my dolly. My neighbours are very good about ignoring me 90% of the time.
Skip to the step by step guide. Skip to the video.

Last week I had a bit of a scare when I discovered my home was filled with a gang of bongo playing meerkats. I mean, it's the last thing you expect really, even if you live in a place that has meerkats. Which I don't. If I'm being 100% honest, I was quite surprised at it all.
But that was the exact sound (bongo playing meerkats) that I followed from the upstairs of my house, through the foyer, down the hall and into the kitchen where there wasn't a single meerkat to be found. Which makes sense because there really are no meerkats here in Canada. I was just imagining things.
Obviously, I was dealing with beavers.
Poor things seemed to be locked somewhere in the guts of my clothes dryer making an alarming sound. Banging, clanging, screaming. It's no wonder I thought it was bongo playing meerkats.
Turns out it was neither a beaver nor a meerkat. What I had was a broken dryer. If I'm being 100% honest, I was not surprised at all.
I've fixed my washer and dryer countless times over their 20 year lifespans. I've replaced fuses, motor brushes, belts and electrical panels on them. And every single time I fixed it I had to wiggle the stackable washer and dryer out of my "laundry closet". A tiny little room just inches wider than the washer and dryer.
The last time I fixed my dryer I vowed to never fix it again and with that revelation I ordered a new washer and dryer.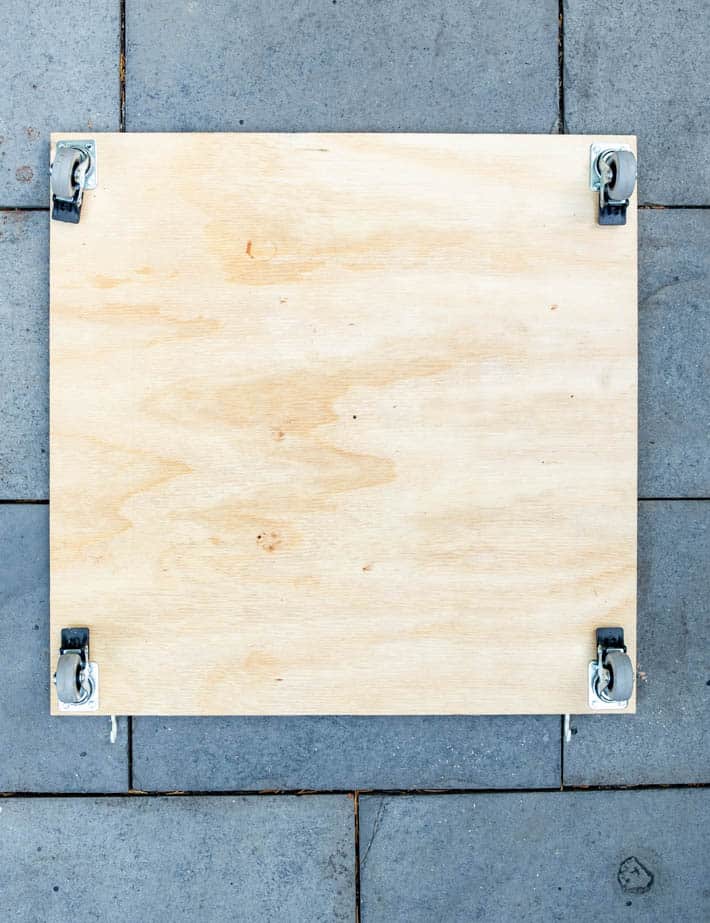 The night before it arrived, I quickly whipped up a DIY dolly so I could easily roll the new one in and out of the "laundry closet" whenever I need to. So yes, my washer and dryer will be resting in the closet on this dolly forever so I can roll it in and out easily. I'm not sure this is advisable (putting your stackable washer and dryer on a rolling dolly) and I'm pretty sure it isn't something I would ever tell you to do.
But I'll do it, see how it goes and then only one of us will cry if it ends in disaster, not a whole bunch of us.
Think of this more as a plant dolly which can do other stuff as well.
The casters I put on the dolly lock in place. So that's helpful.
As I made up my little DIY dolly I realized making a miniature dolly is something I'd just do without really thinking about it, but others might not. As I finished it even I was surprised at how handy one of these things would be for moving all sorts of stuff around the house.
This thing makes moving my large potted plants around a breeze and is way sturdier than a plant dolly you would buy. The plant I'm moving with it in the photo is my Olympian Fig.
The dolly I made will carry almost 400 pounds and can easily be stored anywhere because it's only 2' x 2' and just a few inches thick.
Hey Dolly! Wanna make one? Here's how you do it.
DIY Plant Dolly
Again. I am not condoning or recommending putting your washer and dryer on a moving dolly. But so far so good for me.
If I'm upstairs and hear the sound of skydiving buffalos, I'll know I made a mistake.
→Follow me on Instagram where I often make a fool of myself←