The All-America Selections symbol next to a plant is something you may not have even noticed or paid attention to. I did to a certain extent, but never really thought much about how a plant got that designation and how much it impacts what we plant.
Let me take you all back in time. The year was 1994. There were NO Wave® petunias. None. They did not exist. Window boxes around the world were filled with ... regular petunias. I know. I should have warned you how shocking this story was going to be.
Then, in 1995, a new flower was entered by its breeder into the AAS judging trials and it won. That flower was the Wave® petunia. And that breeder was - a Japanese beer company. Yes. Seriously. As soon as the Wave petunia won the AAS designation, it became available in North America and the rest is window box history.
That shows the power of an AAS designation. Granted, the Wave petunia was ground breaking. A petunia that LIVES through the summer AND trails for 3 feet? I mean come on. But without the designation of being an AAS winner it might have gone unnoticed.
The "AAS" is the All-American Selections, a designation given to the best of the best in the plant world. Last week I was invited to go to an informal AAS event. That event involved a 5-course meal so I said Yes, of course I will go, shall I bring my own bag for any leftovers from the kitchen or will that be provided?
All of the food would be made with vegetables that had been designated as AAS winners. I had a general idea of what the AAS was but no idea of how it all worked. I have the same relationship with math.
In a nutshell here's what the AAS is:
---
What is the AAS.
The All-American Standard is a non-profit, independent organization that tests BRAND new varieties of ornamental and edible plants.
They formed in 1932.
Impartial horticulturalists and seed companies across North America test brand new seeds and varieties before they've even been named yet and compare them to other similar plants. A compact red geranium will be compared to two other popular compact red geraniums for example to see if this NEW variety is significantly better.
There are over 80 trial sites across the US and Canada.
Judges at the trial sites evaluate characteristics like earliness, taste, disease-resistance, uniqueness and more, depending on the species.
Their mission statement is: "To promote new garden varieties with superior garden performance judged in impartial trials in North America."
---
So last Tuesday morning, I hopped into my car and drove up the hill to William Dam Seeds the starting point of the day, and an AAS trial site. From there myself and fellow gardening journalists and enthusiasts travelled to The University of Guelph for a tour of their AAS trial garden, their kitchen vegetable garden and had a 5-course meal made with AAS vegetables.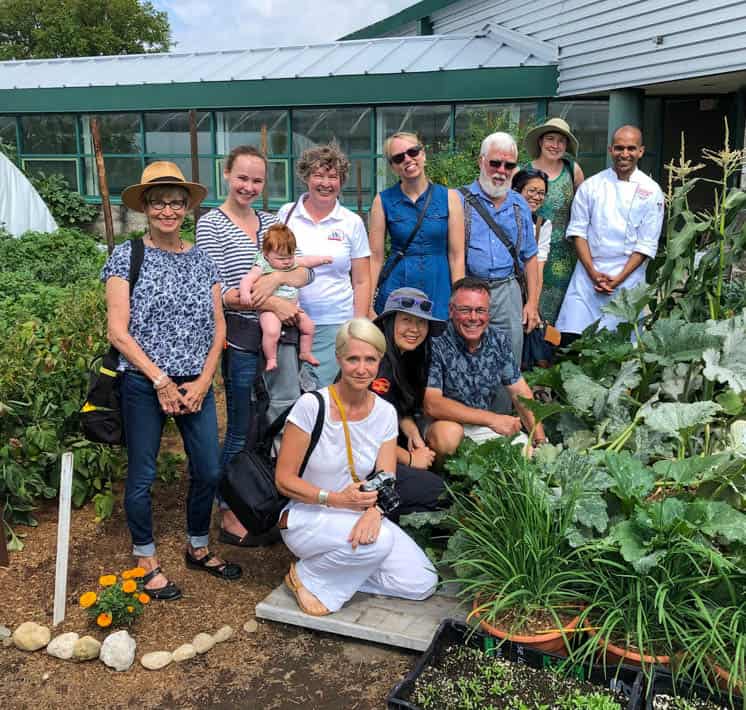 The Guelph University kitchen garden is small, and instead of feeding the students, it's mainly used to teach food students about where food, a carrot for instance, comes from.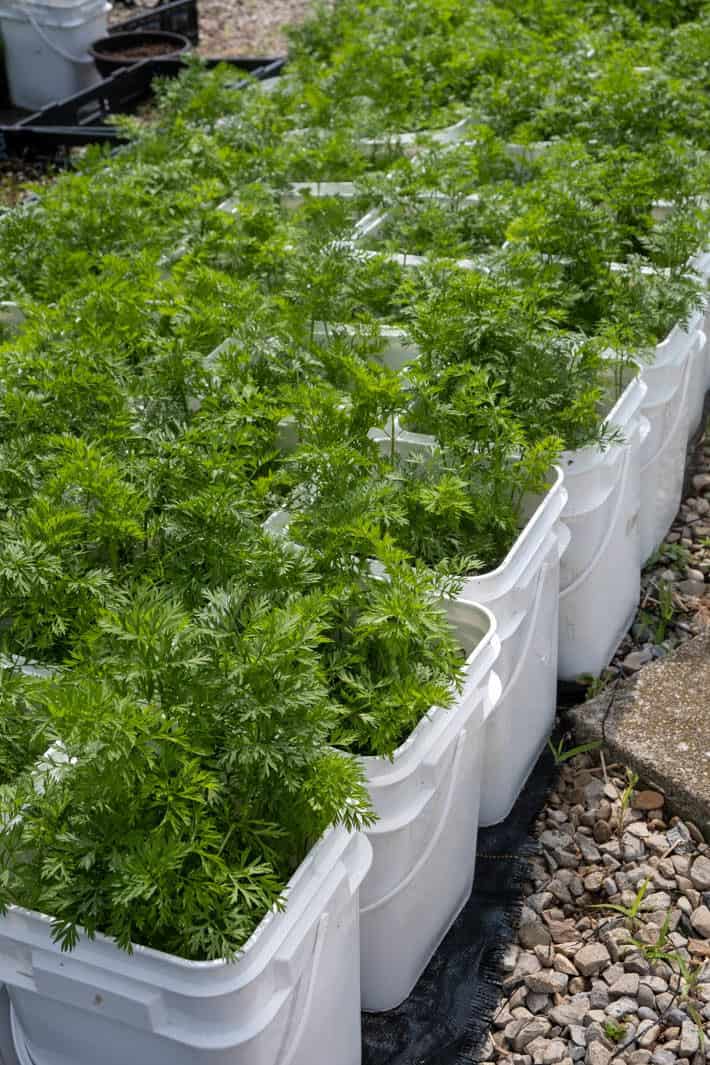 Carrots come from buckets. Let this be a lesson in innovation for you. You can indeed grow almost anything in a container, and use what you have. The U of G has tons of muffin batter buckets that they use to make muffins for the thousands of students. So instead of throwing them out or recycling them, they're repurposing them to grow all KINDS of vegetables in. Carrots, corn, okra and eggplant are just a few that I saw.
After the garden tour we were led into a dining room and sat down to 5 courses of AAS vegetable winning dishes.
---
The Menu
Watermelon & Feta salad w/ Strawberry vinegar
Roasted Butternut squash ravioli w/ Parmesan foam & pumpkin seeds
Tomato Salad w/ goat cheese mouse, parmesan crisps
Braised beef cheek w/ corn puree, Ratatouille stuffed squash blossoms
Pumpkin Tart
---
Candle Fire Okra - pink okra
---
The AAS winning varieties included.
Corn - Sweet American Dream
Tomato - Patio Choice Yellow F1
Tomato - Valentine F1
Tomato - Chef's Choice Pink F1
Pepper - Hot Sunset F1
Pepper - Aji Rico F1
Watermelon - Cal Sweet
Squash - Butterscotch F1
Pumpkin - Supermoon F1
---
The AAS Process (in a nutshell)
Trial gardens are given the seeds or cuttings of new varieties that are being entered to win that season.
They are also given seeds of cuttings for 2 comparison plants. (so they have something to compare the new variety to)
Plants are not named. They only have a number.
The test plant and the two comparison plants are grown side by side so a visual comparison of size, colour and disease resistance can easily be made. Vegetables are also taste tested.
After growing, testing and judging, the plants are destroyed.
To win the AAS designation it has to be judged as being clearly superior to whatever it is being compared to and if it isn't then it doesn't win the AAS designation.
Some years many plants win an AAS designation, others only a few.
These tomatoes at William Dam Seeds are being trialed this year. They're shaped almost like a bell pepper, are about the size of a small plum tomato and had very little "gooey guts". If the judges declare them a "winner" you'll be seeing them in seed stores by spring with the AAS designation on their seed packets.
If they aren't designated a winner, they could still end up for sale if one of the judges who grew them takes enough interest in them to hunt their breeder down after the trials. Not an easy task with an unnamed tomato that isn't actually for sale.
---
I feel a bit of a gardening fool for not realizing how significant AAS designations are. I mean - Wave Petunia!
Do you grow Juliet tomatoes? Also an AAS winner. Black Beauty Zucchini. Celebrity Tomato. Purple Haze carrots, Fairy Tale eggplants, All AAS winners.
(Not all developed by a Japanese beer company.) ;)