Pine floors are notorious for turning orange once you finish them. Their natural desire is to transform into pumpkin orange right before your eyes, but you can temper that tone by updating the way you finish them.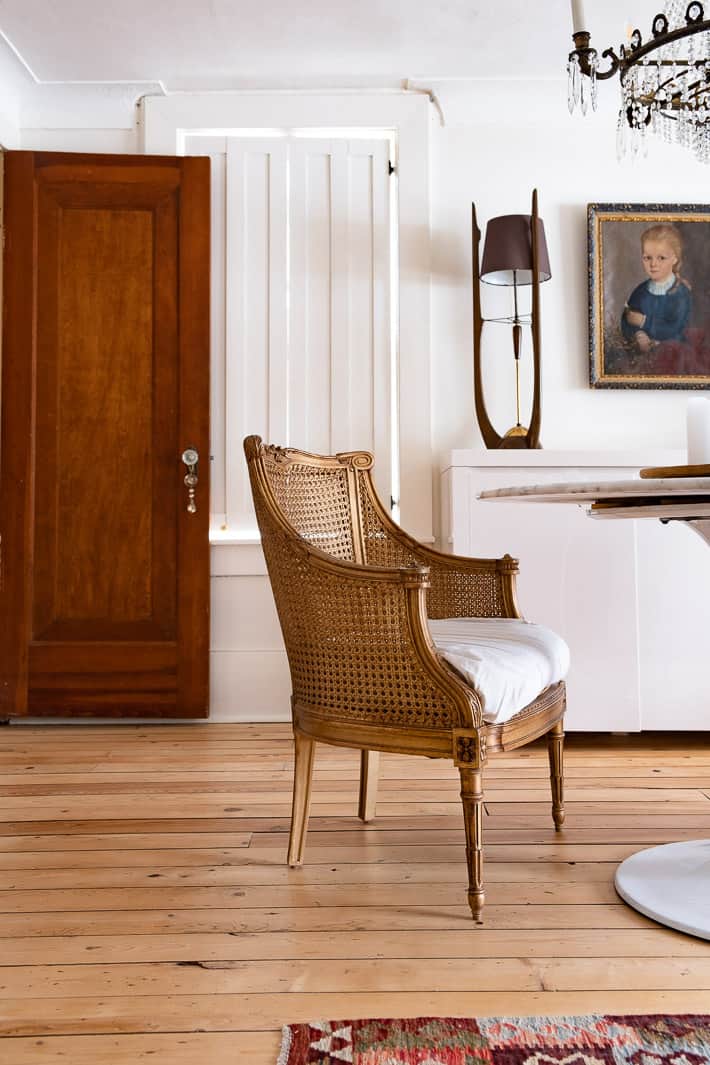 When I first bought my house and had the floors done, the only finishing option was drenching them with a plastic-like orangey goo that smelled very much like premature death. That toxic finishing option was called Polyurethane.
The only thing this stuff has going for it is the fact that it's bullet proof. Seriously. You could have an O.K. Corral type shootout in your living room and bullets would just bounce off the floor.
I suppose there were other options for finishing my floors 20 years ago but I didn't know what they were and neither did the flooring companies. So I had them "Polyurethaned" and have hated my floors for the past 20 years.
Polyurethane, still the most popular finishing option for wood floors, is slippery, unnatural looking, and brings out the orange or yellow tone in any floor. The product itself also turns more orange as it ages so the floors just get more and more orange as time goes on. Which is fine if you like orange floors. I do not.
When I accidentally ripped up all my floors this past fall (as one does) I decided I was going to research everything there was to know about refinishing pine floors until my fingers were numb and my floors weren't orange.
I ripped up my kitchen floor on a whim as well in 2013 and installed heated floors, VCT tile and levelled it all with self levelling cement myself.
I am now the most knowledgeable person in the galaxy with regard to pine flooring. I know more than anyone. I am the foremost expert.
Actually, I'm not, but I do know more than I did 20 years ago.
And I NOW have pine floors without any hint of pumpkin orange.  Here's how I did it.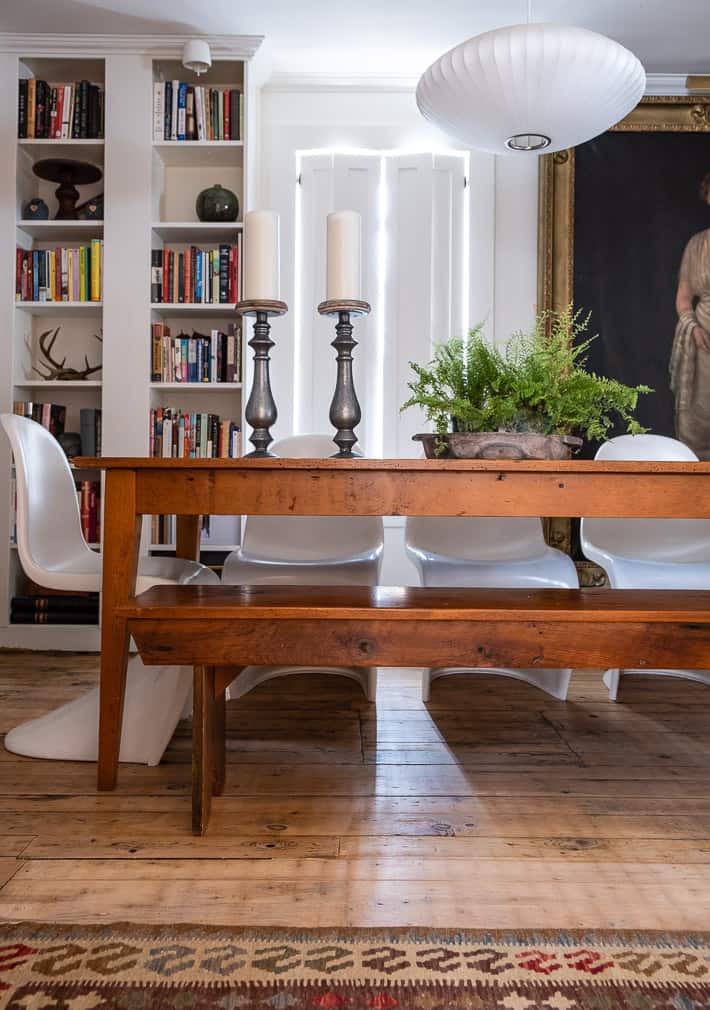 ---
How to Finish Pine Floors (Without the Orange)
Just before delving into my pine floor research I was simply going to leave my pine floors raw after sanding them. I wanted raw wood (unfinished) floors for two reasons.
Raw wood floors feel beautiful beneath your feet unlike finished floors which feel like plastic.
Raw wood floors would retain their natural colour and not end up looking like a Cheeto.
I decided against the raw floors because I was a bit worried about cleaning them and a bit more worried about not being able to drag my furniture across them like I normally do. (raw wood has NO protection and the pine would gouge easily)
After a couple of weeks of hard core research I decided there were two keys to a natural looking pine floor.
Keys to Natural Looking Pine Floors
A MATTE FINISH & A WATER BASED FORMULA
I don't think either of these things were readily available 10 years ago let alone 20. There are other ways to achieve that neutral pine finish like waxing or soaping the floors but both of those things require maintenance I wasn't convinced I would keep up.
After talking to my flooring guy about my concerns we came up with a 3 step plan for my floor finish. I was going to use a water based, low VOC, non toxic, green product from Bona's professional line.
A lot of people online are using Benjamin Moore's Stays Clear for their floors, and I'm sure it's a great product, in fact it's what I was going to use UNTIL I spoke with a professional floor refinisher. He very gently steered me in the direction of a professional product. Literally. Like, he gave me directions to the nearest distributer.
These Bona products aren't the same ones that can be bought at Home Depot. They're only available through distributors, or as I recently found out ... Amazon (which I've linked to above in the product list).
If you'd like to see if you have a distributor in your area you can click Bona's Distribution Map to find a store near you in the US or Canada.

How to Refinish a Pine Floor
MATERIALS
Broom handle for paint roller
STEPS
Sand the old finish or staining off - Two of my rooms needed to be professionally sanded to remove the polyurethane. One room I sanded myself with a palm sander because the wood had no finish on it so I didn't need the power of a professional sander. Also I wanted to retain the character and staining on the floor and to do that you have to sand by hand. Once your floor is sanded vacuum, vacuum, vacuum. You only have one shot at making sure you've got rid of all the dust around. After vacuuming, wipe the floor with a damp cloth.
TIP: If you want your floors to still feel like worn old floors, don't sand them with too fine of a final grit. This will make the floors feel unnatural and like glass. End with around a 100 grit. This post has good information on sanding pine.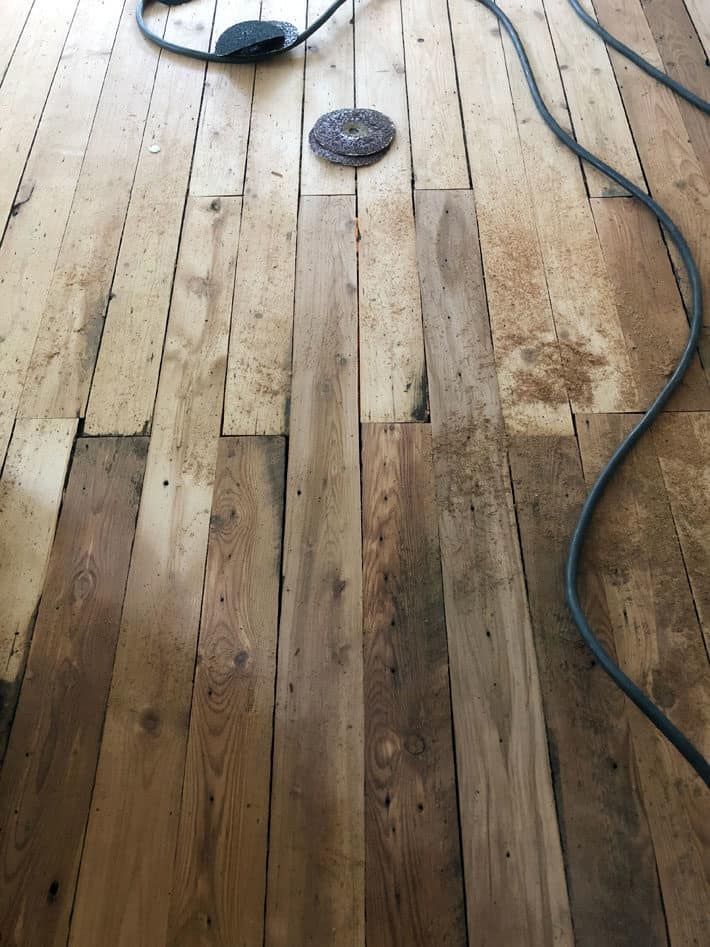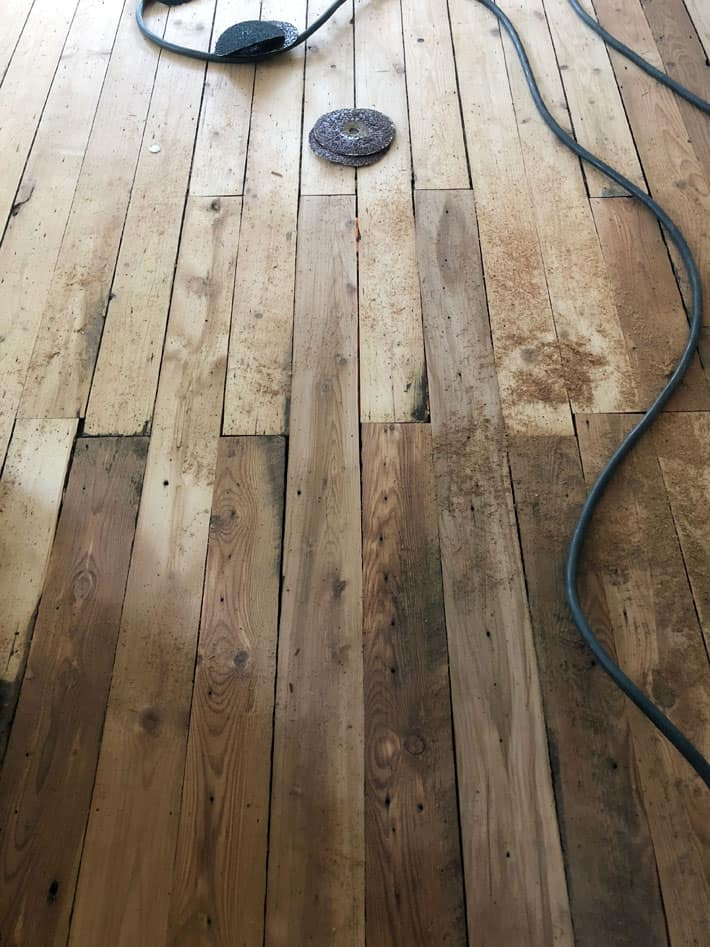 TIP: A lot of people recommend a tack cloth for this type of job but my sister, a painter, said both she's found tack cloths can ruin a finish by causing it to fish-eye. She uses a damp cloth for picking up dust so I did the same. It worked great.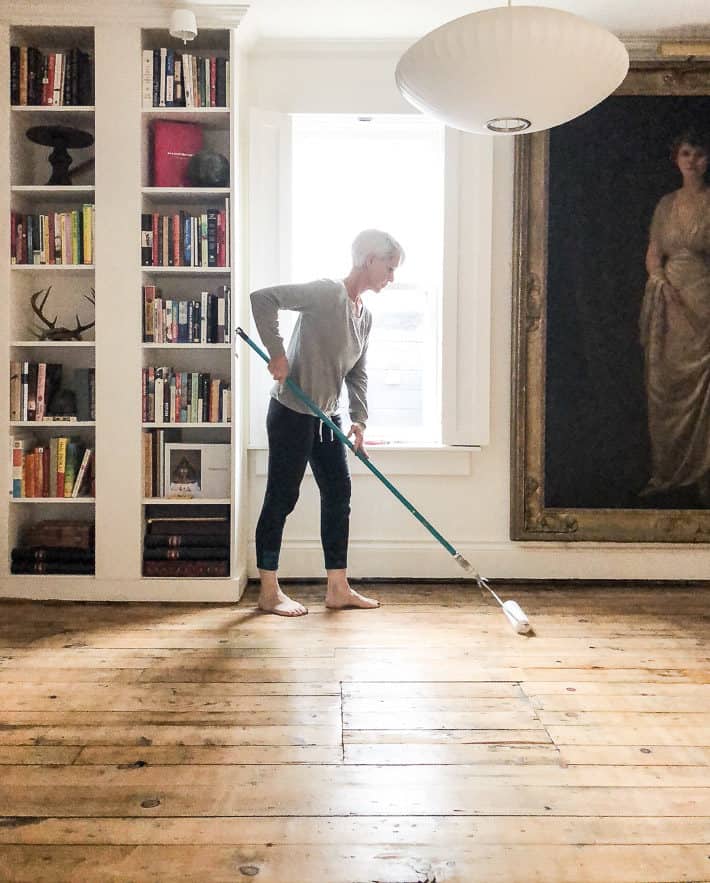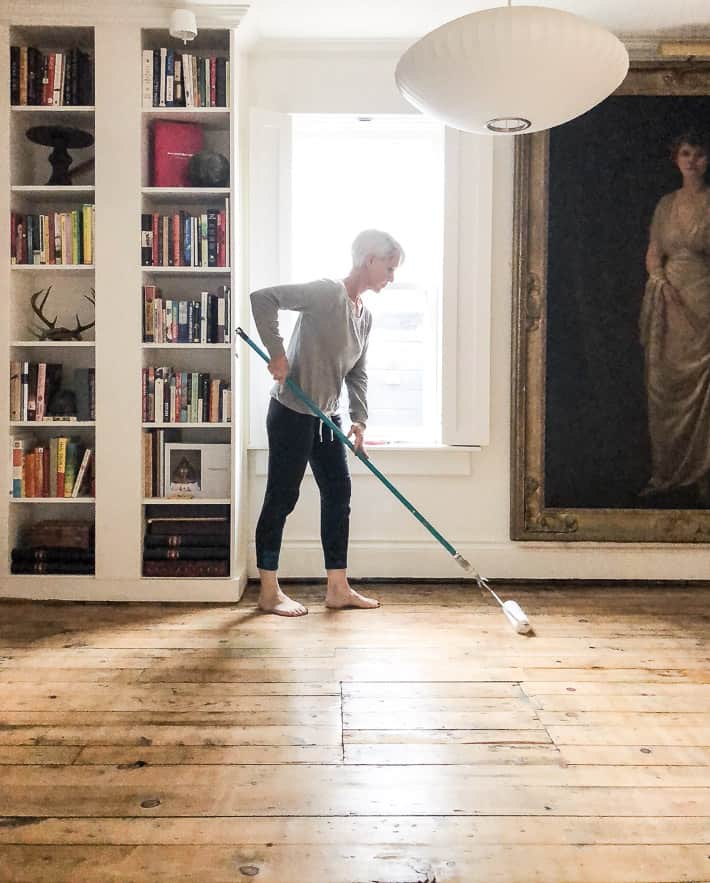 2. Apply 1 coat of Bona NaturalSeal. Using a paintbrush cut in around the edges of the room. Don't do the whole room, only do about 4' at a time. You don't want the edging to dry before you get a chance to roll that section of the floor, or else the edging will show. You need to always be painting "wet on wet".
Using a 10 mm roller and a paint roller pan, roll the sealer onto the floor being careful to keep everything smooth the same way you would if you were rolling paint onto a wall. Repeat the edging and rolling across the room until it's all done. Allow to dry 3 hours (I left it overnight) Sanding between the sealer and the finish coats is NOT necessary according to Bona. But for the smoothest finish, sand the floor VERY lightly with 180-240 grit sandpaper after it has dried. You barely have to even go over the floor. Vacuum, then wipe with a damp cloth.
3. Apply 1 coat of Bona Novia (Satin). Apply a coat of the Bona Novia Satin the same way you did the sealer by edging and rolling (using a NEW roller). Allow to dry 3 hours. (again I left it overnight). Sand very lightly with 180-240 grit sandpaper. Vacuum, then wipe with a damp cloth.
4. Apply 2 coats of Bona Traffic HD*. Apply a coat of Bona Traffic HD the same way you did the others, edging and rolling (with a new 10 mm roller), making sure you don't leave any pooling or striping. Allow to dry 3 hours. Sand again, if that's what you're doing and vacuum and wipe with a damp cloth. Repeat for a second coat. NOTE: Bona Traffic HD requires mixing a hardener into the product before use. Once it's mixed you have a limited time to work with it (4 hours). That's just enough time to do 2 coats. If you cannot get both coats done in 4 hours, only mix up as much of the product as you'll need. You'll have to do your own math on this.
---
QUESTIONS & ANSWERS about Refinishing Pine Floors
How much will I need? 1 gallon (each bottle is 1 gallon) will do 500 square feet of flooring) Buy extra if you think you might need it. As long as you don't open it and you'll be able to return it. (check with who you buy it from first though)
How much will it cost? For my 3 gallons (the sealer, the Novio and the Traffic HD) plus a few rollers, it was $274 Canadian to do around 500 square feet of flooring.
Why not use Bona Traffic HD for all of your finish coats? *The Bona Traffic HD is more expensive than the Bona Novia so using the Novia as your second coat keeps the price down a bit. Bona Traffic HD is your only option for a matte finish, plus it has the best durability so if for some reason you only want to use one product, go with the Bona Traffic HD for all of your finish coats, NOT the Bona Novia.
I looked online and they say applying the finish is really hard and you have to be able to swirl it around corners and you should use a pad to put it on and I'm really scared to do it because I might ruin my floors. You won't. I thought the same thing when I looked up how to properly apply the finish. Just ignore what you've read and think of it like painting a wall. You want to feather out your edges and you don't want noticeable lines or splotches. If you see a splotch, just run over it again lightly with the roller.
I like whitewashed floors. How do I get that look? There's the somewhat difficult way of using wood lye (bleach) and castile soap but you can get a similar look by just using the Bona NordicSeal as your sealer instead of the Bona NaturalSeal.
Doesn't sanding old floors remove all the patina and beauty of them?? It depends on the age of the wood. The older the wood, the deeper the colour in them goes. 20 year old floors with have colour just on the surface. 100 year old floors will have colour almost all the way through the board. So you can sand them and still retain that nice old wood look. Keep in mind, the board will be lighter the deeper you sand no matter what, but there will be colour and it will still look like a mottled, old piece of wood.
Can you bleach wood floors? I did. Some of the replacement boards I used for patching were made of fir which was darker than my pine floors. I just poured straight bleach onto the board and wiped it with cloth. By the next day the boards had lightened. In some cases I had to do this twice.
---
I hope, hope, HOPE this helps any of you who have faced the same orange floor crisis as I did. There's is a green alternative that will eliminate your orange floors.
You can do it! Exhume the fume from your Oompa Loompa room.
→Follow me on Instagram where I do lots of other stuff←