Earlier this spring I was on the hunt for a basic utilitarian object that pretty much anyone who owns a house has.  Of course I'm talking about a full sized Merry-Go-Round outfitted with genuine Lippizaner stallions with pink feather plumes coming out of their heads.
I didn't have any luck finding one I liked.
So I turned my attention to finding something else that pretty much every homeowner has.  Again, I had no luck at all finding something that suited my needs, for the price I wanted to pay.  I didn't want something fancy.  I didn't want something ornate.  I wanted something pretty plain.  And sturdy.  Plain and sturdy.  Like a bucktoothed farmboy.
I never did find it.  I ended my search when I came up with this ...
Yup.  You can turn a bucket into a hose reel.  Who knew finding a plain garden hose  hanger would be so difficult. They all had anchors or fairies or frogs on them.  And if they didn't, they were either made out of ugly plastic or metal that was so flimsy you could bend it with your mind.
Then this idea hit me out of the blue.  Like most ideas do.   Screw one of my many galvanized buckets (the one that leaks a little bit) to my fence.  Instant storage for my hose, work gloves, and tools.
Just take a bucket, 4 screws, and screw it to your fence.  I didn't even pre-drill the holes in my bucket.  That's how confident I was feeling.  I don't mind telling you I felt kind of brilliant after this one.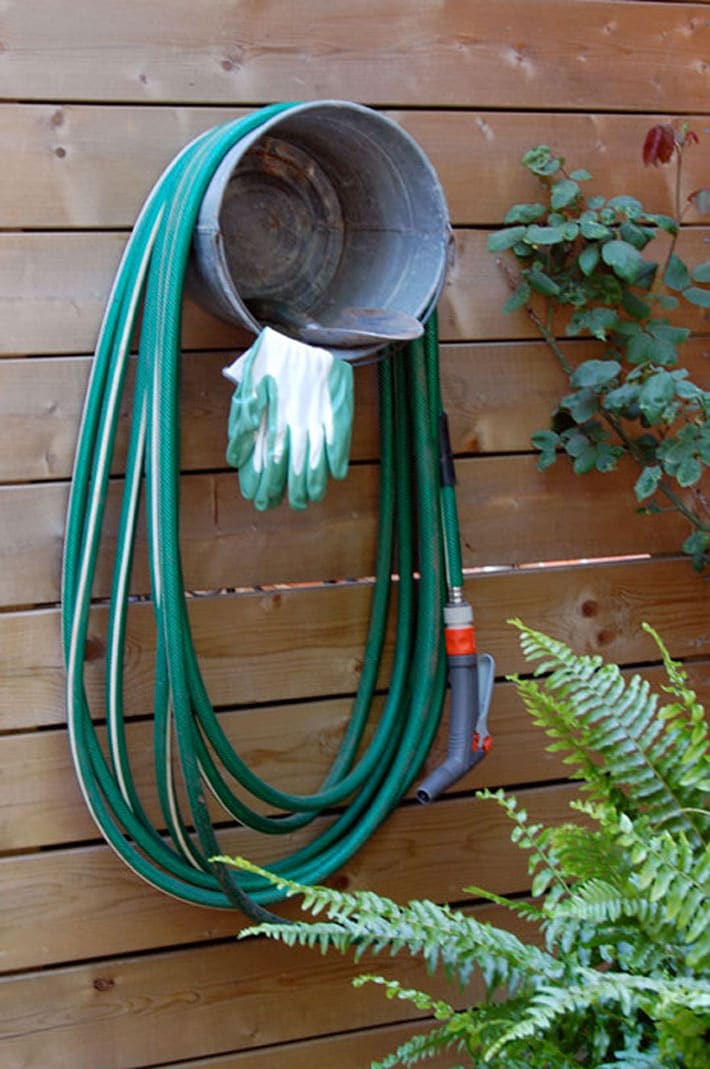 And then I happened to notice on Remodelista that Martha Stewart has already done the bucket thing. Which is both horrifying and satisfying at the same time. But I want it to be known that even though someone else thought up the bucket thing should in no way deter from MY thinking up the bucket thing as well. We both thunk it up. And I'm still kind of brilliant. And humble.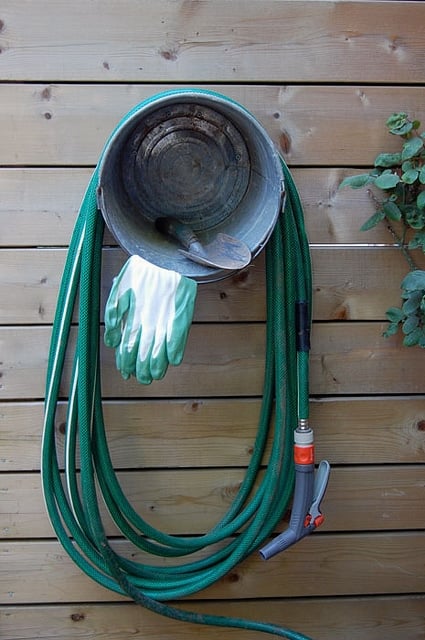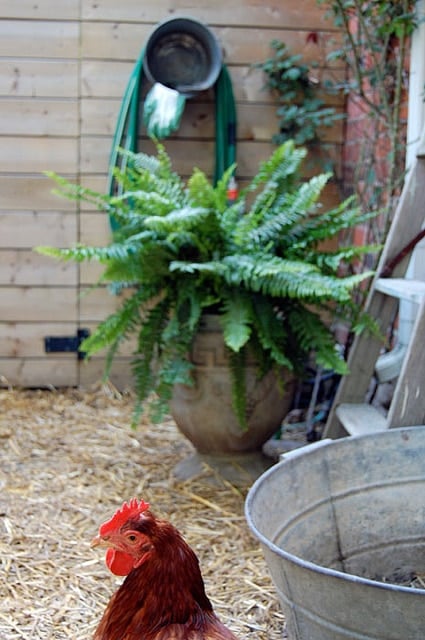 Now granted, it's not to everyone's tastes, I know.  BUT, it might get you thinking about what you could use as a hose hanger instead of what you have right now.  Or you might be thinking of other uses for a bucket.
Either way you're thinking outside the bucket.
→Follow me on Instagram where I often make a fool of myself←