I am presently sitting comfortably on the couch, scouring Google for some interesting facts to give you about Alfalfa Sprouts.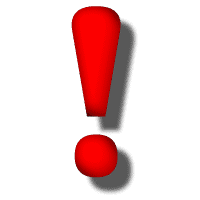 Something that would make you proclaim "Wow! I had no idea! Home grown sprouts can straighten a lazy eye AND tame my aversion to unconventional sex? Sign me up!". But the truth is sprouts can't do that or anything else terribly interesting. (to my mother and relatives and mother's friends who read this blog ... I was just joking about the "unconventional" sex thing ... you know ... making stuff up to make the blog funnier, heh, heh ... real knee slapper, eh mom?) Yeesh.
Alfalfa sprouts are of course good for you, and some people even claim sprouts can help with arthritis and kidney stones but these are "claims" - so who knows. I also claim to be interested in all of my boyfriend's work stories.
So the reason for all of this pre-amble is that I grow my own alfalfa sprouts and it's a lot of fun and I think you should try it. Even if they can't improve the look of your hammertoe.
I didn't start to grow my own sprouts for any health reason, I started to do it because it seemed like fun. I should point out however, that I recently found out that store bought sprouts are sometimes treated with a sparkling chlorine bath before they leave the greenhouse, so health benefits seem to indeed apply.
Growing your own alfalfa sprouts is really easy and you go from seed to edible sprout in about 4 days! 4 days!!! That's less time than it takes to make bread! Isn't it?
If you like this, you might be interested to know you can also grow mung bean sprouts in the same amount of time. The method is slightly different, but I outline it all in my bean sprout post.
Here's how ya do it!
Materials:
Mason Jar with ring (no seal needed)
Alfalfa Seeds (got mine at a health food store ... where the majority of people look unhealthy, by the way)
Fine Screen (bought a splatter screen at Dollar Store and cut it to size of mason jar seal, fine window screening would work too)
1. Add 2 Tbsps of seeds to mason jar.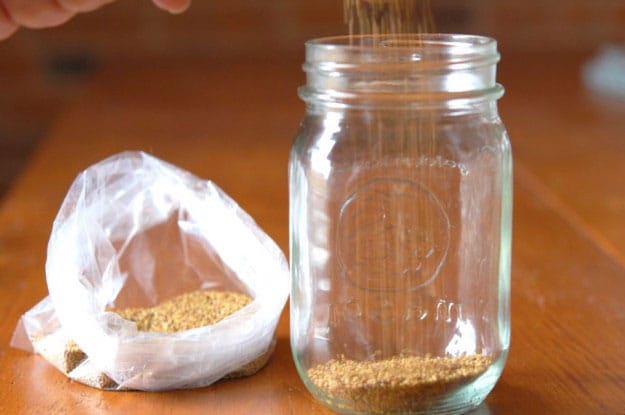 2. Soak seeds in jar overnight.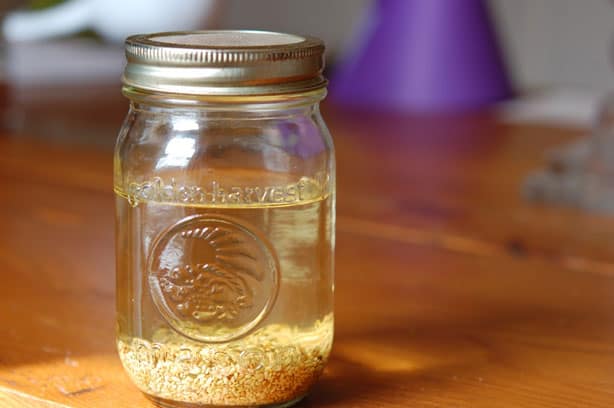 3. Notice the screen I've cut to fit the top of the jar. It's secured under the jar ring.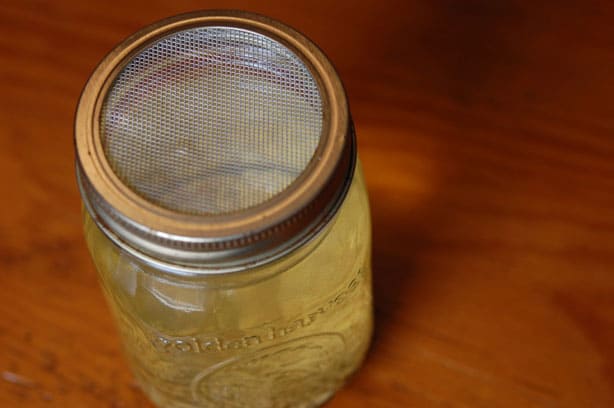 4. Drain all of the water out of the jar, by pouring through the screen. This handy little thing will allow the water out but keep the seeds in.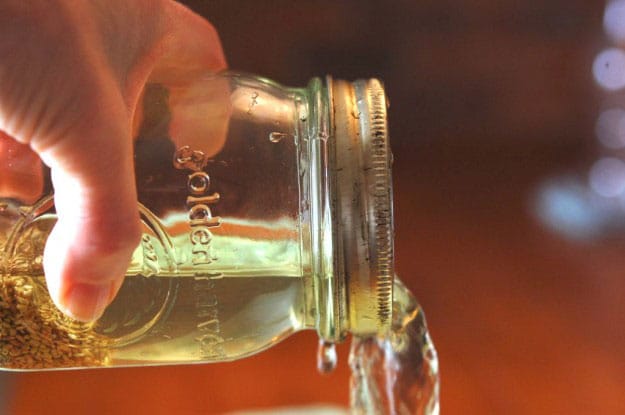 5. Rinse the seeds with water (by running the tap right through the screen into the jar) and drain again. Once you've drained them, rest the jar on a cloth to allow the last little bits to dribble out. You want to get as much of the water out as possible. You don't have to be crazy about it, just let it drain a little more.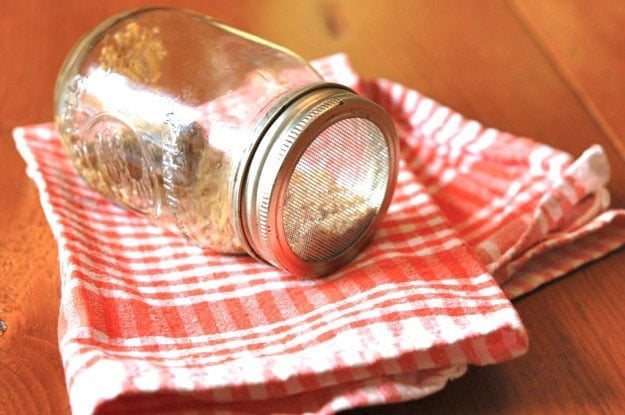 6. Now just leave the jar in a darkish corner of the kitchen. Rinse and drain the seeds once every morning and once every night.
Day 1: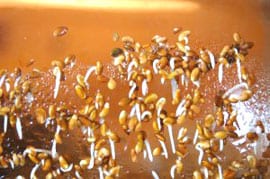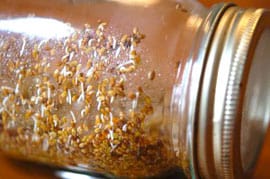 Day 2: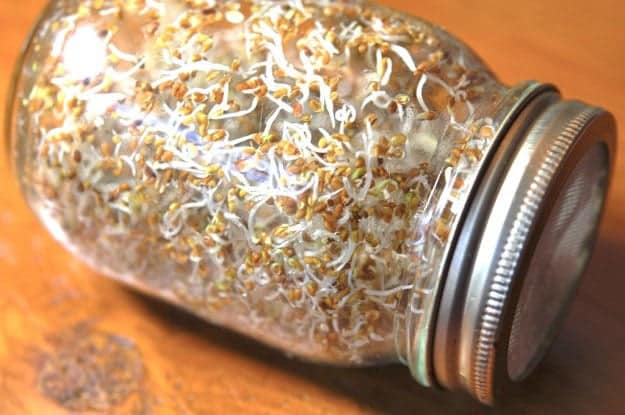 Day 3: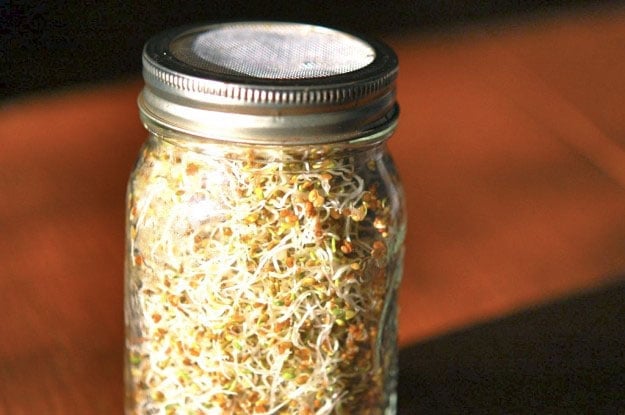 Day 4: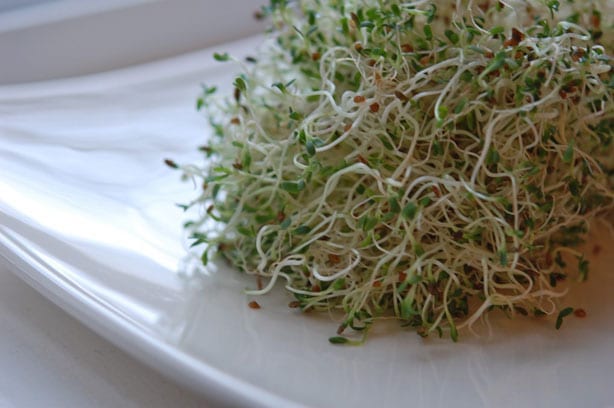 On day 4, before you remove your sprouts from the jar, put the jar on a windowsill for a few hours so they can get some sun. This will help give the sprouts a nice green colour.
Put them in a sealed container and keep them refrigerated. Ready for sandwiches, salads and snacks. They'd probably make a pretty good fake moustache too.
These sprouts by the way don't have that musty taste that some of the supermarket alfalfa sprouts have. And I could just be projecting here, but since I've started eating them I'm pretty sure my bunion is getting better. At least that's what I'm gonna claim.