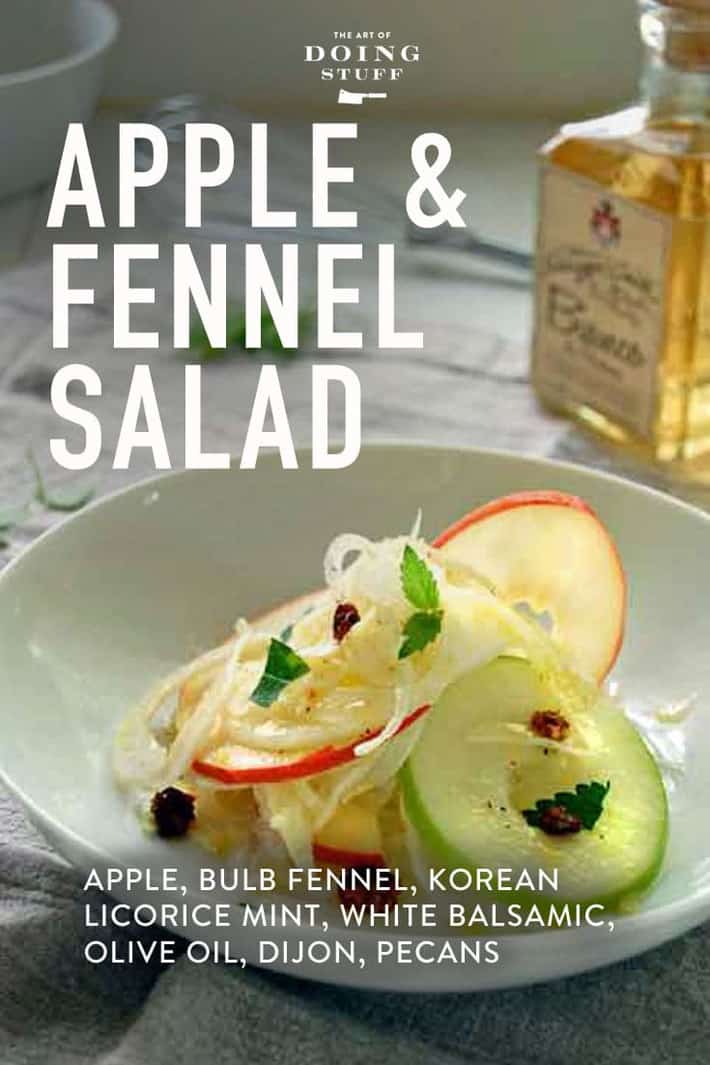 Way back, (maybe 4 or 5 seconds ago ... who can be sure?) I had no idea what Korean Licorice mint was. You, at this very moment, may be in the same position I was in. And I am jealous of each and every one of you.
You know how you get a pang of jealousy when someone says they're about to read your favourite book for the first time? And you wish you could go back to where you got to experience the greatness of it for the first time again? Well, that's what it's like with Korean Licorice Mint.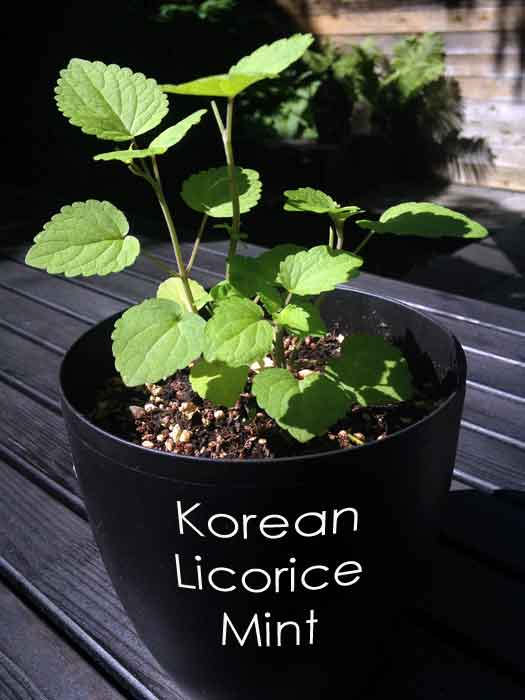 Korean Licorice Mint is the only flavoured mint I've ever tasted that tastes exactly what it claims to taste like. It tastes like sweet licorice. There's no two ways about it. It tastes exactly like licorice.
Which makes it the perfect addition to this Apple Fennel salad. It's not necessary, but if you can source some out you won't be disappointed. Unless of course you don't like sweet licorice in which case you will be extremely disappointed. You might even get angry with me for suggesting such a thing.
I got my Korean Licorice Mint as a special present from Linda Crago for speaking at her Seedy Saturday event, but you can buy the seeds on Amazon. Just remember it *is* mint and needs to be contained in a pot unless you want it to take over your garden. And your neighbour's garden. And a major portion of the Northern Hemisphere.
[print_this]
Apple Fennel Salad
Ingredients
Salad
1 Granny Smith apple
1 Pink Lady apple
1 bulb fennel (fronds reserved)
Korean Licorice Mint leaves (optional)
Pecans (candied or not)
Dressing
2 tablespoon White Balsamic vinegar
4 Tbsps Olive Oil
½ tsp. Dijon mustard
Sea salt
Pepper
Method
Core apples and slice to ⅛th an inch thick.
Shave fennel as thinly as possible. You can do this with a knife or using a vegetable peeler.
Add shaved fennel to bowl, top with apple slices, pecans, a scattering of fennel fronds and Korean Licorice Mint.
Dress salad and eat.
[/print_this]
This is definitely a summertime salad. It's light and refreshing and crispy. You can add as much or as little fennel as you like. I prefer to have about twice as much fennel as apple and about twice as much green apple to red. I also like to throw in a handful of baby greens at the bottom of the bowl if I have some on hand. You ... well you can do whatever you want.
The only thing I insist, INSIST on ... is using not only White Balsamic vinegar, but *expensive* white balsamic vinegar. Nothing less than $10 a bottle. You can get it for $3.99 but it won't ... will NOT ... taste the same. Kind of like a strawberry flavoured barium swallow and the strawberry milkshake they tell you it tastes like, taste nothing the same.
Speaking of which ... feel free to add strawberries to your salad if they're in season. For those of you who have never tried an in season strawberry. I am jealous of each and every one of you.

→Follow me on Instagram where I often make a fool of myself←