I bet you're all wondering what it is I did while I was on my television hiatus aren't you? What could I possibly have done all those long, lonely evenings without the mind numbing entertainment that requires no thought at all. Well, for one thing I listened to podcasts but without visual stimulation they just made me sleepy. Slink off the couch and into a puddle on the floor, sleepy. And once I was on the floor I realized just what a poor housekeeper I am which sent me into a depression. It also made me realize I needed a new rug which would cost money which depressed me even more.
Really this whole no television thing had no benefits at all.
I had to figure out some sort of activity that I could do while I was listening to these podcasts at night. Something that would keep me awake during them. One evening nearing the end of my television hiatus as I was on the verge of drooling and doing that head nod thing I glanced over at my bookcase and found my answer. No, not reading. That would really put me to sleep.
I'd been watching my lovely, organized Billy bookcase get more and more disheveled by the year. I'd squish in a newspaper clipping, or a book someone loaned me. I'd push in a photo album that didn't really fit, or start sitting books on top of books, shoving in half consumed cans of Diet Coke, hiding mail I didn't want to deal with in there and before I knew it my beautiful bookcase went from this ...
photo by Donna Griffith
to this ...
Yeah, I rarely think to take a before photo. Especially if what I'm doing is a spur of the moment I CAN'T TAKE THIS ANYMORE kind of thing. If it's planned, like I know I'm going to paint my potting shed, and think in my head, well this will be a good post, I always take a before picture. But there are so many times I do things completely randomly, instantly and out of the blue that I don't think to myself ... "Hey! WOAH THERE. This would be a good blog post. You should probably take pictures." No. I just dive right in.
The podcast I was listening to during the 2 evenings and 2 mornings I redid my bookcase was Chicago Public Radio's "Serial". It's a murder mystery. So I was lulled to sleep by a murder mystery.
The before shot of my bookcase that you see at the top of the post is one of my most Pinned, shared and linked to images. It's just a good example of a bookcase and it didn't happen by chance. It took AGES to get my bookcase to look good. Many nights of putting things in, taking them out, moving things around, removing stuff, adding stuff and just a sprinkling or two of sobbing. Plus I'm pretty sure I ate a hot dog in there somewhere.
It took slightly less time to redo it this time around because I had all the basics. I just needed to neaten things up a bit and give my view from the couch a bit of a change. It isn't a huge transformation but it's enough that it makes me happy.
The 2 biggest changes I made were to vary the shelves so they didn't line up perfectly into squares like they do in the first photo. And then I also made sure to create a bit more breathing space in the lower portion of the bookcase. So the books have more space around them and aren't so dark and heavy looking. Just being able to see more of the white bookcase between the objects and books makes a big difference visually.
Here's a side by side. Keep in mind too, that I'm a bad blogger so you're seeing the difference between the good version of my bookcase and another good version of my bookcase. I really should have got a before shot when it was messy. But as we've established I'm a bad blogger.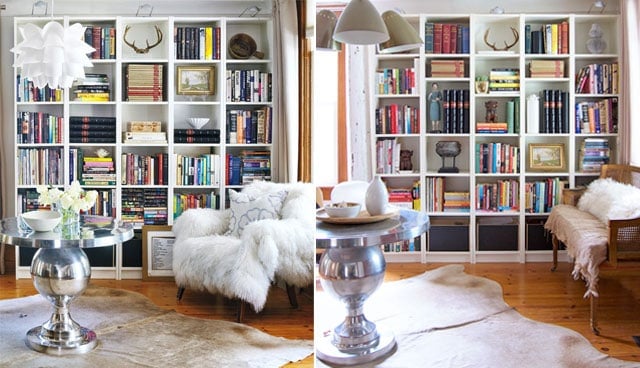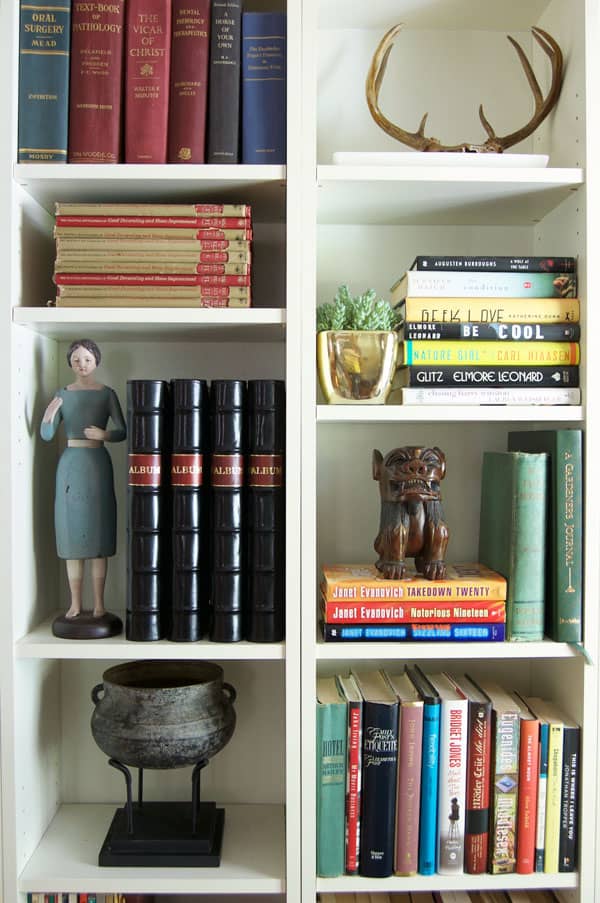 Aside from changing the shelves a bit and allowing for more negative space, I'm not sure what makes this bookcase arrangement work. I like the symmetry, I know that. I like that some of my favourite objects are in it. I know that. Beyond that. Meh. I have no idea. All I know is for me it works, and I knew when it was done. I didn't stand there thinking more needed to be fixed or changed. When it was done, I knew it was done.
So why does this bookcase work? For the answer to that question I asked Interior Designer Carol Reed (who also designed my kitchen for me)
"Your after arrangement works well for many reasons, you've filled the shelves with a variety of books (vertical and horizontal), objets and art which makes it so visually interesting. You've also created great balance - a row of bins on the bottom anchors the whole thing, you've flanked the centre column of cubbies with symmetrical groupings and the colours are well balanced too, the reds, yellows and blacks (very dominant colours) are distributed randomly but evenly. You've paid attention to the negative space and avoided crowding any of the shelves, you allowed space around the objects to highlight them and you left breathing room around the books. Using a stack of books as a pedestal for smaller objects is another great way you balanced the negative space. The other key thing that makes a display interesting is when your eye moves around the arrangement, you've achieved this by placing your objects in triangular formations, most predominately the black bowl, the painting and the antlers which create that main triangle and then your eye moves off to the other objects in between and on the sides, you have other smaller triangles of displays within the whole." ~ Carol Reed
When pushed, and I mean REALLY pushed, Carol said the only thing she would change was maybe switching out the shiny gold planter to something older looking to match the patina of everything else and I have to say I agree.
And because I was so happy with the bookcase looking nice again finally, I ran up to my cutting garden and cut some Zinnias, tomatoes and weeds to make a Frances Palmer inspired flower arrangement.
I bought this antique Burmese monk's bowl (also called an Alms bowl or a begging bowl) when I was in Thailand. Going there I knew a monk's bowl was something I wanted to own, but I never imagined I'd get to buy an authenticated antique one. I was actually shopping one day searching for a really cheap gold Buddha head to bring home but somehow ended up with a really not cheap monk's bowl. Which is not unlike the time I went out shopping for pepperoni and came home with a couch.
In a week or so I'm going to tell you about everything in the bookcase, what it is and how I got it. I imagine you want to get to squinting your eyes at the books in my bookcase, so I'll let you get to that now.
I'll be over here watching television.