For those of you who can't wrap your head around typical pastel Easter decorations I have a few DIY Easter wreath ideas that don't include pastels, rabbits or ribbon. But there are mushrooms, moss and that ubiquitous Easter time staple ... the pool noodle.
When I first started my blog over a decade ago I did a post called Easter! The Ugly Holiday. I stand by that post. I've always disliked Easter decorations. I also dislike Easter food and have insisted on bringing old fashioned baked beans the past few years so I can avoid eye contact with the ham.
It's very, very difficult for someone who has an affinity for skulls, antlers and mud to wrap their head around pink and yellow and mint green anything. I even bought Copper Marans chickens which lay chocolate coloured eggs as opposed to pink or blue ones.
Around the time I called Easter the Ugly holiday, I made a few Easter wreaths that were a bit different than what you'd typically find in a stores. No pink, no big bows, no cute wittle wabbit. And they all started with the same thing. A pool noodle wreath form.
Pool Noodle Wreath Form
All of the wreaths today are made from the same form. A 17" DIY wreath form made out of a pool noodle. You can also buy a large foam wreath form, just note that their standard size is smaller at 12".
Materials
Most of these materials are available at dollar stores.
Pool Noodle
Spanish Moss (I used 5 dollar store sized bags)
Hot glue and glue gun
5-6" of dowel (wood or PVC pipe)
Duct Tape
Additional Moss
Here we go!
Instructions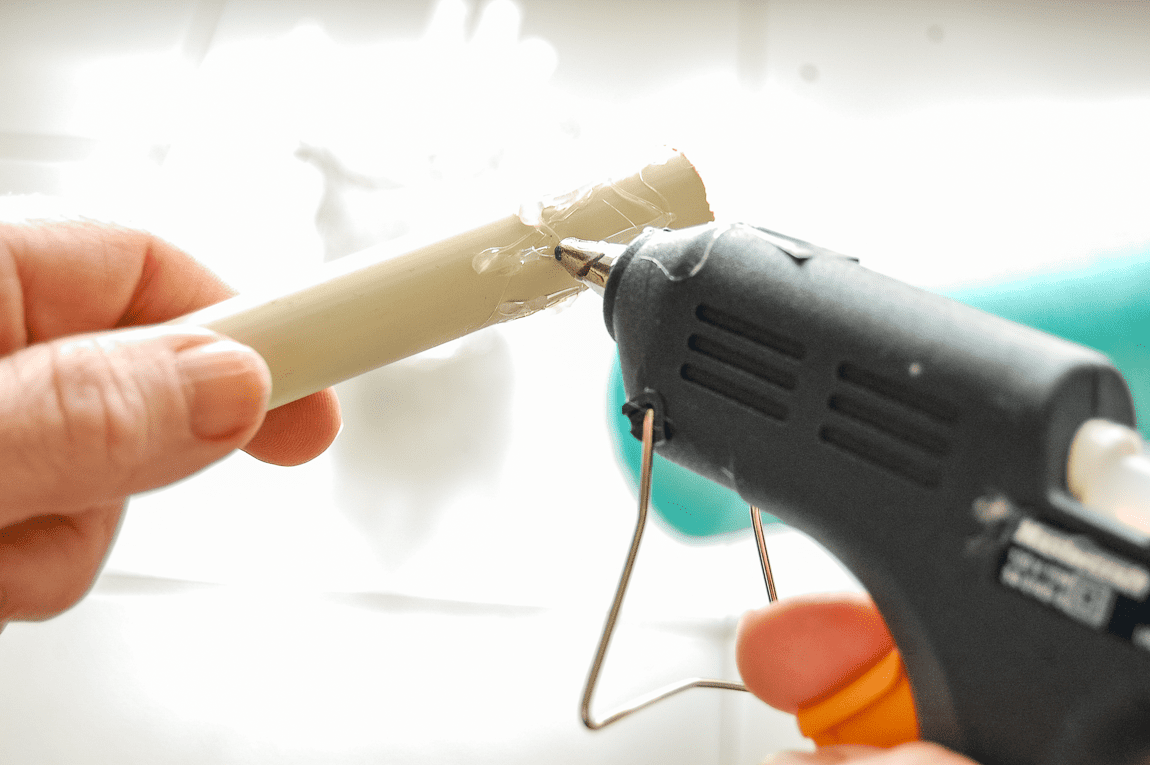 Bend the noodle in a circle to determine what size you'd like your wreath. If it's too big, cut a few inches of the noodle off.
Cut a dowel or piece of plastic pipe to 6 or 7 inches. Anything that is stiff and will fit into the hole of the noodle will work. If you have an old broom handle, you can cut that and use it if you don't have a dowel or piece of PVC pipe, like I'm using here.
Add hot glue to one end of the pipe and shove it into the noodle. Add glue to the other end and shove that in the other end of the noodle. Allow to cool and dry before letting go.
For extra security wrap the joint with duct tape.
Grab your bags of Spanish moss and start hot gluing it onto the wreath form. Once it's covered in moss you're done.
Around the bottom base of the wreath you can add in additional moss. At this time of year it's easy enough to find and gather some moss from outside, but you can also use reindeer moss which you can buy.
The extra moss isn't mandatory but if you don't do this part you'll look less impressive. And … if given the choice would you rather look more or less impressive?
You can preserve any moss you gather by the way, I have a whole tutorial on how to preserve moss which needs to be updated but all the facts are there.
Now you'll have a wreath that looks something like this.
Now you can leave it as is and hang it on a front door or wall like you saw in the first photo or you can add to it and put it on a stand.
I've made 3 inspiration Easter wreaths for you that you can copy exactly or use as a jumping off point for your own ideas.
Mushroom Easter Wreath
Adding a few mushrooms (regular grocery store mushrooms) to your basic moss wreath makes it more like a spring decoration than Eastery, but works for both.
Materials
Moss covered wreath form
Mushrooms (any edible mushrooms)
Toothpicks
To add mushrooms to the wreath, stick a toothpick into one end of the mushroom and then stick it into the foam. If you live by the more is more credo then just keep adding mushrooms until you like it or you run out of mushrooms.
Mushrooms dry out, so spray the wreath daily or do this just before an event. You can keep it completely simple and just add one or two mushrooms or fill the bottom of the wreath up completely.
How to make the stand
The stand allows you to put the wreath anywhere instead of having to hang it on a wall or door. I really like the look of a wreath on a stand. It turns it into more of an objet d'art. Everything looks better if it's on a stand or under glass.
Materials
5" x 14" piece of flat wood (approximately this size is fine)
7-8" length of small wood dowel (Slightly larger than the diameter of a pencil)
Hot glue and glue gun
To make the stand using a small board and dowel:
Drill a hole through the exact centre of your small board. Make the hole the same diameter as your dowel.
Add hot glue or wood glue to the end of the dowel and stick it into the hole you made in the board. Let dry.
If you're using a regular foam wreath you can add some hot glue to the end of the dowel and then push it dowel straight into the centre bottom of the wreath until it's more than halfway through. This will make it a stable as possible.
If you're using a pool noodle wreath form you won't be able to push the dowel straight in. Cut a narrow slit with a sharp paring knife to fit the dowel into the noodle. Apply hot glue INTO the hole before pushing the dowel in.
Easter Egg Wreath
Eggs and easter go together like peanut butter and pickles. There's no reason the association should work but for some people it does. SO let's add some coloured eggs to this wreath and make it eggsactly right.
To keep your eggs muted, use natural dyes or use a diluted version of the dissolving egg colouring tabs you can buy at this time of year in Egg dying kits.
Natural dyes for eggs
Red Cabbage, Red onions, Yellow Onions, Beets, turmeric.
The Kitchn has a good guide on naturally dying Easter eggs.
Materials
Moss covered wreath form
9-12 blown out eggs (dyed if you like)
Thin wire
Hot glue and gun
Add blown eggs by gluing them into place on the wreath. I've made things a bit interesting by gluing a thin wire to a broken eggshell that's filled with moss inside like a little bird's nest.
If you plan to make the egg wreath you'll need to start exercising your lips, mouth and jaw. Blowing out a dozen or so eggs is not for amateurs.
You don't wanna start blowing out your eggs without getting limbered up first. Otherwise you'll get that gross crackling feeling on either side of your lower jaw. Like you're lymph nodes are exploding.
So ... between now and when you blow out eggs I'd advise you to practice. I have no recommendations as to how you practice this, nor do I want to hear from you about how you do it.
Peep Wreath
This one is for all the lovers of PEEPS, the marshmallow puffballs that appear at Easter.
THIS one is for the peeple.
Materials
Moss covered wreath form
1-2 packages of PEEPS
5 stems of small flowers
Miniature birds nest and eggs
Instructions
Secure the peeps to the wreath using toothpicks. (in the case of one PEEP I've hung it with fishing line from the top of the wreath to give it the illusion of it flying into the nest. But really it just looks like a dangling PEEP.)
Tuck a few flowers at staggering heights around the PEEPs. If you want the flowers to last put them in miniature flower water vials and hide them in the moss.
Tuck the birds next in with the PEEPs. You can see I've raised the nest up (for no reason I can think of, lol) on a wire. I did this wreath years ago. I believe I thought I was being artsy.
Looking back on these wreaths I see how much they could be improved but 10 years later they're still holding their own and act as a great jumping off point once you make your moss wreath form (which can be used year after year.)
Just don't do anything outlandish like adding pink or worse - lavender. Go grab yourself a peanut butter and pickle sandwich and get to work.
→Follow me on Instagram where I often make a fool of myself←