In my constant and never-ending mission to get a good 4 minutes of sleep each and every night (I'm very strict about this) I pitched a fit and moved everything in my bedroom around to make it more ... sleepable. And wakeable. Just more able.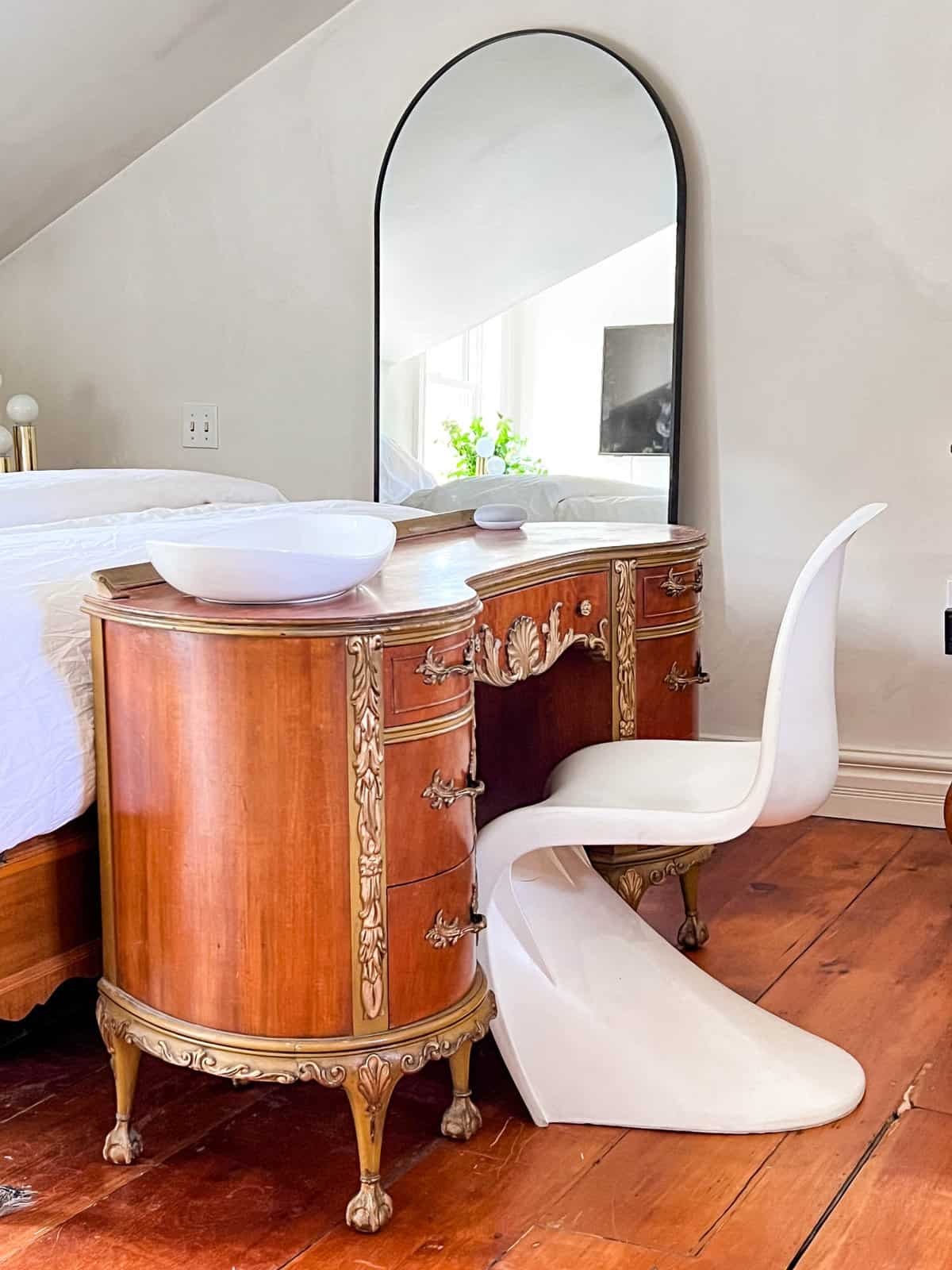 For anyone new here, half of my blog is a series of posts where I complain about a room in my house, move everything around in it, and LOVE IT for exactly 3.5 months.
At that time I wake up one morning with a fresh perspective of disgust and hatred towards it.
And repeat. For a lifetime.
The last time I complained about a room of mine was when I Took a Sledgehammer to My Living Room. That was 3 months ago.
As such, you have exactly 2 weeks until the next installment of I have a powerful hatred of everything I see in my living room. My furniture rearranging has always been more regular than my period.
Speaking of periods. I don't have those anymore.
What I *do* have are sleeps that are as peaceful as wearing shorts woven out of fire ants & corn syrup. This has been going on for years. I'm constantly in a state of Sure, I'll try that! to make my sleep better.
Please don't recommend sleeping naked even though I know the majority of you reading this right now do sleep naked.
I did come up with a 3 tier bedtime routine a few years ago that has made sleeping much better though.
The motivation for this particular brand of bedroom crazy was waking up one weekday at the crack of 10:45 a.m.
I slept through 2 alarms, the usual morning gaggle of school kids and the cutoff point for ordering breakfast at any chain restaurant.
I have no idea what time I fell asleep (for the first time) the night before. I'm a whiz at falling asleep. I usually fall asleep 7 or 8 times a night.
For 20 years I've known the layout of my bedroom was wrong but I'd convinced myself there was no other way to arrange the furniture.
---
Also, I can't get rid of any of my bedroom furniture because the only way to get it out is through an old window that's hidden behind drywall.
I know this because to get the bedroom furniture into the house I had to smash out the drywall, hire a moving company to shove it up onto their moving truck parked in my neighbour's driveway and slide it in the window. At which point I had to put up a new sheet of drywall, tape it, sand it & repaint.
3.5 months later I was sick of the bedroom suite.
So there's that.
---
This is the before layout about 15 minutes into the rearranging. NOTE: Many of these photos were taken with a wide angle lens so the room looks huge.
The bedroom measures 11' x 16'.
k, but seriously why do this?
Light
In the summer from 9 at night until 2 in the afternoon, my bedroom is dark. In the winter it's always dark. There is no sunrise dancing across my sheets tickling my consciousness until I giddily awake to greet the day.
Solution: Reposition the bed so it faces a window. Any window. But preferably an Eastern facing window because that is where the happy sun apparently rises. I wouldn't know.
My Body Literally Told Me To
I often wake up in the morning lying straight across the width of my bed. I do a 90° counter clockwise turn at some point in the night so that I'm facing East. True story. I imagine it's a very graceful.
Solution: Make the bed face the way my body naturally wants to lay.
Updating
Because of the whole can't remove the furniture without ripping out a wall thing I'm keeping the furniture. Did I mention I also had the bed custom made out of 2 single beds? They were cut into pieces and then reformed into a bed that is neither a queen NOR a double sized bed.
Because I can't get rid of this stuff, I wanted to update the bedroom with some elements of this era. Other than the Ikea bedside lamps everything in the room is old. Actually they're probably 15 years old themselves.
Let the rearranging begin
This isn't even a proper before shot of my bedroom. I've taken out some accessories. Picture it the same but with more junk on the dresser to the left and piles of books on the floor.
Speaking of books ...
First the bed got moved into the only other position possible in the room, which happens to face a window the size of a cereal box. Not even a Costco sized cereal box; a regular one. You can't see the window from this shot but the window does face East.
Once I knew the bed was going to work in this position I spent 6 hours lugging and sliding other things around. The tallboy dresser got moved outside of my bedroom into a small alcove at the top of my stairs where it almost fits.
I went through the selection of eccentric lamps in my basement and brought 2 modern, brass 70's lamps upstairs.
For a variety of reasons the bed can't be properly centred under the sloped ceiling. It's O.K. It'll only bother you when you look at it.
I then carried a 55 lb arched mirror up my winding 26" wide staircase because the room still wasn't right and neither was I. I was getting anxious, angry, sweaty & stupid but there was no stopping the wicked witch of the rest.
I was going to create a bedroom I could sleep and wake up in like a coffee commercial dammit or I would die trying. Death by redecorating is probably underreported.
The big mirror reflects even more light into the general bed area plus it tempers all the old stuff. As do the brass lamps.
This isn't a working fireplace, but the bump out behind it is my chimney so putting a mantle there makes sense.
But wait ...
That is a 12 hour long YouTube video of a fire playing on a flatscreen television set inside the mantle. That's O.K., go scroll back to the previous photo. You can see the small red power light of the television around the right lower corner of what appears to be a black hole.
When the television is off you don't see or notice anything. It's just dark. Other than the power light.
One press on the remote and it's a pretty convincing fireplace complete with crackling sounds.
Which I can see, along with the cereal box window from bed.
On the fireplace mantle are 2 of my favourite paintings. One of my house done by Jody Joseph, the other a rural landscape scene I got at a garage sale for a few dollars.
By the bed an antique rug I got from my friend Robbie, and a vase of honeysuckle. Whatever flower is in season will be there in that vase. I'm contemplating a newer rug and will definitely be replacing the Ikea lamps.
I also flipped my mattress and box spring, put new percale sheets on the bed and got myself set up for the Sleepy-time trifecta that first night.
The Sleepy-time Trifecta
Freshly laundered sheets 🛏️ Shower before bed 🚿 Freshly laundered pajamas
And then just before I went to bed it started to rain, turning bedtime into the mythical Sleepy-Time Superfecta. Sheets, shower, pajamas, rain. Sleep narnia.
In the very early morning a streak of light slipped across my face and I opened my eyes, smiled - and went right back to sleep.
Next up? A new mattress, a big cartoon hammer to konk me out at night and a singing George Michael hologram to wake me up before I go go back to sleep.
I like the feel of the bedroom a lot more now and I do sleep much better. I just don't sleep well.
Mark 3.5 months from today on your calendars folks, and we will reconvene.