At this harrowing time in our lives I think it's safe to say that there has never been a greater need for Cake in a Cup.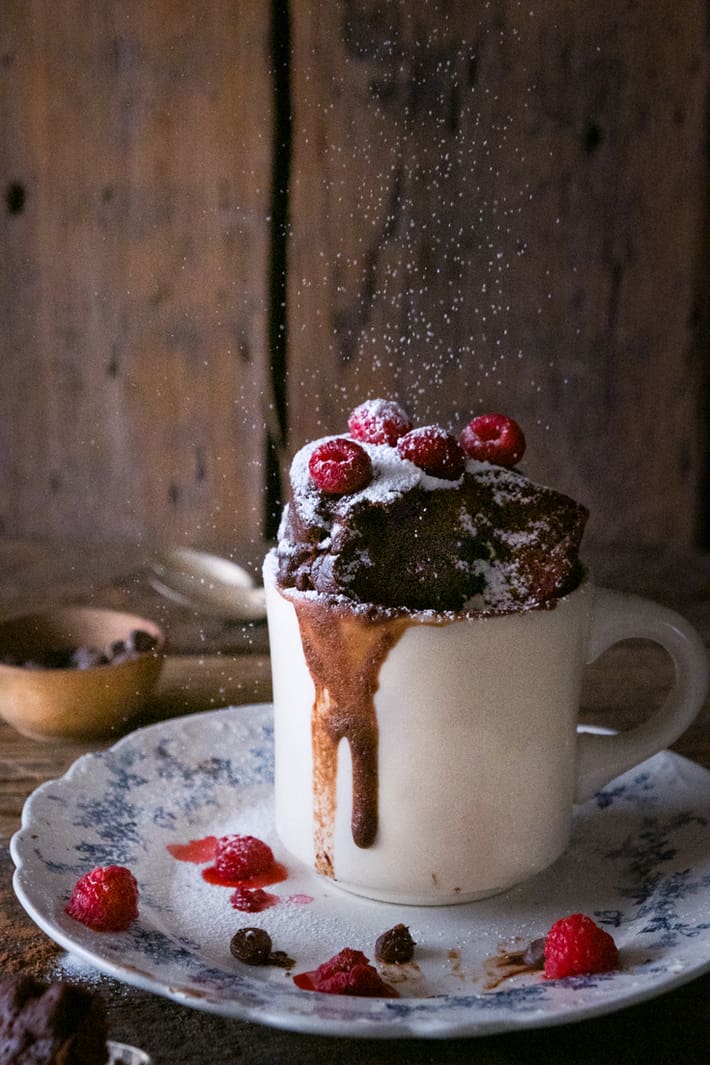 Like most people, I can tell you exactly where I was during certain momentous world events. When I found out John F. Kennedy Jr. died I was talking on the phone to my friend Renee. For the O.J. Simpson verdict I was in the lobby of CBC television studios. And for Cake in a Cup, I was browsing Stumble Upon.
Remember Stumble Upon?
After seeing the recipe for Cake in a Cup I jumped out of my computer chair and bounced, Tigger-style towards the cupboard. Everything I needed to make an actual chocolate cake inside of a coffee cup in 3 minutes FLAT, had been inside my cupboard my whole life and I had NO idea.
Cake in a Cup Recipe (s)
This good old cake in a cup takes basic cupboard ingredients like flour, sugar and cocoa to make what is essentially an INSTANT cake that you cook in the microwave.
Perfect for a midnight snack, easy dessert or binge watching buddy while you're living the life of a shut in. The perfect companion to Netflix is mug cake. Everyone says so.
What's in it? Basic ingredients: flour, cocoa powder, sugar, baking powder salt, milk, vegetable oil. An egg and chocolate chips are optional.
The one thing this cake doesn't require is love. THIS IS NOT A CAKE MADE WITH LOVE, it is a cake made out of insanity and necessity.
How do you make it? Just like a tiny cake. Mix your dry ingredients like the sugar, cocoa, baking powder and flour together in a microwave safe mug.
Stir them up well.
Add in your wet ingredients.
Stir those up.
And then cook it as all the world's best desserts are cooked - in the microwave on high.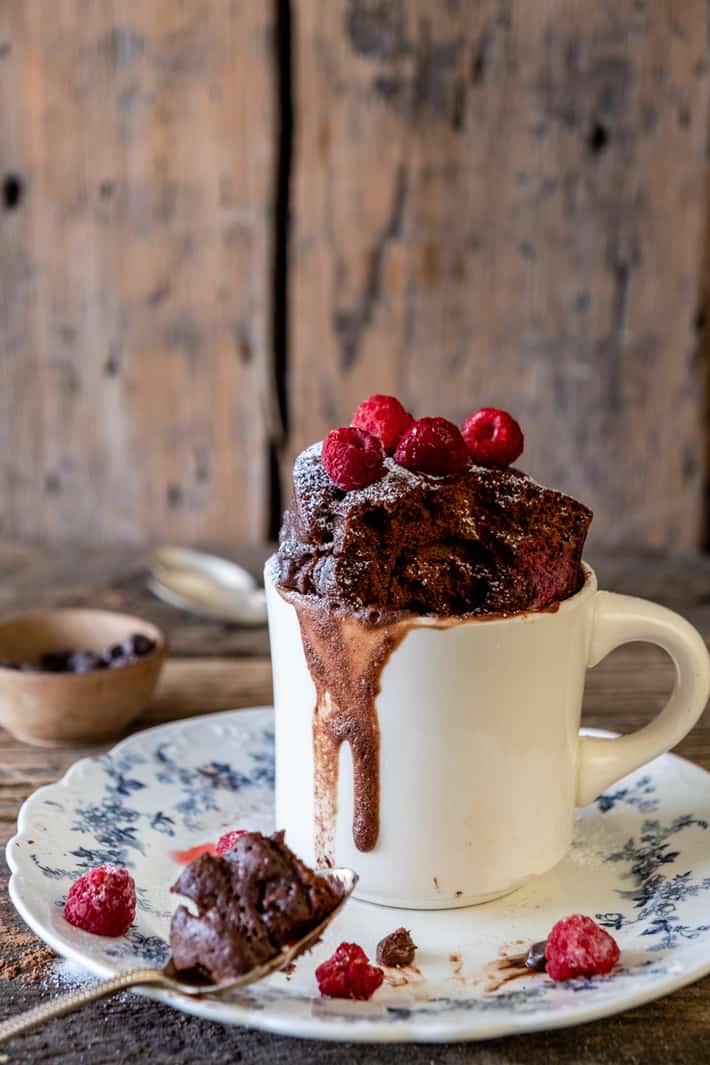 This is O.K. on it's own, but really like my sour cream, cilantro, cheese topped homemade chili, it's all about the toppings. Add frozen berries, powdered sugar, whipped cream or chocolate shavings to elevate this chocolate mug cake. Or, ORRRRR top it with a scoop of vanilla ice cream.
That's how you turn this into something - well, something a little more impressive than what it is - an emergency dessert to be used in dire circumstances. Like right now.
I made this recipe on one of the bazillion television shows that I hosted.
This cake in a cup recipe is to be used in a chocolate craving emergency! It's kind of like jello ... you might not want to serve it at a dinner party, but sitting all by your lone self in a bathrobe on the sofa it's perfectly acceptable.
Now, let's be honest here for a second, shall we? I know this is the Internet and that sort of thing is often frowned upon, but just for kicks ... let's be honest.
CAKE IN A CUP IS GENIUS! It may be the greatest invention ever, second only to potato chip flavoured toothpaste (fingers crossed someone has this one in the works).
Is it the most delicious cake you've ever had in your life? Well, that depends on how drunk you are.
It'll certainly be the most fun and fastest cake you've ever made in your life.
I expect you'll be adding this to your very own list of "remember where you were" momentous occasions.
Cake in a Cup.
It's hard to believe this ridiculous recipe works but it actually does. Ease your chocolate craving immediately!
Print
Pin
Rate
Ingredients
4

Tbsps

flour

all purpose or cake

4

Tbsps

sugar

¼

teaspoon

baking powder

2

Tbsps

cocoa

2

Tbsps

vegetable oil

5

Tbsps

milk

1

tablespoon

Chocolate Chips
Instructions
Add dry ingredients to a microwaveable mug.   Stir to combine.

Mix well, making sure to incorporate all the dry ingredients hiding at the bottom of the cup.

Top with a couple of tablespoons of chocolate chips. These will sink down into the middle of the cake when you cook it.

Microwave on high for 1.5 minutes.*
Notes
You can also add ½ of a beaten egg - which is about 1.5 tablespoons of beaten egg. If you add egg, reduce the amount of milk by 1.5 tablespoons.  Using egg will make the cake spongier.
The power of your microwave will dictate how long to cook the cake for. A stronger microwave (950 watts) will cook the cake faster in just over a minute. An older, or weaker microwave will take 1.5 minutes.
If you overcook this cake (and you might on the first try) it will be dry and ruined. 
Take this cake WAY over the top by dusting it with powdered sugar and topping with jam or frozen fruit. Raspberries are my go-to.
WANT TO REDUCE THE CALORIES?
Cut the sugar back to 3 tablespoons and omit the chocolate chips to save over 100 calories.
Nutrition
Calories:
666
kcal
|
Carbohydrates:
91
g
|
Protein:
8
g
|
Fat:
34
g
|
Saturated Fat:
26
g
|
Cholesterol:
6
mg
|
Sodium:
46
mg
|
Potassium:
265
mg
|
Fiber:
5
g
|
Sugar:
61
g
|
Vitamin A:
147
IU
|
Calcium:
124
mg
|
Iron:
3
mg
For those of you who don't know (my mother) Stumble Upon was an Internet network from the olden days (before Pinterest) with some of the best information on the Internet. Quick hits of brilliance. And a few toads. It still exists by the way, under the name of Mix.
→Follow me on Instagram where I often make a fool of myself←