My name is Karen. I am of Danish descent on my father's side. I'm also kindda great. In short … I am a great dane.
How Danish am I you ask? Well I'm Danish enough to be able to say thank you and you're welcome. Unless a comment or question can be answered with either of those two words I'm outta luck. And so is the person asking the question.
I'm also Danish enough to be fair skinned, fair haired, and perpetually in need of sun. Somewhere in a shoebox there's a picture of me tanning in a hole dug out in the snow in my parents backyard. That was back in the day when people wore sun tan oil as opposed to sun block. I wish I were tanning at this exact moment, but it's Christmas and I refuse to go away at Christmas.
Christmas is for arguing with family, complaining about not knowing what to buy people and withholding excessive amounts of liquor from my mom Betty. Oh! And cookies. Christmas is about cookies.
I inherited this recipe for Klejner, Kleiner, Kleyner from my father's mother. Who, by the way, wasn't Danish. Yet she is the one who taught me how to say thank you and you're welcome in Danish. This is turning into a very convoluted post isn't it?
Gramma's Klejner, Kleiner, Kleyner
The Ingredients
Add your dry ingredients to your handy, dandy mixer. Mix. If you don't have a handy, dandy mixer … mix. By hand.
Add your butter.
Mix.
Add your vanilla. Or your neighbour's vanilla. Whatever you have on hand.
Add your milk. Or your cow's milk. You can even add CREAM if you want!
Mix.
Add your eggs.
Mix. Are you sensing a theme here? Once you have everything mixed together pick some of the dough up and feel how sticky it is.
If it feels sticky add a tiny bit more flour and mix again. You want the dough dry enough so it isn't sticky, but not so floury that it'll crack when you roll it out.
It will look like this. Except your pastry board might be different. You might not even have a pastry board! Just be prepared for a few differences when you look down at your blob of dough.
Divide your dough in half and roll it out into something as close to a rectangle as you can get.
It needs to be between 1/8 and 1/4 inches thick. Closer to 1/8th.
Using a knife or pizza cutter, cut the dough into 1″ wide strips.
Like this.
Then cut the dough the other way so you have 3″ strips.
Using a knife, cut a small slit close to the middle of the strips.
Now you have the base of the cookie.
Fold the longer end of the strip into itself a little bit.
Bend the end towards the hole in the cookie.
Insert the end into the hole.
Pull the end through the hole completely so you end up with …
… a knot!
Repeat with all the dough until you have a big pile of uncooked knotty looking things.
Now whip out that deep fryer and heat it to its highest setting. If you don't have a deep fryer you can fry them in a pot. Yup. They're fried cookies. The best kind of cookie as far as I'm concerned.
Carefully drop your cookies into the fryer. You can do about 10 or 12 at a time.
Once the cookies have browned on one side, flip them over with a fork or whatever you have on hand, so the other side gets browned. They only take a couple of minutes to cook so keep an eye on them.
The cookies will be golden brown. Like you'd expect a fried cookie to be.
If you're a bit of a pansy you can drain them on a paper towel. I happen to be a pansy.
As they cool the cookie will get crunchy.
At this point you can either admire them or eat them. Or give them away. Or eat them.
And that my friends is how you make a Danish Christmas Cookie.
They're one of my favourites, because they aren't overly sweet. In fact they aren't very sweet at all. If you want them sweeter add a little bit more sugar. Another classic way to make this cookie is to omit the vanilla and instead add a bit (1/4 tsp) of cinnamon or crushed cardamom seeds.
They aren't quite as fantastic as a good, reclining soak in the sun, but at this time of year … they'll have to do.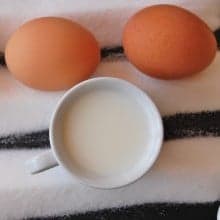 Klejner
These Danish Christmas cookies aren't overly sweet, and taste a lot like a crunchy plain donut.
Print
Pin
Rate
Total Time:
1
hour
30
minutes
Ingredients
3

eggs

3/4

cup

sugar

4

cups

flour

4

tbsp

milk

1

tsp

baking soda

1

tsp

salt

1

tsp

vanilla extract

.25

lb

butter

softened
Instructions
Mix together dry ingredients reserving 1/2 of flour

Add in remaining ingredients and mix well until dough smooth.

If needed, add the reserved 1/2 cup of flour to the dough.

Roll dough out to a scant 1/4" thick.

Cut dough into 3" x 1" strips. I use a pizza wheel for this.

Cut a slit in the centre of each strip of dough. The direction of the slit should run the length of the strip, not across it.

For each strip of dough, pull one end through the centre cut slit and pull through to the other side. This will form a sort of knot.

Deep fry until the dough begins to form a golden colour.