We are gathered here today to make fried cookies. Klejner (sometimes spelled Kleyner), a classic Danish cookie, that's served at Christmas. Little fried knots of dough for ringing in the holiday season in Denmark.
I should probably make it clear that I am not in Denmark. I'm in Canada, but I'm of Danish descent. And Irish. But I didn't know I was Irish until I started to research my ancestry because of the high potato levels in my blood steam.
How Danish am I you ask? Well I'm Danish enough to be able to say thank you, you're welcome and pass the klejner in Danish. And truthfully I can't really say "pass the" so I just use a waving hand motion to represent "pass the"
I inherited this recipe for Klejner from my farmor (Danish for paternal grandmother) Agnes.
Klejner
Klejner are really just twisted fried donuts and they're popular in a ton of other countries as well. The shape may be a little different, the name will definitely be different, but it's basically the same thing. Fried cookie dough.
And it's SIMPLE cookie dough at that. Flour, sugar, baking soda, vanilla, eggs, milk, butter. That's it.
You just add your dry ingredients to your handy, dandy mixer and mix. If you don't have a handy, dandy mixer ... mix by hand.
Throw in your wet ingredients: the vanilla, butter and milk and mix everything up until combined. You're creating a dough.
If the dough is too sticky and really sticks to your work surface knead in some flour.
Just sprinkle it over your dough and knead away. If you're using a stand mixer, mix away.
You want the dough to be dry enough so it isn't sticky, but not so floury that it'll crack when you roll it out.
It will look like the ball up above. Except your pastry board might be different. You might not even have a pastry board. Just be prepared for a few differences when you look down at your blob of dough.
As long as it doesn't crack or stick when you roll it out, you're good.
The dough gets rolled out to ¼" thick (or even a little thinner) and then cut into 1" wide strips.
Once the strips are cut you cut them again into 3" lengths then use a paring knife cut a small hole, just off-centre in each strip.
NOW is the fun part. You turn every little strip of dough into a knot by pushing one end through the hole.
Repeat with all the dough until you have a big pile of uncooked knotty looking things.
Now whip out that deep fryer and heat it to its highest setting. If you don't have a deep fryer you can fry them in a pot. Yup. Like I said, they're fried cookies. The best kind of cookie as far as I'm concerned.
Carefully drop your cookies into the fryer. You can do about 10 or 12 at a time. Once the cookies have browned on one side, flip them over with a fork or whatever you have on hand, so the other side gets browned. They only take a couple of minutes to cook so keep an eye on them.
The cookies will be golden brown. Like you'd expect a fried cookie to be. Drain them on a paper towel.
Just before serving them, sprinkle them with powdered sugar. At this point you can either admire them or eat them. Or give them away. Or eat them.
And that my friends is how you make a Danish Christmas Cookie.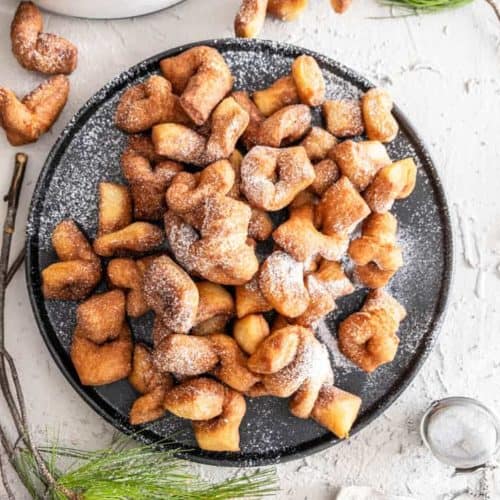 Klejner
These Danish Christmas cookies aren't overly sweet, and taste a lot like a crunchy plain donut.
Print
Pin
Rate
Ingredients
3

eggs

¾

cup

sugar

4

cups

flour

4

tablespoon

milk

1

teaspoon

baking soda

1

teaspoon

salt

1

teaspoon

vanilla extract

.25

lb

butter

softened

½

teaspoon

cardamon

(optional)
Instructions
Mix together dry ingredients reserving ½ of flour

Add in remaining ingredients and mix well until dough smooth.

If needed, add the reserved ½ cup of flour to the dough.

Roll dough out to a scant ¼" thick.

Cut dough into 3" x 1" strips. I use a pizza wheel for this.

Cut a slit in the centre of each strip of dough. The direction of the slit should run the length of the strip, not across it.

For each strip of dough, pull one end through the centre cut slit and pull through to the other side. This will form a sort of knot.

Deep fry until the dough begins to form a golden colour.
Notes
These cookies will seem soft when they first come out of the fryer but they fully firm up and get crispier after a few hours.
I only started adding cardamon a few years ago to these cookies. My grandmother's recipe didn't include it, but most Danish recipes for Klejner do.
Nutrition
Serving:
1
cookie
|
Calories:
48
kcal
|
Carbohydrates:
7
g
|
Protein:
1
g
|
Fat:
2
g
|
Saturated Fat:
1
g
|
Cholesterol:
10
mg
|
Sodium:
62
mg
|
Potassium:
11
mg
|
Fiber:
1
g
|
Sugar:
2
g
|
Vitamin A:
51
IU
|
Calcium:
3
mg
|
Iron:
1
mg
They're one of my favourite cookies, because I grew up on them and we all have a soft spot for something we grew up on don't we? I mean how else do you explain your lingering love of macaroni and cheese made with powdered cheese? Also these cookies aren't overly sweet. In fact they aren't very sweet at all. If you want them sweeter add a little bit more sugar.
If you don't like sweet stuff at all, then just stick with potatoes.

→Follow me on Instagram where I often make a fool of myself←