If you like rice pudding, you're going to love Risalamande, a fancified Danish version of rice pudding that's full of crunchy almonds, velvety whipped cream and topped with a cherry sauce. With NO calories!! Providing you just look at it.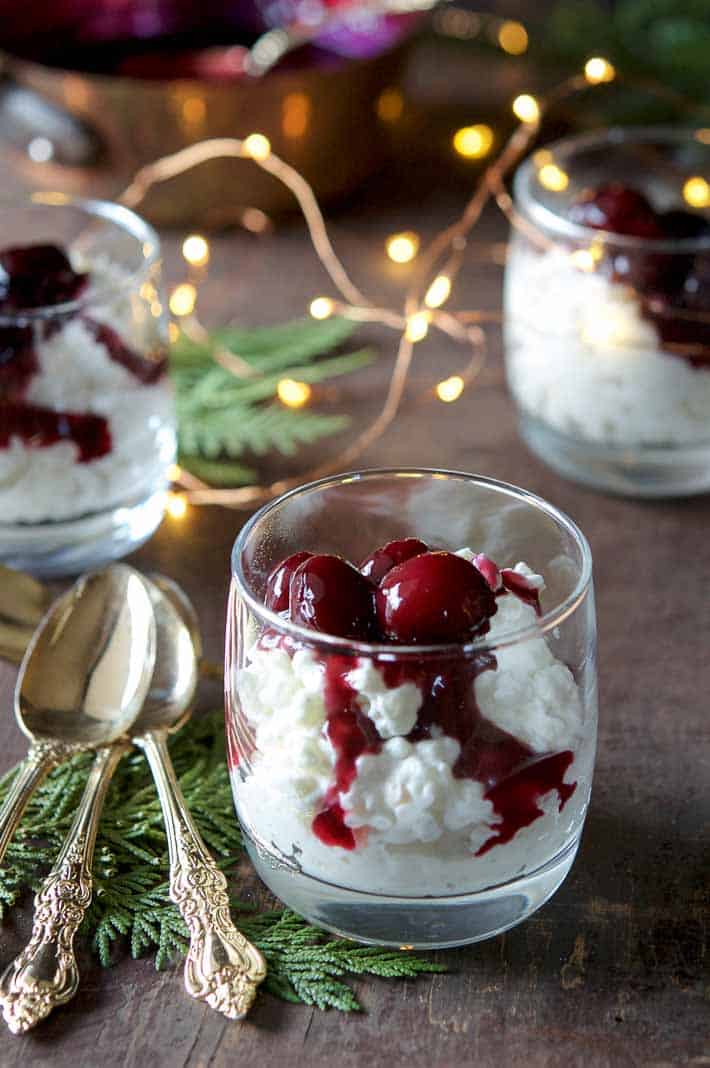 I know. I don't even like dessert and I think it looks delicious. More shocking is the fact that I think it tastes delicious, what with my preference for eating a nice bag of salty potato chips to finish off my meals. This traditional Danish rice pudding concoction however gets my full support for Christmas Eve dessert.
I love it.
But I'm generally a big fan of rice pudding precisely because of the fact that it isn't too sweet. It's rich and creamy and everyone knows that all the best desserts are made with rice. Just ask my good friend Mango Sticky Rice.
Risalamande (almond rice) is what's traditionally served on Christmas Eve in Danish households. Except my childhood Danish household apparently, where tradition was to pass around Creme de Menthe and ashtrays.
This year I thought I'd try it out myself to see if it's a Danish tradition I'd like to resurrect for my annual Christmas Eve party or if I'll just stick with my original plan to resurrect Dolph Lundgren. Even though he's Swedish.
Making this dessert is really simple. You cook some basic rice pudding, stir in some almonds and whipped cream then top it with cherry sauce.
The one extra special thing about Risalamande are the almonds. And not just the almonds, but the one, single whole almond that gets added to it. The tradition is to serve all of the rice pudding and whoever gets the whole almond wins a prize. If you're the one who finds the almond you're supposed to tuck it in your cheek or hide it so no one knows it's been found. That way everyone is forced to eat all the rice pudding in the entire house thinking the almond might still be available to be found.
Evidently leftover rice pudding is a sin worse than carpeted bathrooms in a Danish household.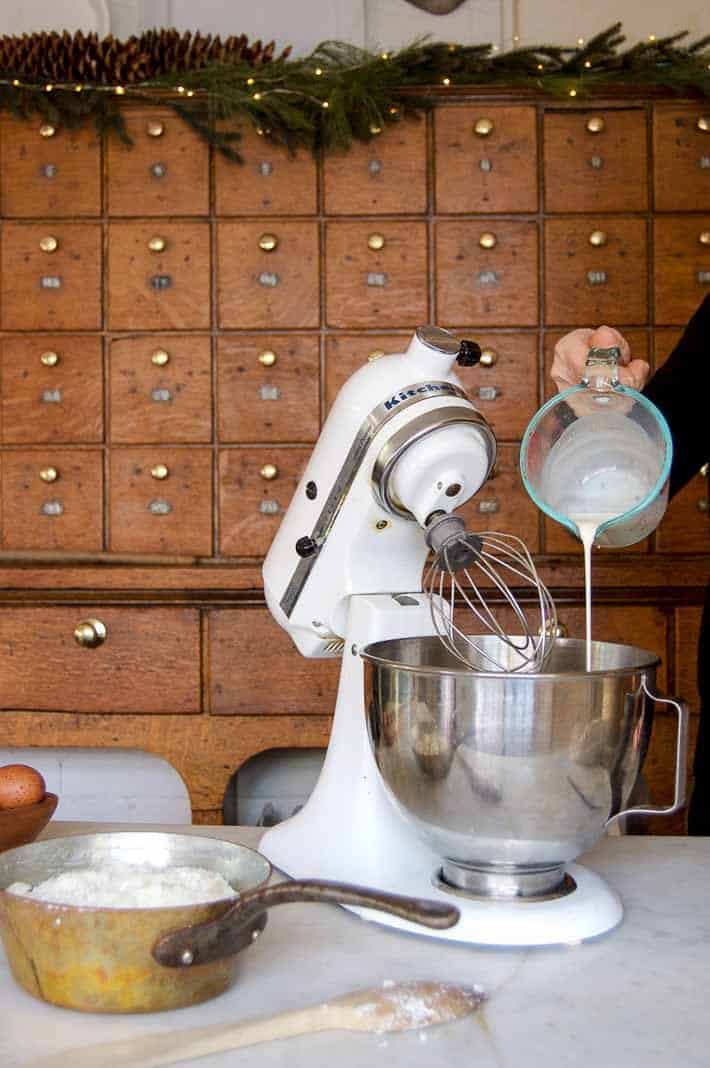 Also just so you know, Danes love butter and whipping cream, just as a general rule. And that is why we love the Dane's. Of course they offset all that fat in their diet by eating pickled herring. Nobody's perfect.
Just a photographic reminder to add the whole almond because it's easy to forget when you're in a whipped cream coma.
You can go as complicated or as easy as you want with the cherry sauce. I made my own out of frozen cherries, sugar and water but if you like things easy and just want to dump a can of cherry pie filling on top, feel free.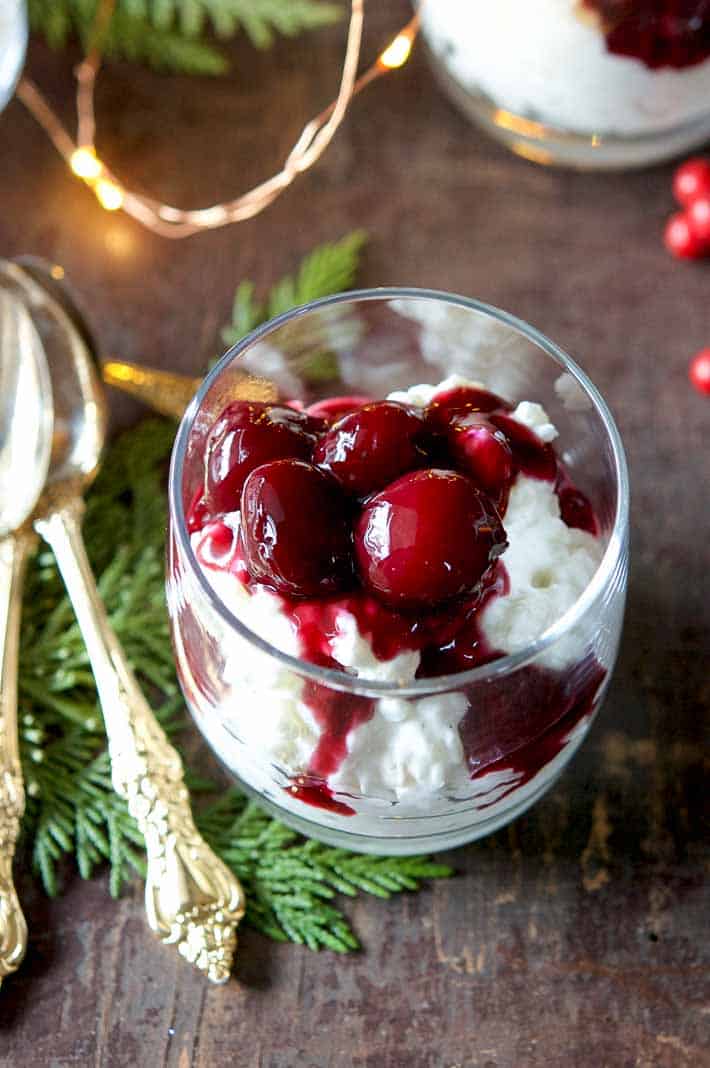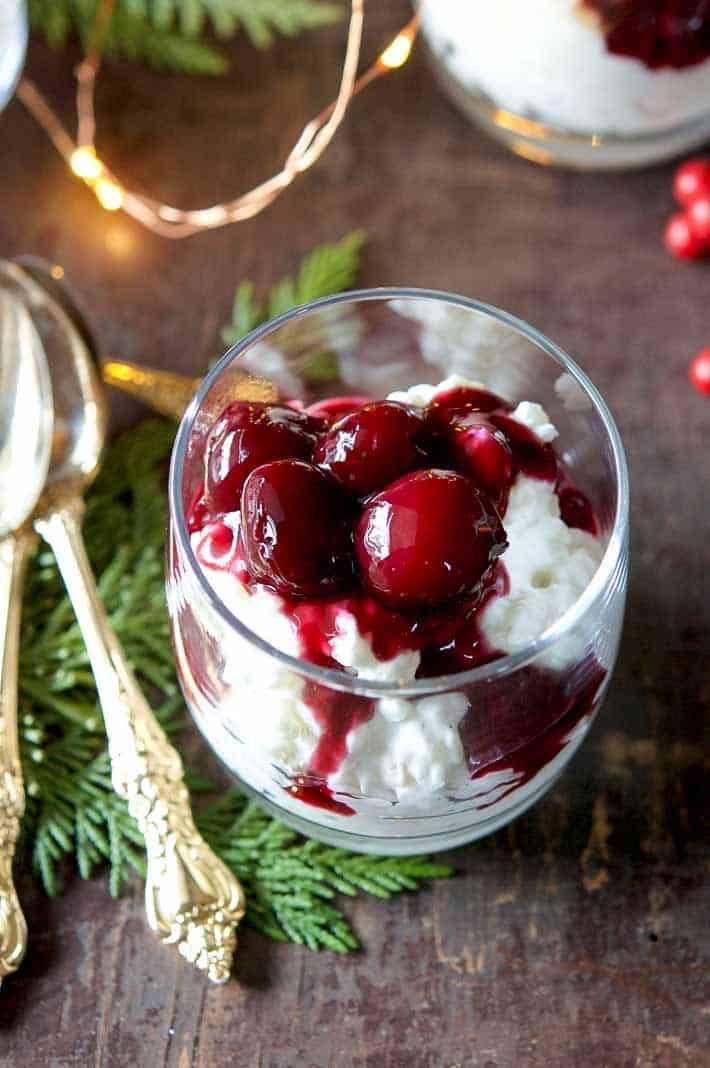 Just don't expect it to look like this if you do. It'll be a bit gloppy.
Risalamande – Danish Rice Pudding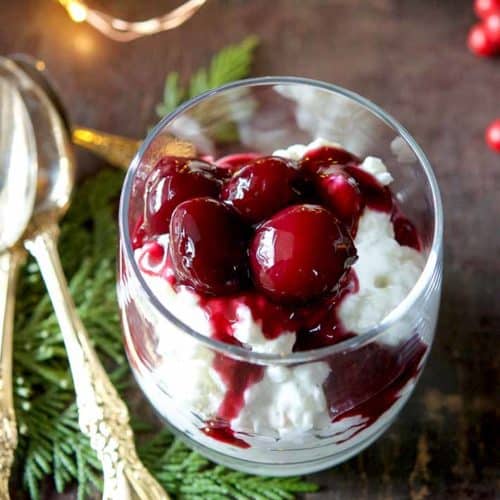 Risalamande - Danish Rice Pudding
This Danish dessert is traditionally served on Christmas Eve but feel free to whip it up any time of year.
Print
Pin
Rate
Ingredients
Rice Pudding
1

cup

white rice

(long grain or arborio)

6

cups

whole milk

1/4

cup

sugar

1

pinch

salt

1

cup

almonds

(chopped, blanched)

1

almond

(whole)
Whipped Cream
1.5

cups

whipping cream

2

tbsp

sugar

1

bean

vanilla
Cherry Sauce
16

oz

cherries

(frozen)

3

tbsp

sugar

(or to taste)

1/4

cup

water

1

tbsp

cornstarch

1

tbsp

water
Instructions
Rice Pudding
Add rice, milk, sugar and a pinch of salt to pot and heat until small bubbles start to form around edge of pot. Stir occasionally.

Once bubbles form, cover pot with lid and simmer for apx 1 hour until rice is soft.

Remove from heat and add in chopped almonds and 1 whole almond. Allow to cool.
Whipped Cream
Whip 1.5 cups of whipping cream. Once it starts to thicken, add the sugar.

Once whipped, gently stir in the seeds from one whole vanilla bean.
Cherry Sauce
Mix together 1 tablespoon of cornstarch and 1 tablespoon of water to form a slurry.

Simmer cherries, 1/4 cup of water and 3 tablespoons of sugar in a pot until the cherries are softened.

Once softened and warm, add the slurry to the pot of cherries and bring to a slight boil. Simmer until thickened. Remove from heat.
Putting it all together
Gently fold the whipped cream into the rice pudding. Serve in bowls or cups, topped with the warm cherry sauce.
Notes
People will say IT IS VITALLY IMPORTANT YOU USE ARBORIO RICE.  It isn't vitally important.
People will say IT IS VITALLY IMPORTANT TO USE REGULAR, LONG GRAIN WHITE RICE.  It isn't vitally important.
In other words, use whichever you have and it'll be delicious.
If you simmer your rice and milk mixture too long it'll get very stiff and solid after it has cooled. This is  normal, just add a bit of milk to loosen it up if you want, but the whipping cream will do all the loosening you need really.
This is all done to taste. If you like a sweeter rice pudding, add more sugar. Ditto for the cherry sauce.

It even looks Christmassy which I'm sure my guests will appreciate. If I were home alone and feeding only myself I'd probably go for the slightly less popular Christmas Eve rice dessert of chicken fried rice – but sometimes you just have to please the crowd.
→Follow me on Instagram where I often make a fool of myself←