I managed to get outside to take pictures just a day before the great snowfall of December 2013 hit my neck of the woods.
People automatically assume that if you're in Canada you have a white Christmas, but where I am in Southern Ontario, there's actually very little chance of a white Christmas, and if there is snow, it's usually just a dusting.
This was not a dusting. And it had me seriously regretting not making more of an effort to go and get my snowblower from where I store it at my mothers. I experimented with making a snowblower out of 3 hairdryers, a pile of rope and a remote control Tonka truck. It was an unsuccessful experiment.
Behold the pre-storm outdoor Christmas shots …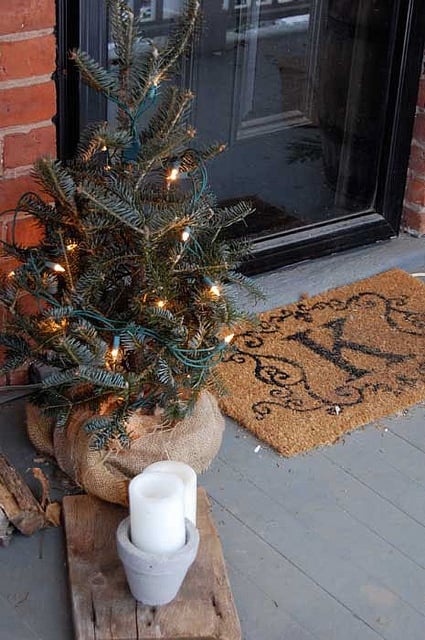 You can no longer see this wood pile. This wood pile now resembles a ski hill.
You can also no longer see the chickens.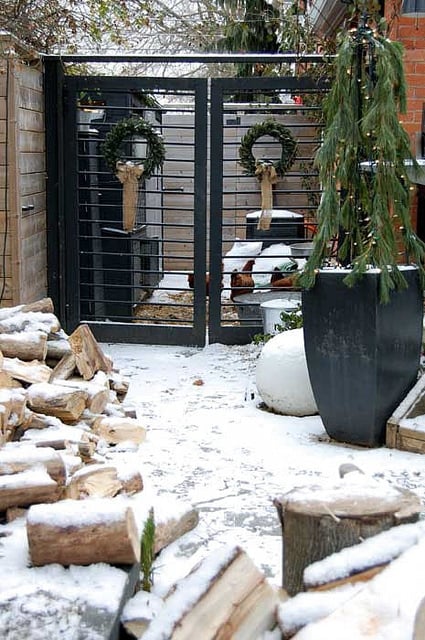 That wood you see me gathering got me through the storm. Well, not that single armful, many armfuls. I'd go outside in the freezing cold, shovel, shovel, shovel … then come inside, strip my wet mitts and hat off and sit by the fire until I dried out. Then an hour later, I'd do it all over again, punctuating every other trip with a hot dog roasted on the fire. Come to think of it, it was actually the hot dogs that got me through the storm.
And my neighbour, who in fact, did all my shovelling as I stood playing with a Tonka truck.