There are a LOT of things I love about this classic coleslaw recipe that my family has been making for years. It's crunchy, creamy, sweet and vinegary - all in one mouthful. Plus it'll keep in the refrigerator for dayssssss. This is not an adventurous coleslaw or an innovative one. It's better than that - it's an old timey delicious one.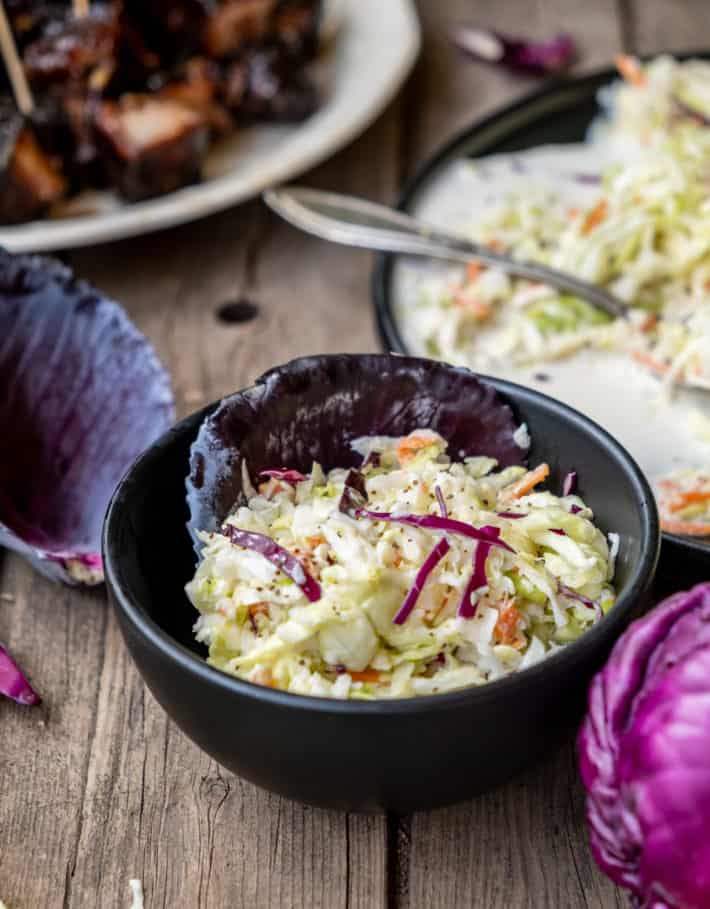 You've got your cabbage, your carrots, your mayo, sugar and vinegar. What you don't have is a good old fashioned coleslaw recipe that you know you're going to love. I would like you to take your finger, point it at yourself and declare out loud - I DO NOW.
Your search for a traditional coleslaw recipe that you actually like is over. It has ended right here on this Internet page. The same Internet that often lies to you. The same one that convinced you to add butter to your morning coffee and assaulted you with videos of people making Spaghetti-O pie for dinner.
If you don't know how to make coleslaw I'm gonna lay it out for you right now.
How to make coleslaw
You shred some cabbage and carrots and mix it up with dressing. That's it. (you can also add other things like celery, onions etc. etc.) But at its heart coleslaw is raw shredded carrots and cabbage.
The dressing
Coleslaw dressing falls into 2 categories: creamy or vinegary. This is what often alarms people. If you're looking for a creamy coleslaw, the kind you'd get at KFC for instance, you'll be disappointed if you use a recipe that's for a vinaigrette based dressing.
Creamy coleslaw dressing (like the one in this recipe) does contain vinegar, but it also has mayonnaise which gives your slaw that creamy consistency.
How to shred that cabbage!
The two easiest ways to shred cabbage are with an electric food processor or with a plain old chef's knife.
If you have a food processor, fit it with the shredding attachment and feed slices of your cabbage through the tube. You'll end up with a finely shredded cabbage.
You can also shred it by hand by just cutting it thinly with a knife. I cut the cabbage in half and then with the flat side on the counter cut straight through the cabbage at less than ¼" intervals.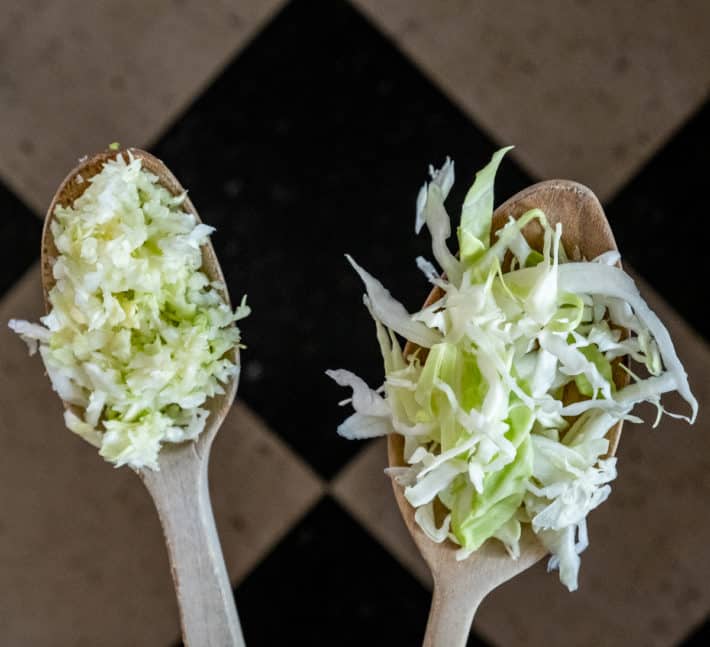 Because I like to complicate things whenever possible, I shred my cabbage both ways for my coleslaw. I think it creates the best texture to have both the finer slaw which is great at absorbing the creamy dressing, and the bigger slaw for bigger crunch.
Do I think this is the best coleslaw recipe? Yes I do. I've been eating it for years and declaring those exact words every time I eat it.
Will you think it's the best? I can't say 100% for sure because we really don't know each other that well - but I think so, yes. For instance, I absolutely knew you weren't going to like butter in your coffee.
How long will it last in the fridge?
This coleslaw is going to last 3-5 days in the fridge. The further away from day 1 you are the less crunchy the slaw will be. By day 5 it will still indeed be crunchy but not nearly as much as it is on day 1 or 2.
I usually make this with only a green cabbage but it looks much better visually when you add some red cabbage to it. Why? Because red cabbage was officially declared the most beautiful of all the vegetables. By me, just now, in a desperate attempt to appear authoritative and "in the know."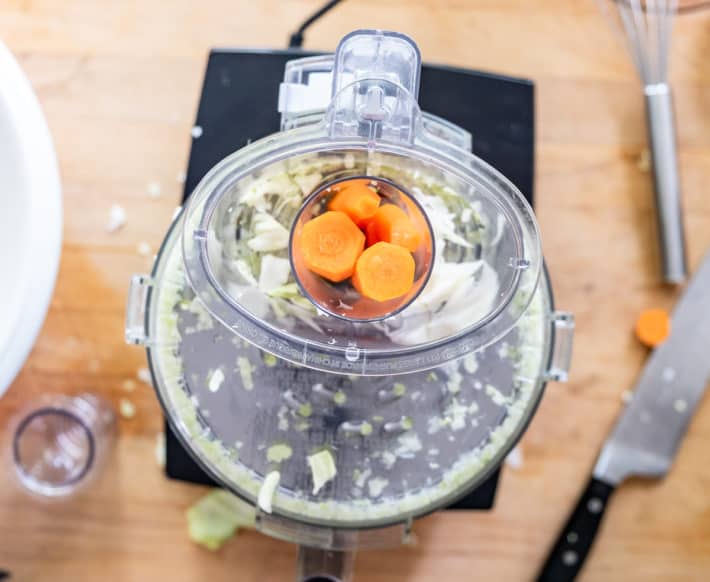 You don't need a ton of carrots, one or two big ones will be fine. Once everything is diced and shredded you can mix up your dressing.
The dressing is white vinegar, water, sugar, mayo, and salt. But you can change it up depending on how wild you're feeling or what you have in the kitchen.
Swapping ingredients
Swap White vinegar with - Apple cider vinegar (use the same amount)
Swap Sugar with - Honey (use ⅓ cup honey, instead of ½ cup sugar)
Swap Mayo with - Greek yogurt (make sure it's plain yogurt,) or even sour cream (use the same amount)
Once you've shredded your ingredients, you just add them to the dressing and mix it up, add a sprinkling of celery seed and you're done. You can either put it in the fridge to marinate or eat it right away, but it really will be better the next day. Like chili!
Before you ask where I got the matte black bowls, I got them at my local grocery store (Loblaws in Canada) years ago but I did find similar 10 oz matte black bowls on the dreaded Amazon.
The Recipe
What goes with coleslaw?
Almost ANYTHING BBQ or grilled. The sweet and sour of the coleslaw marries perfectly with the smoky flavours of the grill.
Have your coleslaw with:
Pulled pork
Deli style sandwiches (made with smoked meats)
Pork belly
Sausage
Salmon
Or as I mentioned earlier, bring the whole bowl to bed with you and crunch your way to a restful slaw induced dream state. Also you'll need to probably wash your sheets in the morning. FYI.
Who has the best coleslaw recipe? You do now. Trust me on this. Even though the Internet lies - I don't.
HAHAHAHAHAHA. I lie all the time, just not about coleslaw recipes. Go forth, try it and let me know what you think.
→Follow me on Instagram where I often make a fool of myself←