Burger, burger, burger!  Take your homemade hamburgers to the next juicy, char broiled level by just tweaking a few things.  Mmmmmmmmmm.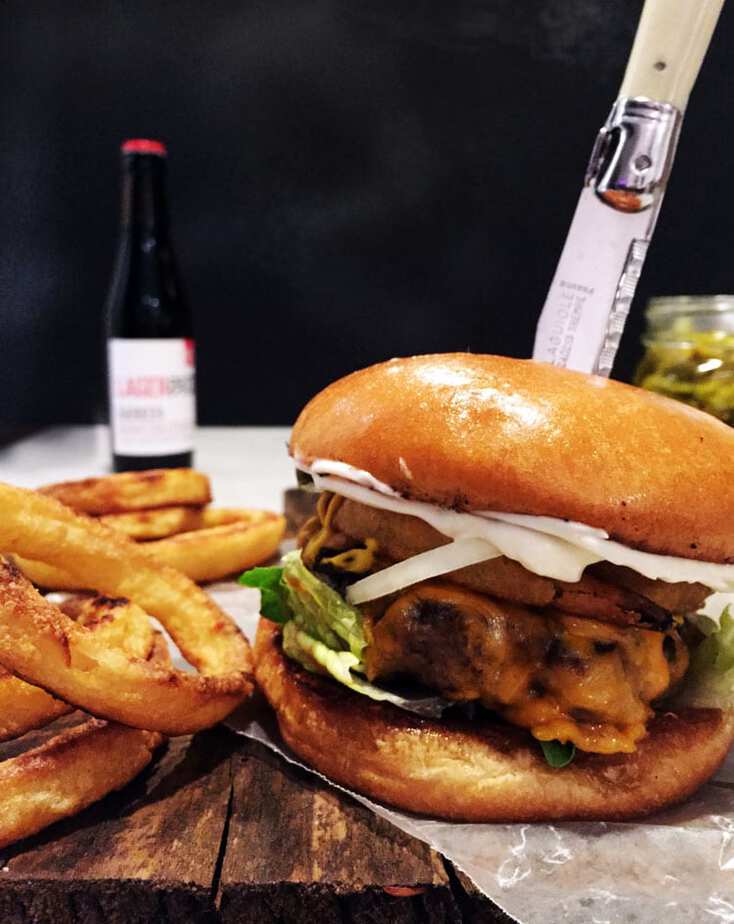 (Read one of my most popular DIYS.  A DIY Charcuterie board. )
There's a lot of debate over what's better for you:  Homemade hamburgers or frozen.    No there isn't.  There's no debate at all.  I just thought it'd be good, as a professional blogger, to open this post with some sort of controversy.  Ya know?  To grab your attention and make it seem like I'd done some investigative work and research.   I didn't.
WAIT! I did kind of!  I've spent a lot of nights eating hamburgers over the course of my life.  I've made them every which way possible and I can tell you the best way to make them involves two things.  A few additional ingredients to the actual ground beef (sacrilegious to most I know) and being as gentle as possible with mixing and forming the meat.
Yes, yes, I know. You're disagreeing.  . You're  throwing your arms in the air and cursing the day you started reading this post written by this hamburger idiot.
Everyone calm down. Seriously.
So, to make some super-delicious hamburgers you need a little more than just a mess of ground beef.  For starters you can grind your own beef with a blade or cross rib roast.  I show you how to do it, if you're interested, right here. Although I'm completely insane and even I only rarely grind my own beef.
With a few ingredients you probably already have around the kitchen you can make a great, big, juicy hamburger tonight!   You have imported Asian truffle foam rooted by a one-eyed panda bear, right?  (canned is fine)
Just kidding.  Read on for the recipe!
How to Make Homemade Hamburgers
1.  Add one egg (yolk only) to 1 lb of ground beef.
2. Add finely diced onion.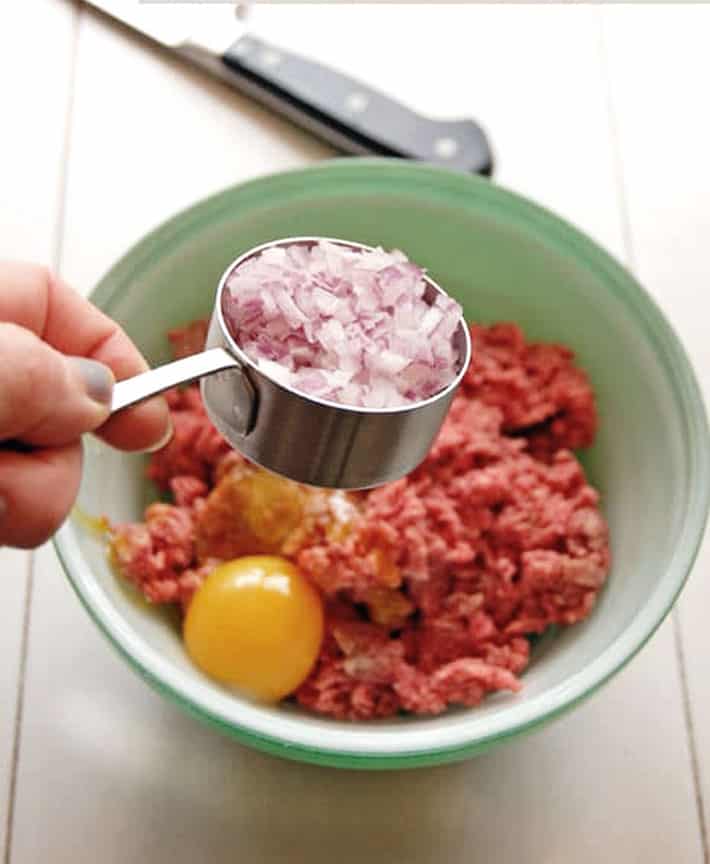 TIP:  Do all your mixing gently.  You want to work the meat as little as possible.
3.  A blast of ketchup.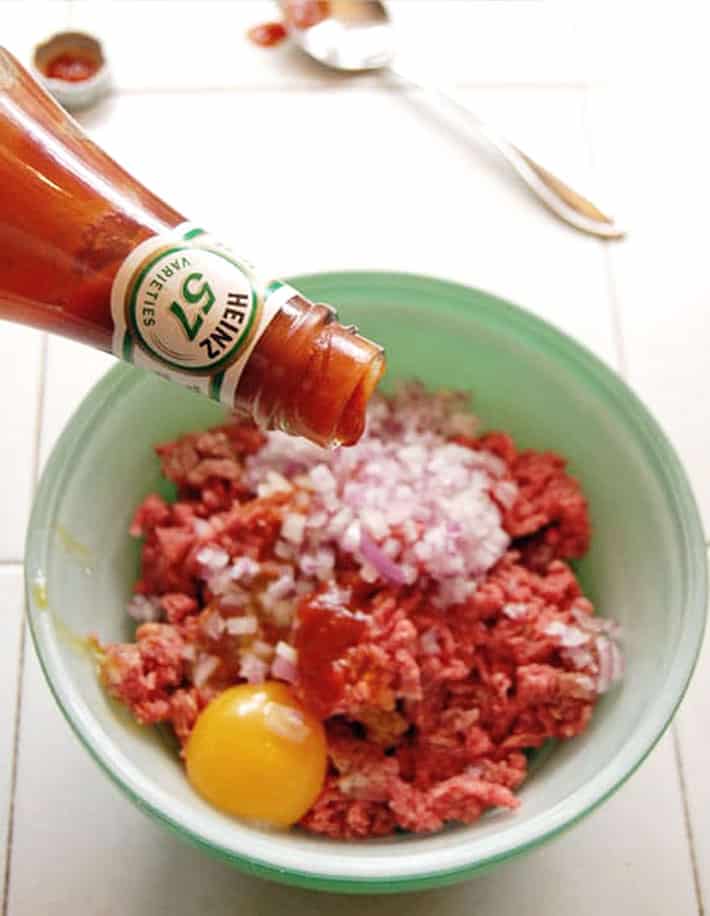 4. In goes a glob of Dijon mustard.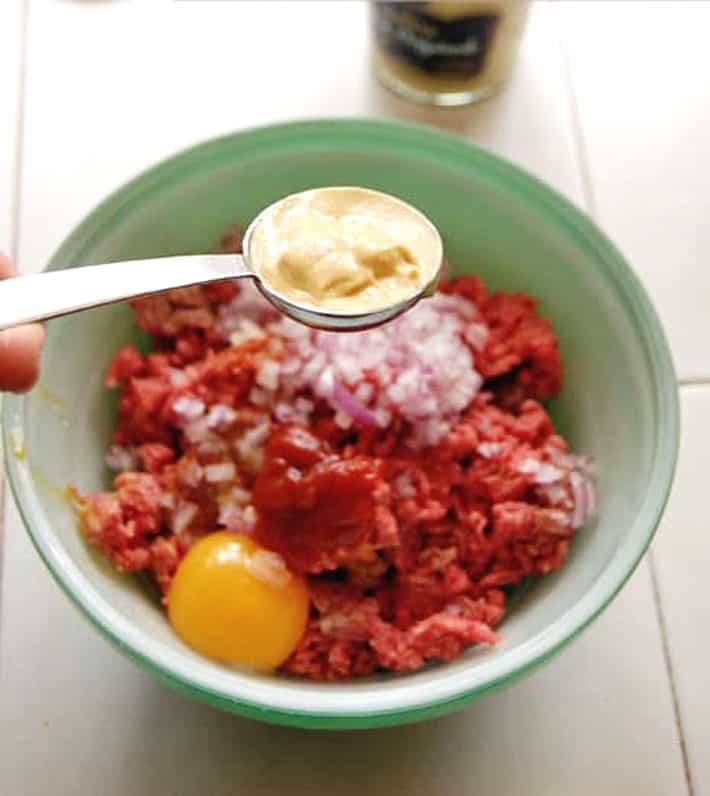 5. Squirt in a splash of Worcestershire sauce and gently mix.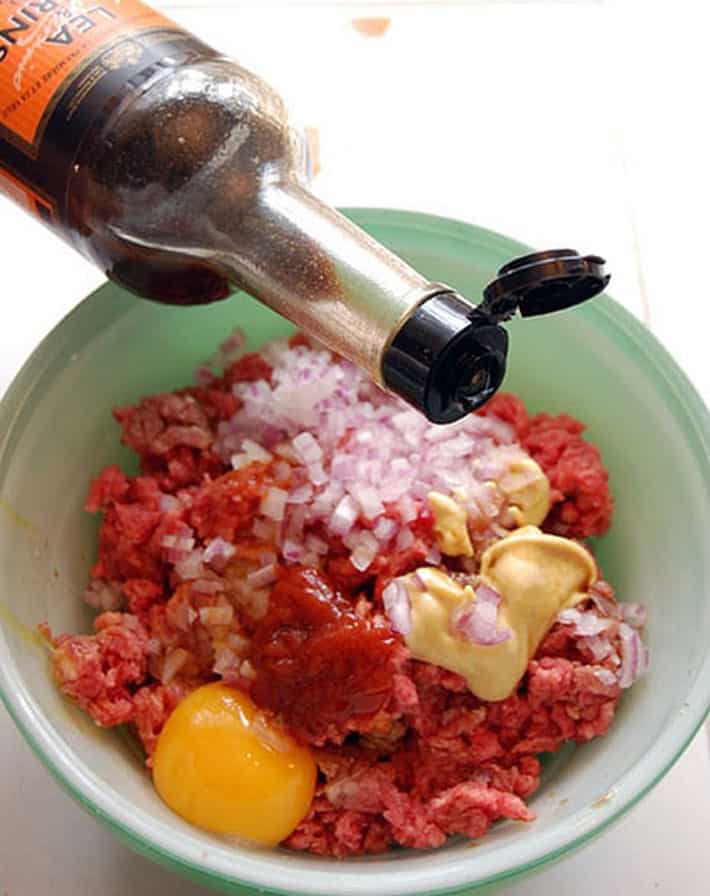 6. Add in 1/4 cup of breadcrumbs (just enough to help with binding) and a generous dose of salt and pepper.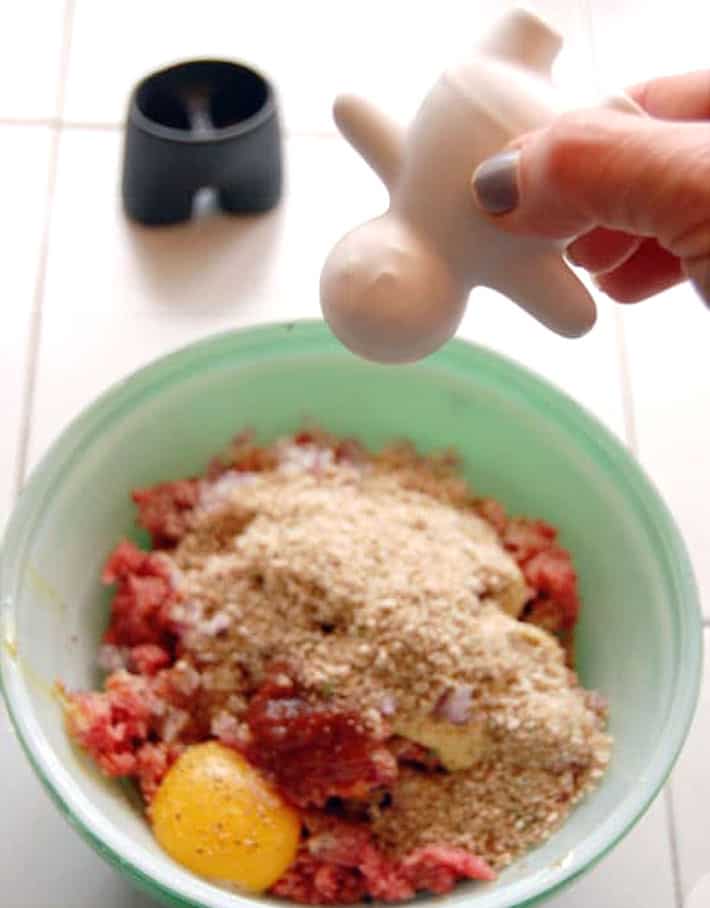 And yes. I love my little man, Fred and Friends salt and pants shakers too.
7. Gently form into patties. DON'T squash them.  Gently form them.  Squashing is for bugs, not hamburgers.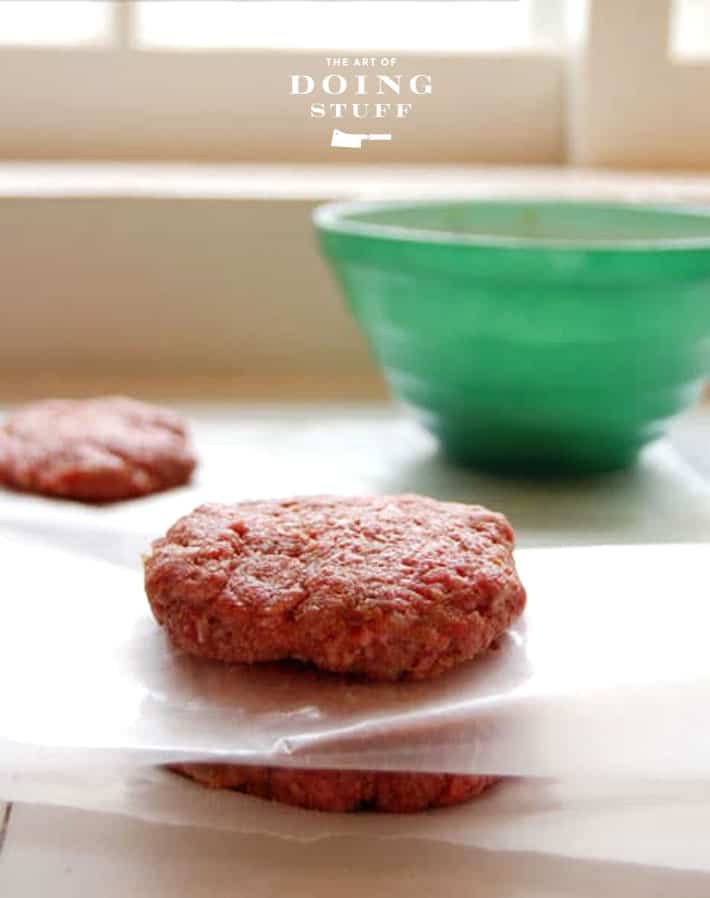 Update:  For everyone in apoplectic fits over adding 1/4 of a cup of dry bread crumbs and the egg yolks this does not make it meatloaf.  It does not.   It really is still a hamburger.  The tiny amounts of these two things  act as a binder so your hamburger doesn't fall apart on the BBQ.
Tune in next week for the next big debate:  What's better for you?  Frozen or homemade ice cubes.

How to Make Homemade Hamburgers!<br>My Way.
Yeah, yeah, you think it's a meatloaf recipe. It's not. Trust me. You're making a hamburger.
Print
Pin
Rate
Ingredients
1

lb

ground beef

1

egg yolk

1/4

cup

finely

very finely diced red onion. (you want it so small that once it cooks it disappears)

1

Tbsp

ketchup

1

Tbsp

dijon

2

shakes Worcestershire sauce

1/4

cup

breadcrumbs

just enough to aid in binding

salt & pepper
Instructions
Mix together all ingredients gently. You don't want to mush and mash it.

Form into patties.

BBQ or cook in cast iron pan until done to your liking.

Top with your favourite toppings!
Questions & Answers
Isn't this really a meatloaf recipe? Um, no.  It isn't.  But I can see the confusion.  Just make them. Trust me on this.
What are the best hamburger buns?  I used to be on a sesame seed bun kick, but now I only use brioche buns.  I'm obsessed with them!
What if I want a homemade fermented, New York style, Jewish deli pickle to go with my burger?  No problem.  Just click here for my classic fermented dill pickle recipe, based on fermenting God, Sandor Katz's pickles.
Should you put lettuce on hamburgers?  According to the late Anthony Bourdain?  No. He has a point. If you don't eat the burger immediately the lettuce gets soft, warm and wilty.
Can these be frozen?  Of course!  Just mix the ingredients, shape them into burgers and freeze them individually on wax paper.  Once they're frozen you can stack them and store them.
→Follow me on Instagram where I often make a fool of myself←