I would like to thank Art of Doing Stuff reader, Rose.
Rose, you see, emailed me the other day asking if I'd ever heard of DIY Enzyme Cleaner.
Why no! No, I had not, Rose.
But since you bring it up, now I *have* heard of DIY Enzyme cleaner. And being the kind of OCD, kindda crazy, must try all things at all costs, no matter how busy, tired, overworked I am, ... I'm going to have to make DIY Enzyme Cleaner. Even though, in the back of my mind I think it's kind of pointless, stupid, probably won't work and kindda weird.
So thanks Rose. You're a peach.
I've actually bought Enzyme cleaner before. It's about the only thing that will (help) get rid of the odour of cat or dog pee. The enzyme cleaner spray for cat pee is called "Nature's Miracle" .  It does work better than any other product for cleaning animal urine, but I highly doubt this is the kind of miracle that would ever make it up for review in Vatican City.
Especially at around $12  a bottle.
So, weary from work, almost delusional really, I gathered up my ingredients, slapped on some sunscreen and grabbed a bag of chips and a pop and went out the door to work outside, taking pictures of the Enzyme Cleaner in the comfort of my backyard.  I also put the radio on.
It's almost saintly what I go through for you people.
The list of ingredients is pretty small for this cleaner. That's not where the "Ack!" comes in.  The Ack comes in when you realize that the DIY enzyme cleaner has to ferment for ... 3 months.
Now normally I wouldn't show you a post like this until I'd finished the product and tested it out for myself.  But, I thought I couldn't do that to you.  If I waited until my DIY enzyme cleaner was finished before telling you about it, that would be 3 months from now. Then if you were to make it, it would be another 3 months before you could try it.  That's 6 months.  That's the lifetime of most hamsters owned by your average meaty fisted 6-8 year old.  I couldn't do that to you.
So, we're gonna do this together.  Like  a team.  A fermenting,  rotten, enzyme,  stinking, housekeeping team.  We'll call ourselves F.R.E.S.H. for short and I think we should start to think about gang colours.  Probably not red or blue.  Maybe yellow for urine.
Are you ready to make DIY enzyme cleaner?  You could very well have everything you need in your kitchen right now.  Provided you keep an ample supply of patience in one of the cupboards.

citrus peels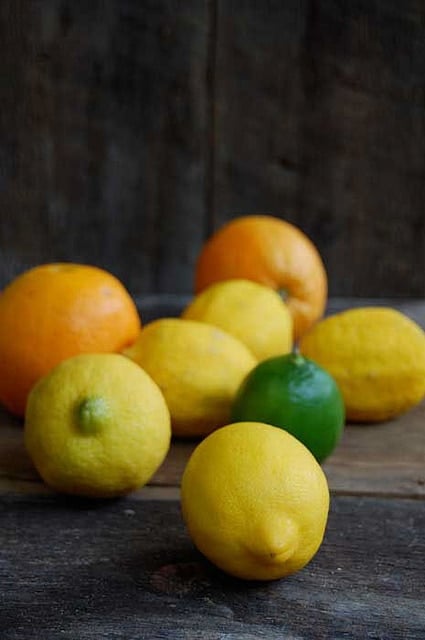 brown sugar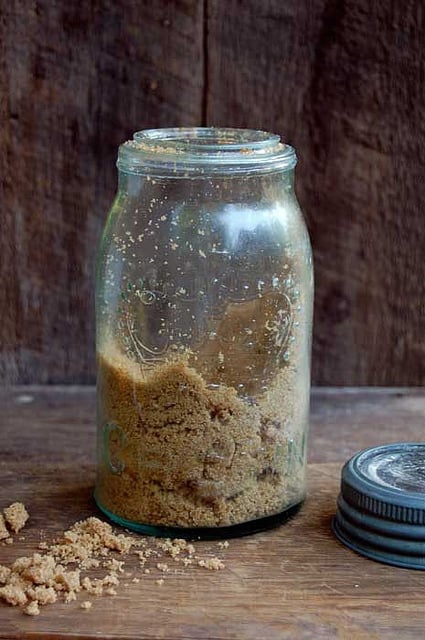 2 litre plastic bottle (big pop bottle or something like that)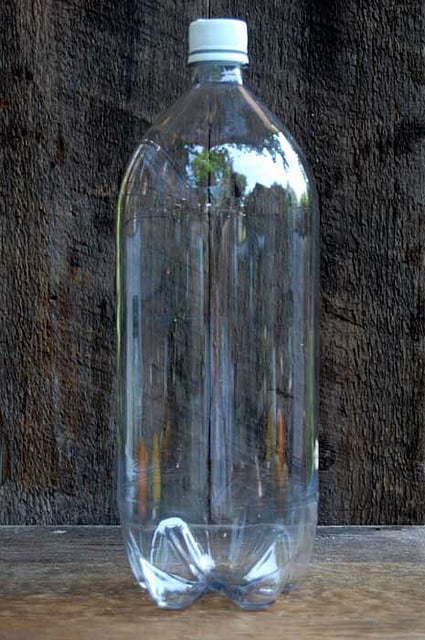 stuff your bottle with citrus peels
add brown sugar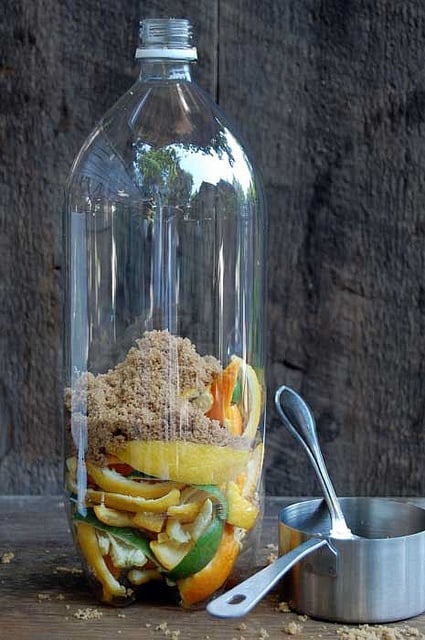 add water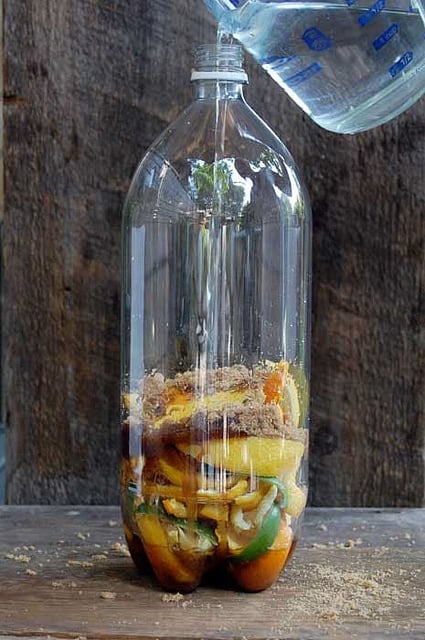 shake and date
 DIY Enzyme Cleaner
Ingredients
2 ½ cups lemon, orange, and/or lime peels (about 3 oranges and 3 lemons)
⅞ths  a cup of brown sugar
4 cups of water
Method
Add all ingredients to a 2 litre plastic bottle.  Replace the lid and shake everything up.  Loosen lid a bit so gas can escape and put it in a cupboard for the next 3 months.  Some sites say you're supposed to shake it every day.  I happen to know I'll never do that, but I do plan to shake it whenever I think of it.
This recipe makes a concentrate, so once the mixture has fermented you can add ½ cup of it to a litre of water and that is your cleaning solution.
I'm going to say it once more.  Loosen the lid so the gas can escape!  This stuff is fermenting and becoming quite tooty.  Much like yourself, if the gas can't escape it will eventually explode.  Happened to an Uncle of mine once.  Had to scrape him off the church walls.  True story.
I'm touting this cleaner as something for pet urine, but apparently it's great for a lot of things.  Most things.  In fact, according to the Internet, that uncle who got splattered all over the church walls from not tooting?  You could have cleaned the church with it.
So I'll meet you back here in 3 months.  Spray bottle in hand, urine on the floor.  Go team.
Update: Wanna hear about the results? Read the follow up post, DIY Enzyme Cleaner, The Results Show.