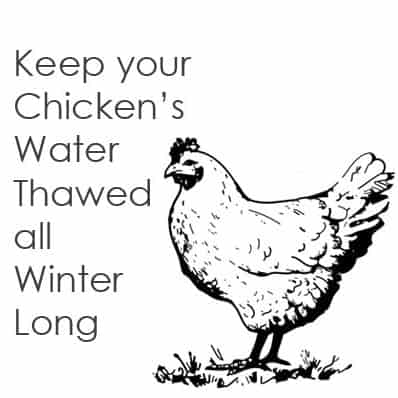 Last year was my first winter with backyard chickens. Now, my chickens are illegal so I don't know if it makes them any different than legal chickens or not, but these things just couldn't get enough drinking in.
You'd think being illegal, and kind of on the down low, they'd want to abide by all the rules. Fly under the radar and all that. But no, all they wanted to do was drink and they were LOUD about their desires.
Every time I turned around one of them was screaming that they wanted a drink. Straight up. No ice.
Which in the middle of winter in Canada is a difficult thing to serve. Ice kindda comes naturally to us.
Every morning I'd have to go outside and replace their frozen water. Every morning I cursed about this to the chickens, the neighbours, the fella and some of my more sympathetic indoor plants.
Then someone, somewhere mentioned something that sparked an idea. I can't remember who it was or what they said, but I thank them because now I have water for my chickens that never freezes and always stays in it's original liquid form.
FOR FREE! There was absolutely NO cost at all to this homemade water thawer.
Just take a look at this snappy, 30 second video to see the breaking news about how you can do it too.
You can buy heated chicken waterers but they aren't cheap. Plus it's another thing to have to store. When you live in a house built in an era where closets weren't actually invented yet, storage is a high priority.
Up until World War 2 the only thing the gays had to come out of was the root cellar. It was a difficult time.
The only precautions you have to take are making sure the lights and the extension cord you use, are specifically for outdoor use.
Also, don't use a heated base like this with a plastic waterer. Only the galvanized steel type.
Now fly, be free of the shackles of ice this winter.
Your chickens, neighbours and indoor plants will thank you for it.