There's a rhyme that goes a little something like this.
Humpty Dumpty sat on a wall,

Humpty Dumpty had a great fall,

All the King's horses and all the King's men,

Didn't really care because he was always falling off of things. They were more concerned about how to get rid of their overabundance of tomatoes. Being the end of Medieval tomato season and all.
Not much has changed since Medieval times. We still don't really care when humanized eggs get drunk and fall off of walls and we're still looking for ways to get rid of tomatoes at the end of the season.
2 years ago my local food bank didn't even want them by the end of August. How badly did they not want my tomatoes? They actually said "Please don't bring us any more tomatoes." Only they didn't say please.
Even with making tomato salad every night, eating toasted tomato sandwiches and stocking up on my favourite roasted tomatoes for the winter, I still have an obscene amount of tomatoes.
I think it's because I'm one person and I planted 839 tomato plants.
This year the neighbours, family and friends are getting them but in an attempt to make the glut of tomatoes seem more special as I pawn them off, I came up with the world's cutest way to get rid of a surplus of tomatoes. Ironically it came to me because of a surplus of egg cartons, which people are always giving me.
It is now time to give BACK.
A few friends were supposed to come over for pizza a few weeks ago and I wanted to send them home with some tomatoes because ... well ... tomatoes. They ended up having to cancel last minute but that's O.K. because their impending visit is what inspired me to come up with the Egg Carton Tomatoes.
No it's not life changing. But it is a super-cute way to gift some of your extra tomatoes.
It's the perfect summer hostess gift.
Just throw a bunch of tomatoes in an egg carton, include a head of garlic if you have one, and tie it all up with string. Top the carton with an herbal Tussie Mussie and you're done.
This is where I confess to writing this post, perhaps even starting this blog 8 years ago, just so I could use the term Tussie Mussie. I don't want to live in a world that has given up on phrases like Tussie Mussie. Ditto that for Heavens to Betsy!
If you're wondering why I have SO many tomatoes by the way, part of it is because I plant WAY too many tomatoes, as I may have mentioned, and because I'm using the string method. The string method helps get rid of soil borne diseases and other annoying tomato ailments. You can read about how to do it here in this post.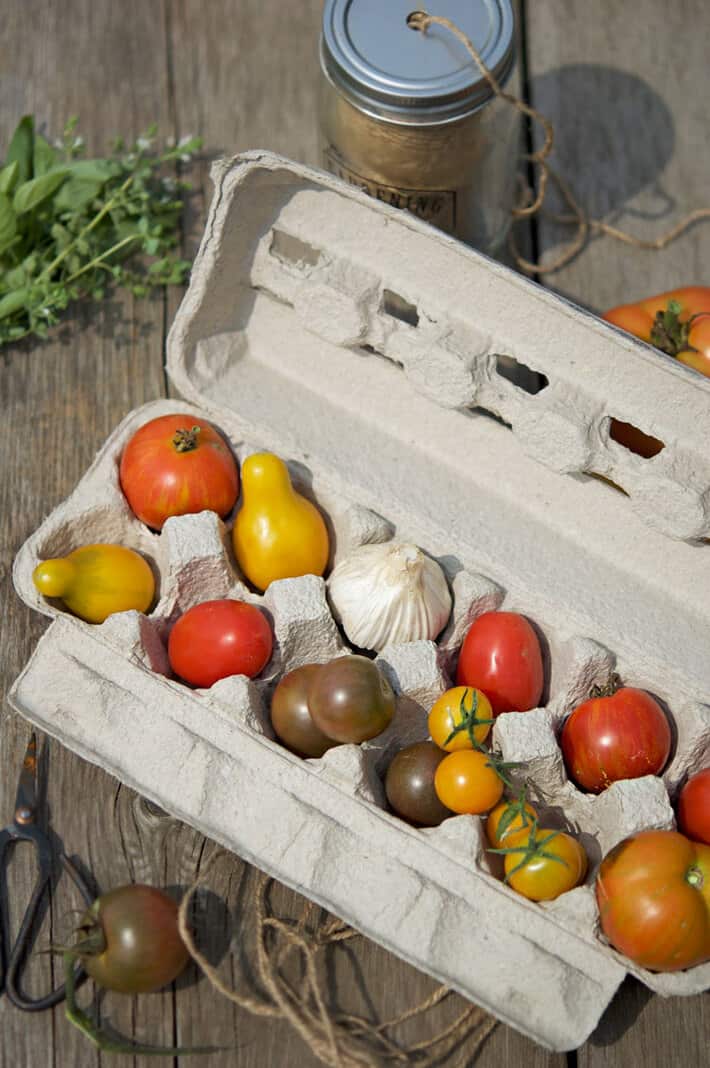 It's tomato sauce in a box. The recipient has tomatoes, garlic, oregano and basil; all the essentials for a great tomato sauce. Granted, because only smaller tomatoes fit in egg cartons, it's a small serving of tomato sauce, but still. They're getting fresh tomatoes and you're getting rid of fresh tomatoes. Win, win.
All the King's Horses and all the King's Men agreed next year they'd plant 839 tomato plants again.