This little embroidery hoop craft can be used in a billion different ways, and the best part is you don't have to do any embroidering at all, lol. Perfect for any quilter or sewer who has a major stash of fabric fabrics.
I went on my very first "Art Crawl" this summer. I was delighted to find out that actual crawling was not required. Totally optional.
I wasn't worried for myself so much as my mother. I'm happy to crawl around the gritty streets in the name of art, but my mother prefers to reserve crawling for when she's drunk. That way she always knows when she's drunk.
If you've never been or don't know what an Art Crawl is, I can only speak of my own experience. The Art Crawl I went to was in Hamilton, Ontario in an area of the city that was once populated by hookers, crackheads and thugs.
NOW it's populated by hookers, crackheads, thugs and artists.
Once a year they shut down the street for a giant Art Crawl so all of the artists, and shops in the area can showcase their wares and talents. There are art installations, architectural tours, artists doing their "art thing" live and in person and of course there's stuff for sale. I have to admit other than frequenting the Mexican restaurant on the street, I hadn't wandered around the area much. What with the crackheads and hookers and all.
No. NO. I have nothing for your pipe. Go away.
And you? Yes, you and your hot pink, long haired cheetah shrug are very attractive but I tend to like my hookers on the less scabby side.
So. I stayed away from James Street in Hamilton. Until either the craving for nachos or art hit me.
Late this summer my mother and both of my sisters headed down to see the art. You know what I loved the most? The sewing store. It's called Needlework if you're interested and they have a VERY cute blog.
So after 6 hours at the "Art Crawl" I walked away with a beautiful pair of Gingher scissors, 6 embroidery hoops and a sack of scrap fabric. And a belly full of hot dog. Naturally raised and cared for mind you.
I know I got some other stuff, but it's the things from the sewing store I remember because walking into this particular store was like walking into a blog. A really great blog. Which is ironic because there, hanging over their cash was an idea I *knew* I was going to show you on my own blog.
Sometimes the simplest things are the best. This is one of those things.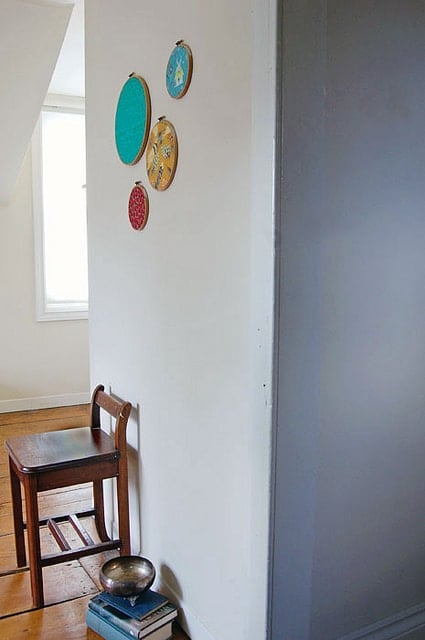 I have no shame in admitting to you it took me over half an hour to pick out my fabrics.
But if you're not quite as crazy in the head as me ... it shouldn't take you as long.
And look! With a few accessories (all from Ikea) you can even make them festive!
I'm not normally big on words on walls, but THIS I happen to love.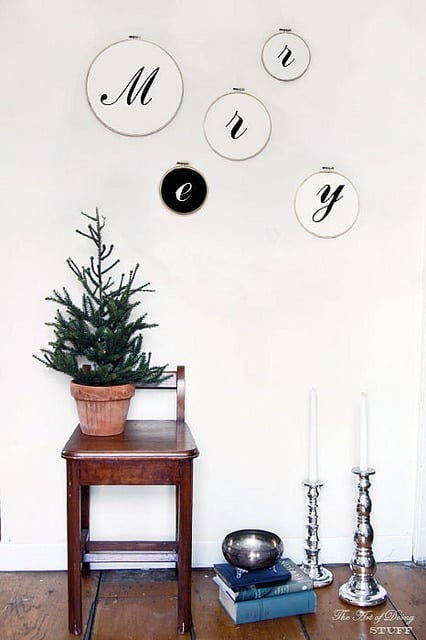 Granted the Christmas version is Photoshopped. But to do a similar version all you'd need is white fabric and either fabric paint and a stencil or a fabric pen and a steady hand. Or if you can get your hand on iron on letters that'd be a quick way to do it too.
The point is, the possibilities truly are endless with these little quilting hoops. You could use them to frame antique handkerchiefs or favourite tee shirts from your youth, or tea towels for the kitchen. OMG! I just thought of a brilliant one (that I don't want to share until I try it to see if it works). This is tooooo much. Honestly my head could explode from all the things you could do here.
BOOM!
Oops. There it goes.
So if you're looking for a cheap homemade present for someone THIS is should be your go-to gift this year. Courtesy of me, a sewing shop and a faux fur wearing hooker.
I mean Art Crawl.