As you know, I started a diet a few weeks ago.  Not a "diet" in the traditional sense, but a meal plan.  And truth be told ... I didn't start it, my boyfriend did, which means I got sucked along for the ride.  And so did my intestines.
It didn't go well the first little while.
But then my guts got adjusted and it still isn't going well.  Regardless there are a few really good recipes I've been introduced to.  One such recipe is Fire Broth.  It's a vegetable and sausage soup that's heavy on the heat. Adam, the owner of Alchemy Crossfit, the devil who has organized this meal plan is big on heat and it shows in this soup.  If you don't like heat, just dial down the hot peppers.
And since it's still freezing cold with no sign of it getting any warmer here in Southern Ontario it's still the perfect meal for this time of year.  Even though technically the perfect food for this time of year should be hamburgers and potato salad.  Which isn't on "the meal plan" by the way.
I hate my life.
Wait!  I own chickens!  I don't hate my life anymore.
Please enjoy this hot and spicy Fire Broth Soup!
Fire Broth Spicy Sausage & Vegetable Soup
Author:
Ingredients
5 cups chicken broth
5 cups beef broth
** if you're vegetarian/vegan you can use 10 cups vegetable stock instead**
3 Tablespoons Grapeseed Oil (or Olive Oil)
1 package of hot, Italian sausages (5 or 6 sausages)
1 yellow onion (diced)
½ teaspoon salt
2 heads of roasted garlic
2 small green chiles (minced)
1 medium sweet potato (diced)
1 red pepper (diced)
1 zucchini (diced)
3-4 heirloom tomatoes (diced) **use regular if you can't find heirloom
1 teaspoon pepper
¼ teaspoon cumin
¼ teaspoon coriander
1 Tablespoon Ancho chili powder **can also use regular chili powder
1 teaspoon Chipotle puree (just blend the contents of a can of chipotle peppers)
4 Tablespoons fresh oregano
Instructions
Put your 10 cups of broth into a soup pot and warm it up.
Dice all your vegetables and chop your oregano.
Heat your oil in a saute pan then add your onions and ½ teaspoon of salt. Cook until translucent.
Add garlic, green chiles, spices, sweet potato and half the oregano to saute pan.
Cook for 10 minutes stirring regularly.
Add the red pepper and zucchini and cook for another 5 minutes.
Add the cooked vegetables to the warm stock. Also add the chipotle puree, tomatoes and sausage. Simmer for 15 minutes.
To roast heads of garlic, cut the tops off of the garlic, sprinkle with a little salt and olive oil. Wrap them up in tin foil and bake them in the oven at 400° for 40 minutes or until soft.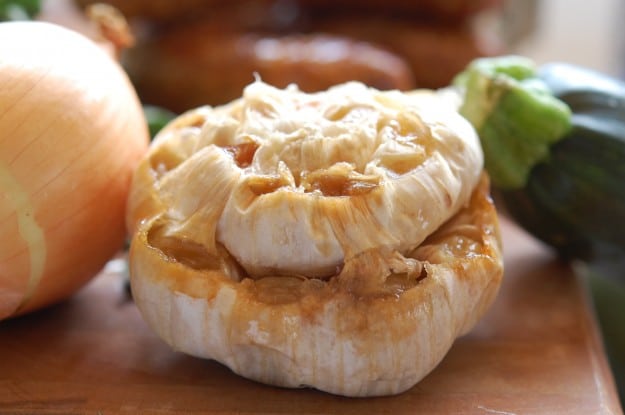 This is how to easily dice an onion.
This is what a hot green chile pepper looks like.  Buy ones that look like this.
If you can't find nice, fresh tomatoes, there's no shame in using canned.  No big whoop.
Remove your oregano leaves from their stems before chopping them.  Stems are icky.
If you have a red pepper that's starting to feel softish in the fridge, this is the perfect opportunity to use it 'cause it's going to get soft when it's cooked anyway.
By soft I mean soft.  Not rotting and covered in mould.
My zucchini seemed a bit small so I used 2.  You can do that when cooking soup.  Add, subtract ... do whatever you like.
It's the magic of soup.
Cook your sausages ahead of time.  I boil mine for 10 minutes then stick them on the barbecue for another 10 - 15 minutes.
These look slightly dried up 'cause they'd been sitting waiting for their photo shoot for a half hour or so.
Sweet potatoes have lots of craters which are perfect little spots for growing bacteria.    Make sure there isn't any mould or ick on them.
Dice all your vegetables to about this size.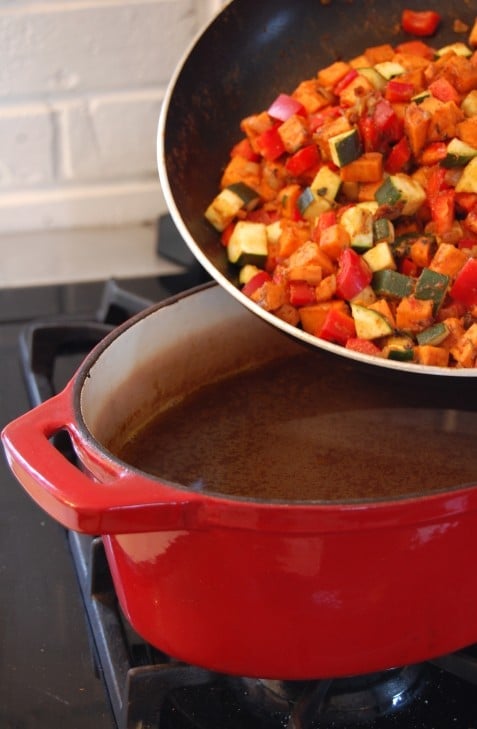 Serve on a piece of barn board with a hunk of attractive looking bread.  Unless you're on this stupid meal plan.  In which case you're more likely to be encouraged to eat the barn board than the bread.
→Follow me on Instagram where I often make a fool of myself←