So I was walking down the street the other day (which is unusual in itself ... I usually skip or moonwalk down the street) and something very odd happened. I was crossing the road at a non designated crosswalk when a car came speeding around the corner straight at me. Clearly it was my fault I was about to be killed. I should have moonwalked across the non designated crosswalk. I'm a much faster moonwalker than regular walker. Other than the Electric Slide there are very few dance moves I can think of that can move a person across a road quicker than the moonwalk.
Plus it's such a dazzling sight that most people stop what they're doing (even driving) to watch.
So this car is careening towards me and just like they say, everything went into slow motion. I held my hands straight up in front of me because for a split second I thought my arms were definitely strong enough to stop a Buick, the #1 car choice of the elderly.
I'd say the car was maybe a hummingbird's breath away from my shins when I sneezed. I SNEEZED at the exact moment I was about to lose my life to a blue haired scribble of a woman in a brown Buick with a snappy velour bench seat.
It was because of that sneeze that I can't tell you exactly what happened next. In the moment of the sneeze I closed my eyes, as most people do when they sneeze. By the time I'd opened them , Scribble and her car were gone and I had 17 birds on each of my arms, flying me to safety across the road.
True story.
Kind of.
It's actually a complete lie. I wanted to start this post with an interesting story but I didn't have one so I made one up. So sue me. I *am* an excellent moonwalker. That part was true. And the old people driving Buick's thing? Also true.
Perhaps I felt the need for an exciting introduction to today's post because the subject matter is so subdued. It's my porch. Just a porch. But I love it.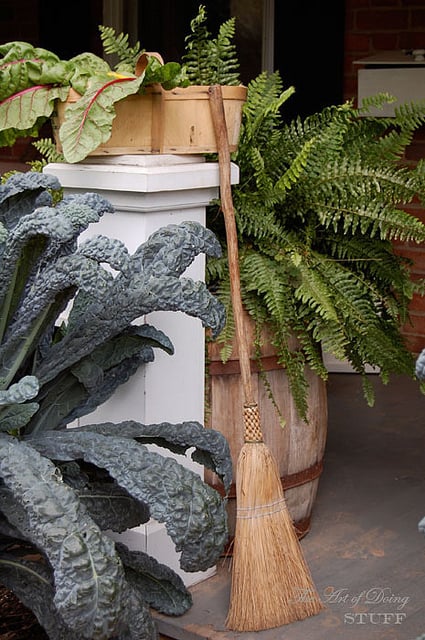 Because I work from home the porch is also my break room for 3 seasons of the year. From April until November I wander out there a few times a day to get some air and see actual people.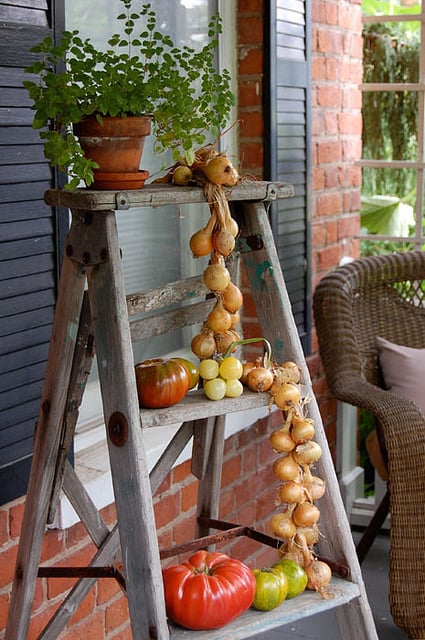 If I want to talk to people I can give a wave so they see me. If I don't ... I can hunker down in the chair with my coffee and go unseen. Like a ninja. An invisible ninja. A transparent invisible ninja wearing an invisibility cloak of invisibleness. Unless I wave.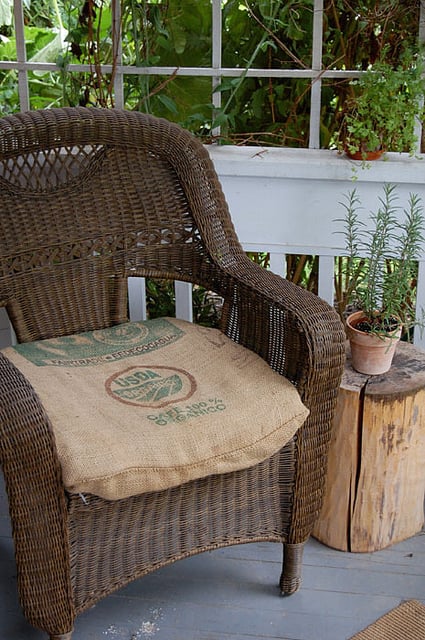 I can peer out from the hanging green beans to see what's going on in the neighbourhood yet still feel like I'm kind of in a room.

That's what I like about porches. You're outside ... but you're inside. There's no better place to be during a rainstorm. Except maybe in Costa Rica. Or in the arms of a Costa Rican.
The porch has also become my pantry. It's where my onions and garlic cure. It's where I set the tomatoes I've picked and where I weigh all of my potatoes. I'm weighing my potatoes as I pick them this year so I know how many pounds in total I got for the season.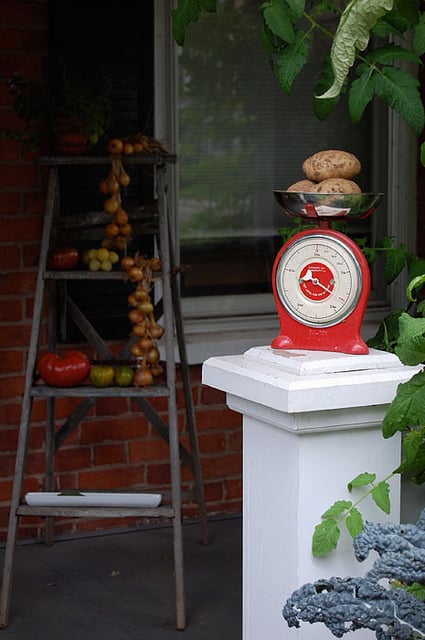 I take my work breaks a little more often than I did a few months ago.

I've forced myself to stop and smell the garlic. I've taught myself to relax.

I also taught myself the electric slide. Just to be on the safe side.