Glass Gem corn, the iridescent flint corn that looks like little jewels on a cob is both ornamental and edible. You wouldn't want to eat it straight off the cob but it grinds into perfect cornmeal and used for popcorn.
I was at my neighbour's house the other day dropping off some chives from my garden for her when I said something that felt a little ridiculous. Not Westboro Baptist ridiculous, just normal ridiculous. You may know the fun loving Westboro Baptists from their hit single, "God Hates the World" or one of their catchy mottos, "The Only True Jews are Christians" and "1, 2, 3, 4, God Hates the Marine Corps". They also hate "fags", flags, Catholics, the Pope, Barrack Obama, Sweden, Apple (even though they use iPhones), Leonard Nimoy, pink buses, life, death, air, rainbows and anti-psychotic medications apparently.
What I said to my neighbour was "this is a very busy time of year for me with the harvest and all". The harvest and all. Firstly, when did I learn to speak yokel? And secondly ... the harvest? I have a 20x40 foot community garden and a patch of front yard and I'm referring to "the harvest".
But I'm telling you now, with Sweden as my witness, every spare second I have at the moment is taken up by picking vegetables, storing vegetables, canning or otherwise preserving vegetables. The harvest.
One of the things I happen to be harvesting is Glass Gem corn. Reader Kat mailed the seeds to me last year. I didn't really know what they were at the time which isn't surprising since Glass Gem corn was only unveiled to the world in 2012.
Glass Gem corn is a variety that almost didn't exist. You see, years ago a part-Cherokee farmer in Oklahoma was known for being a bit of a corn breeding genius. His name was Carl Barnes. Carl mixed and matched and bred different varieties of corn. He planted and created corn that produced translucent, gem-like kernels. He did this for years until he was satisfied he had created a variety of corn that would reliably reproduce what he had in his head. A corn that looked like it was made up of translucent glass gems. Glass Gem corn.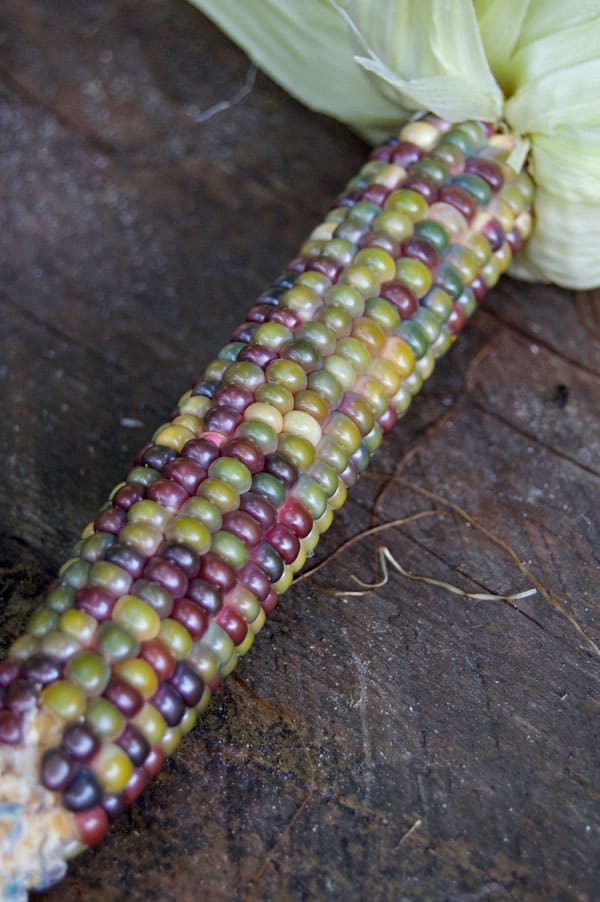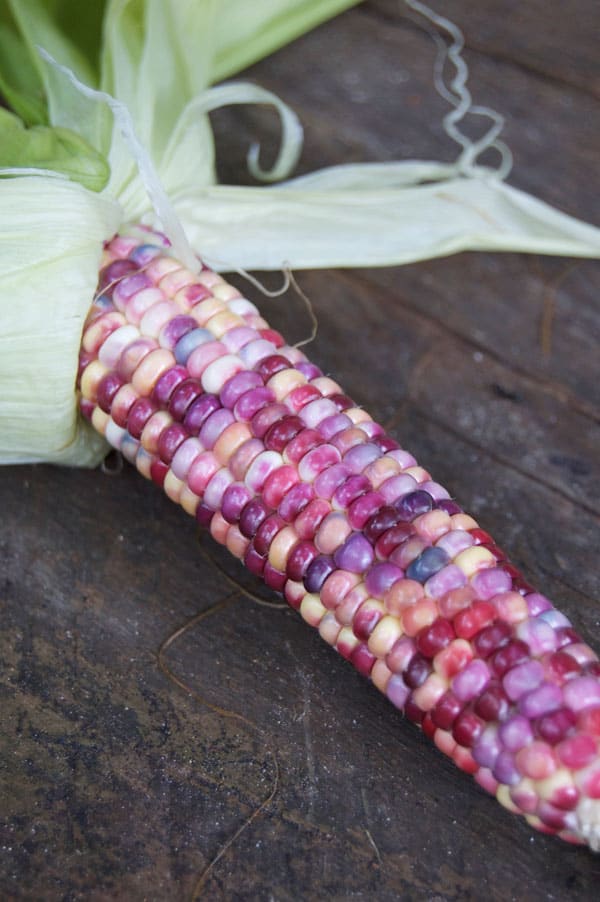 When Carl started to get on (there's that yokel talk about), he passed his seed collection onto his seed saving protege Greg Schoen. Greg was the one person that Carl trusted with his decades of work. In 2010, while in the process of moving and not wanting to lose track of the thousands of seeds, Greg took a small portion of his collection to a seed saving institution, Seeds Trust.
Curious about these seeds, in 2012 someone from Seeds Trust planted a handful of them in their garden to see what this Glass Gem corn would look like.
They were stunned to find corn with see through kernels in gemstone colours. And every single cob was different. The company posted photos of the corn on their Facebook page and within hours the corn pictures went viral, crashing their Facebook page. EVERYONE wanted to buy the seeds. The problem was, there weren't any for sale.
Over the next couple of years Seeds Trust worked to produce enough seeds to be able to sell to the public.
I have no idea how my reader got these seeds, but I'm hoping she'll let us all know in the comment section. I take my seed responsibility very seriously so I'll be getting a separate garden next year just for my glass gem corn. I'm hoping to grow 100 plants.
If YOU want to buy Glass Gem corn, there are many places that sell it on Amazon.com but if I were you I'd buy it from the original source Seed Trust. By buying from them you'll be guaranteed you're getting a properly bred and selected seed.
I know you're all excited about the possibility of eating this now, but Glass Gem isn't an eat off of the cob type of corn. It's a grind into flour type of corn; a flint corn. Before you get too disappointed, there are 2 other things you can do with this corn. Use it for fall decorating because it's SO much more impressive than the regular Indian corn you can buy. OR ... and this is the fun part ... you can use it for popcorn.
Coming up on Wednesday I'll be showing you 4 ways to decorate with Indian Corn using my Glass Gem corn because no matter what Pinterest tells you, tying 3 cobs of Indian corn together isn't as easy as it looks. For real. Once Autumn decorating season is over I'll be removing the best kernels for seed saving and the rest will get put into a glass jar for popcorn.
Because who doesn't like popcorn?! Then again. Who doesn't like rainbows?