There may very well be less of you reading this post today than normally would. Hurricane Sandy has ripped through a lot of North America taking some of it with it.
As I type this on Monday night my power is out and I'm on my last reserves of battery, so if there are typos or errors or weirdnesses with this post at all I trust you'll forgive me.
~ karen
Hate carving pumpkins? Me too.
I know you're probably scoffing right now, but I really do hate carving pumpkins.
I do it. And I'm good at it. But it doesn't mean I like it.
I have a friend. We'll call her Wesley, because it rhymes with her real name ... Leslie. Well, Wesley is really good at making pies. Homemade crust, fresh fruit ... delicious pies. She's really good at making pies. So wherever Wesley goes, people ask her to bring a pie.
She does it. She's good at it. But she doesn't necessarily like it.
But she's a good person, so she always brings a pie.
Thankfully pumpkin carving happens less often than pie cravings. I only have to devote one day a year to it.
Last year I didn't even do that. I don't know what happened but I just ran out of time. Cough. Sputter, sputter, H a cK! O.K. I do know what happened. I didn't want to carve any pumpkins so I didn't. So sue me.
I felt bad about it because sometimes people come specifically to see my pumpkins. I made up for it by answering the door topless.
If you TOO can't stand the thought of carving your pumpkins do what I did.
Just stick something out of your pumpkin. You still have to hollow it out but you don't have to carve a face. Just meander around your house and look for things you can stick out of your pumpkin.
A skull for instance ...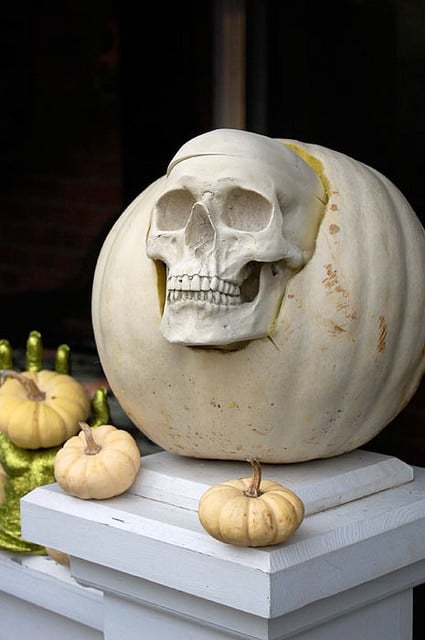 This is a ceramic skull I own. I just cut a hole in the pumpkin, approximately the size of the skull and shoved it in. Since there are gaps between the hole and the skull, light could shine through giving it that eerie look.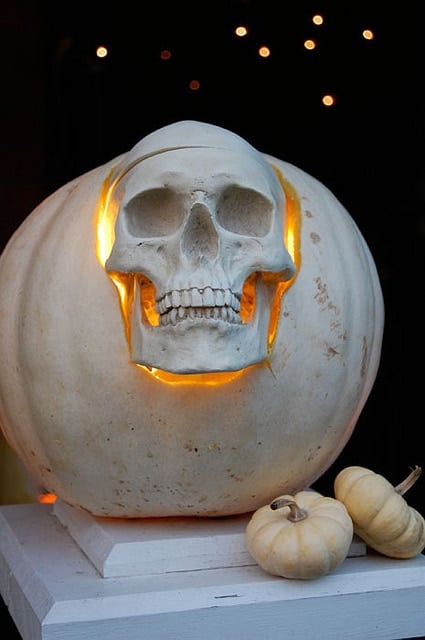 And yes those are white pumpkins I had. You could do the same thing with orange ones. I know it seems stupid to say that, but someone will ask. Not you. Someone stupid. This skull is actually a candle I got at a garage sale years ago. BAM. Shove it in the pumpkin.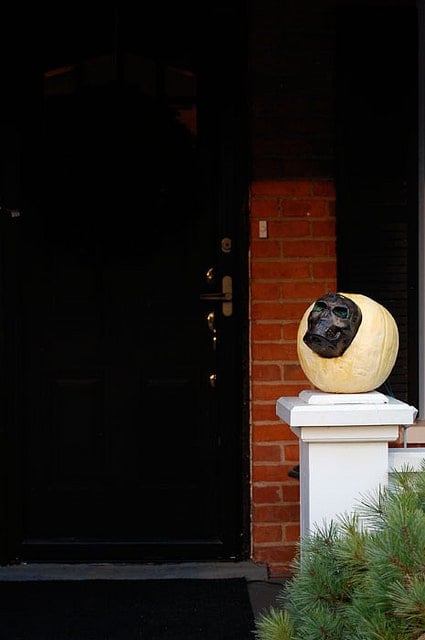 I drilled out the eyes a bit so the light inside could shine through them.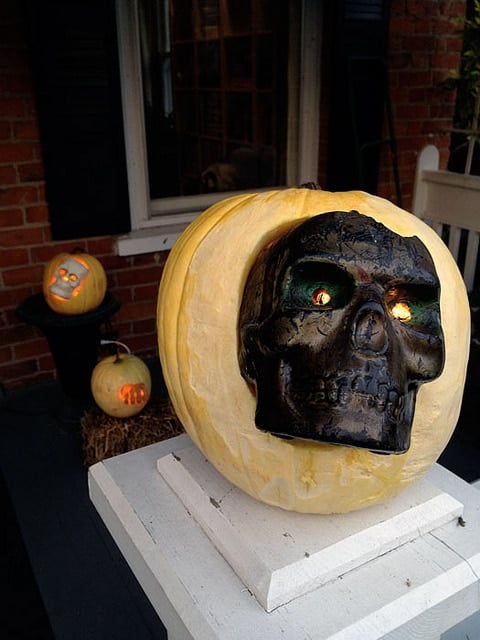 Yet another ceramic skull ... this one is a candle holder.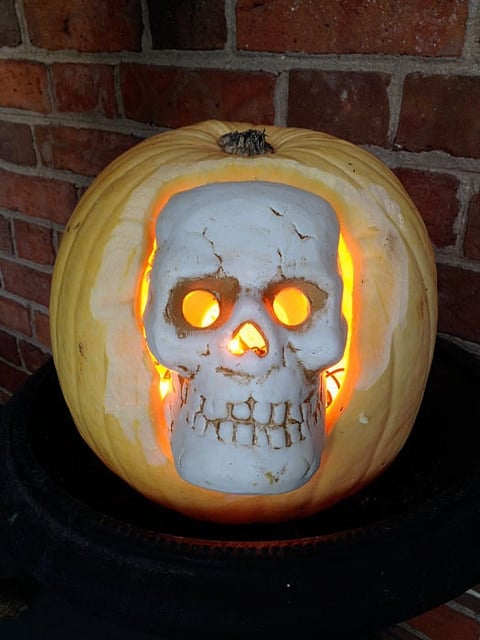 And a prosthetic hand. Actually I think it's a mold for a doll's hand. You can see about how I acquired it here.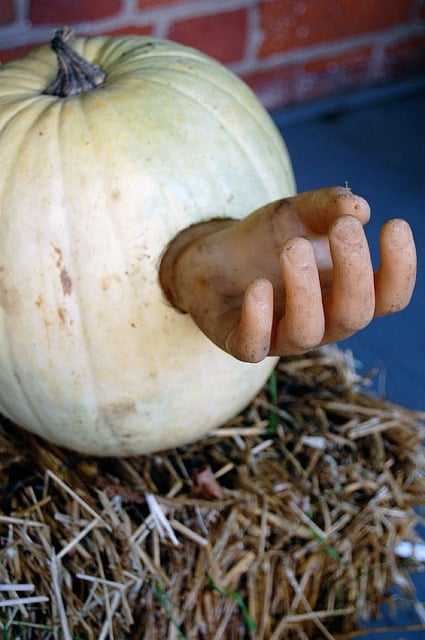 It looked especially magnificent when lit up.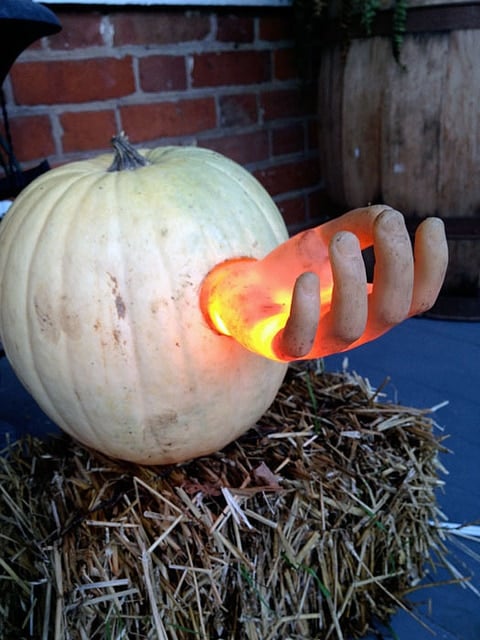 It took no time at all to do this collection. And I think it still has the effect one wants from a carved pumpkin. Interesting to look at, makes you feel all Hallowe'eny and fools people into thinking you actually spent time on it. Speaking of Halloweeny ... for those grown up parties there are a variety of things you could stick out of your pumpkin.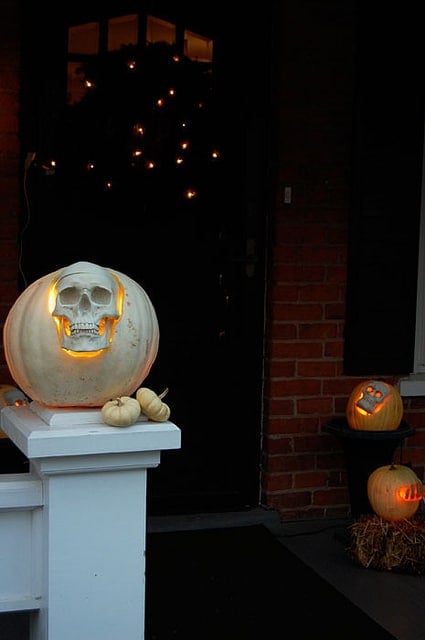 In case you don't have skulls and baby hands at the ready this would also look completely FANTASTIC with a whole mess of spiders spilling out of the hole. Little ones. Like they were just born and are escaping their sac. Makes my stomach do a flip just thinking about it.
But be warned. Don't get too good at this. Don't make it too impressive unless you want to be making impressive pumpkins for the rest of your life. EVERYONE will know that you can do it and you're good at it and they'll want you to do it all the time even if you don't like it.
Like with sex.
Happy Hallowe'en everyone!