These floating candles are one of the most impressive DIYs I've done to date. Why? There's almost no effort to creating the illusion and it looks magnificent. More importantly, my favourite photo of Philip EVER is at the end of the post.
Told ya. Every once in a while I do a DIY that I know is a keeper. This is a keeper. For instance, my bone crown? It's not a keeper. It's cool and worked great, but I don't pull the bone crown out every year.
I know without a doubt in my overpacked and under-utilized brain that I'll be doing this every Halloween until the day I die at which point I'll be requesting these candelabras and floating candles be set on my coffin.
The one other TRUE Halloween keeper I have is my pumpkin Die-O-Rama which I describe as loving with all of my heart and the first knuckle of my baby toe. I hate my feet so you know if I even mention my feet that I'm serious.
Haunted Floating Candles
The most difficult part of this DIY is nothing. If you can tie a knot and don't live in a cathedral with 30' ceilings you can do this.
Materials
fishing line
Command strips or other strong adhesive squares
scissors
a step stool or ladder
candle holders
Steps
Gather up your supplies.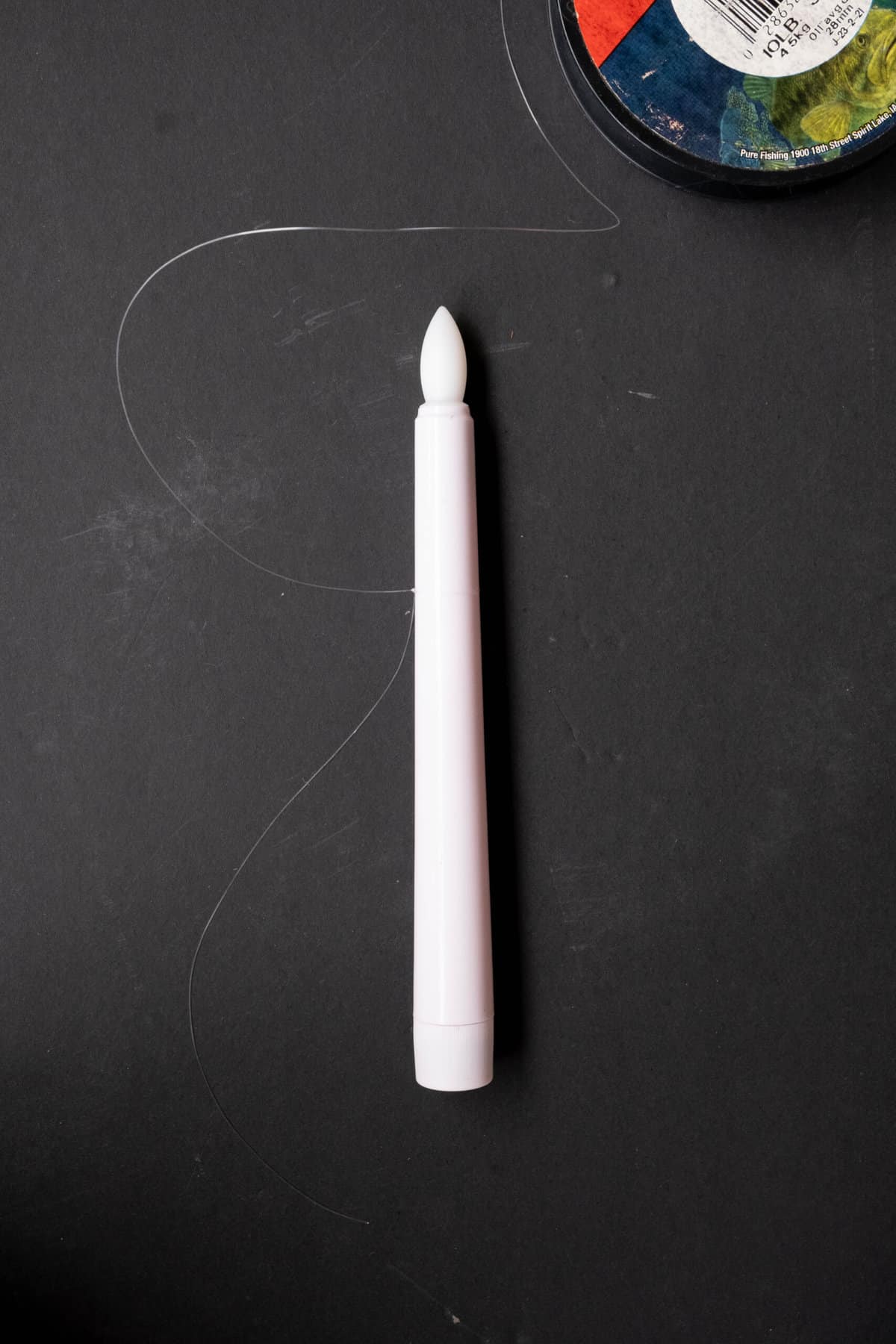 2. Tie fishing line around the top ⅓rd of the candle. The higher you tie the line, the straighter the candle will hang.
3. Using Command strips or other wall tape, stick the fishing line to the ceiling. You can do what I've done here and hang them over a candelabra, or you can just have them floating with nothing under them.
You can see the fishing line in certain light at certain angles but 99% of the time you look at them you won't see the line. The candles genuinely look like they're floating over the candlesticks.
The first time I hung the candles I had them all at the same distance from the candelabra but they actually look better if the heights are all a bit different.
Possibly the best thing about these is that when you walk past them or there's a bit of a breeze from somewhere the candles sway and spin. You know. The way actual haunted candles do.
The candles I'm using come with short black candlesticks so if you don't own any candlesticks if you buy the set I used they are included. Of course they aren't large and gold and Trumpian, but they'll still look great.
I bought these candles years ago to put in my windows at Christmas. That is the ONLY time I use them so I'm glad I've found another way to justify the 7 inches of cupboard space they take up.
NOW: The photo of Philip.
It isn't in sharp focus, isn't technically correct and isn't white balanced properly.
But it is still pretty magnificent.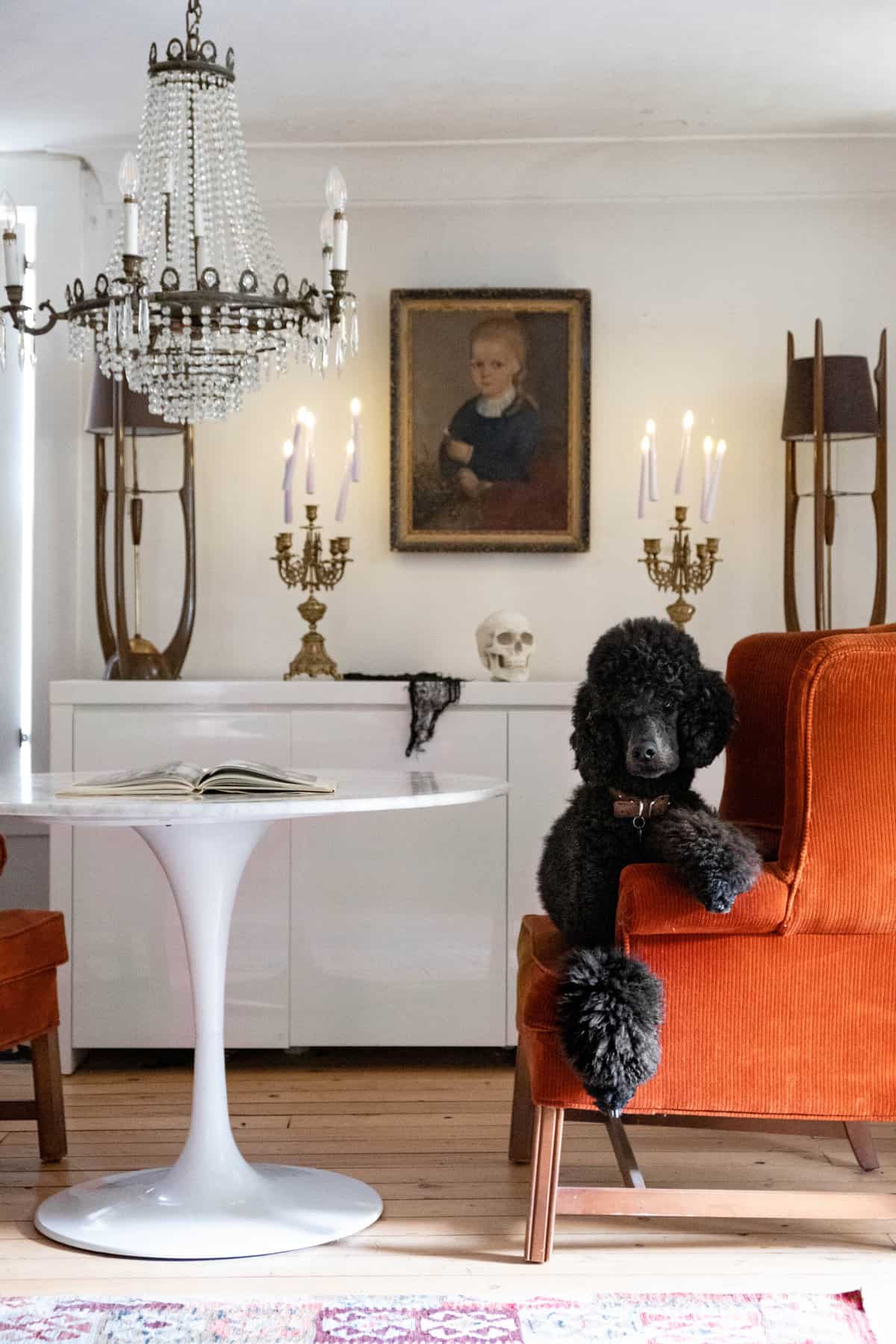 Raise your hand if you think I should do a Pin Up calendar of Philip. 🙋‍♀️
TIPS
Where you tie the fishing line will dictate how the candles hang.
- For straight upright candles, tie the fishing line closer to the top of the candle.
- For tilted candles, tie the line lower.
Use strong Command strips or tape. Because these things are hanging straight down from the ceiling it puts a lot more pressure on the tape that it would if they were hanging off of a wall. So make sure it's STUCK.
Splurge for the candles with a timer and remote. They'll come on at any time you want at night then turn off automatically 4 or 6 hours later.
Don't let other things compete with the star of the show, your haunted candles. So keep everything around them fairly simple so they really stand out. And if (unlike me) you have something other than white walls they'll stand out even more.
I KNOW the dirty secret of DIY blogs is that - nobody does the DIYS. You make a mental note to do them - but don't. If you like Halloween and appreciate some creep you have to try this.
And then you have to send me photos. If you like the candles, but aren't into creep then you can look ahead to Christmas and get going on these Christmas tree candles.
They're far less creepy and way more cozy - they'd never make it onto anyone's casket.