Yeahhhhhhhhhh!!!!!! Chili Sauce! The tangy, sweet, spicy condiment that makes pork, potato pancakes and chicken come ALIVE. Well, not technically "alive". That would be quite scary.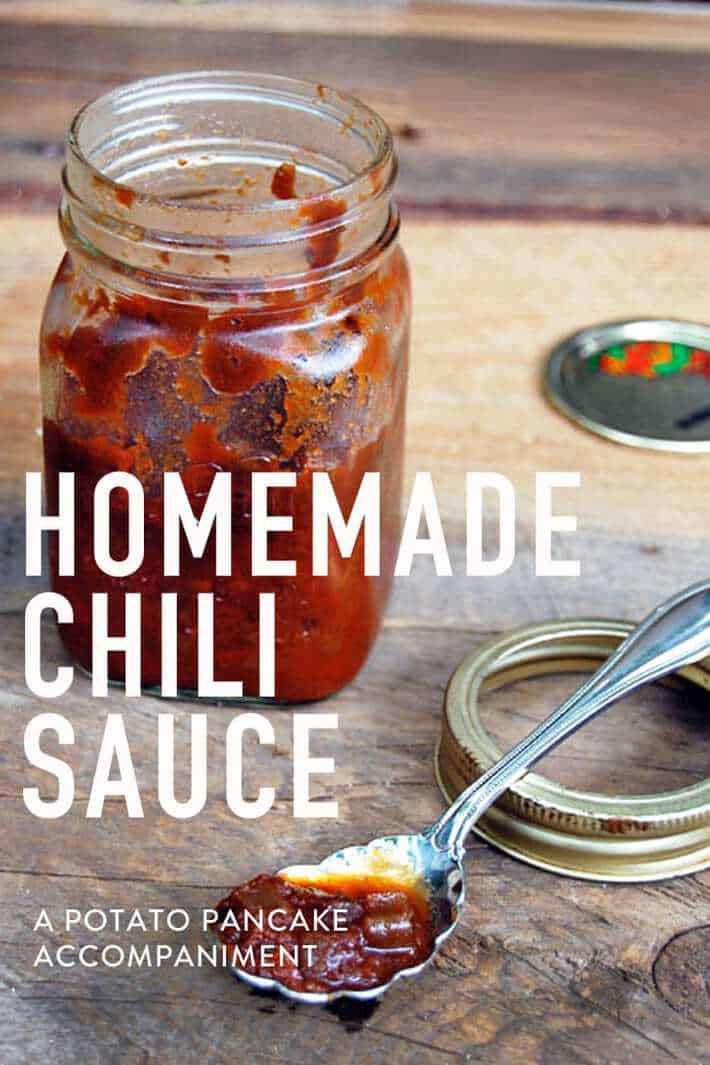 It was probably 3 years ago that I got the sinus infection which turned into sinusitis.
I'm not sure if you know what the symptoms of sinusitis are, but one of them is loss of smell. As in you can't smell a thing. I lost my sense of smell for a month or two and it happened to be the month that I was going to make chili sauce.
Now the thing about cooking is you need to taste it as you go. And the thing about tasting is you need your sense of smell to get a good idea of how things taste.
So I made my chili sauce and had no idea how it tasted. I dragged it around for all of my friends and relatives to taste and got a unanimous decision!
It was gross.
Bland I believe was the actual word. It just didn't have enough spices apparently but I couldn't know that because I couldn't smell it or taste it.
I took it home and threw some more stuff in it, just kind of guessing at how much it needed to make it "not gross". It all worked out and the chili sauce turned out fine.
I'm planning on making some more this weekend, but wanted to get this post up as soon as possible because I've been getting threatening emails and comments from people that they want to make their chili sauce NOW!
As a result there won't be any process pictures with this post on how to make chili sauce, but you really don't need them. If you don't know what a chopped vegetable looks like, your bigger worry should be that you're an embryo that's reading a website clearly meant for adults. And people with fully developed fingers.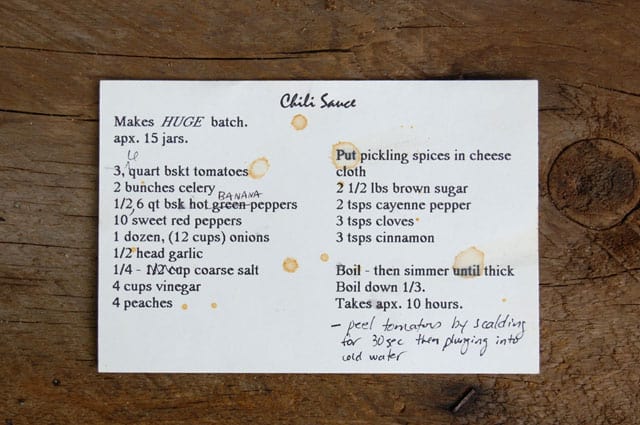 This is my recipe card. I kind of go by it. And you should kind of go by it too. If you want, you can add more hot peppers, or more peaches or less tomatoes. It's chili sauce and really the only way to screw it up is by getting sinusitis.
It doesn't say so on the card, but all the ingredients are rough chopped. Just hack them up. No need to be pretty about it. I mean, you can be pretty while you're doing it, but the vegetables don't have to be pretty once you're done chopping them. Like … don't put lip gloss on them or anything. We want utilitarian looking vegetables here.
Because this is such a huge batch you can either half it and give a ton away or you can plan on canning it.
To can this chili sauce recipe, fill washed, hot pint jars (with hot chili sauce) leaving 1/2″ head space. Wipe rims, put lids and screw rings on. Process in a hot water bath for 20 minutes.
Looking at the "boil down for 10 hours", it seems a bit extreme. I haven't made this in a few years so I can't remember if that's correct or way off. My hunch is it's correct because you just want your chili sauce simmering as it reduces, not boiling.
I used spices in their powdered form for the measured ingredients and then I'll also throw in a couple of whole sticks of cinnamon and a tiny cheesecloth bag of maybe 5-10 whole cloves)
And there you have it, my long awaited chili sauce recipe. Which one day I hope to have time to make myself to serve my favourite way … on potato pancakes.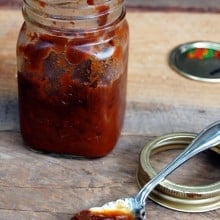 Chili Sauce
Classic sweet and tangy chili sauce filled with spice. PERFECT with potato pancakes.
Print
Pin
Rate
Ingredients
18

quarts

tomatoes

2

bunches

celery

3

quarts

banana peppers

10

red peppers

12

onions

6

cloves

garlic

1/4

cup

coarse salt

4

cups

vinegar

4

peaches

2.5

lbs

brown sugar

2

tsps.

cayenne pepper

3

tsps.

cloves

3

tsps.

cinnamon

2

whole

cinnamon sticks

10

whole

cloves
Instructions
Peel tomatoes by placing them in boiling water for 30 seconds and then plunging them into cold water. The skin will slide right off. If it doesn't, plunge them in the hot water again.

Wrap all the whole spices in a little cheesecloth bag.

Rough chop the remaining ingredients. Don't worry about it being pretty, just chop them up into pieces between 1/4" - 1/2".

Put all the ingredients into a large stock pot and bring to a boil. Once boiling, reduce heat to a simmer and simmer until thick and reduced by 1/3rd. This will take many hours.
Nutrition
Serving:
1
jar
|
Calories:
643
kcal
|
Carbohydrates:
150
g
|
Protein:
12
g
|
Fat:
3
g
|
Sodium:
2616
mg
|
Potassium:
3230
mg
|
Fiber:
25
g
|
Sugar:
120
g
|
Vitamin A:
12395
IU
|
Vitamin C:
290
mg
|
Calcium:
239
mg
|
Iron:
4.6
mg
→Follow me on Instagram where I often make a fool of myself←