Yeahhhhhhhhhh!!!!!! It's fall and that means homemade Chili Sauce! The tangy, sweet, spicy condiment that makes pork, potato pancakes and chicken come ALIVE. Well, not technically "alive". That would be quite scary.
If you can chop vegetables, simmer something on the stove and happen to have a working nose you CAN make chili sauce. It's full of chunky vegetables and wintery spices like cloves, brown sugar and cinnamon with the added heat of CAYENNE.
So about that nose thing ... several years go I got sinusitis. One of the symptoms of it is not being able to smell anything. Great for walking through garbage juice puddles at the dump, but not so great when making chili sauce. The thing about creating great food is you need to taste as you go. Even if you're using a recipe. And the thing about tasting is you need your sense of smell to get a good idea of how things taste. So I made my sinusitis chili sauce and had no idea how it tasted. I dragged it around for all of my friends and relatives to taste and got a unanimous decision.
It was gross.
Bland I believe was the actual word. I pulled the spice bag out too early. So as you make this and let it simmer don't be afraid to adjust things. The inability to adjust is my main complaint about the stupid Instant Pot by the way. You can read my complete unbiased review of how much I don't like the Instant Pot here.
Shot of a rare museum quality artifact - the recipe card.
---
You may be asking yourself why now Karen? Why NOW? Because now (around the end of summer) is when you're going to find the fresh ingredients for everything you need to make it.
Everything that goes into chili sauce is in season in late summer.
What's in Chili Sauce
This isn't the thin runny, condiment you see in the grocery storey. It's a hearty, full of fruit and vegetables concoction that's more like a chutney.
Tomatoes
Celery
Banana Peppers
Red Peppers
Onions
Garlic
Peaches
As far as spices and flavourings go you have brown sugar, cloves, cinnamon and cayenne pepper.
---
Honestly all you do is rough chop a bunch of vegetables, throw them in a pot and let 'em simmer. If you can't manage that then I'm so sorry to hear you're in a coma. Get well.
Ready for this old timey, vintage, sweet and spicy chili sauce recipe? Good. I'm proud you were able to shake yourself out of that coma.
---
What to Eat it With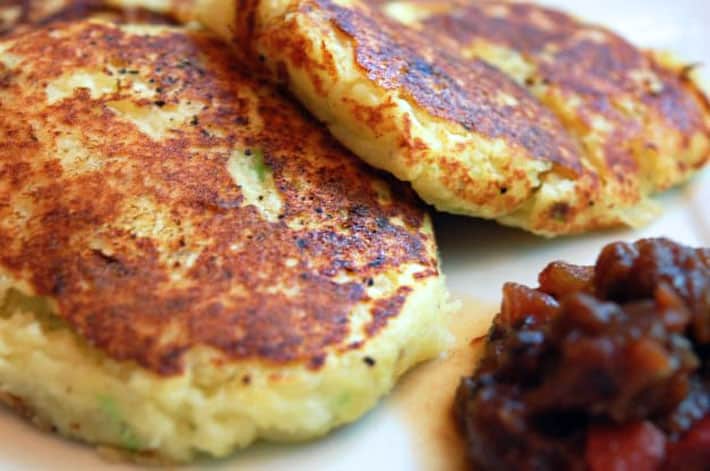 Canning Chili Sauce
Fill a large stock pot with water and bring to a boil.
Bring sauce to a boil if it isn't already.
Fill washed, hot pint jars with hot chili sauce, leaving ½" head space.
Wipe rims, put lids and screw rings on. Finger tighten the rings.
Process in a hot water bath making sure they are submerged with at least 2" of water over them.
Process for 20 minutes. Start timing the 20 minutes once the water has returned to boiling after putting all your jars in.
Remove jars from the water bath using a jar lifter and set on the counter undisturbed until you hear the satisfying "pop" of them sealing.
To make canning less of a pain (literally) get one of these cheap canning kits that have a jar lifter, a funnel, tongs and everything else you need for canning.
The Recipe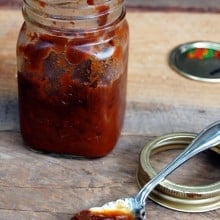 Chili Sauce
Classic, old fashioned sweet and spicy chili sauce.  PERFECT with potato pancakes, chicken and pork.
Print
Pin
Rate
Ingredients
18

quarts

tomatoes

2

bunches

celery

3

quarts

banana peppers

10

red peppers

12

onions

6

cloves

garlic

¼

cup

coarse salt

4

cups

vinegar

4

peaches

2.5

lbs

brown sugar

2

tsps.

cayenne pepper

3

tsps.

cloves

3

tsps.

cinnamon

2

whole

cinnamon sticks

10

whole

cloves
Instructions
Peel tomatoes by placing them in boiling water for 30 seconds and then plunging them into cold water. The skin will slide right off. If it doesn't, plunge them in the hot water again.

Wrap all the whole spices in a little cheesecloth bag.

Rough chop the remaining ingredients. Don't worry about it being pretty, just chop them up into pieces between ¼" - ½".

Put all the ingredients into a large stock pot and bring to a boil. Once boiling, reduce heat to a simmer and simmer until thick and reduced by ⅓rd.  This will take many hours. 5-10 hours depending on the type of tomatoes you use.

Taste as you go! If after 3 hours you find you like the taste of it, then remove the spice bag and continue to simmer until thickened. I always leave my spice bag in until the end though.
Notes
To can this chili sauce:
Prepare a water bath.
Fill canning jars with hot chili sauce then put on sealer and band.
Process for 20 minutes in water bath.
If you want you can also add other spices to the spice bag. Mustard seed, star anise, peppercorns would all be good additions.
Nutrition
Serving:
1
jar
|
Calories:
643
kcal
|
Carbohydrates:
150
g
|
Protein:
12
g
|
Fat:
3
g
|
Sodium:
2616
mg
|
Potassium:
3230
mg
|
Fiber:
25
g
|
Sugar:
120
g
|
Vitamin A:
12395
IU
|
Vitamin C:
290
mg
|
Calcium:
239
mg
|
Iron:
4.6
mg
This recipe makes a HUGE batch so either half it or plan on preserving it.
---
Pro tip? Do not attempt this while suffering from sinusitis.
→Follow me on Instagram where I often make a fool of myself←