These things poop. They poop a lot. Out of their bum. Owning backyard chickens has kind of forced me into becoming a composter. I mean the poop! So much poop! And straw and pine shavings and poop. Once a month or so this outdoor run of the chickens gets entirely cleaned out and new straw put down. What to do with all the dirty straw and poop? I could either throw it at people walking by or I could compost it. For the first 6 months I went with throwing it at people which was a LOT of fun. But I got bored of that so now I compost it.
There are a huge number of options for your actual composting bin. You can build one out of wood slats, or buy one of these great tumbling composters. I got this model, which I chose from the side of the road. Which is what I do with many of the things in my life. Tables, chairs, composters, cats. All from the side of the road.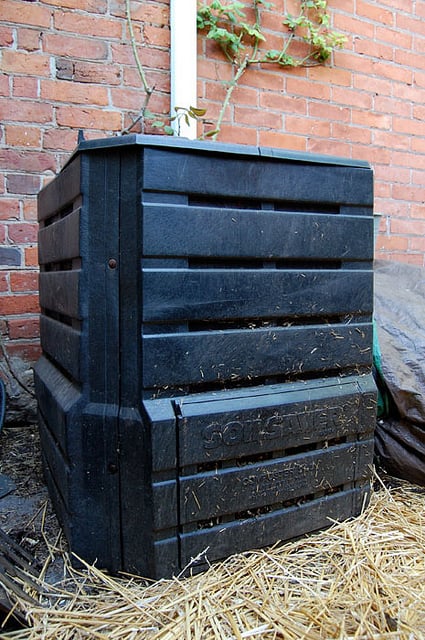 But the truth is you don't need to buy anything. It's ugly, but you can just cover your compost with a dark tarp. (dark attracts the sun and makes your compost heat up more easily)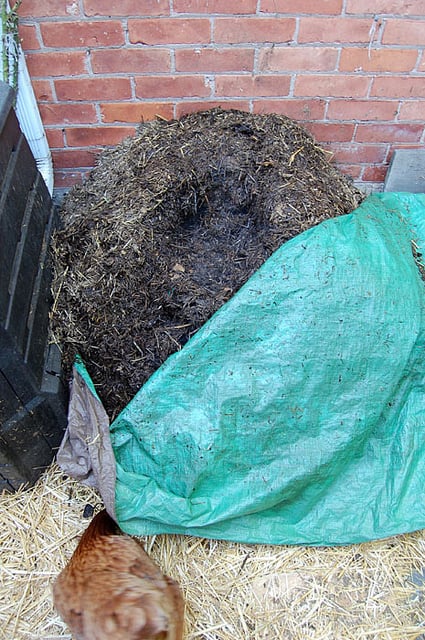 All of the nice clean straw you see here, will become the dark looking compost you see under the tarp within a couple of weeks. IF you hot compost properly.
Hot composting (The Berkley method) is a method where a large pile of organic matter is created and brought to high temperature over and over again.
Regular composting has you adding bits and pieces over time. This type of compost is great, but can take a year or two to completely break down. I don't have room for that much chicken poop and straw in my yard. I needed a way to compost quickly.
You need to follow a few rules in terms of what you put into your compost pile and how big it is. Your compost pile needs to be big. BIG. The bigger it is the easier time you'll have getting it to heat up and become actual compost. In terms of what you add to your compost pile, to make it easy add 2 parts "green" material to 1 part "brown".
Composting is all based on the reactions between Nitrogen, Carbon, heat and moisture.
If you have the proper ratio of greens to browns within a couple of days of making your large compost pile you'll notice it will get hot. This pile is at around 130°F. The first time your pile heats up it will smell like a decrepit old rock star. Who has incontinence issues.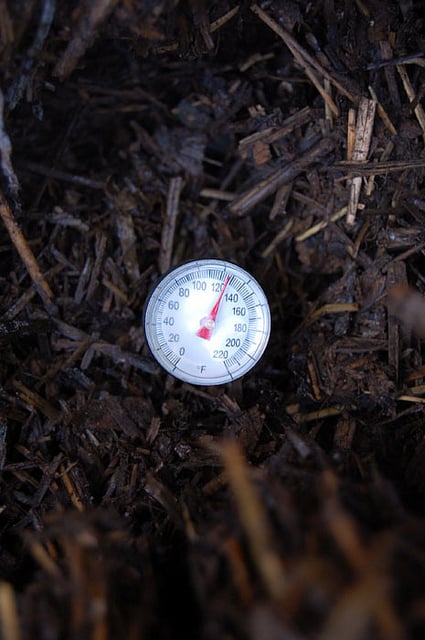 If you have the right amount of heat your pile will be steaming hot, but keep an old thermometer around to check the temperature so you know exactly how hot it is. 135 – 150 is ideal, but almost impossible to achieve. Be happy if there's steam and it's over 130 or so. The stink only lasts for a day or two at which point the micro-organisms start breaking down your organic material into happy smelling compost.
You can see the inside of the actual compost "bin" is steaming as well. (this pile also has shredded paper in it along with the straw and poop) In a day or two your pile will quit. It will stop being hot. You will get angry and consider going back to throwing it at people. Do NOT succumb to this temptation. Your pile NOW needs to have more oxygen and possibly water added to it. These two things are needed to get the compost moving and shaking again. Like a decrepit old rock star after a stadium show, if you give him oxygen and water … he'll bounce back and be ready for action in no time. In my research on the Internet I've found that not nearly enough emphasis is given to keeping your pile damp. Not sopping wet, but definitely damp. So once your pile has cooled down, turn it and mix it. This will move the compost from the outside of the pile to the inside (where it gets hotter). It will also add much needed oxygen to the mixture. Then, if the pile seems dry, water it.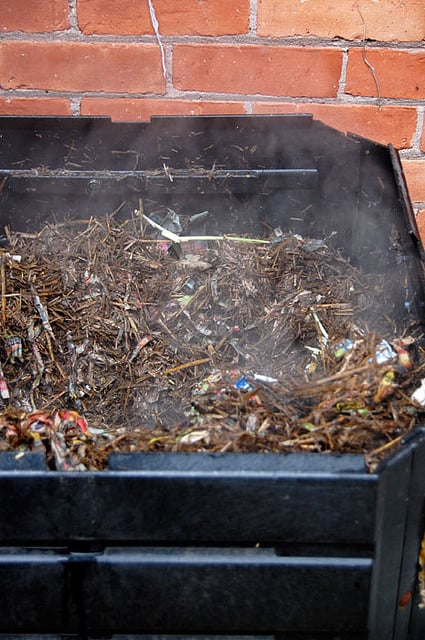 If you happen to have chickens you can let them do the work of turning the pile. Just let them loose on it for a day and it'll be all mixed up and turned ready to start heating up again. Otherwise, that tumbling compost bin I mentioned earlier makes turning your pile WAY easier. You just turn the handle and the bin tumbles away.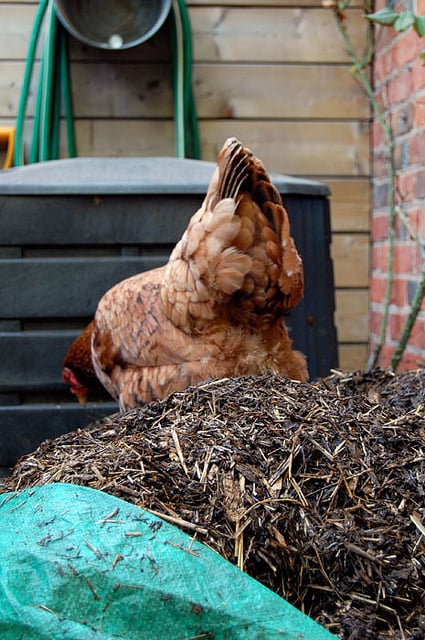 If you maintain this schedule of monitoring the temperature, aerating and keeping the pile damp you can have compost in as little as a month. Which coincidentally is also fun to throw at people. You'll know you have compost when it looks like soil and SMELLS like soil. As opposed to smelling like Keith Richards.
[os-widget path="/artofdoing/so-you-want-to-plant-a-vegetable-garden" of="artofdoing" comments="false"]