Before I became the crazy chicken lady I was the crazy cat lady on the corner. Frankly now I'm well known enough around the neighbourhood that if I didn't have any pets I'd just be known as the crazy lady.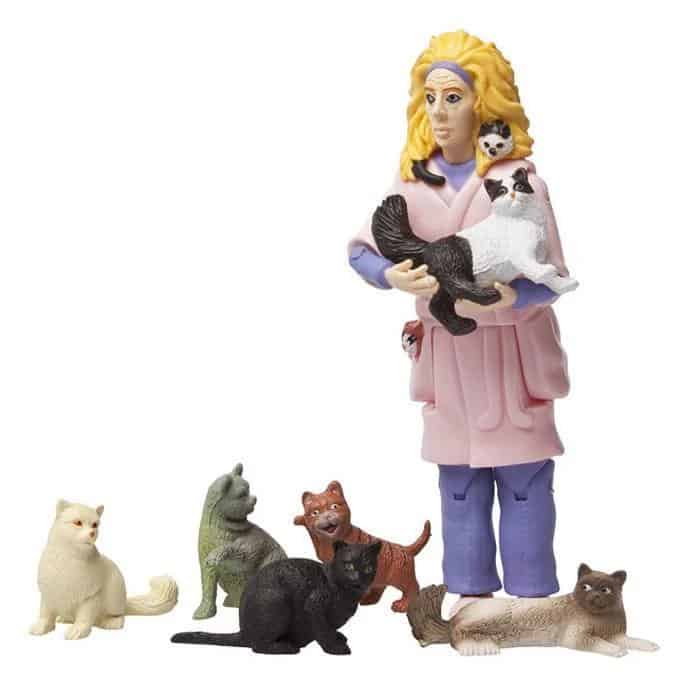 Why yes! This is an actual action figure set. You can get the whole set on Amazon.
I've always had cats. Go ahead, scorn me … look down on me … call me the crazy cat lady on the corner. I don't care because I love cats. I do realize that cat owners are on the lower end of the "cool" animal owner hierarchy; somewhere in between those who own guppies and those who own a marshmallow with a face painted on it. But it's not my fault I own cats. I had nothing to do with it.
I grew up with both a cat (Tibby) and a dog (Ellie). When I first moved out of my parents' house and into my own house, I wanted a dog. I perused all the dog magazines, researched text books and weighed the pros and cons of each.
Once in a while I'd even call a breeder to ask a few questions. I had high hopes for a rescued Greyhound, a Poodle or maybe even a Puli. I also looked at a couple of Papillons
I'm big on "P" dogs apparently. Such an exciting time with all the decisions, the choices and the anticipation! I was on the verge of picking out my most important friend. The one I would allow to poop on my lawn.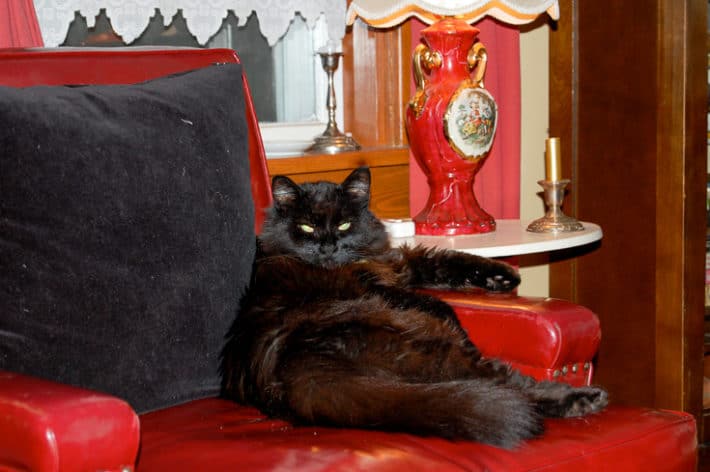 Then my stupid sister gave me a cat. A CAT! These things poop right in front of you in your actual house! She showed up at the back door one night holding out a huge black, 16 pound ball of the world's finest allergen - a cat.
She saw it in the window of an adoption facility and thought she'd pick it up for me. Kind of like a roast that was on sale. With legs.
Being almost incapable of making decisions (see first paragraph referring to my inability to even pick a breed of dog), it took me almost 2 months to name the cat. I kept mistaking my big black PRADA purse for the cat. Out of the corner of my eye, a big black purse on a chair looked the same as a big black cat on a chair. So … after 2 months of accidentally cooing at my purse, I named the big, black cat Prada.
I'll have you know I bought the PRADA purse out of the basement of a thickly accented woman I'd never met before for a considerable discount so I'm pretty sure it's real.
About a year after I got Prada, my other sister called me to say a friend of hers had to get rid of a little Siamese kitten because her husband was allergic to it. Did I want to go and look at it? YES I wanted to look at it! KITTENS!!!!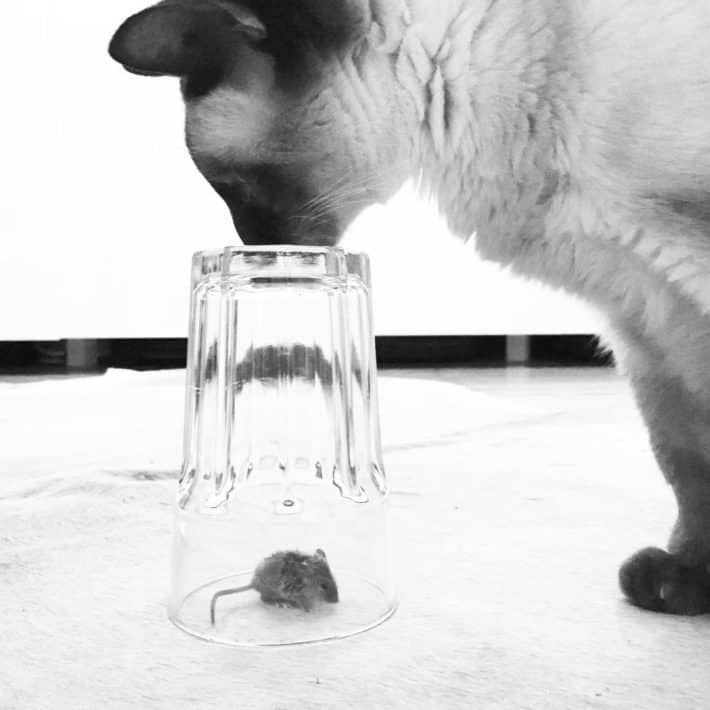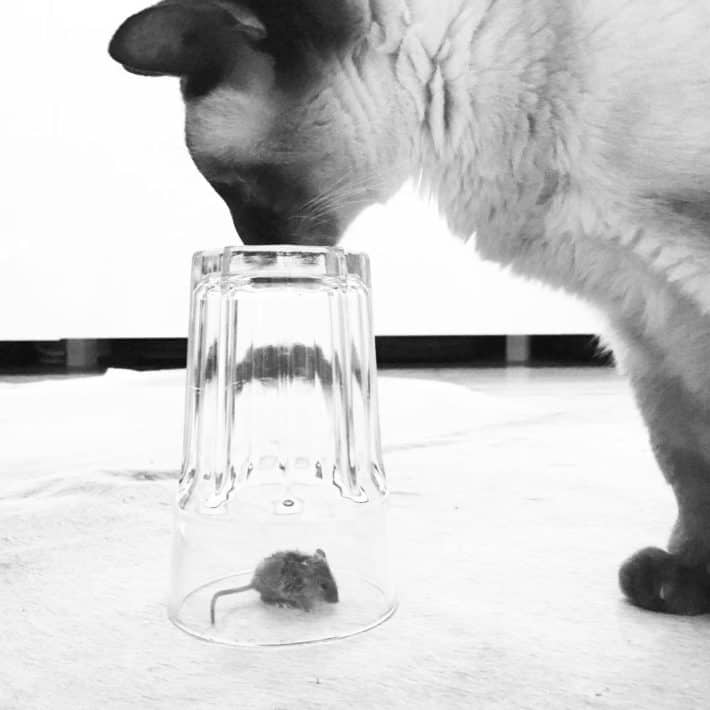 Enter … Cleo. Cute as a button. I was now the owner of not one, but two non-dogs. There was Cleo, who would rip the eyes out of a dog and Prada, who would then eat the maimed dog. Nope. No dog for me. Maybe after the cats die.
Prada. And a little bit of Cleo.
Well … in 2008 poor Prada did die. He got sick and had to be put down within about 5 days. He was the toughest, most majestic cat you've ever seen. To see him so helpless was awful. They were among the worst 5 days of my life. Just dreadful. The worst part was seeing poor little Cleo wander around the house without her friend afterwards. Well, friend would actually be a bit of a stretch. Over their 10 years together they never really warmed up to each other. In fact they tried to kill each other once every day or so.
So now I was down to one cat and the dream of a dog was a possibility again. Maybe I could get one. Certainly not a small dog. Something that could defend itself against tiny, tiny Cleo. Like a Russian Wolfhound. Or an actual wolf.
So there I was in the winter of 2009 flipping through the Dogs Annual magazine once again when I noticed that cat out on my front porch. A cat that had been appearing every few days. I had first noticed it back in the fall, but had forgotten about it. It looked a little moth eaten as my mother would say. In fact it's what my mother did call the cat - moth eaten. Betty's not one of those moms that thinks everything I do, have or say is terrific. If she thinks it, she says it.
I kept my eye on that cat and over the next few days I realized it was on my front porch every night from about 9 p.m. to sunrise. It looked very young. And very cold. Curled up in a little ball, outside in the middle of winter. That little cat had no home. I put a blanket out on a chair, which it slept on every night. More than once I looked out and it was asleep, covered in a light layer of snow
Did I mention I tried about 74 million trillion times to approach the cat? Every time I even opened the door it went tearing off. I could have cried thinking of that poor, freezing cat out there every night. It was obviously feral and had no interest in human contact. A neighbour said they saw it on their frozen pond trying to catch the fish underneath. I couldn't take it anymore.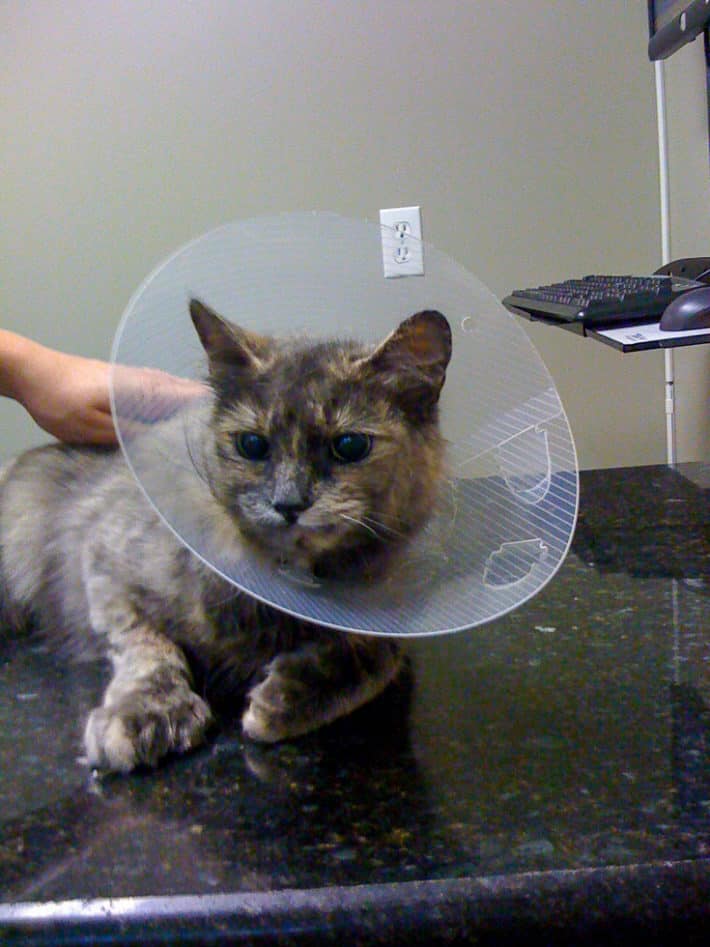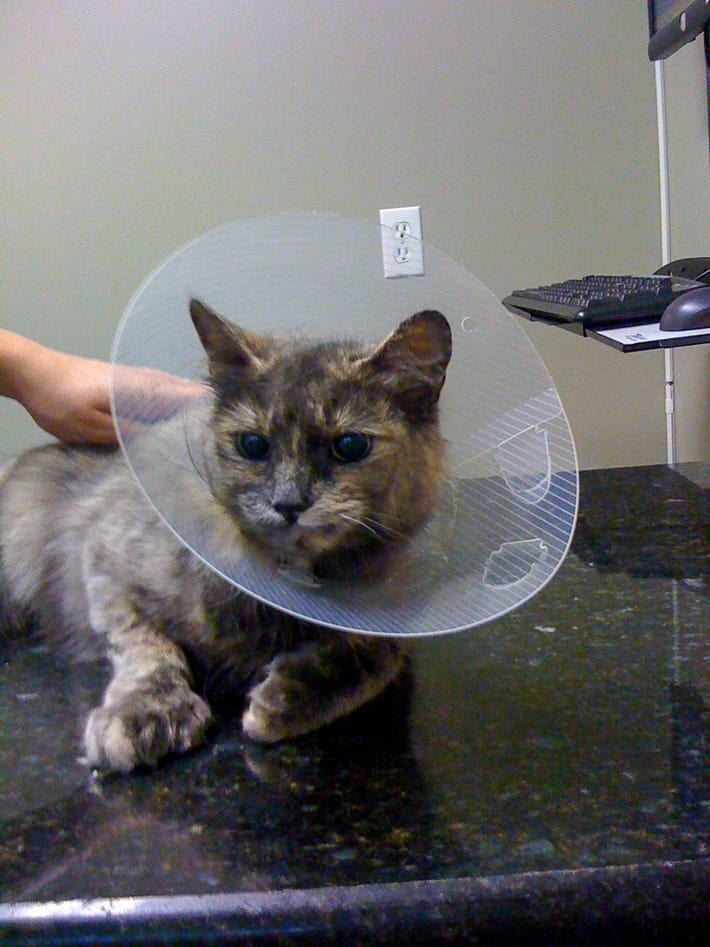 I spent the next 5 months getting the cat used to me. Yes. 5 months. There's that self diagnosed OCD comin' in handy again! You know those treats that cats jump through walls for on commercials? Temptations? They were very helpful in taming my scraggy, dirt coloured, wild cat. It was about 5 pounds, had frostbitten ears and waaaayyyyyy too many toes. 6 or 7 on each paw as far as I could tell. Regular cats have 4. She had feet that looked like they were constructed by Tim Burton.
That would make the cat a polydactyl. Ernest Hemmingway had a multitude of these cats in Key West which he provided for in his will. So, I named the feral cat Ernie.
By the middle of June I was able to get Ernie into a picnic basket to bring him up to the vet for a once over. Ernie, who I discovered was actually an Ernestina, got her shots and was given a surprisingly clean bill of health for such a scraggy looking cat.
After one more week of living outside (so I could be sure her vaccinations had taken effect) I brought Ernie inside to live with me and Cleo.
In the 10 years I've had Ernie she's had absolutely no desire to go outside ever again and spends most of her days spread eagle on the floor just looking happy.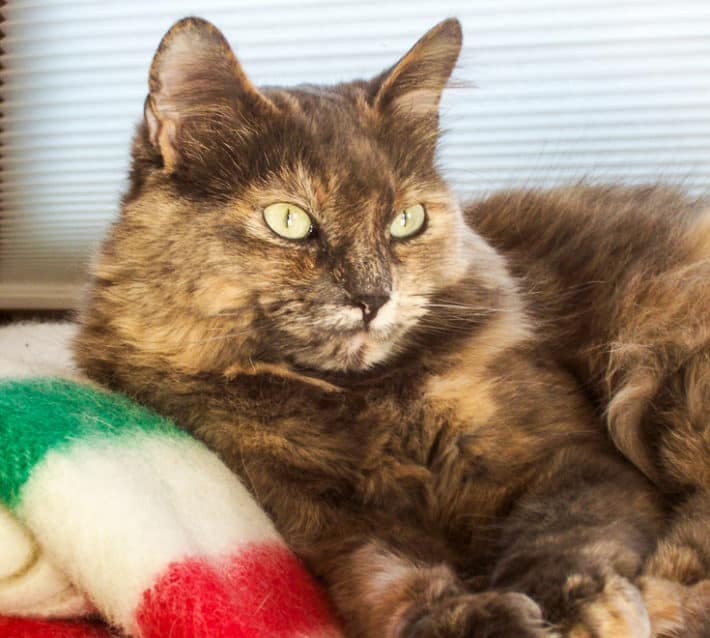 So I was back to having 2 "not dogs" for several more years until I had to make the decision to have Cleo put to sleep after I couldn't do anything more to make her feel better after 3 years of suffering with renal failure.
Also somewhere in there I got a yard full of chickens.
Currently, at this very moment, I have 3 geriatric chickens who would just as soon do a one armed cartwheel as lay an egg. And a single, solitary cat. Ernie.
All this to say, you'll never guess what! I'm thinking of getting a dog.
Now that I've said it out loud I fully expect to open my shutters tomorrow morning to a slew of paparazzi incessantly photographing the miraculous appearance of a colony of cats on my porch.

→Follow me on Instagram where I often make a fool of myself←