If you're in a relationship (that's less than 5 years old) you may very well get a dozen red roses today (unless he's smart and you're forgiving, in which case he'll wait until tomorrow when they're half price which is actually regular price).
Red roses have come to be synonymous with Valentine's Day.  They're right up there with cinnamon hearts and that little fellow Cupid.  Because nothing says romance like a crossbow being pointed at you by a doll sized man who for some reason either due to illness or age has incontinence issues.   Quite frankly, I think in this scenario, the wrong person is wearing the diaper.
Because of this, today I have for you,
How to Arrange A Dozen Roses
And let me tell you ... it ain't easy.  Chances are if you get a dozen roses today, that's exactly what you're going to get.  One dozen roses.  No filler, no leaves, no fluff.  Twelve Roses and a bunch of pretty tissue paper and cellophane.  Because of this, in my opinion, one dozen roses are probably even more difficult to arrange than the dreaded Grocery Store Bouquet.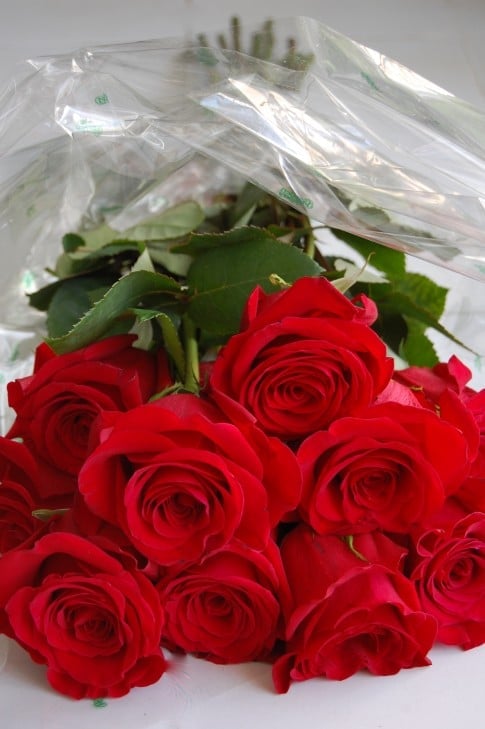 The biggest mistake people make when they get a dozen roses is they a) are afraid to cut the stems and b) put them in too large a vase.
Exhibit A.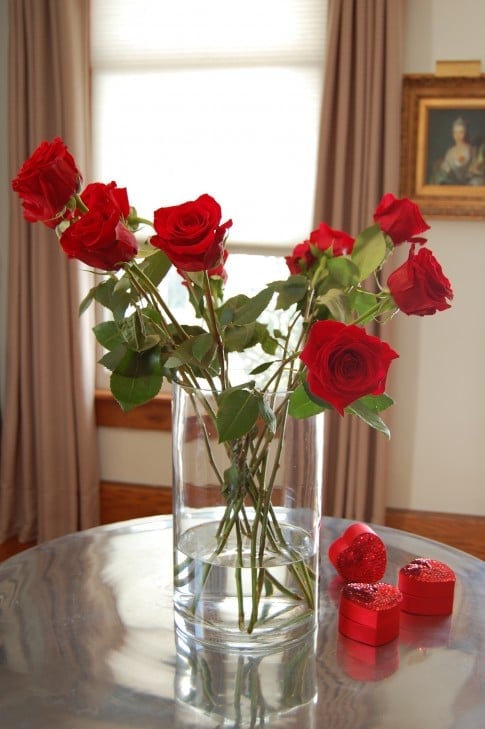 Look familiar?
If you INSIST on leaving the stems long, tie them together with a string or piece of raffia about halfway up the  stems.  This will at least hold the roses in a slightly more pleasant shape.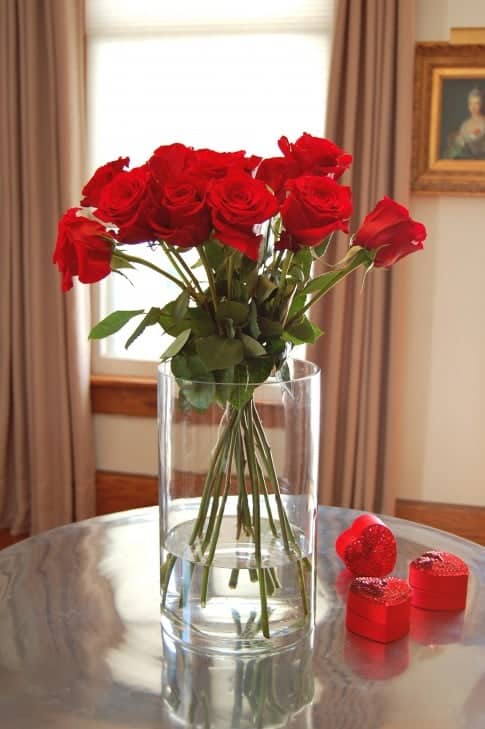 They're still a tiny bit ridiculous in my opinion.
But I know there ARE a few of you out there who simply will NOT cut the stems.  So this is for you.
A slightly more modern approach is to tie the stems together the same way, but allow the bouquet to lean against the side of the vase.
Like so ...
If you happen to have a few sticks or branches around this'd be a good time to use them.
Like so ...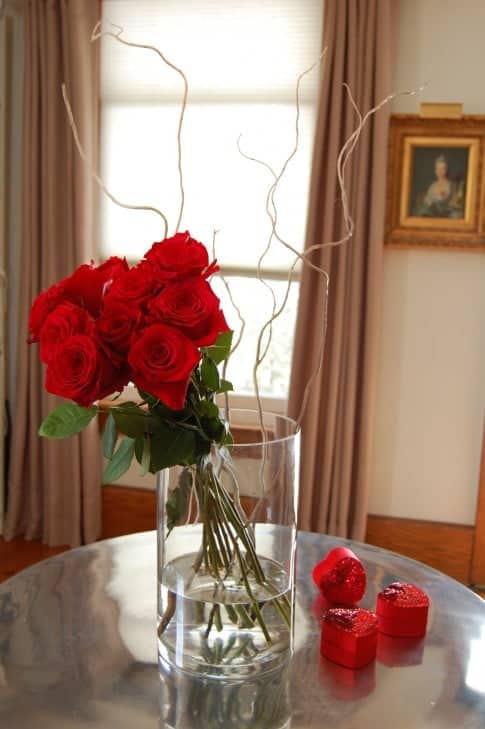 A better bet is to CUT the stems of your roses and put them in a much smaller vase.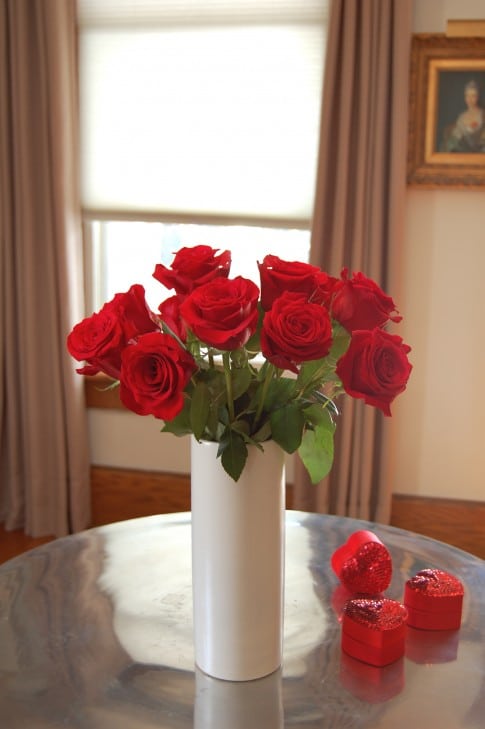 And don't forget, you don't have to put all the roses in one vase.  Splitting them up between a few vases can be quite a striking arrangement if I do say so myself.  I'm using 3 identical vases of different heights here, but you can use anything you want.  Just make sure there's something that connects the 3 vases.  Colour, size or shape.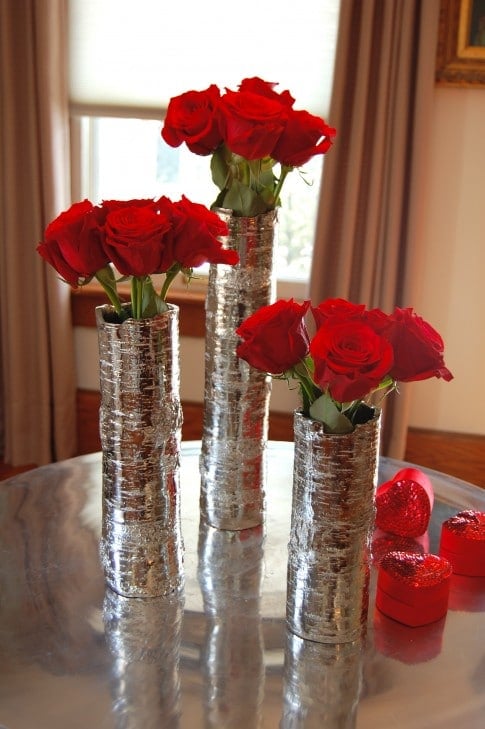 And if you want your roses to last as long as possible, do the Fussy Tussy Mussy.
Roses last the longest when you smash them together a bit, allowing each flower head and stem to support the other.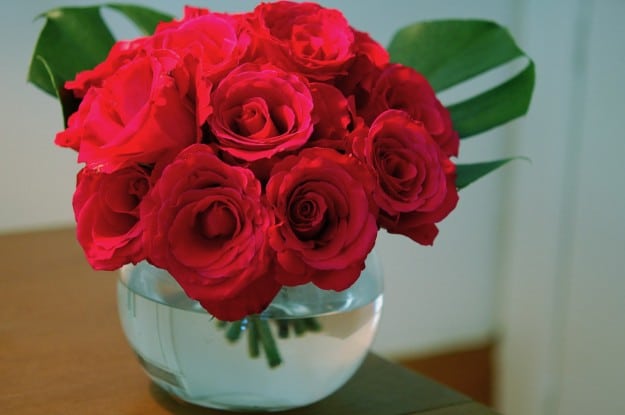 For Fussy Tussy Mussy instructions click here.
Now ... what if he/she only brings you one rose?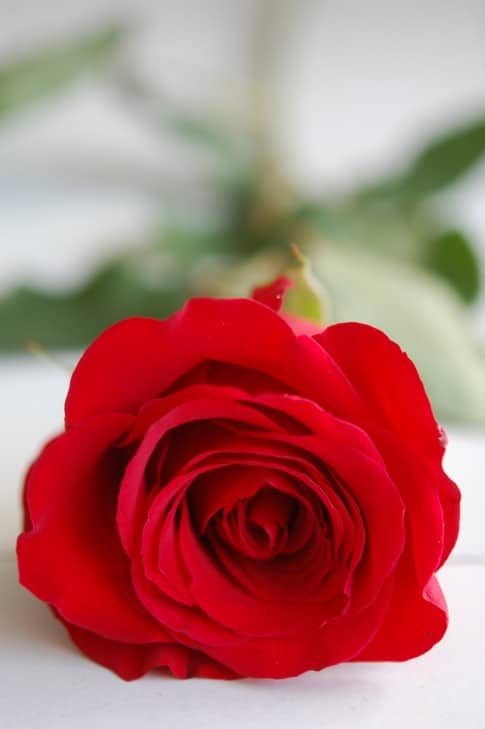 Well then, rip it apart and do this ...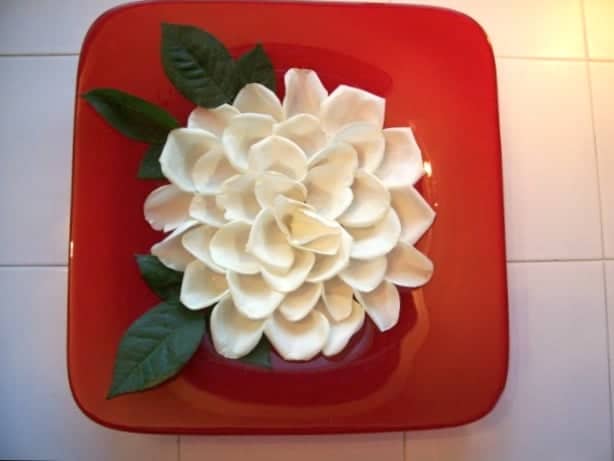 For Rose Bowl Instructions click here.
And just before I let you get back to your work, or childcare or nightcap let me quickly tell you the story about how I got the red roses for this post. I went to buy them at my regular grocery store but when I got them to the cash they were considerably more money than they normally are.  Something about the growers raising the prices for Valentine's Day, then the wholesalers and then the store.  So I refused to buy them.  It was 7 days before Valentine's Day!
I then went to my local garden centre in a huff.  Roses there were still $12.99.  Unless they were red.  In which case they were $30.  I stood in the cooler for a full 20 minutes deciding whether or not I could photoshop the orange roses to look like red for my Valentine's post. This led to a few questioning looks from the florist. I explained my dilemma and cheapness.  She offered to give me some fully blown red roses for half price.  Out of pity.  I got a pity posy.  And I was fine with that.
And just so you know, in case you didn't get any ... I too won't be getting red roses this year.  I've instructed my boyfriend never to buy me red roses on Valentine's Day because of this exact type of money grabbing fiasco.
The very first year we were together we came up with a nice solution to my not getting roses on Valentine's Day.  Instead I get a dozen roses during every other week of the year.  I think it's a nice compromise.  And it's certainly nicer than messing your pants from having a crossbow pointed at you.
→Follow me on Instagram where I often make a fool of myself←