So you're wondering about building your own wood fired pizza oven? Good for you. So was I! So I did the research, built my oven and love it. This is part 3 in my step-by-step guide to building your own pizza oven.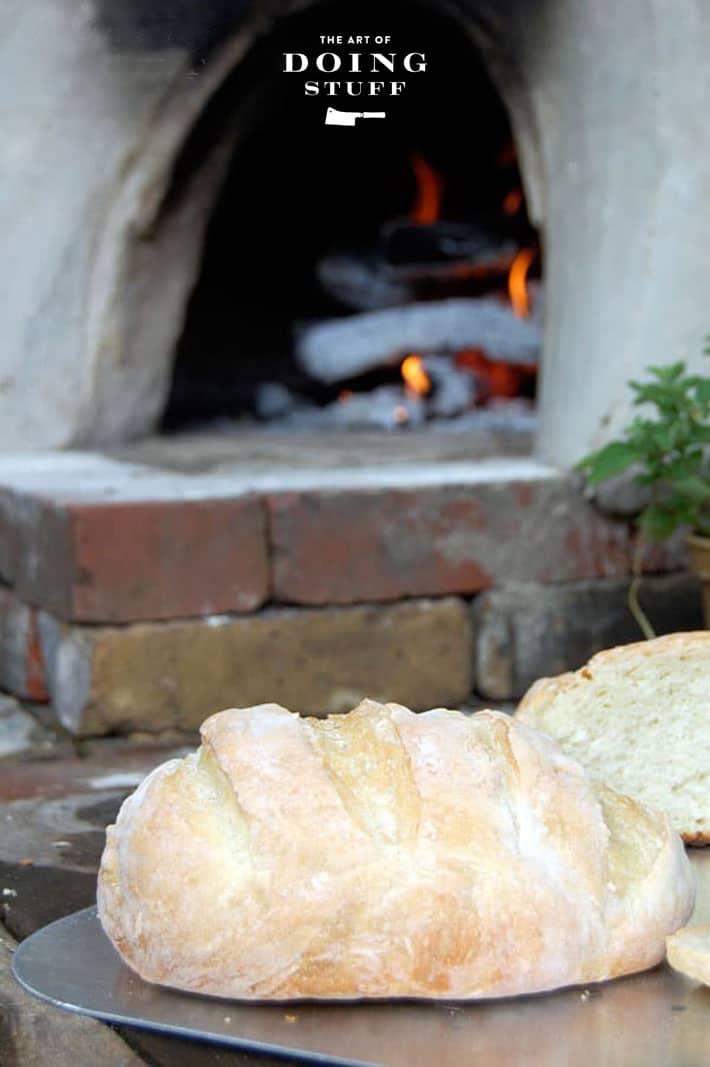 Welcome to the final tutorial on how to build your very own cob pizza oven so you can be the envy of every single person you know. Unless they too happen to have built a cob pizza oven. But yours will probably be nicer soooo you're still going to be the envy of every single person you know.
So far I've shown you how to build your pizza oven base, create your sand form and mix and apply your cob.
The first cob layer of your oven is the thermal mass layer. It's what heats up. And does it ever heat up. A pizza oven like this will generally heat up to anywhere from 800 - 900 degrees Fahrenheit.
It's those temperatures that create the perfect pizza. A crisp crust and bubbling top that cooks in around 2 minutes.
Some people say 90 seconds but that hasn't really been my experience. 2 minutes really is closer to the truth.
That really high temperature is important so you want to do everything you can to hold in as much heat as possible. That's where the insulation layer of your oven comes in.
The insulation layer is made up of a mixture of lay and straw which is has great insulating properties because of the air in the centre of each stick of straw.
The insulation layer is really just straw with enough clay mixture to make it bind together. There's WAY more straw than clay.
When all of your insulation layer is mixed up you can start applying it over your cob oven. It needs to be a minimum of 4 inches thick. The thicker the better. If you have it in you to do 6 or 8 inches you'll lock in even more heat.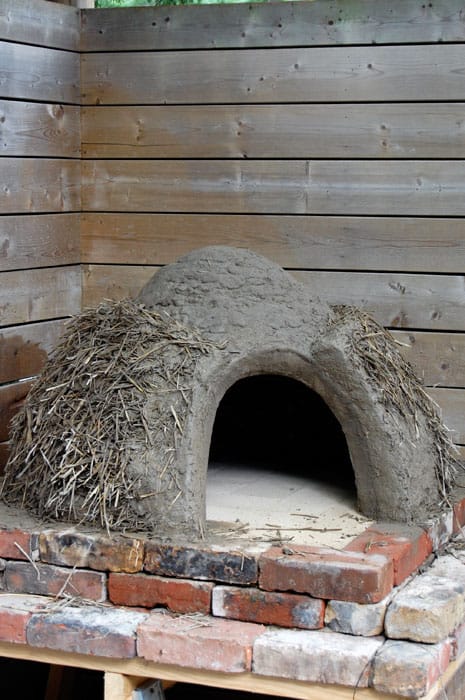 It's quite obvious from the male pattern baldness that mine is a male pizza oven.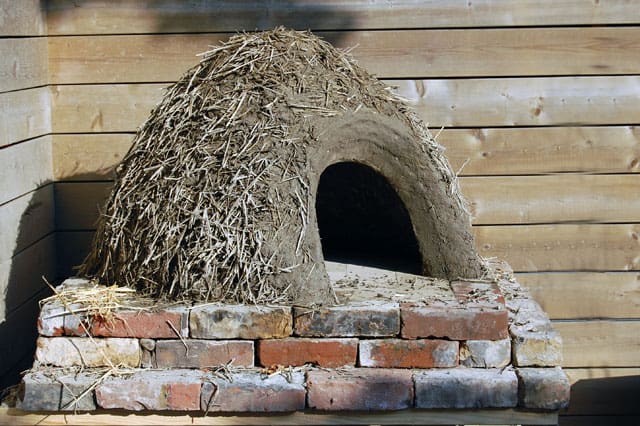 So after the insulation layer you're left with something of a muppet. Now I don't necessarily mind having a pizza oven that looks like Animal, but I knew I wanted something neater for my backyard. I also knew I wanted to do a layer of lime plaster over my oven. Applying the lime plaster would be a lot easier over a smoother surface.
So I did a very thin layer of the original cob material (made of clay and sand) thinned out a tiny bit.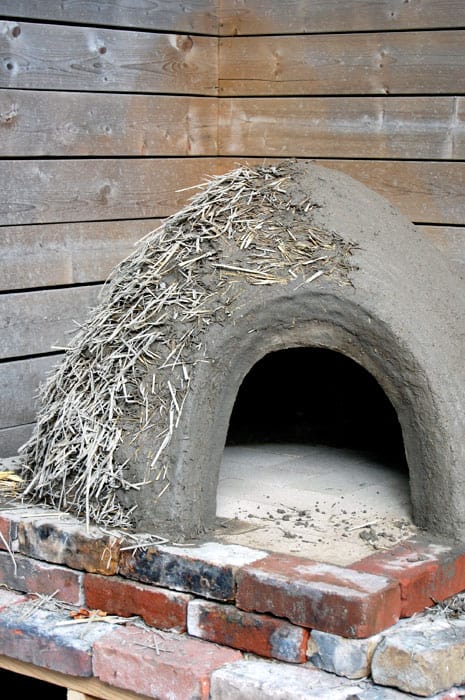 Here's a tiny instructional video. Very tiny. Slightly instructional.
Insulation layer of cob oven
Mixing up the insulation layer for a cob pizza oven.
Now if you want, this can be the end of the pizza oven building, but most people like to weatherproof it. The cob will eventually just wash away if you don't protect it from the rain. It'd take a while, but it would happen.
So if you want this oven to last you have to do a layer of lime plaster over it. Lime plaster (made with powdered hydrated lime) is the best thing to use to weatherproof your oven because a) it's waterproof and b) it breathes. Like a porpoise.
A pizza porpoise.
I finished the insulation layer of my oven late last August or so. I didn't get around to the weatherproofing lime layer until a few weeks ago so I had to keep my oven covered with a tarp all winter and whenever it was raining.
The hydrated lime needs to sit for a few weeks at least to make it useable. You mix the powdered lime (you can get powdered lime at construction supply stores and stores that sell landscaping stones) with water and let it sit to "slake". The longer it sits, the more water it absorbs the better consistency it will be. The lime plaster then needs to be mixed with sand and applied to the pizza oven with a trowel.
This step has to be done in moderate temperatures with no chance of frost for a while. So because of the timeline I couldn't do my lime plaster step until the beginning of this summer.
The oven gets a minimum of two (3 is better) coats of lime plaster. One part hydrated lime with 3 parts sand. Each coat needs a week in between to cure. You don't want the lime to "dry", you want it to cure by reacting with carbon dioxide in the air. So you need to throw a tarp over the oven for a week to let it properly cure as opposed to air dry.
I meant to get to how I finished the base of my pizza oven today too but there just wasn't time. Besides. You can only absorb so much in any given post before you stop caring. So I'll show you the base and explain a little bit of how I did it later.
I'm finally done every step of my pizza oven and tomorrow I'll have a video showing you the whole pizza making process from the lighting of the fire to the eating of the pizza.
If THAT doesn't convince you to build your own pizza oven nothing will. If that's the case, that's O.K. You don't HAVE to build a pizza oven. I mean you're your own person. You don't have to do what all the cool kids are doing. It's perfectly fine to be like everyone else.
But it's better to be like me.
LOLOLOLOL! Oh my lordddd. I REALLY made myself laugh with that one.

→Follow me on Instagram where I often make a fool of myself←