Make your freezer twice as big and twice as easy to find things in by using these 3 tips.
People are always asking me how I get so much done.  Part of it is because doing things is literally my job, but mainly it's because I'm a doer.  I like to start, do and finish things.  That makes me a doer.  The thinkers among you are way smarter than me, way more insightful, and would probably do a far better job at all of the things I do … if you could ever stop thinking and actually start doing.  But you don't.
Then there are the starters. The people who like to start a job to see how it's going to look or work and once they've done just enough to see that … they stop. These are the people living in homes with one strip of wallpaper on the wall, one refinished floor board and an exercise bra that's been exercised in exactly once.
But there's one other small way I get things done. By taking the time to organize shit. When I redid my entire house on a whim my whole life got easier. I knew where things were, I knew when I was running out of toilet paper and when someone wanted to borrow a book I could shoot my arm out like a Jack-in-the Box and pull it back with that book in my hand. This kind of organization takes time, a lot of time, to do, but in the end it saves you even more time. And it honestly does. It's not like when people say installing new windows will save you money in the long run. It won't. The long run would have to be 250 years long for you to save the money those windows cost. You will be warmer in the winter and have a better view of your neighbours fighting though, so it's still kind of worth it.
When I redid my kitchen I also redid my mudroom, which I've never shown you. What I did was remove the pantry from my old kitchen and dragged it into my mudroom. My neighbour who helped me pull it out in one piece thought I was crazy. Maybe I am. But the pantry idea isn't proof of that.
I then trimmed the pantry in and built some shelves to the left of it and framed them in along with my upright freezer. Add a door to cover up the freezer, paint everything the same colour and BOOM you have a good lookingish mudroom for barely any money.
Wait. That wasn't the point of this post at all. The point of this post was how to get twice as much stuff into your freezer. O.K. Let's talk about that.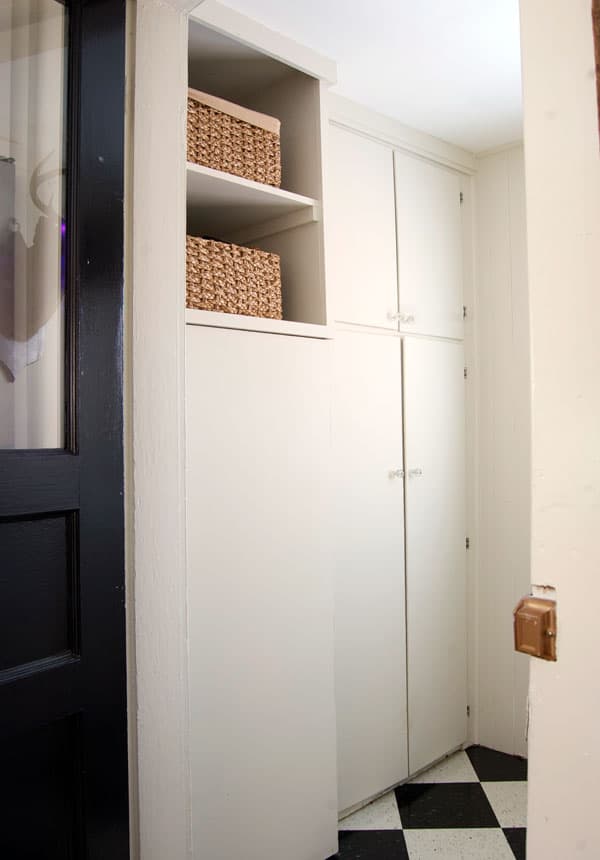 But before we do take a look to the right and see the one thing that really improved my mudroom. It's a shoe closet from Ikea. I've wanted it for years now but could never be bothered to actually go to Ikea, drag it off of their warehouse shelf and bring it home. Just before Christmas I had enough time to do that. I had enough time because I took the Christmas Pledge by the way.
So now that my mudroom was lookin' so organized it was time to REALLY organize my freezer. This is my freezer "before" shot. I know. It looks pretty organized already right?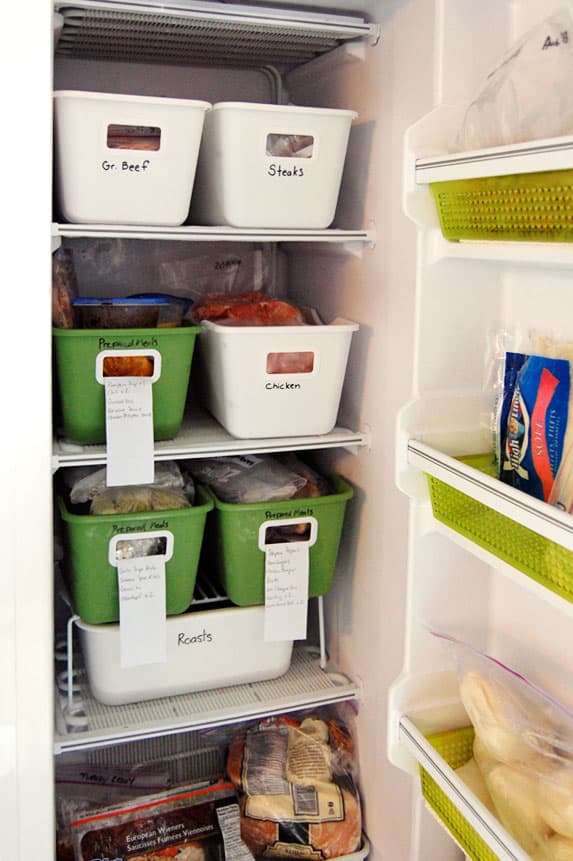 But here's the thing. Take a look at the photo again. LOOK at all the empty space. Everywhere there's emptiness is a spot that actual food could be stored. I'd sometimes try to compensate for that by piling food up higher and higher in the containers. It was always a crapshoot as to whether a falling filet or a bag of perogies would be the thing to break a toe when I opened the freezer.
When I was up to 9 mini-marshmallow sized casts on my toes I started to look for better containers for my freezer. Ones that would take better advantage of the space and let me fill up the rest of my freezer. No joke, it took months to find the right sized containers. And these still aren't exactly right. For them to be MOST efficient they should have straight sides so there are no gaps in between them, but I gave up on finding straight containers that were also the right size in terms of width, depth and height.
Behold the Organized Freezer 2.0.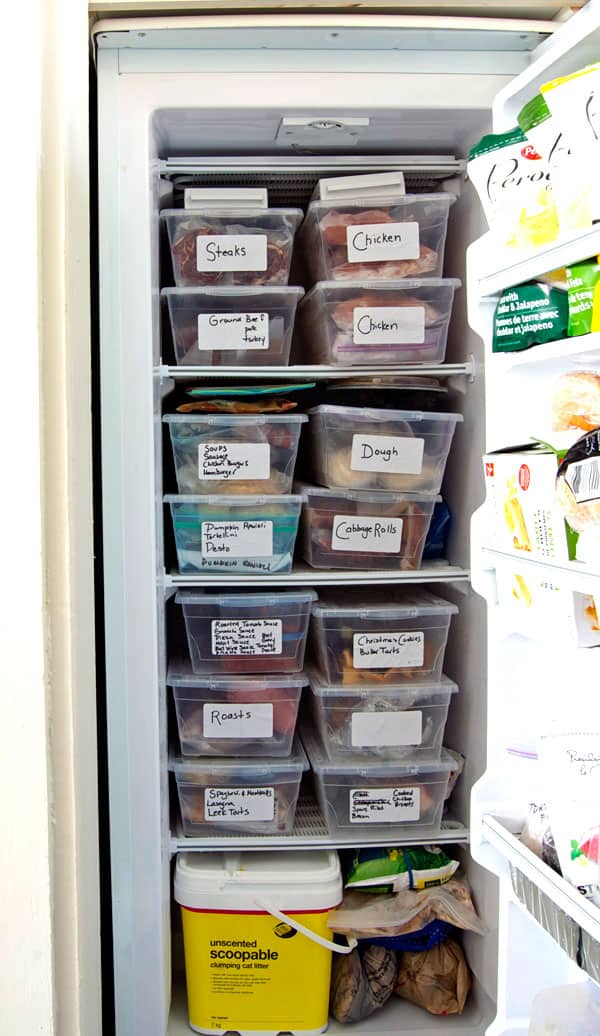 Putting all the food into better sized storage containers has done 2 things. It's used up almost all of the available space in the freezer, but even more importantly it allows me to see exactly what is in every inch of the freezer. The containers are clear and they're labelled. Anyone who has ever owned a chest freezer knows what happens when you can't see what's in your freezer. 7 year old containers of weird gummy goo that used to be ice cream. That's what happens.
A disorganized freezer means there is ice cream in this world you are being deprived of eating.
Stop this craziness now.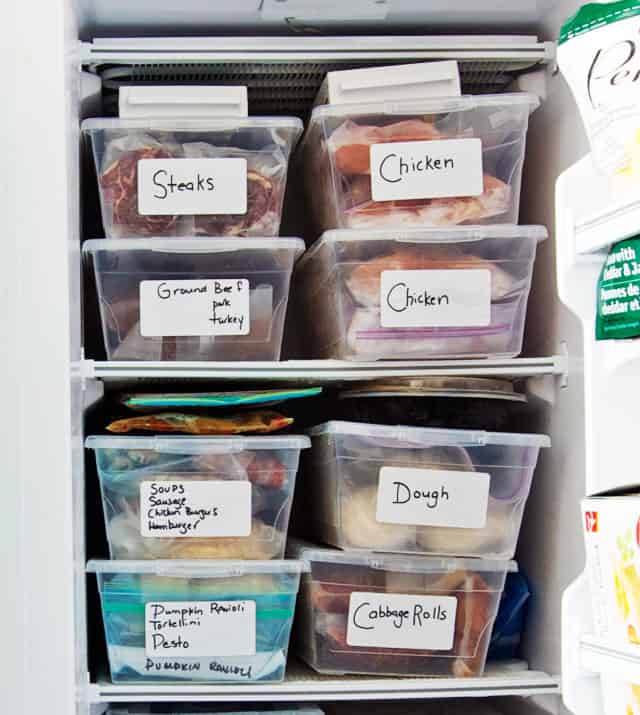 Just by using these new containers (which I got on sale for $1.49 each) I've increased the amount I can fit into the freezer by almost double.
Add in this next tip and you'll love your freezer so much friends will think you met on Tinder. Because Tinder is all about love.
FREEZE IT FLAT
If you can freeze it flat in a baggie, DO IT. Soups, stews, gravy, sauces, broth … anything that doesn't have big bones sticking out of it can be frozen flat. Just pour whatever it is into a baggie, lay it flat in the freezer (putting it on a plate or baking sheets helps keep it really flat) until it's solid and then stack them. Freezing everything flat will gain you all kinds of space in your freezer.
Plus it makes things easy to flip through and when it's time to use it, flat baggies defrost quicker.
That's really all there is to gaining a ton of space in the abyss you call your freezer.
1. Store everything in clear containers that use all of the available space in the freezer.
2. Label the containers so you can find everything easily.
3. Freeze it flat.
Sound good? Now stop thinking about it and just do it. (Nike really has something there with that phrase). And once you start doing it, finish it. That's all there is to getting stuff done.
Well that and a little bit of crazy.
[shareaholic app="share_buttons" id="5342563"]