I thought I'd give you just a quick and easy way to create some floating candles this weekend. A little project that has immense reward with very little effort. Almost none in fact.
Something even easier than what I showed you yesterday with How to Make Floating Candles Part I.
All you need are tea lights, which I'm sure 90% of you have right now, and one little tip.
How to make a floating candle out of a tea light.
Take your tea light.
Pop it out of the tin cup and flip the candle over.
Light another candle. You can use any candle at all.
The important tip!
Drip some wax over the base of the tea light, covering the metal thingamabob holding the wick.
This seals the candle and stops it from taking in any water (which would put it out).
Do NOT remove the metal thingamabob from the bottom of the candle. It helps to keep the wick upright which therefore helps keep the candle lit. Just drip the wax right over it.
Stick your candles in a bowl and admire.
When they're prepped like this, the candles will stay lit for at least 2 hours.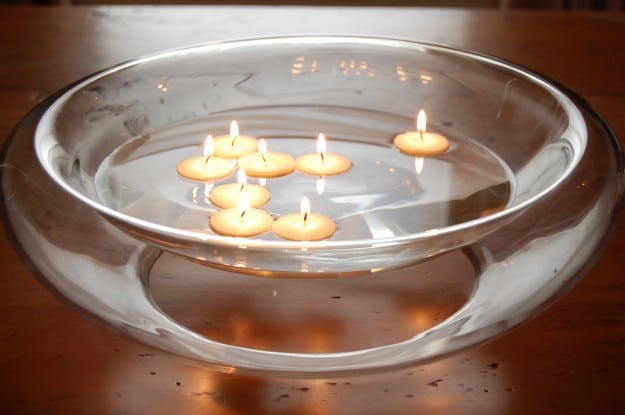 If you don't use this little tip and you just stick the tea light in the water without sealing it, they'll go out in about 15 minutes.
There's something very calming about candles. Plus they make very beautiful lighting that enhances everything (and everyone) around their glow.
Have a good weekend!