How to make THE BEST pizza at home. Wood oven style pizza made right in your regular oven. A post that's been yearsssssss in the making.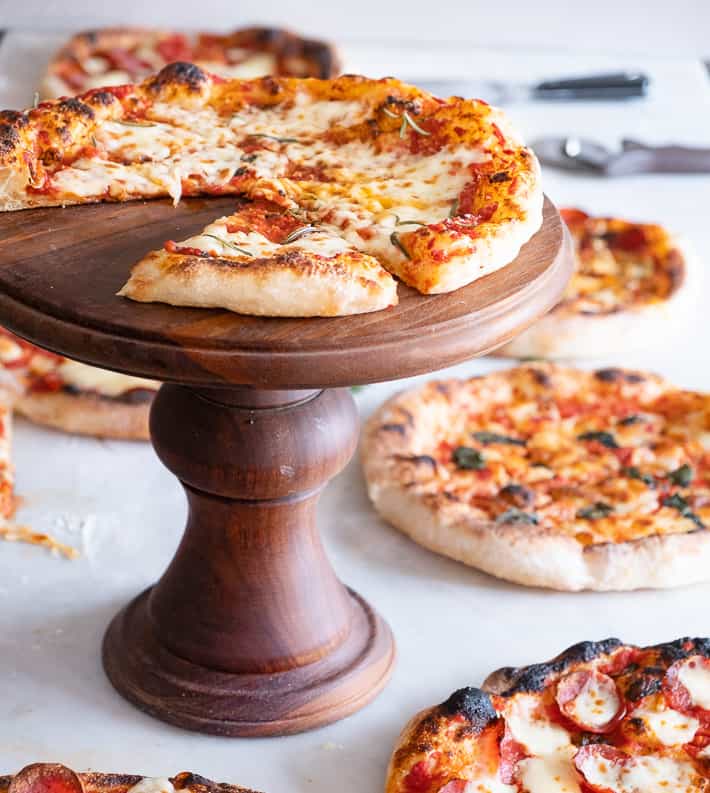 I've been making pizza since I was around 13 or 14. It's the second thing I learned how to make, the first thing being french fries of course. Looking back on my original pizzas using store bought dough, sauce and cheap pepperoni I'm moderately horrified at my results. The crust was gummy and limp and the pepperoni hard as a rock. But I ate every bit of it and continued on my perfect pizza making quest for the rest of my life.
That of course led me to the tipping point of crazy in my pizza life, when I built my own wood fired pizza oven. You can read about how to make your own pizza oven right here. I'm amazed at the amount of my readers who built their own oven after reading my posts on it.
Today I'm going back to basics with how to make a restaurant quality pizza at home in your own oven with store bought dough. Because frozen pizza is for suckers of prison inmates. I said it. And I mean it.
How to Make Perfect Pizza at Home
---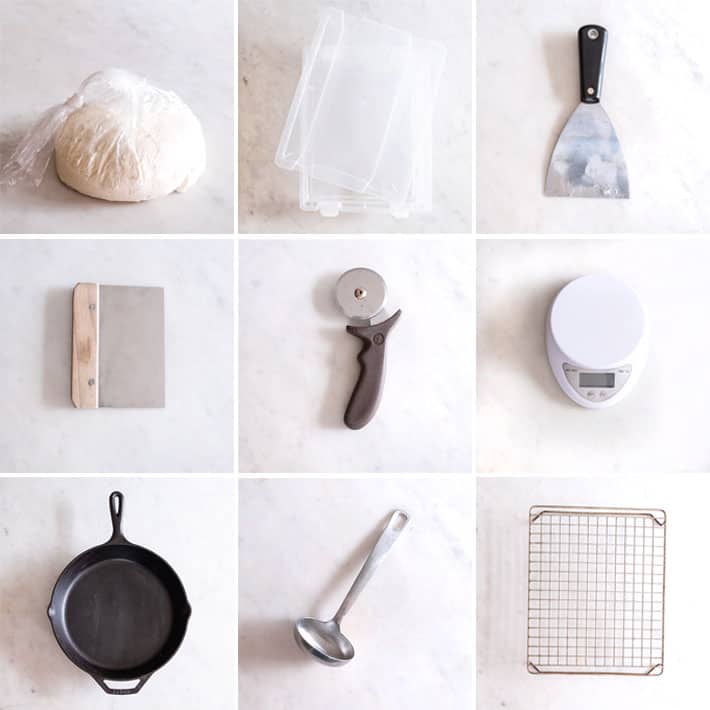 Store bought pizza dough.
Plastic bin with lid for "proofing" dough.
2"-3"Putty knife.
Dough scraper
Pizza cutter or scissors
Scale
12" cast iron pan (centre should measure 10")
⅓ cup ladle
Cooling rack.
---
Click here to go to a curated list of all my pizza making supplies on Amazon. EVERYTHING. All in one place.
---
Don't worry, you don't need everything on the list, only the things that are in bold. The dough and the cast iron pan. Everything else just makes your life easier. The more pizza you make the more you should consider getting these extras.
---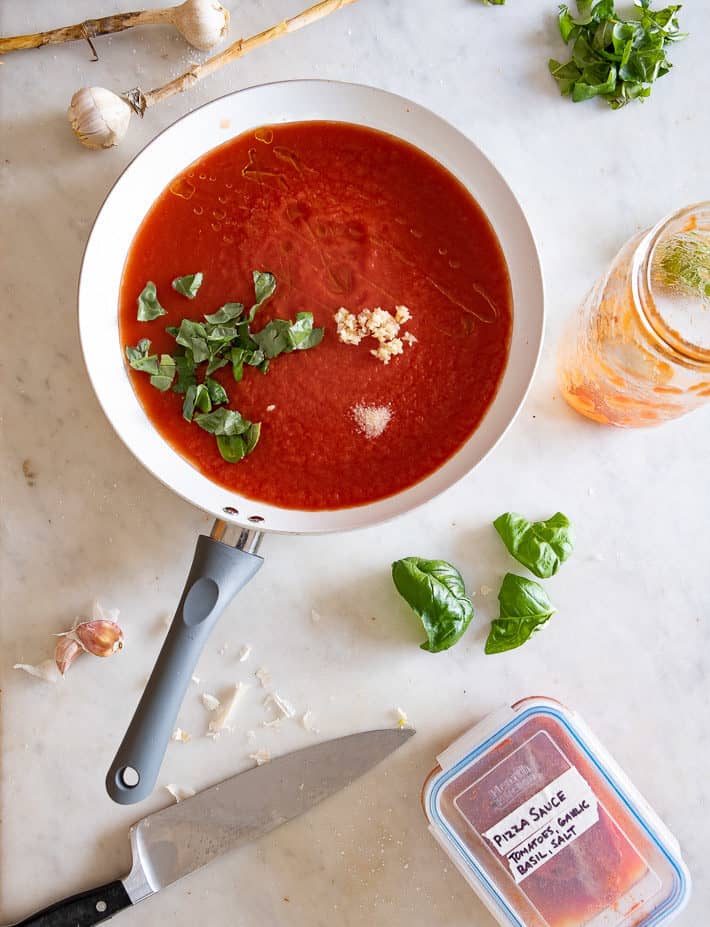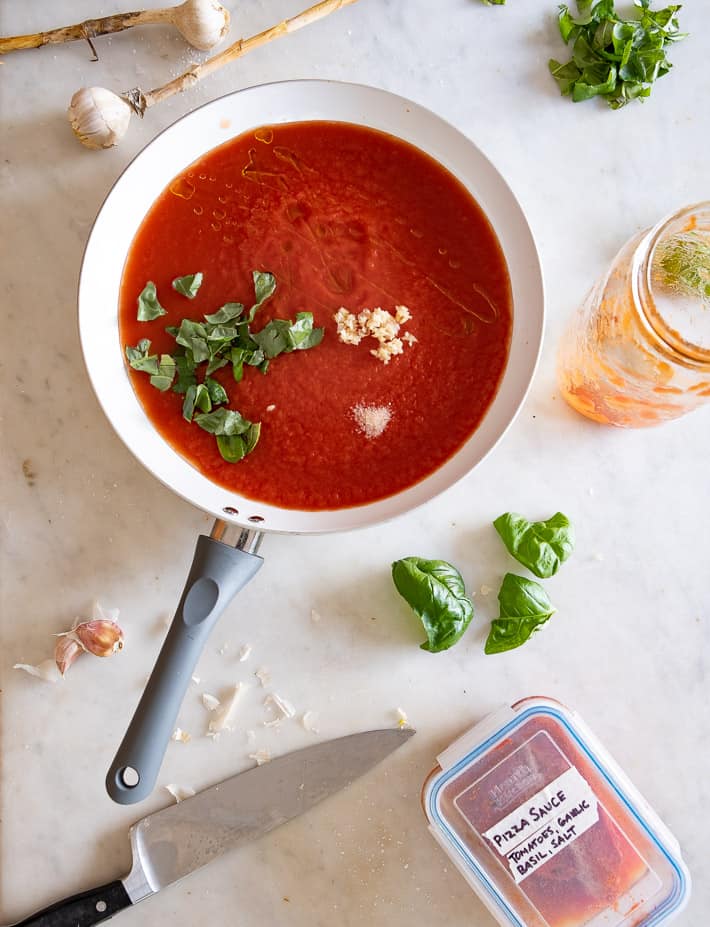 I'm saying to use store bought dough, and you CAN use store bought sauce as well, but homemade sauce will make a huge difference in how your pizza tastes. In fact ALL the toppings should be carefully selected. I'll guide you through all of them.
---
Homemade Pizza Sauce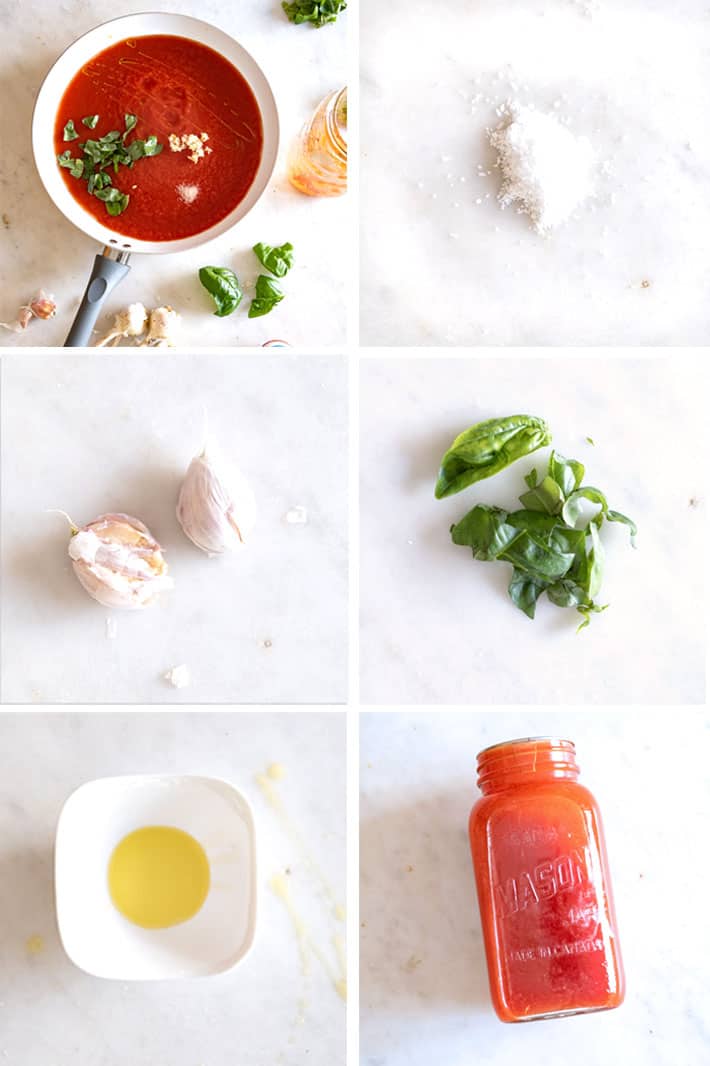 Salt
1-2 cloves garlic
5 large basil leaves
Drizzle of olive oil
1 litre pressed tomatoes or the equivalent of canned tomatoes.
Mix all the ingredients in a sauce pan and simmer until thickened slightly. This should take 10-15 minutes.
If you're using canned tomatoes, mush and crush the tomatoes with your hands before simmering.
---
The Dough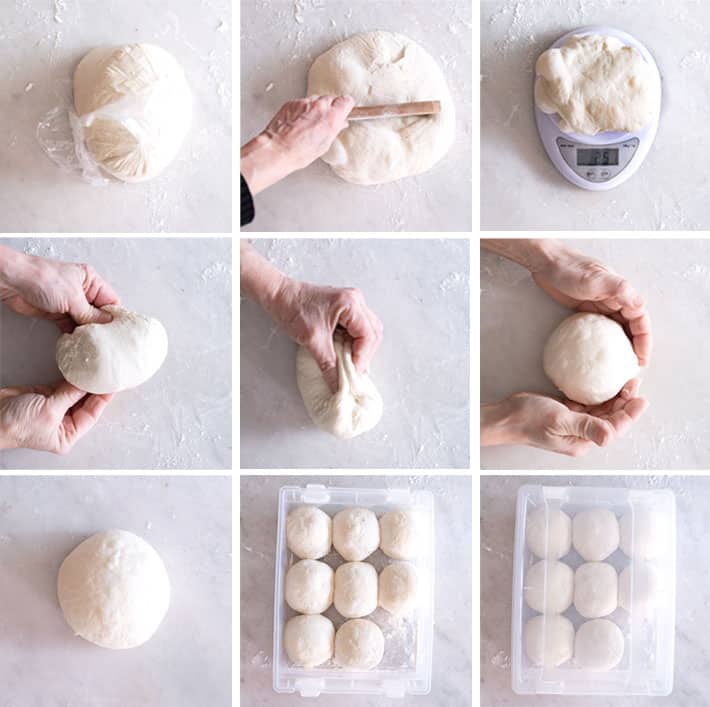 The day you bring your dough home from the store, divide it into 250 gram pieces.
Form each piece into a tight ball by stretching the sides of the dough and tucking them underneath. Keep doing this until the top of the ball is nice and tight. I also pull the ball towards myself on the counter to help create a tight surface, but you don't have to do this. Just stretch and tuck.
Your dough should be round, tight and have no air pockets on the underside of it. Pinch the bottom of the dough ball together if it needs it.
Put all your dough balls into a proofing box. This is where the plastic bin comes in handy. If you don't have a plastic bin, then put your dough onto a flat cookie sheet and cover with plastic wrap or a large bowl.
Cover your proofing box with its lid.
Let the dough rest in the fridge for 1-2 days. (you can let it rest for as little as 2 hours, the quality just won't be as good)
Technically you shouldn't let your dough touch because it will stick to the other balls and deflate when you struggle to remove it from the proofing box. To help with this you can dip each ball of dough into flour before you put it in the proofing box. Literally place the whole dough ball into your flour bin, shake it off and then put it in your proofing box. If your dough isn't touching there's no need to flour it.
---
Letting the dough rest for a full day or two improves the quality and crumb (texture/air holes) of the pizza crust. You get nice big pockets of air in the crust.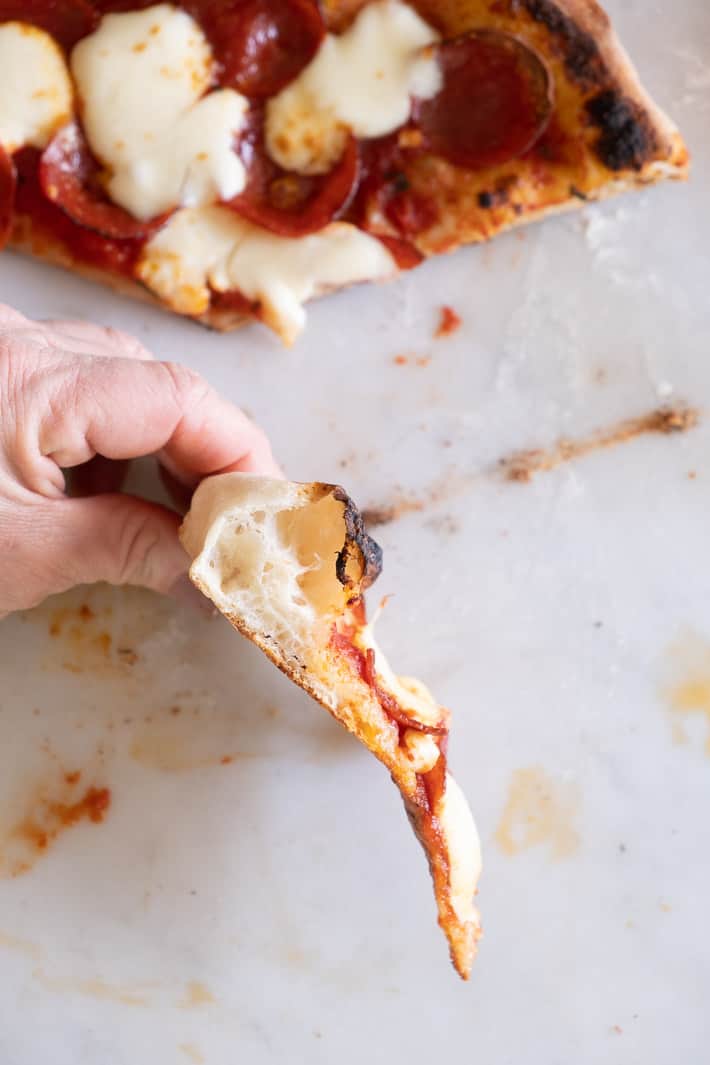 ---
Forming the pizza

First things first ... do NOT roll your dough with a rolling pin. What makes pizza crust delicious and perfect is that it's filled with air bubbles. That makes it light, chewy AND crispy. If you roll the dough with a rolling pin you're smashing out and squishing all those air bubbles the yeast made. If you're going to roll your dough you might as well just put a tablespoon of tomato paste on a cracker and call it a day.
Remove the dough from your proofing box (or cookie sheet) carefully. You want to retain the shape and air in the dough. Dipping a putty knife in flour and using that to cut and lift the dough works well.
Put your dough onto a well floured surface so it doesn't stick. Your dough will be sticky.
Gently flatten the dough out into a disc with your flattened hands.
Starting in the centre of the dough, and using your finger pads (fingers placed close together) push down on the dough, working the air bubbles out towards the crust. You aren't making your dough disc bigger at this point, you're pressing the air into the crust. Just gently press your fingers over and over from the centre of the dough to the edge. This will naturally form a crust that's filled with air pockets.
Hook your finger pads on the underside of the crust edge, while holding the rest of the dough down with your other hand. Gently pull the crust outwards until you feel resistance.
Once you feel resistance, flip the dough over your other hand, and give the dough a quarter of a turn.
Repeat this until the dough is a 10" circle.
This is technically the right way to stretch dough. I prefer to spin it over my head like I'm living in a pizza cartoon because that's the way I taught myself to stretch dough. To begin with just stretch your dough out any way that feels natural to you. Google stretching dough. There are many methods.
If the dough feels tight and like it doesn't want to stretch, cover it with a damp towel and let it rest for 10 or 15 minutes. It's just angry at you. It'll get over it in.
Dough Forming & Stretching Video
---
I am *just* practicing this technique and after practicing on a few more balls of dough I discovered a) it really gets easier the more you do it and b) it's much easier to do with homemade dough. Homemade dough is just easier to work.
---
Once you're ready to make your pizza, get all your ingredients ready. Sauce out, cheese grated or sliced, basil leaves picked etc. etc.
Set an oven rack is it's approximately 8" below your broiler.
Turn your oven to the hottest temperature it will go to. For me that's 500 °F. The longer you let the oven heat up the better because you're building thermal energy. Let it heat up for at least an hour.
Once the oven is heated up, and your dough is stretched out you can start making pizza!
Put the cast iron pan on a burner set to high and get it smoking hot. I use med/high because my range gets so hot.
Change your oven from bake to broil. You may need to leave your oven door open a crack for broil to stay on.
Assembling the Pizza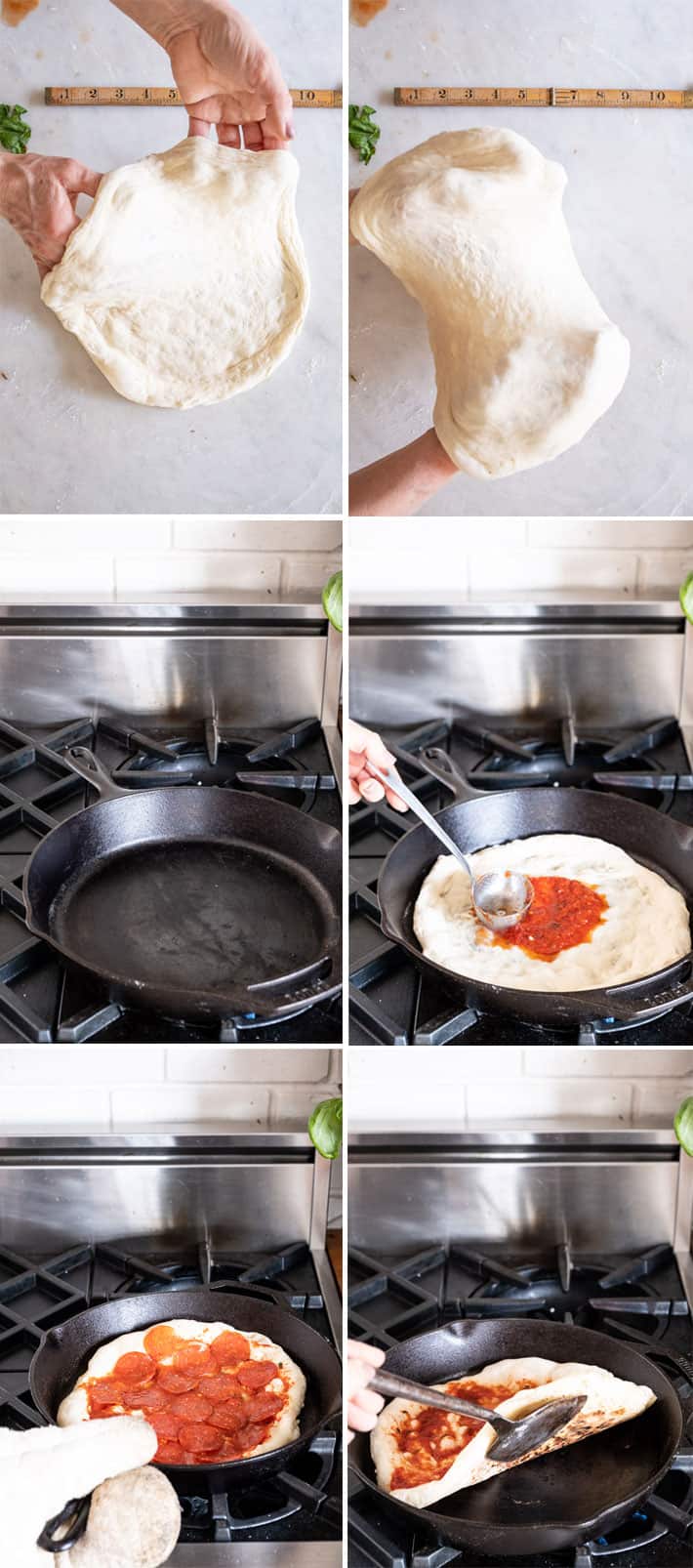 6. Lift the stretched dough from your counter to your your cast iron pan. Turn the heat down to low.
7. Working quickly put ⅓ cup of sauce onto the pizza and any other toppings you are using EXCEPT the cheese. Do NOT add the cheese.
8. By now the bottom of the pizza will already be getting crisp. Using an oven mitt, place the pizza into the oven.
The whole process of getting the dough into the pan, covered with toppings and into the oven shouldn't take any longer than a couple of minutes.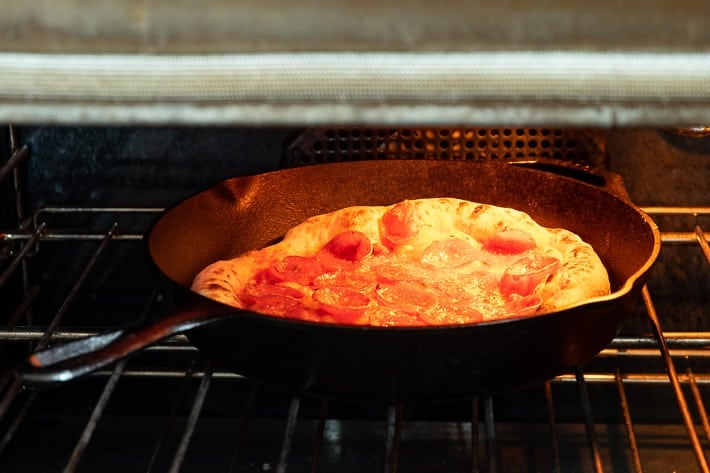 9. Once it's in the oven, under the broiler, cook for 3 minutes.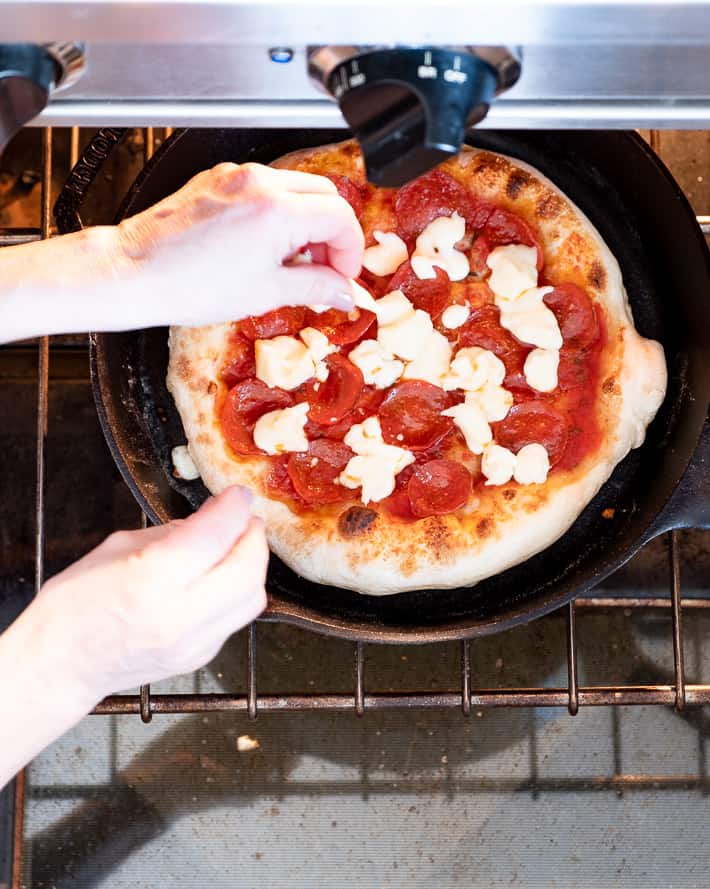 10. After 3 minutes, pull the pizza out quickly and put the cheese on. Then it goes back under the broiler for 2 minutes. Keep an eye on it!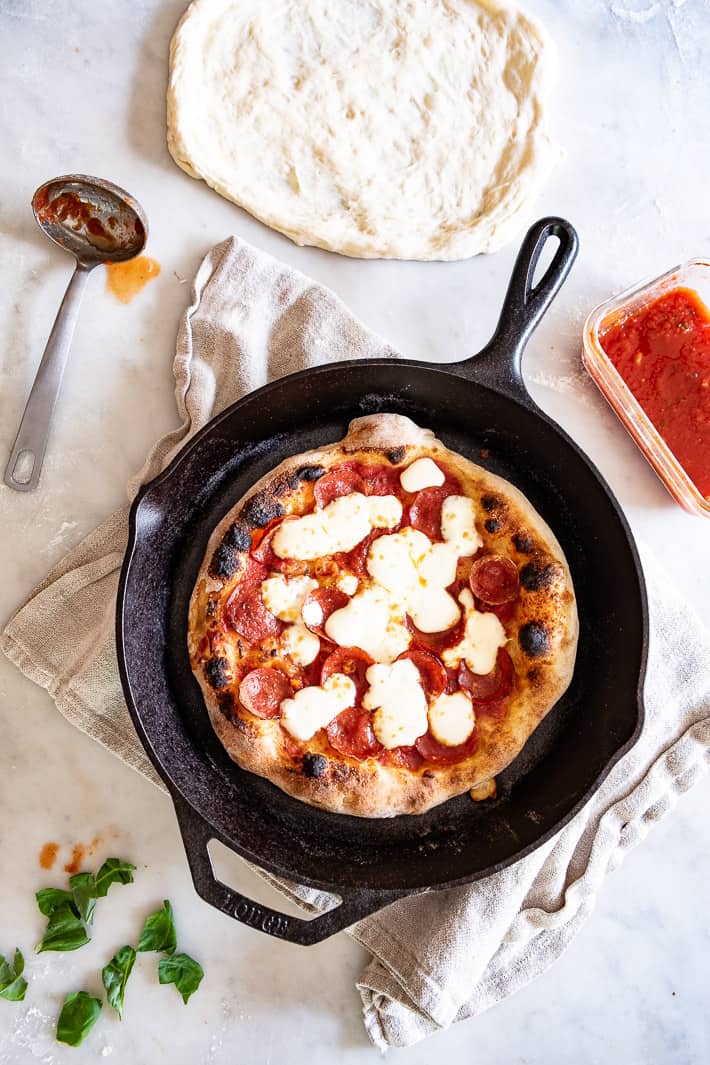 11. Pull the pizza out ... it's done. You just made the world's most delicious, technically perfect pizza in your oven.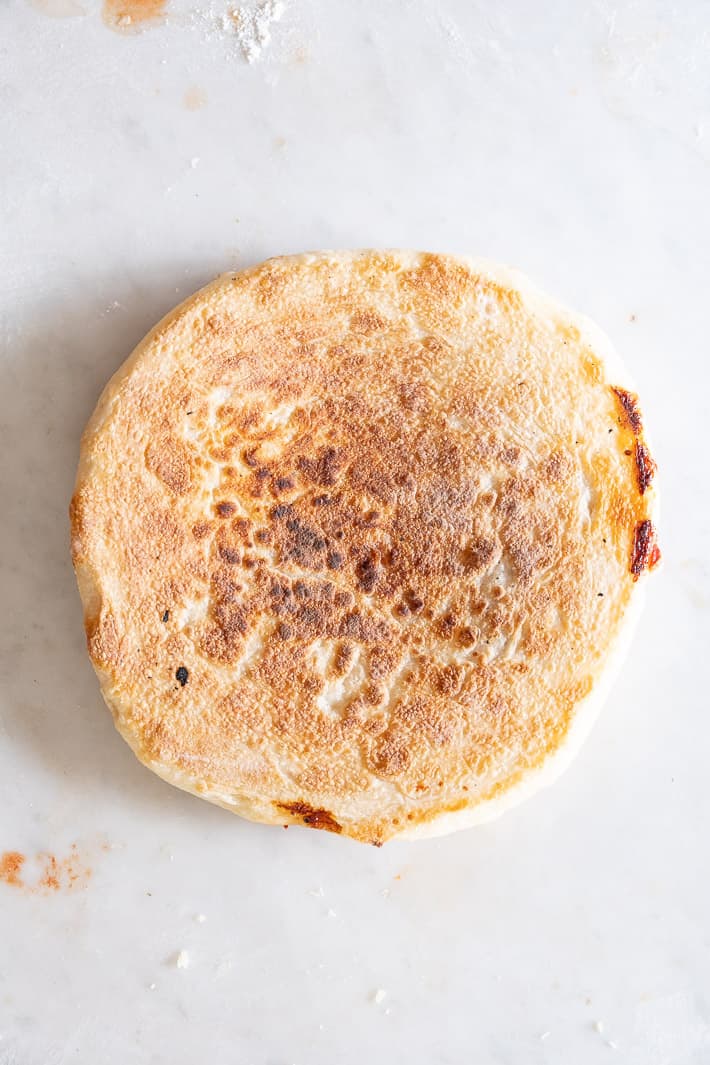 The bottom will be crisp without being overcooked and tough. The pizza crust should bend when you hold it straight out, not stick out stiff.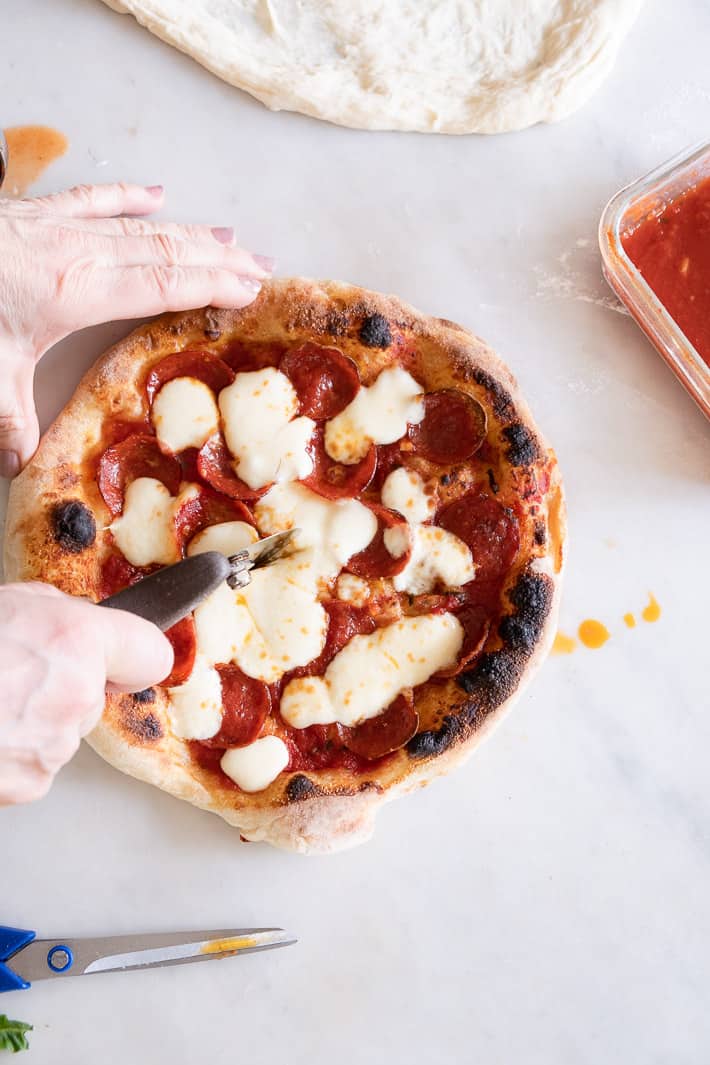 You have two options for cutting it, a pizza wheel or scissors.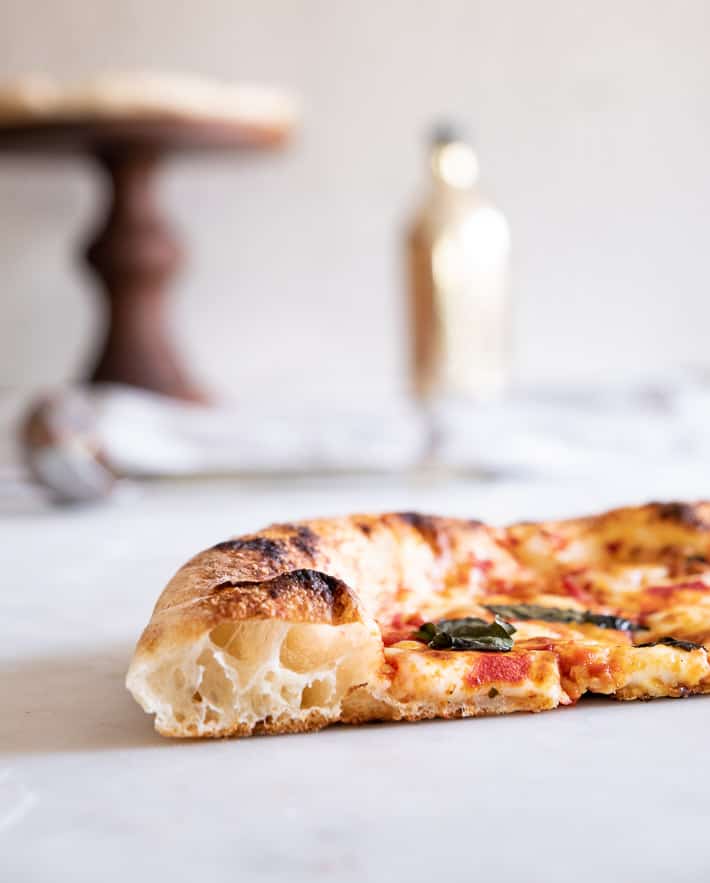 Pushing the air to the edge when you're stretching your dough is how you get a crust with air pockets like this. It should be light and chewy not dense and tough.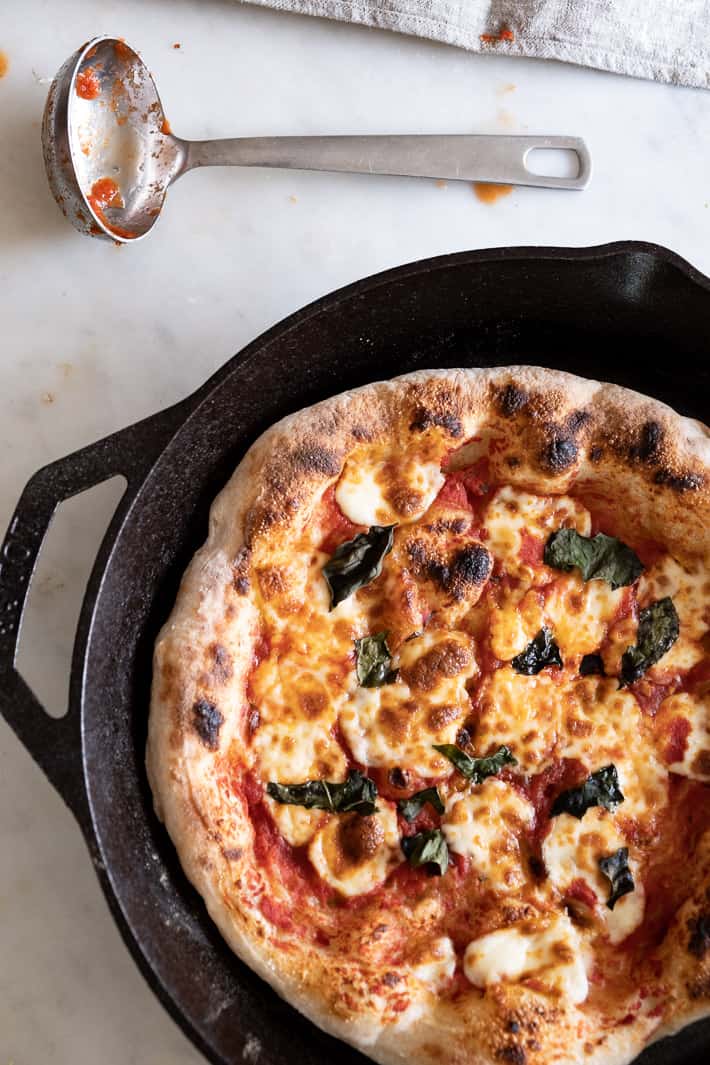 You can either shred or rip your cheese into pieces. I like pieces, but have nothing against shredded either.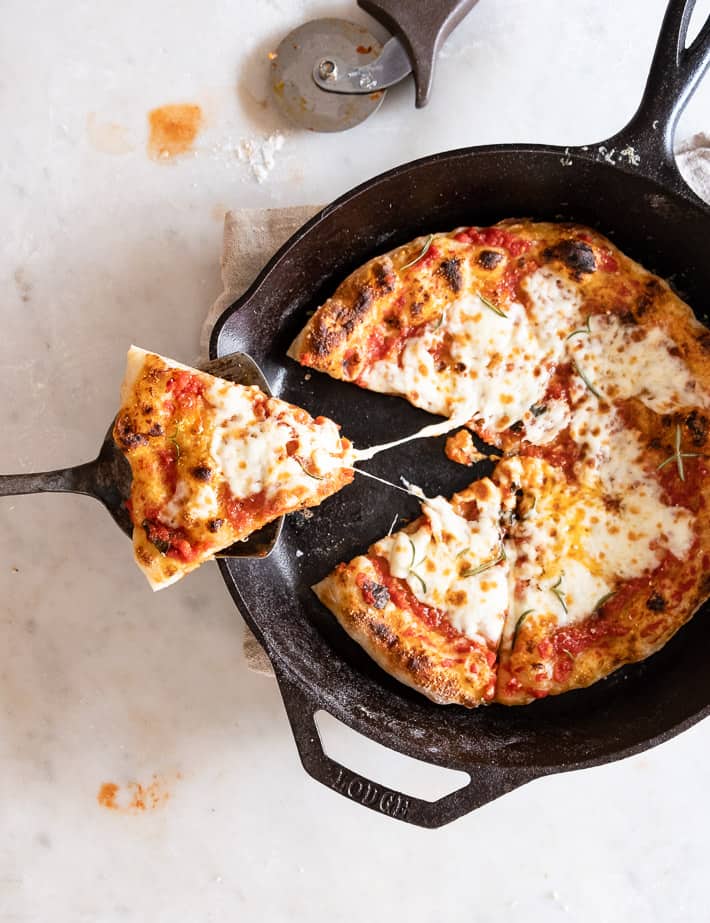 All cheeses are not created equal. If you can find "Pizza cheese" that's the cheese to use. It has a different moisture content than regular cheese and it's where you get the stretch and gooeyness.
---
Even with all these instructions there's going to be trial and error in making the perfect pizza. Your broiler may run hotter or cooler so you might need to adjust the amount of time your pizza is in the oven for instance. You'll get better at stretching out the dough the more times you do it. And you'll get more adventurous with toppings.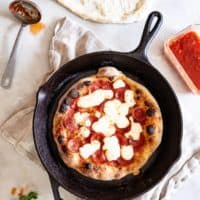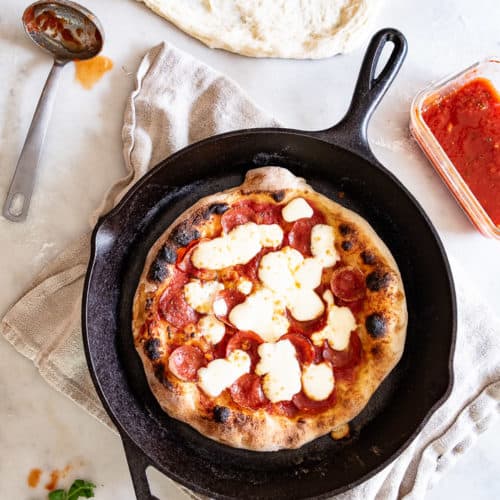 Homemade Margherita Pizza
This is a good base to build all other pizzas on, but on it's own it's Neapolitan pizza perfection. The traditional pizza from Naples, Italy.
Print
Pin
Rate
Ingredients
Pizza
250

grams

pizza dough

store bought

⅓

cup

pizza sauce

2.5

ounces

mozzarella

6-8

leaves

basil

1

tablespoon

olive oil
Homemade Pizza Sauce
1

litre

pressed tomatoes

(or 2 large cans of whole tomatoes)

1-2

cloves

garlic

1

tablespoon

olive oil

1

teaspoon

salt

kosher

5

leaves

basil
Instructions
Pizza
Place an oven rack 8" beneath the broiler.

Set oven to highest temperature (often 500 degrees F) and let the oven preheat for approximately an hour.

Stretch your pizza dough into a 10" circle.

Heat a 12" cast iron skillet over high heat on the stove until it's smoking hot.

Switch oven to broil mode while the cast iron pan heats up.

Once the pan is hot, lift your stretched pizza dough and place it in the hot skillet. Immediately turn the burner down to low.

Ladle ⅓ cup of store bought or homemade pizza sauce onto pizza and spread it out.

Check under pizza crust to make sure it has started to brown slightly.

Place entire pan into the oven directly under the broiler for 3 minutes. Keep an eye on it, you may need to turn and rotate the pizza to so it cooks evenly.

Pull the pizza out and add the cheese then stick it back under the broiler for 2 minutes.

Take the pizza out and slip it onto a cooling rack so the bottom doesn't get soggy. Cut with a pizza wheel or scissors.
Pizza Sauce
If you're using cans of whole tomatoes, pour them into a bowl and squish and squeeze the tomatoes with your hands until they're mushed up.

Combine all the ingredients in a frying pan and simmer until slightly thickened. Around 10-15 minutes.
Nutrition
Serving:
2
g
|
Calories:
705
kcal
|
Carbohydrates:
98
g
|
Protein:
26
g
|
Fat:
27
g
|
Saturated Fat:
7
g
|
Cholesterol:
27
mg
|
Sodium:
3142
mg
|
Potassium:
1580
mg
|
Fiber:
11
g
|
Sugar:
31
g
|
Vitamin A:
1600
IU
|
Vitamin C:
47.9
mg
|
Calcium:
349
mg
|
Iron:
10.2
mg
---
Pizza Making Tips
ALWAYS keep your dough covered. It doesn't take long for a ball of pizza dough to dry out and form a skin which will make stretching it impossible. Seriously. This is easy to forget and the biggest mistake I used to make alllll the time.
250 grams of dough makes a 10" pizza.
⅓ cup of sauce for a 10" pizza is a good starting point.
2.5 ounces of cheese for a 10" pizza is good.
Quality ingredients really do make all the difference. Fresh basil, homemade sauce if you can and actual pizza cheese.
Pepperoni! For the home pizza maker Hormel makes a great pepperoni. It's a "cup and char" pepperoni which means it curls up when it cooks and makes the edges charred and crispy. You can also use traditional flat pepperoni which is a bit bigger. Taste different brands. Some are spicy, some saltier and some greasier. Figure out which brand you like the best. The taste of each ingredient makes a BIG difference in the taste of your final product.
If you're adding fresh basil to your pizza, add it after the pizza is cooked. Throw it on immediately after you take it out of the oven.
---
If you want to learn even more about pizza making you should buy the book Mastering Pizza by Marc Vetri. It will walk you through how to make the best dough at home, different types of flour and different styles of pizza. It is a fantastic book.
Now go out and buy a ball of pizza dough. You're only one ball of dough away from a perfect pizza at home.
7 lbs were gained in the making of this post.