Throw on an apron, some opera and a pair of rubber boots ... you're about to learn how to can tomatoes with a tomato press! Plan to set aside 22 mason jars and a day to do this (unless you come from a large Italian family with plenty of helping hands.)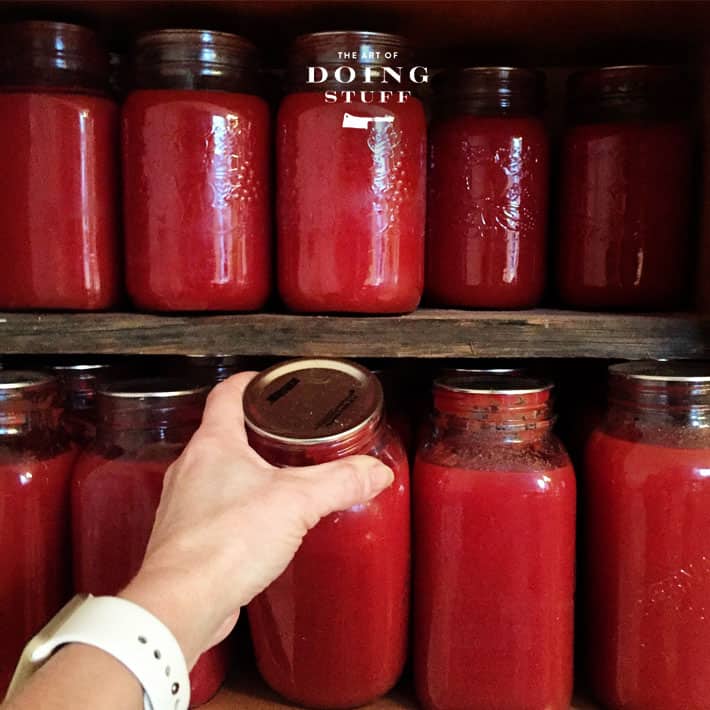 I am on my third batch of canned tomatoes for the year. Because I grow my own tomatoes they don't all ripen at the same time. That means I have to do a few smaller batches of them at the end of the summer instead of one big batch like I would if I was buying bushels of tomatoes at the market.
So, you want to can your own tomatoes too do you? You're feeling like an Italian pioneer are you? Good. Glad to hear it. Pressing and canning tomatoes is a bona fide "thing" and not something you can do without a bit of planning and a bit of know how. Luckily for you ... I'm here to show you how to do it.
I've been pressing my own tomatoes since I was in high school because I had no friends. Because I thought canning tomatoes was fun. Just kidding. I had a lot of friends. They just didn't think I was any fun.
I've always used the recipe passed down from my mother who had it passed down to her from someone else. I used that very recipe right up until the day I realized that recipe could kill me.
For the first decade of making this I just boiled the tomatoes, ladled them into a hot jar and stuck them in a cupboard. That's the way they did it in the olden days and I like to do most things the traditional way. The problem is ... things have changed since the olden days.
Does tomato sauce need to be pressure canned?
Tomatoes have changed since the olden days. They've been "improved" and tweaked and hybridized to within an inch of their lives. This tomato mutation has caused the pH level of tomatoes to change over the past century. Where tomatoes used to be high acid, they are gradually becoming lower and lower acid.
Things that are low acid are dangerous to can without either pressure canning them or giving them a hot water bath. And by dangerous, I mean could kill you.
I don't know about you but if I'm going to die from self inflicted stupidity I'd rather it be something fun like inhaling too much laughing gas or some sort of Bouncy House mishap. Not from eating botulism infused pasta.
You do NOT need to pressure can tomatoes, but you DO need to water bath can them.
So you don't need a pressure canner to can tomatoes. You just need a big pot that will cover your jars with at least 2" of water.
---
Water bath canning means submerging the jars so they're covered with a couple of inches of water and boiling them for a certain amount of time. You can do this with a water canning pot or even a regular pot if you have one that's big enough.
Pressure canning means using a specialized piece of equipment - the pressure canner. Jars are put inside with a couple of inches of water in the bottom, the lid is locked and the pressure canner builds up pressure and steam inside. This build up changes the atmospheric pressure in the pot and the boiling point of the things inside it, which in turn kills pathogens.
---
So ... that is your canning lesson for the day. What worked for gramma's heirloom tomatoes (or any other veg/fruit) may not work for today's Frankentomato. The basic canning methods haven't changed, but food has.
How do you prepare tomatoes for canning?
Regardless of whether you grew your own tomatoes or are buying bushels from your grocery store or market, you have to prepare the tomatoes.
Tomatoes need to be washed before you put them through the press. If you don't clean them thoroughly any dirt that's on them will end up in the sauce. Not only dirt but bird poop. You can either lay them on a tarp and spray them with the hose or do what I do - wash them in the bathtub.
Before starting to press go through your tomatoes and cut any in half that are too big to fit through the top funnel. It'll make your life easier later on when you're pressing.
Do you have to cook tomatoes before canning them?
It depends.
Some people put their tomatoes in a pot of very hot (not boiling) water to heat them up. The heat releases the juices from the tomato and makes them easier to run through the press with more juice being released. This ISN'T necessary but it is a good practice.
After pressing the tomatoes have to be boiled for 15 minutes prior to their water bath canning.
How to Press Tomatoes.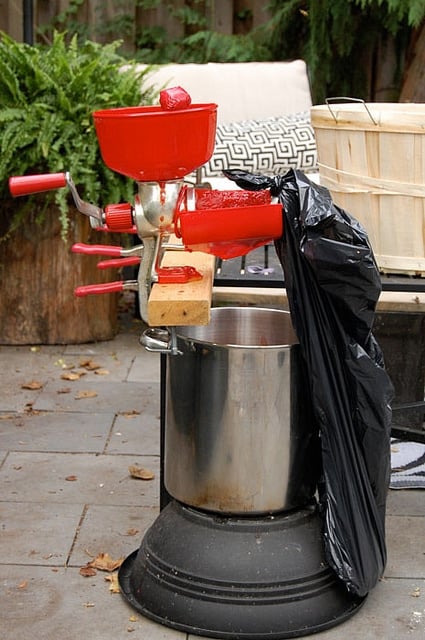 To Process Tomatoes You Need a Manual or Electric Tomato Press.
A good quality tomato press is around $140. Do not cheap out and buy a plastic one. You'll be cursing the tomatoes, the press and the person who sold it to you within 10 minutes.
Electric presses work much more quickly but are also more expensive.
This is the Electric Tomato Press I own and love. 🇺🇸
But, I got mine years ago and there are highly rated, less expensive models like this now.
This is the manual press I'm using in these photos.
Just drop the whole tomato into the press, skin and all (tomatoes that are too big to fit in the chute should be cut in half.)
You simply drop the whole tomato into the press and crank the handle. You can fill the entire hopper up and just keep shoving them down the chute one by one.
2. Crank the handle and watch as the juice comes out one end and the discarded seeds and tomato skins out of the other.
The tomato press automatically filters the tomato pulp and juice from the seeds and skin. They come out of the end of the funnel as you can see.
The seeds and skin come out one end, the good stuff out another. Place a large stainless steel pot under the chute to catch the tomato juice. Place another stainless steel pot or bag under the other side of the chute to catch the seeds and pulp. Save them. You're going to put those through the press another 1 or 2 times.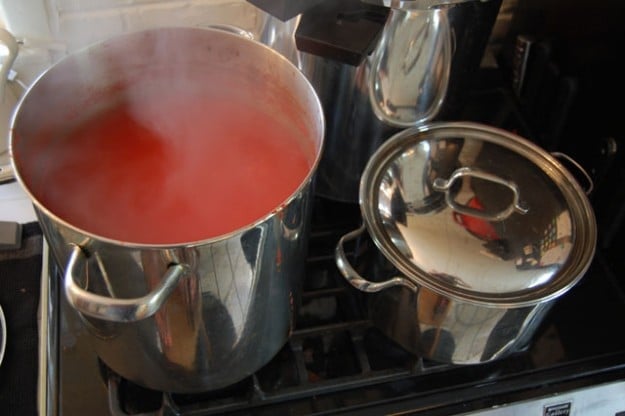 3. Continue until all your tomatoes have been pressed.
4. Now take the seeds and skin you saved in a second pot and put those through the tomato press again. You can press the discards 1-2 times to get as much product out as possible. The final time you run the pulp through it should be almost completely dry.
5. Fill a pot (or two) with your juice, put it on the stove and bring it to a boil. Boil for 15 minutes.
Once these steps are done you're ready to process them.
How to preserve tomatoes in mason jars.
1. Fill your canning pot with water and get it hot.
2. Place clean mason jars (quart sized/4 cups) in a 210 °F oven. (this prevents the jars from breaking when the hot tomatoes are funnelled into them)
3. Line up bowls of brown sugar, salt and citric acid.
4. Cover counter with dishtowels to sop up inevitable spills.
5. Make sure you have a funnel and a ladle. Jar tongs are handy to have too.
This whole event will be much easier if you have the proper tools, a funnel, a magnetic stick for picking up sealers out of boiling water (which you don't need anymore since modern sealers don't need to be heated before use) grabbing tongs for hot jars and a few other things. They aren't expensive, in fact the entire kit of all the tools you need is only about $10, but they're indispensable.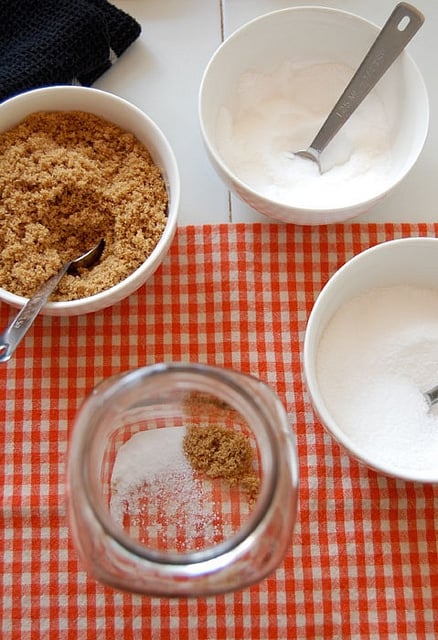 Once your tomatoes have come to a boil for 15 minutes, you can start jarring your sauce.
Add 1 teaspoon brown sugar, ½ teaspoon citric acid and ½ teaspoon salt per quart jar.
Put a funnel over your jar and ladle in hot tomato sauce to ½" headspace* from the top of the jar.
Wipe the rim of your mason jar with a wet paper towel or cloth to remove any drips that will interfere with the seal.
Place the sealer on top and then the ring. Finger tighten only.
Using tongs place the jar into the pot of hot water.
Continue until the pot is full and then bring to a boil. Boil for 45 minutes.
*head space is VERY important. Too little headspace and your sauce will be sucked out of the jar and sealer while processing. Too much headspace and you might not get a proper seal.
Work with one jar at a time. Don't try to do multiple jars.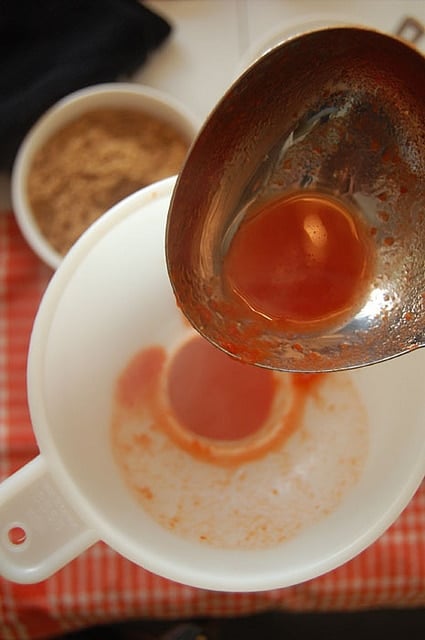 Do yourself a BIG favour and cover your work surface with a few tea towels. It's gonna get messy.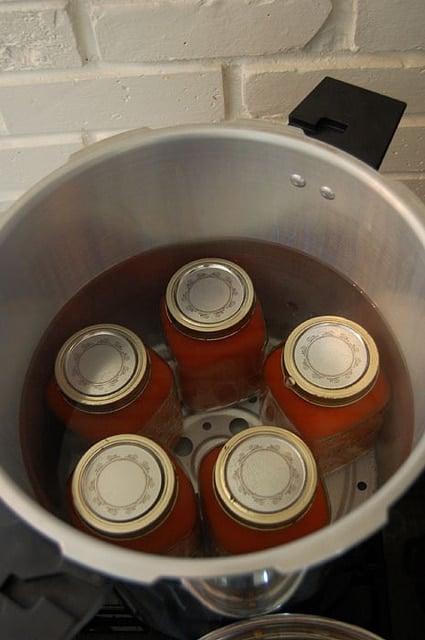 How many tomatoes do you need for canning?
1 bushel will get you 20-22 quarts of tomato juice.
2 bushels of tomatoes will get you 42-44 quarts.
Like so ...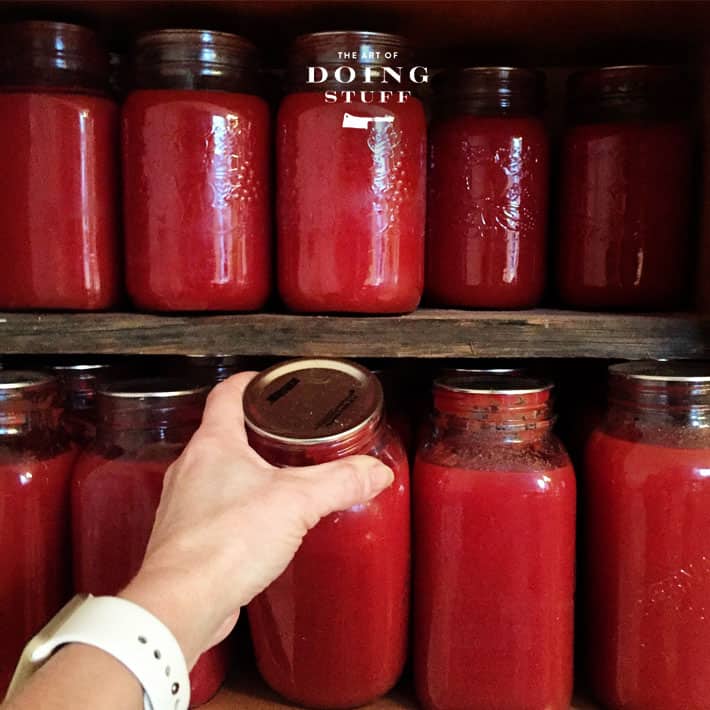 These tomatoes will last me 2 years. Now you're probably wondering ... what the hell are you supposed to do with them? They are the perfect base for anything tomato related. Just add spices and a little bit of tomato paste and you have a basic tomato sauce.
Cook it for only an hour and it'll taste very fresh and bright. Cook it longer and it takes on a richer, smokier taste.
Use them wherever you would use canned tomatoes or tomato sauce. Like in chili (I happen to think my chili recipe is one of the best) or for a spicy tomato sauce or ... best of all ... for this ... Gramma's Spaghetti & Meatballs. I also use this as the base of my homemade pizza sauce.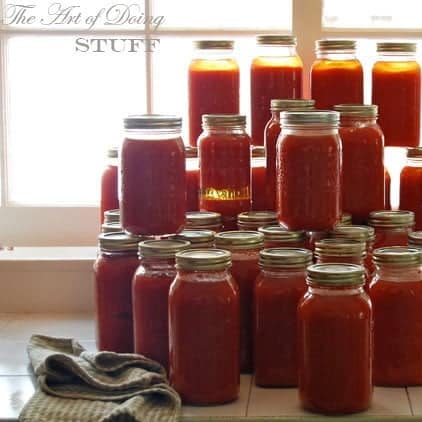 Ingredients
1

bushel

Plum Tomatoes

½

cup

Brown Sugar

1 tsp. per quart jar

¼

cup

Coarse Salt

½ tsp. per quart jar

¼

cup

Citric Acid

½ tsp. per quart jar
Instructions
Fill a large pot with water and bring to a boil. This is your hot water bath and should be large enough to fit several jars of tomatoes.

Preheat oven to 210 and place glass mason jars in oven to heat them so they don't crack when they're filled with the hot tomatoes.

When ready to start canning, pull a hot jar out of the oven with tongs.

Put 1 tsp. brown sugar,

½ tsp. coarse salt,

½ teaspoon citric acid into

jar.

Place a funnel over your 1 quart jar and ladle in hot tomatoe sauce to within ½ " from the top of the jar. The "head space" is very important to get a proper seal.

Remove funnel and wipe around the rim of the jar with a clean dishcloth or damp paper towel.

Take sealer ring from hot water and place on jar.

Screw screwband on. Barely finger tighten only. Do NOT overtighten.

Once you've filled enough jars to fill your canning pot, place your jars inside the pot of water using your jar tongs. Your water should be hot … almost boiling when you place the jars inside. You can also place the jars in the pot one by one as you fill them.

The water needs to cover your jars by a couple of inches.

Put the lid on your canning pot and bring the canning water back up to the boil. Once at boiling again you can start your timer.

Your jars need to boil for 45 minutes.

Allow the jars to cool slightly in the water bath and then remove them to the counter where they should stay undisturbed for several hours. You will hear the seals "pop" as the pressure changes indicated you have a seal. Any unsealed jars need to be reprocessed or kept in the refrigerator to be used first.
Notes
1 bushel will get you 20-22 quarts of tomato juice. 2 bushels of tomatoes will get you 42-44 quarts.
Nutrition
Serving:
1
jar
|
Calories:
27
kcal
|
Carbohydrates:
5
g
|
Protein:
1
g
|
Sodium:
1287
mg
|
Potassium:
7
mg
|
Sugar:
5
g
|
Calcium:
5
mg
|
Iron:
1
mg
Tips for Canning
Get everything washed, organized, laid out and ready to go the night before.
If you don't have a canning pot, just use a large pot and place a metal trivet on the bottom. (the water needs to circulate around and under each jar)
If your tomatoes are muddy and dirty wash them in the bathtub. If a few only have a bit of surface dirt, just wipe them with a dishtowel.
Some people also add in a basil leaf to infuse basil flavour into the sauce. I do not.
Play opera while you're spending the day pressing tomatoes. Even if you don't like opera.
I've done this so many times it's second nature so if you're unsure or think I've left something out let me know.
Now get out there, buy a bushel of tomatoes and give it a shot.
→Follow me on Instagram where I often make a fool of myself←