I'm about to say something very, very controversial and I want you to prepare yourselves for it.  By prepare yourselves, I mean get ready to gasp and slap the person sitting closest to you.  It's entirely possible someone is about to take legal action against me for what I'm about to say.  Someone might indeed sue me.  I would like to officially declare that …
Lebanese people make the best pizza in the world.
There. I've said it.  And that's "Lebanese", not "Lesbians", although I'm sure there are a few fantastic pizza making lesbians out there.  If they happen to be Lebanese … all the better.   Have I just made a generalization based on race?  Yup.  Yes I have. I have done some racial profiling on my blog here.   I also think Asian babies are the cutest of all babies.  Except for cat babies.  There's nothing cuter than a kitten.
When my friend Anj and I were super-cool and young and hip and actually left our houses and saw each other, we were always on the hunt for the perfect pizza.  We found that perfect pizza one night in a small Lebanese restaurant that didn't know enough about pizza to slice the olives they put on top of it.  But they had the best sauce I've ever tasted.  It was the sauce that made the pizza.
What distinguished it was a slight sweetness.  Just a bit.  It's  not like we were eating caramelized pizza sauce, it was just … a tad sweet.  If you weren't a pizza professional like Anj and I you might not even notice it.  Our quest then continued into the grocery stores to find a similar canned pizza sauce.  And believe it or not we did find something fairly similar to the delicious Lebanese pizza sauce, but the company who made the canned sauce quickly went out of business and has never been heard from again.  I suspect an Italian had something to do with it.
When I asked the fella what the best pizza he'd ever eaten was he cited a place in Ottawa.  The Colonnade.  An establishment run by … wait for it … Lebanese.  I know.
I've been making my own pizza for years now, and I'm always trying to find that perfect sauce.  And God help me, for some reason it never occurred to me to just make my own sauce.  It's like I had a pizza sauce mental block.  For 20 years.  So the other day I grabbed a pan, some home pressed tomato sauce and got jiggy with it.
I came up with a pizza sauce recipe that would make any Lebanese proud.  An Italian too, I think.  And an Asian baby.  And of course all lesbians.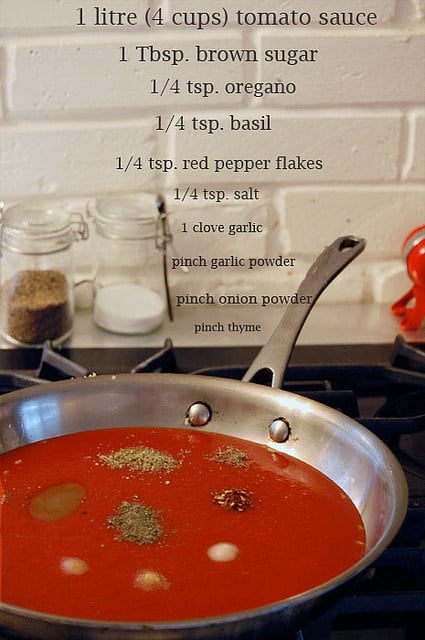 Just sautee the garlic in some olive oil for a little bit, then shove in everything else and simmer until reduced to pizza sauce thickness.  Takes about a half an hour or so.  If you don't happen to have 4 cups of home pressed tomatoes around you can use crushed tomatoes or even tomato juice with a couple of tablespoons of tomato paste added in.  (the tomato juice and tomato paste concoction will take longer to reduce)
Now, as happy as I am with the pizza sauce, a good pizza sauce is nothing without a fantastic pizza crust.  Which I will have for you tomorrow.  And you'll NEVER believe who makes the best pizza crust.  Shocking! O.K., it isn't really shocking at all. I was just trying to create drama. So sue me.