Once upon a time my printer ran out of ink.
It was a sad, sad day and I cried very hard. I pulled myself together and walked down to the corner so I could rob a bank. When I got to the bank, I thought better of it and turned around and walked home. I was sure to get caught on camera, and I was wearing a horrible outfit. Plus I had "crying" face.
What to do. I NEEDED to print stuff!
At home I flipped every cushion in the house, checked in every pocket and sold my cat. The one who was weaned too early and kneads on me every night while I watch television.
Money in hand, I drove myself to the store and ... bought myself a new printer.
Yeah. It was cheaper to do that than buy a new printer cartridge. Wasteful? Probably? My fault? No. Not really. I *did* need a new printer, but had the ink not cost more than an entire printer with scanner, I would have just bought more ink.
The funny part about all of this is for years I've been filling my own printer cartridges. I bought a kit at Costco years ago and it's lasted forever.
And the best part? It works. I'm not sure why I didn't use the kit during my "I NEED PRINTER INK" fit, but my best guess is I'd gone temporarily insane. Maybe not so temporary actually.
Since the process is SO easy, and basically the same for every single printer cartridge out there I thought I'd share. 'Cause that's what I'm all about. Sharing and caring. And robbing banks.
What You'll Need
Bottles of Printer Ink. (various stores sell this, as well as Costco occasionally, and all kinds of places on-line)
Paper Towels
A used up printer cartridge (One that's just run out of ink)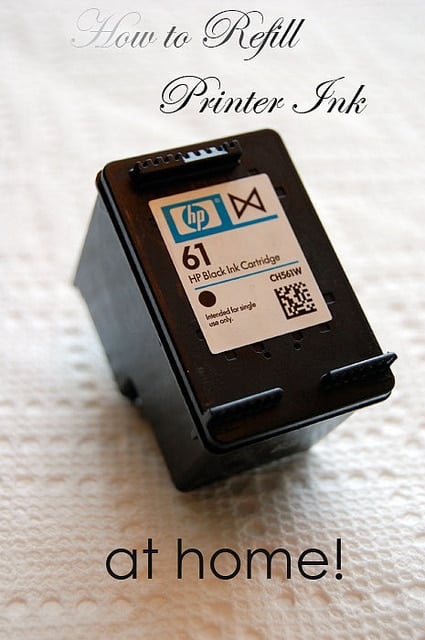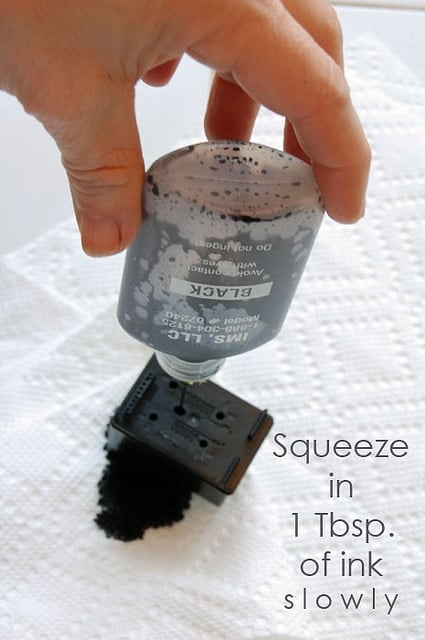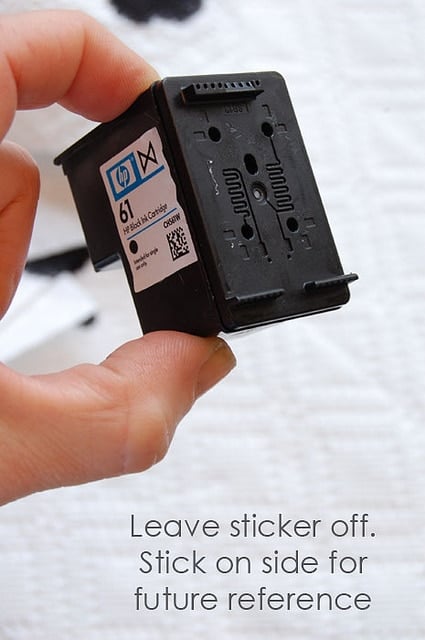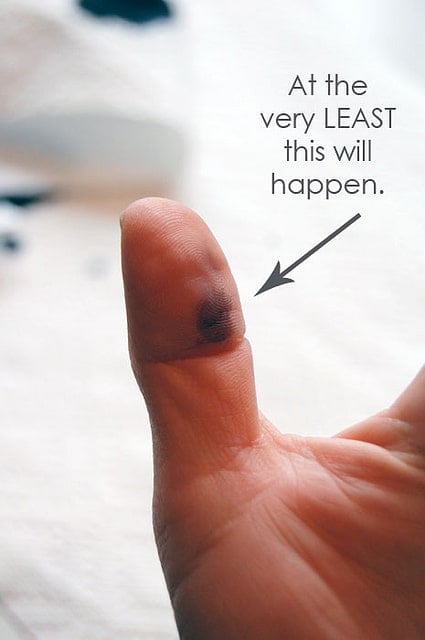 Instruction Recap
1. Measure out 1 Tablespoon (15ml) of ink into your bottle. If your bottle has lines on the side to tell you how much ink you're using, make sure you only use 1 Tablespoon. Most printer cartridges hold 1 Tablespoon. Measuring is important, because otherwise you are bound to under or overfill your cartridge.
2. Remove your printer cartridge then remove the sticker.
3. Place cartridge on a few layers of paper towel on a surface you will be able to wipe any spills up from.
3. Insert needle into one of the holes in the cartridge. If it hits sponge, you're in the right hole.
4. S-l-o-w-l-y fill the sponge with ink. If it starts to come out the hole you're filling too fast. Let it sink in, then start again.
5. Attach your sticker to the SIDE of the cartridge, not the top where you originally took it off. The cartridge will need to suck air to work so you can't cover up the holes again.
6. Insert your cartridge back into your printer.
7. WAIT 8 hours. You need to allow the sponge time to absorb all the ink evenly.
8. Print to your heart's content.
Refilling Colour Ink cartridges
Refilling a colour cartridge is a bit different, in that you put one colour in each of the holes. It's still the same method otherwise and still very easy. If you need help with filling a specific cartridge, Refill Instructions is a great website, plus they're sponsored by a site that sells ink so you can get some of that there if you need to as well.
My printer cartridge is actually pretty cheap. $14 for one black cartridge. A refill kit costs around $20, which will fill your cartridge 6 times, averaging the cost to $3.33 per one black cartridge.
Now I have a bit of bad news. I need to replace my water filter. So once I get myself gussied up for the cameras, I'll be making my way to the bank.
Questions & Answers
Can you do this with colour ink as well? YES!
I refill but my printer still thinks the ink is low. There are chips on each ink cartridge, if you still can't print with a refilled cartridge you might need to reset the chip or trick the printer. Here's how to do that for an HP deskjet printer. If you know you've refilled your ink cartridge and it won't print because the printer insists there isn't any ink in it, you need to reset your printer's ink cartridge. That's something you'll have to Google, because there are as many ways to do it as there are printer ink cartridges.